A Rising Texas Star
Candace Cooksey Fulton, San Angelo Standard-Times, 3.11.01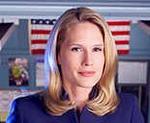 When Dick Wolf wrote the character of Alexandra Cabot into his NBC spinoff series "Law and Order: Special Victims Unit," he had in mind Stephanie March would be cast in the role.

So if it seems the smooth as glass assistant district attorney is a bit pointed, a tad irritated and generally annoyed, there's a story that explains the demeanor.

A mad "this is so tapping on my nerves" March auditioned for another Wolf-written TV pilot.

"My agent thought I should audition for a pilot show called 'Deadline,'" March said recently in a telephone call from New York. "But there was this huge hassle involved, and my attitude was, 'If I just get in there and get out without killing somebody...'"

The attitude made an impression and Wolf told March's agent he'd like to write a character for it (or her) in the Special Victims Unit series.

March debuted in October, at the start of the "Law and Order" spinoff series' sophomore season. According to Wolf, the part of the unruffled assistant district attorney "added a much needed legal component" to the show's dynamics.

The show airs at 9 p.m. Fridays on NBC affiliate stations.

In calmer circumstances with a little energy, wit and sense of humor, Alexandra Cabot could gracefully metamorphose into the slightly softer Stephanie March. But March applauds the character's solid grounding.

"Alexandra provides a really good contrast in the character mix. There's a point in her being there," March said. "I'm thankful to be in the show, but even more thankful I'm there not just to play someone's girlfriend.

"I have an opportunity to grow and the character has the opportunity to grow."

"Stephanie's made the character more compassionate, we believe," said Jane Greene March, an SVU fan and – coincidentally – the actor's grandmother. "She told us that's where she wanted to go with it."

Actually Stephanie March has so many kin and connections to San Angelo, she can practically be called a hometown girl. When a solid case of Texas homesick sets in, San Angelo is at the top of the list of places March misses the very most. March's family ties to San Angelo include her mother and stepfather, Laura and Bob Derby; her paternal grandparents, Jock and Jane Greene March; her aunt and uncle, Jane and Bill March.

Though technically March grew up in Dallas, there is enough family in San Angelo for her to call the city home. Anyway, her grandmother said, Stephanie was always here summers and holidays.

"We like her to call this home."

And calling from New York, Stephanie March admits, "People from Texas don't want to live any place but Texas. I truly understand that, but I love where I am and what I'm doing.

"Here's the way I look at it. Texas is my mother and New York is my lifelong love affair."

It was no family secret, Stephanie dreamed and planned to become an actress.

"She studied to be an actress. We knew all along that's what she wanted to do," said Grandfather Jock.

"Stephanie was at a pretty tender age when the family went to Colorado and there was a summer theater there. The first time she went and saw a play, she said, 'That's what I'm going to be,'" added Grandmother Jane.

To have been cast as a regular on a solid series is a break most actors don't realize so early in their careers. March's hard work has caught her several lucky breaks. Last summer she had a part in "Death of a Salesman," presented on Broadway.

Still, March said she expected to "toil away in non-equity for years probably. Even on Broadway acting's a hand-to-mouth existence. You cannot make a living doing just that.

"And I kind of had this mind set that I wasn't going to do something I hated doing just for the sake of saying, 'Well, at least it's acting.'"

March said she knows to count herself among "the really, really lucky ones."

"I think the formula that makes this show successful is that it is plot oriented not character oriented. That absolutely broadens the range."