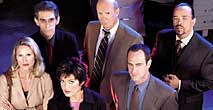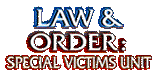 Tuesdays at 9 PM (CST) on NBC

"In the criminal justice system, sexually-based offenses are considered especially heinous. In New York City, the dedicated detectives who investigate these vicious felonies are members of an elite squad called the Special Victims Unit. These are their stories."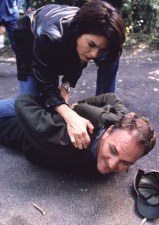 "Law & Order: Special Victims Unit" finished its second season in 2000-01 as one of the top-10 rated dramas in total viewers, and the top rated Friday drama across all key adult demos. The drama averaged a 4.7 rating and 14 share in adults 18-49 and 13.3 million viewers overall. The series' popularity was recognized in its debut season by both the People's Choice Awards and the TV Guide Awards with nominations for Favorite New Series.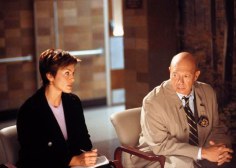 "NBC's Friday drama 'Law & Order: SVU' emerged as a powerhouse. Third-year 'Law' spinoff is the only primetime series to win its hour every week this season."
-- Rick Kissell, Variety, 5.13.02
This hard-hitting and emotional companion series to NBC's "Law & Order" chronicles the life and crimes of the elite Special Victims Unit of the New York Police Department.

Although "Law & Order: Special Victims Unit" enables characters from the "Law & Order" franchise to alternate between the two series and has featured some storyline crossovers, the newer program has created a strong identity and has established itself as a hit in its own right.

"Law & Order: Special Victims Unit" follows Det. Elliot Stabler (Christopher Meloni, "Runaway Bride," "Oz"), a seasoned veteran of the unit who has seen it all, and his partner, Det. Olivia Benson (Mariska Hargitay, NBC's "ER"), whose difficult past is the reason she joined the unit.