Sundays at 8 PM (CST) on NBC

"In New York City's war on crime,
the worst criminal offenders are pursued
by the detectives of the Major Case squad.
These are their stories."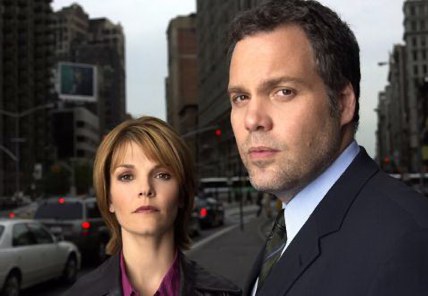 Episodes also air on USA Friday nights at 10 PM (CST)
Groundbreaking producer Dick Wolf extends his popular, Emmy Award-winning "Law & Order" franchise on NBC with "Law & Order: Criminal Intent," a new drama series nominated for a "People's Choice Award" (for Favorite New Drama Series) that offers an additional dimension by exposing major crimes from the criminal's perspective.
Vincent D'Onofrio ("Men in Black") stars as Det. Robert Goren, an exceptionally bright homicide investigator with well-honed instincts that match up favorably with his criminal quarry. Likewise, his partner, Det. Alexandra Eames (Kathryn Erbe, "Oz") brings an independence and stylish edge to her work that meshes well in tandem with Goren.