Law & Order: The First Year DVD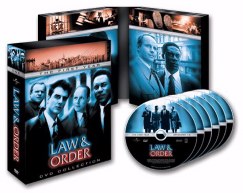 MCA Home Video
Release Date: 10.15.02
Region Code: 1
UPC: 25192242922
Run Time: 17 hours, 20 minutes
Special Features: "The Making of Law & Order With Dick Wolf" and "Law & Order Interactive Trailer"
Retail Price: $79.95
Order yours from Amazon or Barnes & Noble (www.bn.com) today

Law & Order CD-ROM Deserves Favorable Verdict
Gene Emery (11.17.02)
PROVIDENCE, R.I. (Reuters) - The new computer game based on television's popular Law & Order program gives PC owners the chance to play both detective and prosecuting attorney in the case of a murdered investment adviser.

Law & Order: Dead on the Money ($30, Windows) unfolds like an original episode of the hit TV show, with interesting characters, sharp dialogue and some nice twists and turns -- some of which involve insider trading on Wall Street.

Legacy Interactive has created the mystery story and courtroom drama using features typically found in an adventure game, such as video clips, scenes to explore and plenty of personal interaction with the characters.

The "puzzles" involve finding a password to a computer, the combination to a safe, and the right pieces of evidence to get people to spill their guts.

The story opens with the discovery of a woman's body in New York's Central Park. Detective Lennie Briscoe is called to investigate and players assume the role of Briscoe's partner.

The game uses virtual characters, sometimes known as cyberpuppets. But the computer-generated humans have a convincing array of expressions: you can see the perps twitch nervously when Briscoe and his partner ask the right questions.

And there's nothing virtual about the voices. Jerry Orbach, who plays Briscoe on the show, does the voice-over for his character, as do the actors who play Briscoe's supervisor and the assistant district attorney.

The first half of the game focuses on the police investigation. At the murder scene, the player must scour the area, looking for clues to the identity of the victim. You'll need a good computer monitor to see some of the tiny pieces of paper that must be picked up. Items that seem significant must be stored in a case file, where they can be sent to the crime lab or the research department to get more information.

When someone needs to be interviewed, the player selects from three questions -- an aspect of the game that isn't particularly challenging. Many of the questions are obviously not relevant to the investigation, and if you miss the opportunity to ask a key question the first time, the game gives you other chances.

The controls for the game are very easy to use. To send things to the lab, just click on the casebook to open it, find the lab form, drag a picture of the evidence into a box and click "submit." Your cell phone rings when the results are ready. If you need to go somewhere, click on the map icon and select the location -- but be careful because some locales are below the screen and you need to scroll down.

If you identify the perpetrator and include all the key evidence into your arrest warrant, you'll move on to the trial part of the game and assume the role of prosecuting attorney.

You'll also have to do some gumshoe work because the judge has thrown out a key piece of evidence, so you must snoop around for additional information.

At trial time, you select the order in which the prosecution witnesses are presented and the questions to be asked. You can also object to a defense question if it's out of line, although the game gives you only a few seconds to do so -- something that is unlike in a real-life trial.

Players unfamiliar with court procedure can do a little research in the assistant D.A.'s office to find explanations of the different reasons for objecting as well as other rules. Those are important to know. Near the end of the game, the defense tries to exclude a piece of testimony. If you don't select the correct counter-argument (you have a 1 in 3 chance of being right if you simply guess), you lose the case and the bad guy goes free.

Fortunately, you can save the game at any point and try a different path.

Aside from the need to object almost immediately if the defense lawyer asks a bad question, I have a few other objections to the game's design.

You can't dawdle in your investigations. For reasons that are not explained, Law & Order gives you a time limit for finding all the right clues and zeroing in on the suspect. In real life, the statute of limitations for murder is a lot longer than one week.

There are times when the cursor takes on a life of its own, rapidly skimming past the point on the screen where you're trying to click. It's the most maddening element of the game.

Ultimately, with its twists and timing geared to the fast pace of TV drama, Law and Order: Dead on the Money is guilty of simulating a television drama better than a real-life murder mystery. But fans of the show and people who like whodunit games will find that this CD-ROM acquits itself well.
From its gritty documentary look to its signature note-knocking "tching-tching" that signals scene changes, Law & Order was a groundbreaking cop show when it debuted in 1990. It has since earned Emmys for Best Dramatic Series and spun off satellite franchises, and reruns of the original series are as omnipresent in syndication as those of I Love Lucy. Devoted fans and those who came late to the series can catch it from the beginning with this six-disc set that contains all 22 episodes from the inaugural season.

Law & Order is television's most resilient series. It has survived wholesale changes to its ensemble. One of the secrets of the show's durability: its compelling structure. The first half of each hour-long episode is classic police procedural in which "Law," personified in the first season by partners Greevey (George Dzundza--and be sure to catch the interview segment with series creator Dick Wolfe to learn how to pronounce his name) and Mike Logan (Christopher Noth, the future "Mr. Big" on Sex and the City) investigate a crime and make an arrest. The second half chronicles the ensuing trial, as prosecuted by assistant district attorneys Ben Stone (Michael Moriarty) and Paul Robinette (Richard Brooks) under the supervision of Steven Hill's Adam Schiff (more feisty and animated here than in later seasons).

Law & Order is also distinguished by its superb writing. Several episodes take their inspiration from the headlines, including "By Hooker, By Crook" about a socialite-run call-girl ring, and "Indifference," which recalls the tragic Lisa Steinberg child abuse case. Others deal with such hot-button issues as abortion ("Life Choice") and AIDS ("The Reaper's Helper"). Another plus is the talent pool of character actors who lend their verisimilitude. Guest stars include Samuel L. Jackson and Philip Seymour Hoffman ("The Violence of Summer"), The West Wing's John Spencer ("Prescription for Death"), Sex and the City's Cynthia Nixon ("Subterranean Homeboy Blues"), and The Sopranos' Dominic Chianese ("Sonata for Stolen Organ").

-- Donald Liebenson, Amazon
For more than a decade, Law & Order has been delighting fans with its realistic portrayal of both the investigative and legal elements of crime. There have been spin-offs (L&O: Special Victims Unit, L&O: Criminal Intent) and crossovers (notably with Homicide: Life on the Street), and still audiences can't get enough. By incorporating everyday issues into episode plotlines, Law & Order creator Dick Wolf has maintained a degree of cultural currency that few series have equaled. The show launched the careers of such actors as Benjamin Bratt (Piñero) and Chris Noth (Sex and the City) and has established itself as one of the most consistently creative, provocative dramas on television. This six-DVD set compiles all 22 episodes from the first season, including the pilot episode, "Everybody's Favorite Bagman." Noth's Detective Mike Logan is partnered with George Dzundza as Sgt. Max Greevey on the Law side in year one, both working under future L&O: Special Victims Unit Captain Donald Cragen (Dann Florek). On the Order end of things, Michael Moriarty takes the lead as Executive ADA Ben Stone, working with ADA Paul Robinette (Richard Brooks) for District Attorney Adam Schiff (Steven Hill). These days it seems as if Law & Order is on virtually every channel; there's only one way to view the show commercial-free, however, and this is it.

"Prescription for Death" -- When a young girl with bronchitis dies in the hospital, her father charges criminal negligence. The next step is finding another doctor to testify against the chief of medicine.

"Subterranean Homeboy Blues" -- A white woman shoots two black teens on the subway, and the question of whether it was self-defense threatens to divide the city.

"The Reaper's Helper" -- The murder of a young gay man with AIDS is linked to murders in San Francisco and L.A., and the question arises: Were they hate crimes or mercy killings?

"Kiss the Girls and Make Them Die" -- Evidence in the murder of a young woman links the victim to both her ex-boyfriend and her current one on the night of the killing.

"Happily Ever After" -- After a woman is wounded and her husband killed in an attack, the detectives find her account of the event too well rehearsed to be believed.

"Everybody's Favorite Bagman" (Pilot Episode) -- The mugging of a councilman leads to the arrest of a mobster who's willing to make a deal and expose a corrupt politician.

"By Hooker, by Crook" -- The murder of an architect in Central Park exposes a high-class prostitution ring.

"Poison Ivy" -- A routine drug bust goes bad and an Ivy League honors student is gunned down by a cop, leading to escalating racial tension.

"Indifference" -- When an abused child dies, the investigation reveals a crack-addicted mother being abused by her husband.

"Prisoner of Love" -- The murder of a notorious artist makes the head of New York's Cultural Affairs Department a potential suspect.

"Out of the Half-Light" -- A 16-year-old black girl claims she was raped by two white cops, and the city becomes a racial powder-keg.

"Life Choice" -- A case involving the bombing of an abortion clinic leaves one woman dead and the detectives on opposite sides of the issue.

"A Death in the Family" -- A citywide manhunt for a cop killer leads to the arrest of a suspect whose attorney tries to cut a deal.

"The Violence of Summer" -- A local TV news reporter is gang-raped, and while the three suspects soon turn on each other, the detectives search for a fourth suspect.

"Torrents of Greed, Part 1" -- When three members of the Masucci crime family are charged with assault, Stone wants to bring down the entire organization.

"Torrents of Greed, Part 2" -- While Stone and Robinette try to bring crime boss Frank Masucci to justice, the crime family dispenses some justice of its own.

"Mushrooms" -- An investigation into the shooting of a 12-year-old boy and his brother lead detectives to a teen drug ring.

"The Secret Sharers" -- A known felon is gunned down in front of a church congregation, but all the witnesses attempt to protect the shooter.

"The Serpent's Tooth" -- When a wealthy couple is killed by their sons, the D.A.'s office doesn't accept the fact that the suspects were abused as justification.

"The Troubles" -- When a Lebanese gunrunner is murdered and the prime suspect is an IRA soldier, Logan must set aside his sympathy for the Irish cause.

"Sonata for Solo Organ" -- After a kidney transplant, charges are brought against the physician and the patient's father because the organ was taken against the donor's will.

-- Barnes & Noble
NBC's procedural drama has become such an institution that it's easy to forget how innovative it originally was. Before ''NYPD Blue'' and ''Homicide: Life on the Street,'' Law & Order: The First Season shook up TV crime-story conventions with taboo story lines (assisted suicide for AIDS patients, abortion clinic bombings) and verite-ish visuals (mostly shot by Spike Lee's then cinematographer, Ernest Dickerson). Though they've all since exited the series, the first-year cast members -- including the pre-Mr. Big Chris Noth (as the hotheaded Det. Mike Logan), eternally intense Michael Moriarty (monkish ADA Ben Stone), and offhandedly brilliant Steven Hill (dyspeptic DA Adam Schiff) -- formed its strongest lineup. If only the minimalist aesthetic didn't extend to the DVD set's extras: a 15-minute docu-short and a trailer for an ''L&O'' CD-ROM game. At least the chung-chung! scene-change cue sounds great in Dolby surround.

-- Bruce Frett, Entertainment Weekly
Arguably TV's greatest drama series, Law & Order has finally arrived on DVD with the release of Law & Order - The First Year. After more than 10 years on the air, Law & Order continues to be one the of best shows on television. Its run is nothing short of amazing.

Looking back on the first season of the show, the faces and the names are all different than the 2002 version of Law & Order. However, the foundation that was built in 1990 still remains today - Great writing, an outstanding cast and topics "ripped from today's headlines."

What's On The Disc

All 22 first season episodes of Law & Order are spread over the six-disc box set.

During the first year of the show, Law & Order tackled some very heavy topics. From assisted suicide to sadomasochism to the bombing of an abortion clinic, the show took on hot issues and paid the price. Advertisers didn't want anything to do with those issues and bailed out of the show. To NBC's credit, they stuck it out.

The first year of the show was driven by feisty Detective Mike Logan (Chris Noth) and the great interaction between Assistant District Attorney Ben Stone (Michael Moriarty) and District Attorney Adam Schiff (Steven Hill). In fact, during the first year of Law & Order, it was Moriarty and Hill that made the show special.

One of the most underrated aspects of Law & Order has always been the peripheral cast. Looking back on the first year, actors such as Cynthia Nixon (Sex & The City), Samuel L. Jackson (Pulp Fiction), Phillip Seymour Hoffman (Almost Famous), William H. Macy (Fargo) and many more were just getting their start. The show has always been a treasure of wonderful acting.

How Does It Look

Each episode has received an update and it shows in the clean and crisp quality aspect of the video. When first year episodes used to run on A&E, the video was clearly showing its age. The DVD rectifies this situation and puts life back into the episodes.

Unfortunately, the video is not perfect, as many blemishes remain that could have been cleaned up.

Every episode is presented in its original state of full frame (1.33:1).

How Does It Sound

There is no 5.1 mix, yet all the aspects of the DVD sound outstanding. Law & Order has one of the most memorable theme songs in television history and to hear it in its full glory is wonderful.

What About The Extras

The coolest and really only extra feature is a new interview with series creator Dick Wolf. For Law & Order junkies this is clearly one of the reasons to buy the DVD set. While it only runs 14 minutes, it is extremely informative and entertaining to hear some of the stories and reasons why from the first year of the show.

The only other extra is a preview of a new Law & Order computer game. You haven't lived until you've seen Jerry Orbach rendered in 3D!

Final Thoughts

Law & Order is the greatest drama in the history of television. This new DVD box set may not be full of bells & whistles, yet it contains the first year of the outstanding drama. The Law & Order - First Year DVD is a must for any fan of the show!

-- Malcolm Michaels, Mad Blast
As if we could have too much Law & Order these days! Not only have there been not one, not two, but three versions of the show on the air over the last few years, plus the incessant reruns, now Universal has unleashed the first season box set of one of the most popular and acclaimed dramatic series in recent memory.

So what's the show's secret? What's so engrossing about its format to have launched two successful spin-offs (and counting?) Where most shoot-em-up cop and lawyer dramas feel the need to lay on thick the ridiculous plot schemes as the core concept grows tired, Law & Order, by its own finite dramatic scope and singular shooting style, has been able to stay popular, dramatically exciting and narratively unique.

Case in point is how amazing it is to watch the show's first lap. Lead Michael Moriarty (who eventually won an Emmy for his efforts) is a tsunami-like force to be reckoned with. Although his on- and off-screen antics began spiraling out of control by the mid-1990s, his fevered work in this first season is dramatically provocative and well-oiled. Watch as he often moves well inside a fellow lawyer's personal space to deliver his dialogue - or just about anywhere he wants - adding an unpredictability to a scene. (Even more fun is watching the cameraman trying to keep up with him, playing catch-as-catch-can with his fiery improvisations.)

Such challenging structure and pacing is what is most easy to applaud. As we learn from the revealing if slight making-of featurette included on this expansive six-disc collection, in an era when hour-long dramas were in danger of becoming extinct, creator Dick Wolf was able to sell NBC on his concept of a 60-minute program with two distinct half-hour parts. And damned if it hasn't remained riveting television for years.

Watching these embryonic episodes now with the show's current elder-statesman status, it becomes fascinating just how much stylistic impression Law & Order has had on dramatic television over the last ten years - you can pretty much smell its breath on every other cop show made since. Its shaky-camera visual style predates the zany, zippy pep of NYPD Blue's herky-jerky cinematography, and the gritty realism and penchant for crisp, almost melodically-quick pacing has had a sizable impact on such current dramatic mainstays as ER and The Practice.

But as any longtime Law & Order fan will tell you, while the first season is head-and-shoulders above the vast majority of hour-long television from the early 90s, the real magic is yet to come. There are amazing episodes here – "The Reaper's Helper" is a heart-tugging favorite – but what really gets fans salivating is the idea of future, more fully realized seasons. But all shows have to start somewhere, and this is a more-than-adequate encapsulation of a popular and important rookie season. Whether you've been a fan forever or have yet to be indoctrinated into the moody and shadowy exhilaration that is Law & Order, The First Year is well worth checking out.

Video: How Does The Disc Look?

Preserving the show's original broadcast 4:3 aspect ratio, these episodes look just alright. If there are any complaints to be made, they should be directed towards the prints (like most primetime shows, Law & Order is shot on film and edited on video). Dirt and blemishes are plentiful and quite distracting. Worse, some of the prints are scratched, even with hairs jiggling at the bottom corners: It sure would have been nice if Universal had fronted some cash for a nice restoration. On the plus side, colors are represented nicely, even if they are a notch below more modern TV fare, and detail is fine. The impact of the show isn't all that compromised by any of the shortcomings of these transfers, but it could have been so much better.

Audio: How Does The Disc Sound?

Like the transfers, pretty standard. Instead of upping the ante and presenting a wonderfully robust set of new 5.1 mixes like Warner did for their "Friends" season collections, Universal keeps it simple and replicates the already-adequate 2.0 stereo broadcast mixes. Dynamic range is lifeless with tinny highs and no dynamic low end. Stereo separation is hardly used at all, but at least the scores are balanced fairly well and dialogue is well-recorded. Like the video, these aren't terrible soundtracks, just not all they could have been.

No alternate language dubs are included, only English captions for the hearing impaired encoded as subtitles, and no true Closed Captioning.

Supplements: What Goodies Are There?

Pretty slim: All we get is a featurette, "The Creation of 'Law & Order'" which presents factoids and historical information about the show. It's short, plain and not very exciting. Rounding it out is a 1 minute preview for the "Law & Order" interactive game.

DVD-ROM Exclusives: What do you get when you pop the disc in your PC?

No ROM extras have been included.

Parting Thoughts

Universal could probably have created a nicer package as a whole, but the quality of the show itself makes this collection a solid purchase for the fans nonetheless. Nicer transfers and at least a few more interesting extra features would have helped, but as it stands, this is one of the better television shows of the last decade. Recommended.

-- Mike Restaino, DVDFile.com
I'll never forget the first time I watched Law & Order. It was on at 10:00 p.m., in the middle of the week in the early 1990s. I was working very, very long hours, establishing a new business, and I arrived home, turned on the TV, and couldn't believe what I was seeing: a cop show with all of the fat cut out. This was the anti-Miami Vice: no Ferraris, no fun in the sun, no cops wearing silk suits, no wall-to-wall Jan Hammer soundtrack, no extraneous background B.S. from the characters. Heck, no extraneous B.S., period.

And then there was the structure! A half hour of cops, followed by a half hour of lawyers--Dragnet meets Perry Mason.

I think it was the structure that sucked me in at first. Being an obsessional Stanley Kubrick fan, I read numerous interviews where he talked about trying to change the three act structure of motion pictures--and backed that talk up with films with truly radical movies structures (at least when compared with almost everything out of Hollywood). And here was a TV show that did something really unique with structure!

Knocking Down the Dominos

Of course, it wasn't truly unique; nothing on television ever is. Hill Street Blues especially in its early years, was also designed to look harsh and gritty, to create a pseudo-documentary feel, as Todd Gitlin documented in Inside Prime Time. Hill Street also did away with transition shots--no wasting 30 seconds or a minute while the squad car rolls down the street, pulls up to the high rise, the cops jump out, the camera pans up and zooms into the window of the office building--a standard television cliche that wastes time and takes away from moving the plot forward.

Of course, in some respects, compared to Hill Street Blues, Law & Order is a dramatic swing backwards: back to the days of "police procedurals" such as Jack Webb's original, "just the facts, ma'am" Dragnet. Hill Street was all about the inner lives of its characters; what they felt and thought about what was going on around them was paramount. Law & Order is all about the plot--each scene pushes it relentlessly forward, like a series of dominos being knocked down, as Dick Wolf describes it in the box set's documentary.

The Gradual Loss of Grit

Wolf, who created Law & Order, preceded it by experimenting radically with the cop show genre in the 1980s. He wrote for Hill Street Blues, then co-produced the glitzy Miami Vice, and then produced a little remembered 1988 TV series for Universal called The Street, which starred Stanley Tucci as a cop patrolling the streets of Newark. Shot on videotape, it was Wolf's little known bridge between the glitz of Vice and the grit of Law & Order.

Of course, any dramatic TV show that starts off looking harsh, gritty and "authentic" eventually loses those attributes--it's just the nature of television. "Everybody's Favorite Bagman", Law & Order's pilot episode (and included on this DVD), was shot on 16mm, for a deliberately crude, grainy and streetwise look. As Wolf explains on the DVD's documentary, when it came time to run the pilot on national TV, executives at NBC thought its image quality was below their standards, and it took a direct OK from Brandon Tartikoff for it to air. Tartikoff consistently backed L&O during its low rated first season, just he had backed earlier NBC shows that showed promise, but had low ratings during their early runs, such as Hill Street and Cheers. It didn't help matters (as Dick Wolf takes perverse pride in saying on the DVD's documentary), that in their first season, Law & Order held the NBC record for sponsors dropping off of a TV show, due to its controversial plots.

The pilot was shot a year before production began on the series. Once the show was sold to NBC, Law & Order's first six regular season episodes were shot by Ernest Dickerson, Spike Lee's original cinematographer. Dickerson used lots of diffusion to create a softer, more sun drenched look than the pilot. A few years later that softness started affecting the plots as well, when the assistant D.A.'s sidekick was replaced with a series of babelicious young women. After the show's third season, NBC ordered the all-male cast of Law & Order broken up, and Richard Brooks' character, assistant D.A. Paul Robinette, was replaced first by Jill Hennessey, then Carey Lowell (whose character was at least believable as a single mom), then Angie Harmon, until today's current D.A. As Bombshell, Elisabeth Rohm. And simultaneously, as National Review Online once noted, just as Giuliani and Pataki swung New York politics to the right, Law & Order's plots started increasingly shifting left.

Everything Clicked In the First Season

None of that matters watching this DVD of Law & Order's first season, where everything clicks: a great cast, great scripts, great atmosphere, and stories "ripped from the headlines", as the cliche went. The DVD contains "Life Choice", the episode where the L&Ocops and D.A.s investigated the bombing of an abortion clinic, an episode never rerun by NBC. "Subterranean Homeboy Blues", which reconstituted the Bernard Goetz subway shooting incident with a beautiful young ex-ballerina in the place of the nebbish Goetz. And "Out of the Half-Light", L&O's remarkable take on the Tawana Brawley hoax that put Al Sharpton on the national map.

So is it a perfect DVD? Well, I would have preferred to see more bonus materials, such as an optional audio commentary from Wolf or his writers underneath some of the more controversial episodes. While the video has probably been cleaned up a bit, in some areas it's been practically whitewashed: the original, crude looking title cards that ran under the show's famous gavel bang sound effects during the first four or five episodes have been replaced by the cleaner type face used from then on. And the original opening credit sequence, created for the pilot episode, has also been replaced with the now standard opening.

But those are minor criticisms that don't take much away from enjoying the box set as a whole. If you like your cops tough and dedicated, and remarkably free of touchy-feely emotional catharses and pastel linen suits (not to mention butt shots), and your cop shows free of fluff and long on plot, then this is your DVD.

-- Blogcritics.org