Law & Order: Articles, 2003


Wolf Points Out Differences in 'Law & Order' Franchise
Vanessa Sibbald, Zap2It, 1.10.03
What's in a name? Although Dick Wolf has named his three NBC shows by the same name, "Law & Order," the executive producer argues that the shows themselves are completely different.

"The stories are very different," Wolf told reporters at the Television Critics Press Tour in Pasadena, Calif., on Wednesday (Jan. 9) referring to the shows "Law & Order," "Law & Order: Special Victims Unit" and "Law & Order: Criminal Intent."

"The only things that are identical in all three shows are the title cards and the ching ching."

The similarities in the name is just branding, says Wolf, a way to automatically give the audience an idea of what they'll be getting.

"They're not the same show. It's the same brand. It's Campbell's soup."

However, the similarities across the three shows are more than just music and title cards. All three shows are constructed the same way in that they are all non-serialized and that they all feature police officers solving crimes, following up with the legal side of the case. Although "SVU" zeros in on sex crimes and "Criminal Intent" lets you know who committed the crime, the format used for telling the story is very similar. In addition, all three shows are "ripped from the headlines," as NBC promos keep reminding us.

"The thing that is the distinguishing factor on all three shows, I really believe, is the writing," he says. "What I think is really similar about all three shows is the great writing."

Obviously, it's a formula that's working. Not only are all three shows in the top 20 in the ratings for the last two weeks, but NBC recently picked up "Criminal Intent" for next fall. The show's success has opened up the possibility of another update on the "Law & Order" franchise. Wolf says he does have new projects on the drawing board, he refused to give any details.

Lawmaker and "Order"
New York Daily News, 1.15.03
Ex-Sen. Thompson leaps from D.C. to TV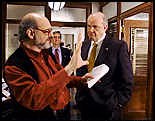 Former Sen. Fred Thompson (R-Tenn.) has had a number of acting roles over the past 20 years, but few have required as little background preparation as his new job on "Law & Order."

That's because before Thompson was a senator, he was a lawyer. And now he's playing one on TV - District Attorney Arthur Branch.

"It's one of the few - if not the only - TV series that I would have done," said Thompson, who decided not to run for reelection this past November.

"It's my wife's favorite TV show," he said, admitting that was a big factor in his decision to accept. "I called her up, and said, 'You're not going to believe the call I just got.'"

Three decades ago, at age 30, Thompson was wielding a different type of authority, as minority counsel to the Senate Watergate Committee, following a trail that led eventually to the resignation of President Richard Nixon.

After years as a lawyer, Thompson portrayed himself in a 1985 docudrama about one of his cases, and began taking small acting roles in such TV series as "Wiseguy" and "China Beach."

After landing parts in such well-received films as "The Hunt for Red October" and the telemovie "Barbarians at the Gate," Thompson was elected in 1994 to the Senate.

But before he was officially out of office, he had filmed his first scenes for "Law & Order."

"How often do you sit down with a sitting senator?" said Michael S. Chernuchin, the NBC show's head writer and one of its executive producers. "We go for reality in this show, and he was a logical choice."

Even with his own legal background, Thompson wasn't a regular viewer of "Law & Order" or any other TV drama.

"When this senator watched television," he said, "it was usually ESPN."

Thompson said he was nervous, but as with anything else he did as a lawyer or senator, the key to acting is preparation.

"You never want to get over having a little bit of tension," he said. "Whether you're trying a case, acting in a scene, or going on one of the Sunday talk shows, you need a little tension; you want to have a bit of an edge. I'm certainly not over that as an actor, but I'm comfortable, in the end, with the finished product."

So is Chernuchin.

"The best thing for a writer is to have an actor improve on their lines, and Fred does that," Chernuchin said. "He's warm, he's compassionate, and he's intelligent. He makes the words really sing."

Some of his delivery techniques come from being an elected official, Thompson said.

"There's always been a theatrical element to politics," Thompson said. "The great leaders always had theatrical skill."

And Thompson sees in himself an unlikely parallel - between acting in a top 10 drama series and being on television back in the 1970s as a member of the Watergate Committee staff.

"You're so involved in the detail of the moment, in the scene, you don't have time to sit back and think of the significance of it," he said. "With Watergate, it was some time after it was over before I appreciated the significance of it. It wasn't as frightening for a 30-year-old lawyer as it might otherwise have been.

"I didn't know enough to be scared."
[Photo: Director David Platt with Fred Thompson; photo by Tracy]

"Law & Order" Producer Wouldn't Do "The Shield"
Bill Brundy, Zap2It, 1.16.03
Never one to keep his feelings to himself, producer Dick Wolf (the "Law & Order" franchise) is excited about his new project for ABC, an updated version of the police drama classic "Dragnet." The fact that its first few weeks will be spent battling it out against NBC's much-hyped drug cartel saga "Kingpin" doesn't faze him one bit either.

"I think the wonderful thing about the American public is they'll make a very clear choice whether they want to watch Ed [O'Neill] playing the most iconic cop in history of American television or a warm family drama about the drug dealers killing your children," Wolf says.

For a brief 24-hour period, "Dragnet" was set to air at 9 p.m. ET on Mondays, which would have put it opposite FOX's new hit "Joe Millionaire." However, unlike some show creators who are banging the drum of reality programming being the death of scripted programs, Wolf is more philosophical about such things. He feels it's wiser to let audiences decide what they want to watch, rather than prescribe entertainment that he feels is good for them.

"Reality shows are cheap. They are effective. They don't repeat. There are pros and cons. If I was a network scheduler, I'd see what the traffic would bear," Wolf says. "The idea of [a programmer's] job of trying to fill 22 hours and not using your own taste is overwhelming. You cannot schedule a network to what you want to watch on television, or most people wouldn't be watching most of the week."

While Wolf's projects don't veer away from being at times graphic in the name of being realistic, the producer doesn't feel a need to embrace grittiness for the sake of being considered cutting edge.

"I wouldn't make 'The Shield.' The reality is 99.4 percent of all cops are exactly the cops that you would hope to be. They're not doing it for the money. They're doing it because they want to help people and serve and protect. The bulk of them are really nice guys; they're doing a real nice job. The only time you hear about cops is when a very small minority of them do something wrong."

"Law & Order" Actor Supports Bush, Not Bartlett
Zap2It, 2.28.03
All boundaries between real life and televised politics have ceased to matter.

Following TV president Martin Sheen's ad questioning the war plans of real-life president, George W. Bush, former real-life senator Fred Thompson, currently a TV district attorney, is fighting back. Thompson will appear in a TV ad supporting the Bush Administration's designs for Iraq, clearly at the expense of the Bartlet administration's plan.

In his ad, Sheen says, "Don't invade Iraq. Inspections work. War won't."

Sheen has been an outspoken leader of the organization Artists United to Win Without War, a group that also includes Janeane Garofalo and Mike Farrell and has been active in anti-war protests.

Thompson's ad will offer a much more verbose argument.

"Thank goodness we have a president with the courage to protect our country," Thompson will say. "What should we do with the inevitable prospect of nuclear weapons in the hands of a murderous and aggressive enemy? Can we afford to appease Saddam?"

Thompson, who recently completed a term as Republican Senator from Tennessee, was the Senate Watergate Committee's chief minority counsel in 1973 and 1974. After playing himself in the 1985 movie "Marie," Thompson began an acting career that included supporting roles in "Die Hard 2," "Curly Sue" and "Baby's Day Out." Thompson came to the Senate after winning a special election for Al Gore's former seat. He joined the cast of "Law & Order" this season, replacing Dianne Wiest in the DA part.

NBC, which airs both Thompson and Sheen's shows tells the The Hollywood Reporter, "Mr. Sheen and Mr. Thompson are both acting in the capacities as private citizens. We respect their opinions and their right to free speech."

An Evening of Law & Order
Gothamist, 3.10.03

In the lives of New Yorkers, the people are represented by two separate yet equally important groups: the makers of Law & Order, who consistently churn out topical, interesting, and entertaining programming; and the Law & Order fans, who eagerly watch the show and its offshoots on NBC, TNT, USA, and wherever else possible. These are their stories.

The New York Times, in its bid to be even more of a leading cultural authority in the city, sponsored its second annual "Times Talks" during an "Arts & Leisure Weekend." In a clear move to pander to NYC intellgentsia, one of the panels was "Law & Order: The Real Reality TV." And the NYC intelligentsia loves to be pandered to when carrots like Law & Order producer Dick Wolf and star Jerry Orbach are dangled in front of them. In addition to the Law & Order faction, Police Commissioner Raymond Kelly and criminal defense attorney Bruce Cutler (whose most infamous client was John Gotti) were present to represent the reality.

Moderated by Times general culture writer, Julie Salamon, the room was packed with people, most skewing towards the over 40 demographic, but everyone had one thing in common: a passion for Law & Order. Salamon commented that her husband said it was like "a Star Trek convention for intellectuals." Or obssessive-compulsives. She also added that moderating this panel had made her very popular recently, with her phone ringing off the hook for passes into the show. As introductions were being made to the panel, it was noted that the panel would be done in time for everyone to get home to watch Law & Order Special Victims Unit.

The men were all dapper, all wearing French cuffs with cufflinks. Jerry Orbach was pretty dazzling, mainly because he got to smile, showing off his gleaming teeth, and bask in the Lennie-love from the audience. Dick Wolf was notably handsome (clefted chin, devilish eybrows), Bruce Cutler seemed like a pugilistic teddy bear, and Commissioner Ray Kelly was cool as a cucumber.

Interesting moments from the evening:


- Jerry Orbach was supportive the NYPD's anti-terrorism efforts but was very anti-Ashcroft.


- Julie Salamon had spoken to an Iranian literature professor in Teheran about Law & Order. The professor was fascinated with the show because in a totalitarian state, there is no respect for the law, no rights of the prisoner, so it was amazing to her how things are twisted and reworked in the criminal justice system.


- When asked what his favorite police/legal shows were, Commissioner Kelly said he loved Law & Order but admitted he hadn't "time to watch much TV lately." He also mentioned his disdain for gratuitous violence on television.


- In measuring the show's expansive power, Dick Wolf said that during a trial, a defense lawyer said to a jury, "You all watch Law & Order - you know the first suspect is never the one who did the crime."


- Law & Order was originally referred to as "Catch 'em & Cook 'em" - marking the show's compressed time for efficient police and legal tasks


- Commissioner Kelly pointed out that the murder rate in 2002 was 580, whereas in 1990 it was 2200.


- When then NBC president Brandon Tartikoff asked Dick Wolf what Law & Order's bible was, Wolf said it was The New York Post. "We look at the front page and say, 'Oh, yeah, we can do that.'" Jerry Orbach chimed in, "'Headless Body in a Topless Bar,'" recalling the most famous 1983 NY Post headline.


- Dick Wolf grew up in Tudor City.


- Bruce Cutler thought it was odd that in Law & Order, everyone speaks to the police, including the suspects. Dick Wolf snarked, "Well, not everyone's a professional suspects, like your clients."


- Dick Wolf's love with the detective procedrual began with reading Sherlock Holmes and watching Dragnet start its run in 1952.


- Jerry Orbach's favorite episodes have to do with bringing a criminal to justice long after the crime, such as in White Rabbit about a 70s radical who had gone underground and established a new life for herself and the recent Absentia with guest star Mandy Patinkin.


- Bruce Cutler may be knocking on the Law & Order casting director's door, as his acting bug caught hold when he found out William Kunstler appeared as himself in White Rabbit.

Gothamist asked a very Law & Order nerd question, which went something like this: "Part of the comfort in Law and Order is its framework, 22 minutes of crime, 22 of the law...but one episode that my friends and I like is Aftershock, which diverges from that form. All the characters are coming back from the execution and Claire Kincaid dies...in that episode, you learn more about the characters' personalities...there's more emotional texture ...is there any interest in doing another episode like that?"

Dick Wolf responded, "Well, the next time we want to kill off a character, we'll do it!" He added that it was not popular with fans, because it was not the usual Law & Order formula, it was too soap opera-y. Jerry Orbach acknowledged the interest in characters' personal lives with "What the fans really love is when Briscoe is having a drink with someone and they hear him drop some personal fact - they love that, they say it's so great." Then Dick Wolf joked that Jerry wanted to do "Aftershock" for an Emmy nomination. Jerry said, "Yeah, have someone die in my arms for an Emmy."

The room erupted in applause and it was a fitting end to a great evening.

Murphy's Law & Order
Heather Havrilesky, Salon, 3.19.03

"Law & Order" is always on. Find the remote right now and see for yourself. Between NBC, TNT and USA, including "Law & Order" and its two spinoffs, you could watch 26 hours of "Law & Order" this week alone, if you felt like it. But who would feel like it? Just look around you. All three shows are in the top 20 for the season in total viewers, and each show is dominating its regular competition among viewers ages 18-49. A conservative estimate is that 88 million viewers watch

"Law & Order" and its spinoffs and reruns each week. That's 30 percent of the United States population, which means that 3 out of every 10 people you see have watched the show in the past week. By piecing together anecdotal evidence, though, a more shocking picture emerges: It's more likely that one out of every 10 people you see watched a whopping three episodes of "Law & Order" this week.

Indeed, "Law & Order" may be the silent scourge of our cities, its crippling addiction afflicting couch potatoes from all walks of life. I had a roommate whose addiction almost destroyed him. Every night when I came home, there he was, bong in hand, "Law & Order" rerun on the TV. I tried to confront him about this very serious problem, but minutes later I'd find myself glued to the couch, unable to leave without finding out whether the creepy activist or the defensive grad student was responsible for the popular professor's death. Five years later, I thought I had shaken the "Law & Order" bug, only to find myself living with a man who would end up watching the show every time he picked up the remote. Despite my complaints, he once spent an entire Thanksgiving weekend tuned in to one of those "Law & Order" marathons on TNT. As I tried desperately to entertain his mother by chatting and playing Scrabble, there he sat in the same room, headphones plugged into the TV, watching his fifth "Law & Order" of the day.

In the past few days, I myself have fallen prey to this hideous harlot of criminal justice. Figuring I'd watch one hour each of "Law & Order" and its two spinoffs to prepare for this piece, I regained consciousness nine hours later, dazed from commingling with snarky detectives, thick-headed from pondering unforeseen investigative twists and still anxious to find out whether or not the arrogant businessman had really been molesting his children. I tried to will myself to fast forward to the end of the episode and call it a day, but as the scenes sped by, my curiosity over the emerging details of the case overtook me, and I had to rewind and watch the rest of the episode in its entirety. Afterwards, I wanted to hurl myself over the nearest cliff.

But stories like mine are just the tip of the iceberg. What creates this relentless addiction to "Law & Order," and how can we stomp it out? More importantly, do we really want to? Creator Dick Wolf controls our weak little minds with all the tools you'd expect, primarily great casting and excellent writing. The show's plots are remarkably unpredictable, given how long it's been on the air (13 years) and how obvious the story lines of most other cop shows are. The snappy dialogue is witty and intelligent, with pop-cultural references squeezed in between important bits of information. "They kill abortionists, don't they?" Jerry Orbach quips to Jesse Martin during one investigation. "So that's how a brain looks on embalming fluid," Jamey Sheridan remarks after coming across a spaced-out stoner who dips his joints in formaldehyde. Unlike soapier shows, "Law & Order" doesn't focus on the personal lives of its detectives, lawyers and judges at all. As a result, you can pick up in the middle of the season without feeling like you're missing anything. This also explains the show's success in syndication -- tune in for any episode of "Law & Order," new or old, and one show feels just as immediate and interesting as the next. While little is revealed about the show's main cast of characters, we learn a great deal about the witnesses and suspects we meet along the way, all within a few seconds of encountering them. "My wife and I were driving back from the Forum in Pennsylvania ..." says the suspect's neighbor. "You guys remember every doughnut you eat?" the telemarketer asks the cops. "She used to call the woman a slut. Of course, she was one," says the old lady down the hall.

The show's formula is set in stone: A felony occurs, the cops seek out clues and find them easily, a suspect is identified, obstacles arise and injustice usually prevails. Yet every scene has a life of its own, thanks to the writers' devotion to breathing life into each character, no matter how small and insignificant. Not only does this strengthen the show's nonlinear "pick any episode" appeal, it may also explain why it's possible to start watching in the middle of most episodes and still get caught up in the action within minutes. Of course, pinpointing the guilty party at the earliest possible moment is the main challenge -- and draw -- for "Law & Order" addicts. Once you learn the show's vocabulary of unpredictable twists and turns, it becomes much easier to identify the criminal. Outspoken, angry suspects with extremely bad attitudes usually aren't guilty, unless they're very arrogant, rich and/or powerful, or they're members of extremist religious sects or radical political groups. Slightly creepy but quiet suspects with no apparent link to the crime, or victims who are especially emotional and self-pitying who appear early on are the best candidates for guilt. Politicians, doctors, men who cheat on their wives, mothers who insult their children and embittered grad students are also, typically, guilty. While you may come across a few cheating men and sleazy politicians per episode, there's a look of restrained fear common among the guilty that becomes easier and easier to spot the more you watch the show. The crazy thing is, the better you get at predicting who's guilty, the more you want to watch. Addiction is a curious foe, indeed.

Wolf isn't helping matters much with his latest spinoff, "Law & Order: Criminal Intent," whose star, Vincent D'Onofrio, is impossibly appealing. This eclectic, slightly dorky, vaguely sociopathic detective steals every scene, smashing the macho-detective stereotype to little bits with his odd head-cocking, mumbling and awkward gestures. Unlike most TV actors, D'Onofrio dares to be extremely weird. He's sneaky, playing the naive witness in order to mention inadmissible evidence on the stand, and spilling coffee on his notes on purpose to catch his suspect off guard. He smiles at inappropriate moments. He delights in toying with arrogant men, but goes out of his way to be sensitive to old ladies and children. Just when he's starting to show a little swagger, he leaps out the

door, blurting, "I need to use my most important investigative tool: my library card!" And despite the breakneck pace of the series, D'Onofrio takes up long blocks of screen time by just ... thinking. He pauses, mid-sentence. He looks around the room. He screws up his face. The camera zooms in. What can he possibly be pondering? Unlike the other two shows, on "Law & Order: CI" we

already know who committed the crime. Somehow, the fun comes from watching D'Onofrio manipulate his way to truth.

The weakest of the trio is undoubtedly "Law & Order: Special Victims Unit," a show so melodramatic and sensational that it's clearly the "Baywatch Nights" of the franchise. The creators insist that the show isn't gratuitously violent or salacious, despite offering up scenarios like a young boy who witnesses his stepmother being beaten to a bloody pulp, or a teenage girl who stands in the hallway of the precinct, screaming, "He raped me, mother! I was 12 years old! Where were you? Why didn't you help me?" Then, of course, there's the mother, whose lines are as subtle as the chorus in a Greek tragedy: "How do I make sense of this? My husband is dead, killed by my own child's hand! How awful it must have been for my husband!" But even "Law & Order: SVU" is tough to turn off.

With ratings that continue to rise and increasing numbers of our citizenry developing serious addictions, the question is not when "Law & Order's" omnipresence will end, but what will come next? "Law & Order: Animal Control"? "Law & Order: Financial Crimes Unit"? "Law & Order: Parking Violations Division"? Based on his track record, there's no doubt that Dick Wolf could make everything from credit card fraud to stray dachshunds suspenseful and fun to watch. But it's up to each of us to resist the siren call of new "Law & Order" spinoffs, before the inevitable "Law & Order Channel" emerges and draws us into a black hole of murderous womanizers, high-minded but world-weary prosecutors, and snarky, unstable detectives.

"Law & Order" Books 300
Bridget Byrne, Entertainment Weekly, 5.21.03

Law & Order marks its 300th episode tonight, sticking to the rules of the "ripped-from-the-headlines" formula that has made it the longest-running drama playing in prime time.

In this episode, "Smoke," which also marks the finale of the 13th season of the procedural crime drama, Detectives Briscoe and Green investigate the death of a famed comedian's infant son, dropped from a high-rise window. This leads to Assistant District Attorneys McCoy and Southerlyn attempting to prosecute the celebrity for past sex crimes.

Since the hour-long series, created by mega-producer Dick Wolf premiered on NBC, September 13, 1990, there have been many cast changes among "the police who investigate crime and the district attorneys who prosecute the offenders," as well as time-slot moves, but ratings have remained strong.

Now airing Wednesdays, the series is currently the third-ranked drama and ninth-ranked series overall, attracting an average of 17.7 million viewers. Coupled with its reruns, now on both A&E and TNT, it is estimated that 96 million viewers a week tune in to watch the proceedings, which often mirror real-life crimes and controversial issues. The "mothership," as star Jerry Orbach says the show is now dubbed, has also spawned two successful spinoffs, Law & Order: Special Victims Unit and Law & Order: Criminal Intent.

When the show debuted, the cops were called Greevey and Logan, the D.A.s Stone and Robinette. George Dzundza, who played Greevey quickly gave way to Paul Sorvino, who played Detective Phil Cerreta from episodes 23-52. Then Orbach took over as Detective Lennie Briscoe to become the longest-lasting castmember.

He has had three sidekicks throughout the years. Chris Noth lasted as Mike Logan until the end of season five. He briefly showed up again as Logan in the show's franchise TV movie, Exiled, in 1998, before becoming best known as Mr. Big on Sex and the City. Taking over from him was Benjamin Bratt as Rey Curtis, who stayed until the end of season nine (by which time he was also known as Julia Roberts' boyfriend, though he is now married to Talisa Soto). When Bratt left to pursue big-screen opportunities, Jesse L. Martin signed on as Ed Green.

On the legal side, Michael Moriarty, as the intense executive D.A. Ben Stone, was around until his acrimonious departure at the end of season four. Sam Waterston then stepped in, inheriting A.D. Claire Kincaid, played by Jill Hennessy, who had taken over for Richard Brooks' Paul Robinette at the beginning of season four. Hennessy (now the star of her own crime-investigation drama Crossing Jordan) left at the end of the sixth season. Her replacement, Carey Lowell (now married to Richard Gere), remained on board until the end of season eight as Jamie Ross. Then came Angie Harmon (now married to football star Jason Sehorn) as Abbie Carmichael, who stayed until the end of season 11. Now the job is filled by Elisabeth Rohm as Serena Southerlyn.

For the first three seasons, the precinct head was Dann Florek as Captain Don Cragen, the character he is still playing on Law & Order: SVU. Since his departure, S. Epatha Merkerson has bossed the cops about as Lieutenant Anita Van Buren.

For 10 years, Steven Hill held sway as top D.A. Adam Schiff. When he retired, Dianne Wiest took over for two seasons as Nora Lewin. This season, Fred Thompson, out of politics for real, took over the political role as D.A. Arthur Branch.

As the official NBC press release marking the 300th episode explains, the reason all this shuffling of onscreen faces has not harmed the series is because "Wolf and his writers-producers made sure that it was story, not character-driven and only eyedropper doses of the protagonists' non-work lives would be doled out, no matter how hungry the viewers were for personal information. The result is there are no ongoing story arcs, so the series plays much better in syndication and viewers can come and go and not worry about serialized storylines."

Along the way, the show won six Emmys, including Best Drama Series in 1997. It also picked up a Peabody Award, broadcasting's highest honor.

Those are the facts. The current cast, meantime, is doing the rounds of celebrating and receiving plaudits--such as a yummy-looking cake on today's Today show and, back in April, a proclamation of behalf of the Mayor Mike Bloomberg of New York City, where the show is filmed.

The milestone episode is part of three back-to-back episodes of Law & Order. The network had hoped to kick off the evening with the original pilot episode, "Everybody's Favorite Bagman," which had first aired as the sixth episode of the premiere season but had failed to come to a legal agreement with Universal Network Television, a production partner with Wolf Films. So, at 8 p.m., Mike Post's familiar theme music will instead herald a rerun of April's episode 295, "Maritime," about a dead woman's body in a river and a seemingly guilty football star. At 9 p.m., there will be a new episode titled "Couples" about a string of murders, including one in which a wife runs over her cheating husband. Then, at 10 p.m., comes the 300th episode.

The series is currently picked up to run until a 15th season, but if ratings stay firm, Jeff Zucker, president of NBC Entertainment, might have been serious when he released a statement saying, "We are honored to be the home of Law & Order and look forward to the next 300 episodes."

"Law & Order" To the Actors' Rescue
Vanessa Grigoriadis, The New York Times, 6.15.03

To the residents of Craig Walker's SoHo neighborhood, he is mostly known as a talented barista. From 8 until noon, he plies his trade at Porto Rico Coffee on Thompson Street, a dimly lighted anti-Starbucks with the Rolling Stones on the stereo, paperback copies of Jacques Derrida in the sagging bookcase and a cluttered bulletin board advertising giveaway futons and classes at a local "D. J. university."

But Mr. Walker, 35, who has a shaved head and stands 6-foot-3, is also sometimes recognized for achievements beyond the espresso machine. "I was watching a 'Law & Order' rerun last night with my girl," a customer in chunky glasses told him the other day, "and I was like: `I know that guy! How do I know that guy?' "

Mr. Walker grinned. "You know, man, I get that all the time," he said, grinding a pound of dark roast.

Mr. Walker is one of hundreds, perhaps thousands, of struggling New York actors who owe their fame, and a share of their financial solvency, to the ever-expanding "Law & Order" franchise on NBC, which now includes the original crime drama, 13 years old, and two spinoffs. With each of the three shows producing about 22 episodes a season, and a supporting cast of at least 20 needed to play each episode's lawyers, police officers and gruesomely slain paralegals, the "Law & Order" industry has become the most important staple in a traditionally lean New York acting diet.

"We have students who've been on it, instructors on it, even the artistic director of our playwriting affiliate," said Kathryn Eaker, managing director of HB Studio, which has been an acting school in Greenwich Village for over 50 years. "It's become a benchmark in an acting career: 'Yippee, I landed my first spot on "Law & Order"!' "

A quick scan of Playbills from the Broadway hits "Nine," "Gypsy" and "Oscar Wilde's 'Salome' " shows 15 biographies listing a credit for "Law & Order."

Dick Wolf, who created the redoubtable franchise: its producer, Universal Television, is asking NBC for more than $550 million a year to keep it going, and a fourth spinoff is in the works, he said, "It's actually gotten to the point where if I go to the theater and open the Playbill and the actor doesn't have one of the 'Law & Orders' in his or her credits, I figure they either just got off the bus or they are really bad."

The "Law & Order" shows are not the only game in town. "Sex and the City," "The Sopranos" and "Third Watch" are also produced locally. But for character-actor roles of all ages and ethnicities, the "Law & Order" troika is unrivaled: the original series alone has meant over 36,400 days of work for New York actors since 1990 and has injected $602 million into the city's economy, the Mayor's Office of Film, Theater and Broadcasting said. The three series -- the others are "Law & Order: Special Victims Unit," which began in 1999, and "Law & Order: Criminal Intent," dating from 2001, have so far produced 449 shows.

"Quite frankly, I've started to think about holding an acting seminar for New York actors called 'Let's Talk About the Victim,' " said Roger Bart, a former star of "The Producers" on Broadway and a two-time "Law & Order" guest actor. "We'd only do monologues that begin with, 'Well, I didn't think much of him at first,' 'He was just a quiet neighbor,' 'I'd only dated her for two months.' "

For bit players used to scraping by on temping and coffee-bar tips, a "Law & Order" check can be the difference between canned tuna and sashimi. Those hired for a single day earn a Screen Actors Guild minimum of $655. Weekly performers are paid $2,272 and a lead guest star, $5,240. Residual fees from reruns can also be lucrative since the repeats are among the most popular on television.

But even when the checks, which generally shrink with each rerun of an episode, grow tiny, they can still represent a lifeline for the proverbially starving New York actor. George Demas, who played the husband of a victim of medical malpractice ("She died during a routine laparoscopy -- don't ask me what that is"), said he received $1.22 for one rerun of the episode on TNT. "I didn't even frame that check," Mr. Demas said. "I cashed it. Now that's sad."

Aside from payment in whatever amount, "Law & Order" appearances add prestige to an actor's resume because the shows are critically respected, and even small parts are written with more depth than most television and film roles. With plot lines spun from headlines -- P. Diddy's trial after a nightclub shooting, Michael Jackson's dangling of his infant son from a window -- each episode follows a foolproof formula of crime, investigation and trial, presented with the methodical chronology of a police report and usually leading to the satisfaction of a conviction.

"If you choose to make your life in New York as an actor because you love theater and want to do theater or independent film, it's one of the only ways you can make some kind of money as an actor and still have integrity," said Marianne Hagan, a pretty strawberry blonde in a flowing blue caftan, who was nursing a cafe-au-lait-size cup of coffee alfresco at Les Deux Gamins, a cafe on Houston Street.

Ms. Hagan was first cast on "Law & Order" when she returned from Los Angeles in 1997, fresh from a starring role in "Halloween 6." "I came back to New York to try to do theater, but everyone in New York was doing `Law & Order,' " Ms. Hagan said. She was cast almost immediately. "I was like, `Yes!' " she said, raising her cup in a toast. "I've returned back to New York, like Caesar returning from Gaul."

The original "Law & Order" has a history of showcasing future stars, with Julianna Margulies (as a navy lieutenant), Claire Danes (child model) and Laura Linney (in a Japanese white slavery ring) all appearing during their salad days.

The jury is still out on what a guest spot actually does for a supporting actor's career. "The credit hasn't superseded Broadway in terms of casting, but it's allowed all of us who work in the business to see actors we might not have seen otherwise," said Tara Rubin, a casting director for "Mama Mia!" and "The Producers."

But the parts these actors are playing might not be the ones they want casting directors to see. "I don't feel like a lawyer, but they always cast me as a lawyer," said Bob LuPone, who has appeared in six episodes. "It hasn't done anything for my career to bring me out of the fray, as it were, as a career actor."

Nor has Mr. Walker been able to turn his appearances into a career that lifts him out of his SoHo coffee bar. So far, he has made $15,000 to $20,000 for three guest spots on the "Law & Order" shows, but has yet to find an agent. "They can't figure out my type," he said, referring to Manhattan agents and casting directors. "I get a lot of 'downtown hipster guy.' I mean, what does that mean?"

So Mr. Walker auditions mostly for commercials, like one for a beer. "It was a party scene," he said. "They hired a hypnotist, and the hypnotist says to one of the guys, 'You are a dog.' " Then another guest appears with beer. Everyone runs over to him, and the scene shifts to the hypnotized guest lapping water out of the toilet bowl -- " 'cause he's still a dog," Mr. Walker explained grimly. "And they wanted me to play the dog."

On the other hand, John Dossett, who is starring in "Gypsy" on Broadway, recalled that last year he missed an audition for "Dinner at Eight" at Lincoln Center but was cast anyway from a "Law & Order" tape.

Casting directors on the "Law & Order" shows maintain they now have a difficult time finding new faces -- which might be the first time in the history of the New York acting world that demand has outstripped supply. Last season, Mr. Wolf ordered directors to wait 60 days between casting the same actor twice in prominent guest roles on any of the three shows. "We don't want someone to tune in Wednesday night for `Law & Order' and then Sunday night for 'Criminal Intent' and see the same actor playing the villain in one show and the cop in the other," said Gayle Keller, the casting director of "Criminal Intent."

But as surely as BackStage appears once a week, New York actors will show up for an audition. On a rainy Thursday in June, 30 of them lined the gray-carpeted hallway of the Chelsea Piers offices where the three series are cast. This call was for an episode in the third season of "Criminal Intent," the story of a woman who avenges the death of her husband, a hit man, by marrying and then murdering the killer. (Kinky!)

A New Yorker cartoon is on the casting assistant's corkboard: "In the criminal justice system, the courtrooms are cleaned every night by members of the cleaning crew. These are their stories."

Gripping dog-eared pages of script, actors trying out for mobster roles wore heavy gold chains and tight white T-shirts. Those reading for lawyers wore suits and carried leather portfolios under an arm. They had all dressed the part on their own --including Peter Mele, in a bright orange jumpsuit with "State Prison" stenciled on the back, hoping to be cast as convict. "I'm a Mafioso about to be paroled in a week, but there have been some complications because my son took it upon himself to do some dirty work on my behalf," Mr. Mele said, explaining the role. "But business is business in the mob world," he continued. "When you come down to it, family don't mean nothing."

Mr. Mele shot a sideways glance at the "lawyers." "I don't know who these suits are," he grumbled.

Stevie Ray Dallimore, auditioning for the part of a prosecutor, strode out of the casting room confidently, holding the hand of his 3-year-old daughter, Rose, in green galoshes. (Mr. Dallimore had brought her to save on the cost of baby-sitting.)

"It went well," he said, "though she" -- he indicated Rose -- "stopped me in one of my speeches. She just said, 'I'm finished with my fruit snacks.' I stopped and then went on. It was O.K."

Later, he learned he did not get the part. "They're saving me for something better," he said.

Waterston Reups for More "Law"
Josh Greenberg, Entertainment Weekly, 6.27.03

Sam Waterston will keeping the law and order for a few more years.

The actor has agreed to a two-year contract extension with the producers of Law & Order that will keep him on NBC's Emmy-winning series through at least the 2004-05 television season.

Since joining Law & Order back in 1994, Waterston's tough-talking, but charismatic Assistant D.A. Jack McCoy has become one of the few constants on a show known for cast upheavals.

Angie Harmon, Benjamin Bratt, Paul Sorvino, Jill Hennessy, and Carey Lowell, Diane Wiest and Chris Noth are among those actors to have passed through the Law & Order revolving door over the show's 13 seasons.

The only cast members to serve longer than Waterston are Jerry Orbach, who has been busting bad guys as Detective Lennie Briscoe since 1992, and S. Epatha Merkerson, who's played Lieutenant Anita Van Buren since '93.

Aside from Waterston, Orbach and Merkerson, the rest of the Law roster is currently filled by Elisabeth Rohm, Fred Dalton Thompson and Jesse L. Martin.

Crime has paid off nicely for the Peacock. Law & Order, which premiered in 1990, has been something of an anomaly on the tube, increasing its viewership in recent years as it heads into its 14th season next fall. The Dick Wolf-produced police drama, which mixes ripped-from-the-headline tales and solid performances from its New York-based acting bunch, registered its 300th episode last month and finished the season as TV's 10th most watched show, averaging 17.3 million viewers a week.

It has already spawned two highly rated spinoffs--Law & Order: Special Victims Unit and Law & Order: Criminal Intent--and NBC is talking with Wolf about launching a fourth franchise.

During his stint on Law & Order, Waterston has garnered three Emmy nominations for Outstanding Lead Actor. That matches the three nods he received for NBC's I'll Fly Away in the early '90s.

On the big screen, Waterston is best known for his Oscar-nominated turn as a journalist who escapes genocide in Cambodia in 1984's acclaimed film The Killing Fields. Other feature credits include a trio of Woody Allen films--Interiors, Hannah and Her Sisters and Crimes and Misdemeanors--and John Waters' Serial Mom.

Recently, Waterston played the father of hate-crime victim Matthew Shepherd in NBC's TV movie The Matthew Shepherd Story. He's next set to costar with Kate Hudson and Glenn Close in the Merchant-Ivory film Le Divorce.

"Law & Order to NBC: Pay Up!
Bridget Byrne, Entertainment Weekly, 6.2.03

The cost of Law & Order is rising to new heights.

NBC may be held up for a stunning $550 million a year if the network wants to keep airing the three hit L&O series, according to the New York Times. The three-season renewal deal sought by series production company Universal Television would make every episode worth about $8 million and cost the Peacock more than $1.6 billion overall.

Universal is reportedly wrapping the trio of hour dramas, created by überproducer Dick Wolf, into one negotiation package, although only one series, Law & Order: Special Victims Unit, is actually up for renewal at the end of the coming season. The original Law & Order and the other spinoff, Law & Order: Criminal Intent, have two seasons left on their current contracts. (Wolf's Law & Order-branded reality series Crime & Punishment, which is running this summer on NBC, is not part of these negotiations.)

If NBC bows to Universal's demand, it would make for the most lucrative entertainment deal in television history. (Sports franchise deals are in another league.) Wolf and Universal's clout comes not only from the series' consistently high ratings--each handily wins its time slot--and their success in reruns, but also because Wolf & Co. are developing a fourth drama in the franchise for the 2004-05 season, which, unlike the other two spin-offs, will play up the legal angle more than the cop angle.

If NBC doesn't cough up, that potentially successful show could be sold to a rival network, minus its Law & Order title, but not its distinctive New York based ripped-from-the-headlines content.

Currently the new show is dubbed Four and is designed for a repertory cast. "Some of the biggest actors in New York are interested because they would not have to appear every week," Universal Television Production president David Kissinger tells the Times.

The newspaper also refers to several other unnamed Universal executives spinning out the information that development on the new show will not proceed further until the future of the established series is known. "The real negotiation has not started," David Goldhill, president of Universal Television, tells the Times, insisting his company didn't intend "getting into a fight" with our "great" broadcast partner NBC, "but clearly, we will do what's best for the franchise and the shows."

Universal, Wolf and NBC refused to comment on the negotiations Monday.

Universal, which would like the deal inked by December, is reportedly willing to play hardball with NBC and shop SVU to another network once its contract expires.

In the past, NBC has given in to costly demands from the producers of its hit series, notably shelling out the big bucks to Warner Bros. to keep Friends and ER. Although the overall L&O price tag is much bigger than the $280 million the network paid in 1998 to hold on to the hospital drama, the price per episode is not quite as much. ER once cost as much as $13 million per episode, but that has been sliced back now to between $8 and $10 million. The medical series rates higher than Law & Order with the 18-49 demographic favored by advertisers, but doesn't repeat nearly as well.

The three L&O series provide NBC with 70 to 72 episodes of original programming each season and endless opportunities to plug scheduling holes with successful reruns. During the recent May sweeps, the programs filled almost 30 hours of air time. Law & Order, which aired its 300th episode last month, is 13 seasons old, but still the number one show in its Wednesday, 10 p.m. slot, providing a profitable lead in to local news and the Tonight show. SVU has been a hit on Fridays for four seasons and this fall is moving to Tuesdays, where it should attract even higher ratings and more advertising dollars for the network. Criminal Intent, only two years old, scores big numbers on Sundays, where it also boosts local late news ratings.

Universal won't reveal the current per-episode price, but the company claims lower-rated series are paid more. "NBC has it at a fantastic bargain," says Kissinger.

According to the Times, one of Universal's negotiating tools is a report Primetime Programming Cost Analysis by Richard A. Bilotti, an analyst at Morgan Stanley, that estimates that during 2001-02 Law & Order was the most profitable scripted show on NBC, contributing $160.7 million in gross profit, 15 percent of gross profit from regular series for the network, where overall prime-time profitability was $681.5 million.

While NBC is considered vulnerable because it has only one more season of Friends, is likely to soon say bye-bye to Frasier and has split with The West Wing creator Aaron Sorkin, the Peacock is not completely handcuffed. Universal is owned by deeply in debt Vivendi, which has the studio up for sale. NBC is among the major companies that have expressed interest in owning at least the production arm of the studio (which, of course, includes the Law & Order franchise) and its cable channels, USA Network and the Sci-Fi Channel.

"There is a certain irony that NBC is a potential buyer," an unnamed executive involved in the L&O negotiations tells the Times.

If NBC has its way, it would also be a certain, pardon the pun, poetic justice.

Barnes & Noble Will Publish DIck Wolf's Law & Order: Crime Scenes in October 2003
Business Wire, 7.24.03

Barnes & Noble, Inc., the world's largest bookseller, announced today that in October 2003 it will publish Law & Order: Crime Scenes by Dick Wolf, the creator and producer of the longest-running drama on network television. The more than 100 photographs in the book are by Jessica Burstein who has been the photographer for Law & Order since 1994. The book's publication date is October 15th.

"We're proud to be publishing the first official book about this extraordinary television program by its creator, Dick Wolf," said Alan Kahn, president of Barnes & Noble Publishing. "The format of the book resembles a police blotter and captures all the gritty realism and fascination of the show itself. It is the definitive collector's edition for Law & Order's millions of fans. We are also pricing the book at $30.00, which is consistent with our strategy to publish books of extremely high quality at affordable prices."

After an introduction by Dick Wolf, the book opens with "Anatomy of a Crime Scene," which follows the production of a specific episode's crime scene. Included are interviews with cast and crew members, from the executive producer to Jerry Orbach to the "murder victim." Chapter Two, "Scenes of the Crime," is the centerpiece of the book, featuring stunning, never-before-seen photographs of Law & Order's most provocative crime scenes. Wolf describes the photographs by Jessica Burstein as "emblematic of my initial vision of the show."

In Chapter Three, "In the Criminal Justice System," Wolf finally "goes home" with the show's characters, revealing the personal lives of the detectives and attorneys throughout the history of the series. The book concludes with a "Postmortem" by Burstein, featuring thumbnails of the photos with notations on which episode each one came from and anecdotal information about the shoot and the actors.

The Law & Order franchise, from Wolf Films and Universal Network Television, is the most successful in the history of primetime television, with all four branded series regularly placing in the top 20 of all primetime television programs. Entering its 14th season on NBC, Law & Order holds the record for most consecutive outstanding drama series Emmy nominations, winning the award for "Outstanding Drama Series" in 1997. Law & Order: Special Victims Unit is entering its fifth season; Law & Order: Criminal Intent is entering its third season; and the "drama-mentary" series Crime & Punishment is currently in its second season, all on NBC.

Law & Order: Crime Scenes can now be preordered on Barnes & Noble.com www.bn.com. Sterling Publishing, a wholly owned subsidiary of Barnes & Noble, will distribute it to the book trade and specialty retailers.

The Rule of Law
No Matter Who Wears The Badge or Writes The Brief, Viewers Can't Seem To Get Enough of Law & Order
Juan Morales, Emmy, July 2003

It looks like Law & Order may be the rule that proves the exception. While the survival of many series these days seems to hinge more on the art of the deal than the art of the artists (see: Friends, Frasier and The Sopranos), L&O is still setting longevity standards the old-fashioned way: ratings.

Martin, Orbach, Rohm and Waterston

And the secret to that, says its famously pragmatic creator, Dick Wolf, is no secret. It's just fine acting. In fact, so much performing talent has passed through the L&O era that you don't even have to watch the show any more to see Wolf's point – not that you'd want to skip it on that account.

Over thirteen seasons – and, as of May 21, 300 episodes – NBC's Law & Order has not only become an institution, it has spawned two flourishing spinoffs, L&O: Special Victims Unit and L&O: Criminal Intent, making Wolf (who also oversees ABC's updated Dragnet) one of the most prolific and successful producers in the business.

Many reasons have been cited for the continued popularity of L&O: its story-driven (rather than character-driven) ethos; its controversial, ripped-from-the-headlines plots; its dismissal of cliffhangers and long-term story arcs in favor of self-contained narratives that are resolved at the end of each episode. But its secret weapon may be something that is rarely mentioned.

"You don't have this kind of success with mediocre actors," Wolf says. "One of the things that has been massively overlooked over the years is that, in a sense, this is the toughest kind of acting to do. It's a lot easier to cry on camera than it is to be effective delivering straight-ahead language. The ability to make strictly procedural scenes compelling is a gift of really, really good actors. Otherwise it's crap."

Any discussion of L&O's actors inevitably leads to the observation that, despite the departure of several major cast members over the years (remember Michael Moriarty, Paul Sorvino, Chris Noth, Jill Hennessy, Benjamin Bratt and Angie Harmon?) the show has not only survived, it has thrived. Interestingly, according to Nancy Perkins, senior vice-president of casting for Universal Network Television, the studio behind L&O, the cast shake-ups may have contributed to the show's longevity.

"This is a new theory," Perkins says, "but one of the things that we've been discussing is that the recasting, after being on the air so many years, may actually be rejuvenating the show. When you bring in new people, it creates different dynamics between the characters than those that have existed up to that point. It's invigorating."

Some cast members left voluntarily (like Moriarty, who resigned via fax) and some by request (like Dann Florek and Richard Brooks, who moved on when NBC wanted more women in the mix; Florek later resurfaced on SVU). But in Wolf's view, changing the lineup is good for the writers, actors and, yes, the audience: "As Jerry Orbach [Detective Lennie Briscoe] said, 'If the original cast never changed, the show wouldn't be on the air.' Also, hopefully, it mirrors life in the real workplace. Things change. Life is flux."

Because of its reputation for quality, L&O is not only an enviable gig for its regulars, but for guest stars as well. "The show has become known as a repository of great guest stars," Wolf says. "People have gotten Emmy nominations for guest roles on Law & Order, so we're able to get actors that normally don't do episodic television."

Three actors have been Emmy-nommed for those guest turns – multi-Tony nominee Elaine Stritch, multi-Oscar nominee Jane Alexander and Oscar winner Julia Roberts, who appeared in the two-hundredth episode when then-boyfriend Benjamin Bratt was still on the show; Stritch is the only of the three to win. But the high-caliber guests keep coming; they've included: Karen Allen, Adam Arkin, Elizabeth Ashley, Talia Balsam, Tom Berenger, Gary Busey, Len Cariou, Jill Clayburgh, Chris Cooper, Lisa Gay Hamilton, John Heard, Gregory Hines, Mary Beth Hurt, Anne Jackson, James Earl Jones, Alan King, Patti LuPone, Mandy Patinkin, Joe Piscopo, Chris Sarandon and Eli Wallach.

On occasion, guest roles have led to full-time employment. Orbach joined the cast as a cop in season three after playing a defense attorney in season two. S. Epatha Merkerson, who stars as Lieutenant Anita Van Buren, guested back in season one as a cleaning woman whose child is killed before being tapped as a regular in season four.

Wolf credits much of the top-to-bottom quality of L&O's talent to the fact that it is filmed in New York City, home to a rich pool of theater actors. "If you go to a Broadway show and you read Playbill," he offers, "any actor who doesn't have Law & Order as a credit either just moved from California or probably isn't very good."

While New York stage actors have provided L&O with years of memorable performances, the series has provided many of them with a valuable career boost. "For a lot of actors, Law & Order is one of their first big filmed parts," Perkins says, "because there aren't many opportunities in New York in terms of series television or film. And because the guest roles are usually so well written and people are able to do great scenes, they come away with wonderful experience – and sometimes a very good tape of themselves."

Especially gratifying to Suzanne Ryan, the show's casting director since the first season, is that many actors who got early breaks on L&O went on to become stars in their own right, including Laura Linney, William H. Macy, Samuel L. Jackson, Claire Danes, Philip Seymour Hoffman, Taye Diggs and Jennifer Garner. "When certain people make it, you're usually not too surprised," says Ryan. "When Claire Danes did the show [in 1992], for instance, she was very young, but it was evident that she had a gift beyond her years. It wasn't as if I saw something that other people couldn't see." And Alias star Garner? "She was so gorgeous and so talented that it was hard to believe she wouldn't have some kind of career."

With no sign of slowing down, Law & Order is on track to achieve Wolf's long-term goal of outlasting Gunsmoke, which aired for twenty years to become the longest-running prime-time drama in television history. Which not only means that a lot more actors – both known and unknown – will pass through L&O before its final gavel is struck, but that Ryan has her work cut out for her.

"If you're a New York actor and you're good, chances are you've been on the show," she says. "But there are wonderful actors whom we have not cast yet. They're still out there, and thank God, because at the rate things are going, we're going to need them."

Legacy Interactive Ships Law & Order II
Legacy Entertainment press release, 10.1.03

Legacy Interactive, a premier developer of Real Life Games, announced today that the latest addition to its popular "Law & Order" computer game franchise, Law & Order II: Double or Nothing, has shipped to retail outlets with an SRP of $29.95. Exclusively for PC/CD-ROM, Law

& Order II: Double or Nothing is distributed by Vivendi Universal Games and is rated T for Teen.

Legacy Interactive also announced today the availability of an online demo for Law & Order II: Double or Nothing. The demo gives players a first look at the sequel by allowing them to uncover the first clues of the case. Game-play begins as players arrive with Detective Lennie Briscoe to search the crime scene and collect evidence. The clues lead players to three key witnesses, the crime

lab and medical examiner's office, each providing crucial pieces of the investigation. Players are also invited to compare their scores with game players and compete for the top sleuth spot on the demo. The demo can be found at http://lawandordergame.com.

"We've been able to create a new standard of quality for our Law & Order computer game franchise, in both aesthetics and substantive game play," said Ariella Lehrer, President of Legacy Interactive. "The game's compelling plot, beautiful graphics, intriguing puzzles and enhanced animation, have been raised to a new level in Law & Order II: Double or Nothing."

Featuring accurate depictions of the award-winning Law & Order television franchise, complete with celebrity voiceovers from stars Jerry Orbach, Elisabeth Röhm and S. Epatha Merkerson. Law & Order II: Double or Nothing offers players the chance to explore the intricate worlds of criminal investigation and legal prosecution. With game play divided between the investigation and trial, the

player experiences the storyline from a variety of angles. In the detective role, the player uncovers clues leading to the murder of an esteemed scientist found shot to death in his car in midtown Manhattan. As Assistant District Attorney, the player prepares a case against the defendant and takes to the courtroom, hoping to convince a jury to return a guilty verdict. Including improved graphics, new puzzle challenges and a variety of enhanced gameplay features, Law & Order II: Double or Nothing delivers an in-depth mystery adventure experience.