Law & Order: Articles, 2002 (2)


"Law & Order" DA Subpeona for Thompson
Nellie Andreeva, The Hollywood Reporter, 8.15.02
Sen. Fred Thompson is on track to be the new chief prosecutor on Dick Wolf's long-running NBC drama "Law & Order," sources said.

The Republican senator from Tennessee is poised to join the cast of the Emmy-winning drama from Wolf Films and Universal Network Television in the fall as a regular. The deal will mark the first foray into series television for the lawyer and former actor, who appeared in 18 films before he was elected to the U.S. Senate in 1994.

In "Law & Order," Thompson will play a newly appointed district attorney assigned to supervise assistant district attorneys Jack McCoy ( Sam Waterston) and Serena Southerlyn ( Elisabeth Rohm). He is set to fill the void left by the departure of Dianne Wiest, who played the district attorney during the past two seasons.

Thompson, whose Senate term ends in January, also is expected to appear on NBC's other two "Law & Order" series, "Special Victims Unit" and "Criminal Intent," sources said.

The district attorney role on "Law & Order" will showcase Thompson's two careers in law and acting. After early success as a lawyer in Tennessee and Washington, Thompson was appointed as minority counsel to the Senate Watergate Committee at age 30.

As assistant U.S. attorney for Tennessee in 1977, he took the case of Marie Ragghianti, the former chair of Tennessee's parole board who sued the state over her dismissal, charging that Gov. Ray Blanton was involved in a cash-for-clemency scheme. Ragghianti was exonerated, and the scandal, which led to the toppling of Blanton, became the subject of a best-selling book and the 1985 feature "Marie: A True Story," with Sissy Spacek. Thompson, who originally was hired as a consultant on the movie, was later cast to play himself.

Thompson's acting debut in "Marie" was followed by roles in such movies as "The Hunt for Red October," "In the Line of Fire," "Die Hard 2" and "No Way Out." Thompson played a senator in the 1993 feature "Born Yesterday." The next year, he won Al Gore ( news - web sites)'s seat in the Senate for the remaining two years of the vice president's term and was re-elected in 1996. Earlier this year, Thompson said he will resign at the end of his term, citing personal reasons.

"Law & Order," which also stars Jerry Orbach, Jesse L. Martin and S. Epatha Markerson, is set to return for its 13th season Oct. 2. The show recently received its record 11th consecutive Emmy nomination in the best drama category. It won the top drama series statuette in 1987.

The flagship series of the formidable "Law & Order" franchise has become known for its constant casting changes, including the departure of such actors as Steven Hill, Angie Harmon, Benjamin Bratt and Chris Noth. The changes, however, have not affected the performance of the veteran show, which has been a consistent ratings winner for NBC in the Wednesday 10 p.m. period. Last year, "Law & Order" was the seventh most-watched program on broadcast TV with an average of 18.7 million viewers and ranked 11th in adults 18-49 with a 7.0 rating/19 share.

NBC, Universal TV and Wolf Films declined comment Wednesday. Calls to Thompson's office were not returned by press time.

Sen. Thompson May Join "Law & Order"
Nancy Zuckerbrod, Salon. com, 8.16.02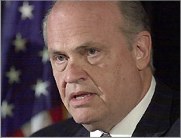 Retiring U.S. Sen. Fred Thompson is expected to return to his acting and legal roots as the new chief prosecutor on NBC's "Law & Order."

His Senate term ends in January, but he is in talks with Universal Television to appear regularly during the show's 13th season beginning Oct. 2, according to a source close to the negotiations. The source, who spoke on the condition of anonymity, said a contract had not yet been finalized.

The Tennessee Republican would replace Dianne Wiest, who played a district attorney during the past two seasons. He also could appear on two "Law & Order" spin-offs, "Special Victims Unit" and "Criminal Intent."

Thompson spokesman Harvey Valentine would not comment on the talks and said the senator was in Romania Friday on a congressional trip and could not be reached for comment. Valentine said Thompson would finish his term regardless of any outside projects he undertook.

Filming for the series already is under way, according to NBC. Neither NBC nor Universal would comment on the talks. "When someone is signed to a final deal, we'll make that known," NBC spokeswoman Caroline Perez said.

Thompson was chief minority counsel on the committee investigating Watergate in 1973. He later represented the head of the Tennessee Parole Board, who was fired after exposing a pardon-selling scheme. The story became a movie titled "Marie," and the producers asked Thompson to play himself.

It was the first of nearly 20 film roles for the 6-foot-6 actor with a booming voice. Some of his other credits include "In the Line of Fire" and "The Hunt for Red October." His small screen roles have included appearances on "Wiseguy," "Matlock" and "Roseanne."

Thompson, who turns 60 Monday, was elected to former Vice President Al Gore's old Senate seat in a 1994 special election. He won a full term two years later.

Thompson unexpectedly announced in March that he was retiring, citing personal reasons. That decision came shortly after his daughter, 38-year-old Elizabeth Thompson Panici, died.

Thompson married political and media specialist Jeri Kehn in June.

Fred Thompson, "Law & Order" Senator?
Lisa de Moraes, Washington Post, 8.16.02
Sen. Fred Thompson (R-Tenn.), the sometime actor who once said that life in Washington made him "long for the sincerity and realism of Hollywood," is negotiating to join the cast of "Law & Order" this fall, Hollywood sources report.

Thompson, the first sitting senator to have a lead role in a TV series, is slated to play a newly named district attorney and boss of Executive Assistant DA Jack McCoy (Sam Waterston) and Assistant DA Serena Southerlyn (Elisabeth Rohm).

Dianne Wiest, who has had the role of DA for the past two seasons, is not returning to the NBC drama series.

Thompson last summer announced his intention to retire from the Senate, changed his mind after Sept. 11, then changed his mind again in mid-March and announced that he would not seek reelection in November. "I simply do not have the heart for another six-year term," he said.

At that time, Thompson said he would fill out his current term, which expires in January. But the sources say Thompson would join the long-running hit series at the start of the season, which officially kicks off the week of Sept. 23.

Thompson's press aide, Harvey Valentine, declined to comment on the report, which first appeared in the Hollywood Reporter, a trade paper.

NBC, contacted by The TV Column, also had no comment. "Law & Order" creator and executive producer Dick Wolf had no comment other than to say that he does not comment on casting until a deal is finalized. Universal, where Wolf is based, had no comment. Thompson's Hollywood agent did not return a call for comment. It was pretty much no comment all around, except for the Senate Ethics Committee, which commented that "members of the Senate may take payment for paid engagements to perform or to provide entertainment where the artistic, musical or athletic talent of the individual is the reason for the employment rather than the person's status as a member or employee of the Senate."

No rookie in front of the camera, the former lawyer had roles in about 20 films before being elected to the Senate in 1994 to fill out the remainder of Al Gore's term after he was elected vice president. Thompson won reelection in 1996.

This would be Thompson's first regular gig as a TV series cast member; he has, however, had guest roles on "Matlock," "Roseanne," "China Beach" and "Wiseguy," and played in the acclaimed HBO flick "Barbarians at the Gate."

As a cast member of the "Law & Order" flagship show, Thompson probably would show up occasionally on episodes of Wolf's other "L&O" programs, "Law & Order: Special Victims Unit" and "Law & Order: Criminal Intent."

Thompson, who turns 60 on Monday, first got on-screen exposure as the 30-year-old minority counsel to the Senate Watergate committee; archival footage of him in that role made it to Oliver Stone's flick "JFK."

But his real break came in 1977, when as assistant U.S. attorney for Tennessee, he took a case that eventually became the subject of the 1985 film "Marie: A True Story," starring Sissy Spacek. Thompson, who was hired as a consultant on the movie, was cast to play himself.

Newsweek's David Ansen called Thompson's "the freshest performance" of the movie; New York Times critic Janet Maslin said, with no hint of irony, that Thompson gave "one of the film's better performances playing himself," and The Washington Post's Rita Kempley called him "a natural star" who "gives so much oompf to the courtroom scene it almost makes you want to commit a crime just to hire the guy."

His film credits also include "No Way Out, "The Hunt for Red October," "Days of Thunder," "Die Hard 2," "Class Action," "Necessary Roughness," "Curly Sue," "Cape Fear," the remake of "Born Yesterday," "In the Line of Fire" and, in '94, in the John Hughes slapstick "Baby's Day Out." In the last he played FBI agent Dale Grissom, getting what was, according to several critics, the film's best line: "Radio headquarters, we're turning around and going back to the ticktock to get the booboo."

"This, coming from a man running for the U.S. Senate," sniffed the Salt Lake Tribune critic.

For N.Y. Actors, "Law & Order" Keeps on Giving
Associated Press, 8.28.02
If you're a fan, you see "Law & Order" as a complex crime drama whose weekly path to justice takes lots of twists -- with lots of people to investigate along the way.

If you're the casting director, you see it as an appetite that's never satisfied; more than three dozen speaking roles per episode, some 700 in a season.

And if you're a New York-based actor, you see this enduring NBC drama (and its newer siblings "Law & Order: Special Victims Unit" and "Law & Order: Criminal Intent") as a valued local job bank always full of great parts.

That goes whether you're a struggling beginner or a familiar Broadway presence such as Patti LuPone, Philip Bosco, George Hearn or Frances Sternhagen. (In its first dozen years, more than 150 Tony Award nominees appeared on "Law & Order.")

There's only one problem.

"They are extremely particular about getting exactly the right person for each role," reports Patrick Quinn. "After I had auditioned a few times and hadn't gotten a part, I started worrying that I would be the only New York actor who DIDN'T make it on 'Law & Order."'

Then he did -- twice (so far). He played the father of a boy whose Web site may have led to a murder, and before that, on "Special Victims Unit," the lawyer of a woman murdered at a bachelorette party.

Quinn is primarily a stage actor whose Broadway appearances include the 1990s revival of the musical "Damn Yankees."

He is also the president of Actors' Equity Association, the stage actors' union, with 15,000 members in the New York area alone.

"Not all of us can work on Broadway at any one time," says Quinn, "so the 'Law & Order' trilogy can be a great way to supplement your income as well as your artistry.

"Friends and family can't always get to New York to see your work," he adds. "But they can always see 'Law & Order.' "

With most TV series filmed in Los Angeles (and others, increasingly, heading to Canada), New York and New Jersey currently host the "Law & Order" trilogy, "Ed" and "Third Watch," along with HBO's "Sex and the City" and "The Sopranos."

Back in fall 1990, when "Law & Order" started up, "The Cosby Show" -- closeted in a Queens sound stage -- was the only other network prime-time series produced in New York.

"Law & Order" showcased the city with dozens of on-location scenes in each episode. And casting director Suzanne Ryan has served the equivalent duty of showcasing the human face of New York, filling every speaking role in each of the 280-and-counting "Law & Order" scripts.

From the moment she is handed a script, Ryan has just eight days to identify and deliver the right actors. On the ninth day, filming begins -- and she gets the next script. Meanwhile, her counterparts at "Special Victims Unit" (Julie Tucker) and "Criminal Intent" (Gayle Keller) are engaged in a similar pursuit.

While Los Angeles-based actors are occasionally cast as guest stars, cost and logistical considerations discourage it.

"Besides, there are so many talented people here," says Ryan, who is up for an Emmy this year for Outstanding Casting in a Drama Series. "It's wonderful that we're able to provide them an opportunity for work."

The series itself received a record-tying 11th best-series nomination. (Emmys are to be awarded in September.)

The "Law & Order" trilogy has provided meaty roles for husband-and-wife actors Jay O. Sanders and Maryann Plunkett.

Plunkett, a Tony-winning stage actress, had her third guest shot on "Law & Order" in February, in an episode based loosely on the Gary Condit story. Plunkett played the scorned wife of a state senator whose intern turns up dead.

The "Law & Order" set is "very New York and familiar, with people I know," says Plunkett. "I tend to be shy, but I always feel comfortable walking into that environment."

Sanders, who has appeared in "JFK," "Along Came a Spider" and the recent ABC miniseries "Widows," enjoyed a fringe benefit when he appeared on a "Law & Order" episode three years ago: proximity. He traveled less than a mile from his Greenwich Village apartment to the series' Chelsea headquarters.

For one key location scene in the episode -- in which he played a maniacal family man suspected of pushing someone in front of a subway train -- Sanders reported to a subway station just a few blocks from home.

Sanders will appear on "Law & Order: Criminal Intent" this fall as "a nice-guy hit man," he says.

In his free time, he, like many other New Yorkers in his line of work, enjoys watching the trio of home-town dramas -- for a personal reason.

"It's a favorite sport to watch any episode from any year," he explains. "You spot your friends."

Fred Thompson Set for "Law & Order" Role
NBC confirms U.S. senator will return to acting, before he leaves office
Brian Lowry, Los Angeles Times, 8.28.02
Lawyer-turned-actor-turned-United States senator Fred Thompson is becoming an actor again before his term officially expires, with NBC confirming that the Tennessee Republican will join the cast of "Law & Order" this fall, playing the role of the New York district attorney.

In a surprise, Thompson--who had previously announced that he would not seek reelection in November--is beginning production on the show this week, meaning he will be featured when the series opens its 13th season in October, while he's still in the Senate. He replaces Dianne Wiest, ending the Oscar-winning actress' two-year stint on the show.

When reports of Thompson's possible casting surfaced, it was anticipated that he would not start working on the show before his term concluded at the end of this year. Thompson's spokesman, Harvey Valentine, said the senator had told the producers that "his commitment to the Senate would be foremost" until his term is over. He is currently on a recess this week and will have another break in October to film additional episodes.

Valentine said he was unaware of any legislation relating to telecommunications or NBC that might force the senator to recuse himself. In a statement, Thompson said, " 'Law & Order' has been one of television's leading drama series for over a decade. It is well-written, well-acted, and always topical. I look forward to working with this talented cast and being a part of this quality series."

Although legislators have appeared in cameo roles in movies such as "Dave," it may be without precedent for a sitting U.S. senator to have a regular part in a dramatic TV program. NBC's press release made no reference to Thompson's current position, billing him as a "former prosecutor and accomplished film and television actor."

Wiest's agent, at ICM, did not return a phone call regarding her departure.

According to the producers, Thompson's character is a political conservative elected district attorney as fallout from the events of Sept. 11. He will appear on all three installments of the franchise, including the newer "Law & Order" entries "Special Victims Unit" and "Criminal Intent."

Elected to the senate in 1994--filling the seat Al Gore vacated when he become vice president--Thompson, 60, had been an assistant United States Attorney and served as minority counsel to the Senate Watergate Committee before embarking on his acting career, which included roles in the films "The Hunt for Red October," "Barbarians at the Gate," "No Way Out" and "Die Hard 2."

Thompson announced that he would not run again in March after the heart attack death of his 38-year-old daughter, Elizabeth, though he said the decision was not attributable to "one thing."

In a statement then, he said, "I simply do not have the heart for another six-year term.... I feel that I have other priorities that I need to attend to."

Cast changes have become commonplace on "Law & Order."

Senator Debuts "Law & Order" Character
CNN.com/Associated Press, 9.1.02
During his eight years on Capitol Hill, retiring Sen. Fred Thompson has rarely been one to mince words. The character he plays this fall on "Law & Order" may be an even tougher talker.

In a clip from the NBC legal drama, Thompson's character, Arthur Branch, says:

"With all the money we spend on the so-called war on drugs, we could buy all the poppy fields in the world and burn them to a crisp. But do we do it? No. And why? Because without a war on something, people in Washington wouldn't get elected."

After the clip was aired Sunday on NBC's "Meet the Press," Thompson joked: "And you thought I wouldn't find work."

The Tennessee Republican, who turned 60 in August, announced unexpectedly in March that he was leaving the Senate for personal reasons.

NBC announced last week that he would be joining the "Law & Order" cast as a politically conservative district attorney.

"Meet the Press" host Tim Russert asked, "What is the difference between politics and movies or TV?"

"The pay," Thompson said.

"I've always thought there was an affinity between Washington and Hollywood because neither really understood what the other did, and I'm still convinced of that," he said.

"But I think most of us have a creative side. This is going to allow me to do that.

"Law & Order" Gets A Senator
Josh Greenberg, E! Online, 9.28.02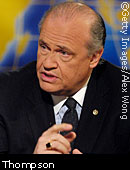 The man who once said, "After two years in Washington, I often long for the realism and sincerity of Hollywood," is trading in the musty corridors of power for the must-see-TV halls of justice.

United States Senator Fred Thompson has just signed on as the new chief prosecutor on NBC's Law & Order, Reuters reports. The Tennessee lawyer and politico, who served as a federal prosecutor and Senate Watergate counsel in 1973, replaces head prosecutor Diane Wiest, who's leaving L&O after two seasons.

So, what's next? Strom Thurmond guesting on The West Wing?

Actually, Thompson is no novice thespian. He has had supporting roles in more than a dozen Hollywood flicks, including The Hunt for Red October, Die Hard 2 and In the Line of Fire.

After costarring in 1994's Baby's Day Out, the actor gave up Tinseltown for a shot at former vice president Al Gore's Senate seat; he eventually won a two-year term in a special election and was elected to a full six-year term in 1996.

Thompson, citing personal reasons, announced in March he would not seek re-election. (The decision came shortly after the death of his 38-year-old daughter, Elizabeth Thompson Panici.)

According to Law & Order executive producer Michael Chernuchin, the southern senator is a man for the times.

"[It's] definitely a reaction to 9-11," Chernuchin told Reuters. "His political leanings are a little more to the right than [those of] former D.A.'s on the show. He is a 'strict constructionist.' That is, for him, the Constitution is what it says and is nothing more."

The senator will also likely turn up on two spinoff series, Law & Order: Special Victims Unit and Law & Order: Criminal Intent, producers said.

A guest shot on Friends, however, is probably a long shot.

"Law & Order" Back On the Case for 13th Year
Avis Weathersbee, Chicago Sun-Times, 9.29.02
Does learning that Jill Hennessy's twin sister sat in for her during the first "Law & Order" crossover episode with "Homicide: Life on the Street" increase your pulse rate ever so slightly?

If the answer is yes, you may just be a "Law & Order" addict.

And you are not alone.

You, like myself, are among millions beckoned weekly--and until recently, daily in reruns--to the longest running primetime drama currently airing on network television. A show so popular that it has inspired three other "L&O" series, Web sites (including an online fanzine called Apocrypha, named after an episode about people slavishly devoted to a cult), drinking games (see sidebar) and countless hours of trivial pursuit.

If my phone rings during an airing of "L&O," it's usually a friend querying me on a familiar-looking guest star--known as "repeat offenders." "What other episode (or episodes) has that actor appeared in?" I'm asked. Other times I'm the one placing the call. There's no time limit for answering, but usually none is needed.

Four years ago, creator Dick Wolf told me his hope was for the series to break "Gunsmoke's" record--it ran for 20 years. If its slavishly committed devotees have any say, that dream will come to pass. "Law & Order" enters its 13th season Wednesday as a solid ratings performer for NBC (No. 5) and with an episode that executive producer Michael Chernuchin promises comes with a "moneyback guarantee--it's great 'Law & Order.'"

Titled "American Jihad," the episode, in true "L&O" form, will touch on the hot-button issues of the day. On its face it looks like the John Walker Lindh-American Taliban case, but Chernuchin says it will have the series' trademark twist.

Chernuchin--who jokingly describes himself as a "recovering lawyer," worked the show for the first six years, left to pursue other projects for the next six, and now is back on the case--tried to put his finger on the appeal of the show.

"It's a combination of things. It's not serialized. It's current. It's relatable," Chernuchin says.

He may be on to it. In my unscientific survey of hardcore fans--the ones who for years would watch the 10 p.m. syndication airing on A&E and then stay up and watch it again at 2 a.m. for good measure--most reasoned similarly. "Law & Order," they say, is "real." There's an immediacy in the ripped-from-the-headlines stories that gives them an added social resonance.

"The way we look at it is that the top half is a murder mystery and the second half is a moral mystery," Chernuchin says. This moral mystery is what, at least anecdotally, seems to intrigue the show's avid female viewers. (And to think the worry in the early years was that the program skewed too male.)

It hardly needs to be summarized, but in case there's anyone who's just come out of a 13-year coma, a rough outline of "Law & Order" is as follows: The show begins with a crime, and its first half-hour follows the cops' pursuit and eventual arrest of a suspect. The second half-hour is devoted to the prosecutors, who take the case to trial.

The show, which can turn today's news stories into compelling drama in about six weeks, works at a breakneck pace, according to Chernuchin. "Every eight days you need a new script. It's like running a marathon without a water stop," he says. The show has nine writers, with "one or two people working on a script, then it comes to me."

Of course, sometimes the show's story lines hit too close to home for some of the day's newsmakers. Gary Condit's wife, Carolyn, demanded an apology for last season's "Missing" episode. In a letter to the show, her attorney complained that the episode implied "Mrs. Condit was somehow involved in Chandra Levy's disappearance, and that Mrs. Condit spoke to Miss Levy on the telephone."

There was no apology; the show counters that its stories are fictional. Just read the disclaimer that pops up at the end of episodes. Chernuchin says that tagline was added when they aired "Indifference," an installment that bore some similarities to the sensational New York City murder of 6-year-old Lisa Steinberg. Says Chernuchin, "Before that case we didn't run that disclaimer at the beginning but [Joel Steinberg] is a lawyer so we thought we better..."

In addition to Chernuchin, who is a law school buddy of former Cook County State's Attorney Jack O'Malley (a character named Jack O'Malley turned up in the episode "Night and Fog"), a battery of studio lawyers reviews each script. And apparently lawyers are some of the show's biggest fans. The late William Kunstler, who defended the Chicago Seven, appeared in an episode titled "White Rabbit," in which he represented a '60s fugitive. And, Chernuchin reveals, another guest appearance for a famous attorney is in the works.

The show has even been contacted for legal advice: "I did a show about faulty pacemakers ['The Corporate Veil'] once and we got a call from a law firm that said they were doing a case about the same thing," Chernuchin says. "They asked for a copy of the script--they wanted to see how we won it."

Here's hoping the show continues to win over fans, one case at a time.

Note: "Law & Order" now airs in syndication on the TNT cable network.

A spin through series in the L&O collection

'Spinoff" is an ugly word to "Law & Order: Special Victims Unit" executive producer Neal Baer. He considers the other shows that bear the trademark "Law & Order" brand name to be separate and distinct entities.

These are their stories:

LAW & ORDER: SPECIAL VICTIMS UNIT

9 p.m. Fridays

MO: This series debuted in September 1999. Dann Florek, who played Capt. Cragen during the first three seasons of the original "L&O," runs a squad that investigates sex crimes. The show has been peppered with famous guest stars such as Martha Plimpton and Henry Winkler.

Major players: Cragen's team includes Benson (Mariska Hartigay, daughter of Jayne Mansfield); Stabler (Christopher Meloni, "Oz's" Death Row-bound Chris Keller); Munch (Richard Belzer, playing the same conspiracy theorizing character he made infamous on "Homicide: Life on the Street"), and Tutuola (Ice-T, the rapper-actor who starred in "L&O" creator Dick Wolf's short-lived 1997 series "Players").

Stephanie March plays Cabot, the ADA to whom the cops deliver their cases.

LAW & ORDER: CRIMINAL INTENT

8 p.m. Sundays

MO: Last season's "L&O" addition starts before the crime and the major case detectives get inside the criminal's head in bringing the perp to justice. Vincent D'Onofrio carries most of the weight of the series as Det. Goren, a character who is part Sherlock Holmes, part profiler.

Major players: Eames (Steppenwolf member Kathryn Erbe, who shined as Prisoner No. 97B642 on "Oz") is Goren's partner; Deakins (Jamey Sheridan, who stalked former original "L&O" castmember Angie Harmon in the Lifetime movie "Video Voyeur" earlier this year) is Goren's boss; and D.A. Carver (Courtney B. Vance, who was riveting in the original "L&O" episode titled "Rage") is Goren's hand-off guy.

CRIME & PUNISHMENT

MO: It was reality TV-meets-"L&O" in this summer series that followed actual cases.

Major players: Real-life prosecutors and would-be criminals star in this intriguing show, which could be as wild as anything a screenwriter could dream up. NBC picked the show up for another season earlier this month.

Software lets mystery hit home

As the fall television season debuts, Legacy Interactive today announced the launch of their new CD-ROM game based on the hit series "Law & Order."

Featuring the voices of "Law & Order" stars Jerry Orbach, S. Epatha Merkerson and Elisabeth Rohm, "Law & Order: Dead on the Money" allows fans to partner with their favorite characters to solve an original Wall Street murder mystery case written by a "Law & Order" episodic writer and long-time fan. Based on Wolf Films' hit NBC series "Law & Order," this interactive, 3D mystery game allows fans to realistically solve an original Wall Street murder case.

"Law & Order: Dead on the Money," distributed by Vivendi Universal Games, will be available for a suggested retail price of $29.99 and is available for Windows 95/98/ME/XP. For more information about the game, log on to www.lawandordergame.com.

Catching up with former series regulars: Where are they now?
MICHAEL MORIARTY
A busy man, Moriarty has racked up an impressive number of roles in a variety of projects, including 1996's "Courage Under Fire," the TV series "Psi Factor," 2000's "Hitler Meets Christ" (he was Hitler) and 2001's "Along Came a Spider." He just won a best supporting actor Emmy for his role in "James Dean."
GEORGE DZUNDZA
The reliable actor has been playing pretty much the same role in countless productions, including 1992's "Basic Instinct," 1995's "Crimson Tide," 1997's "That Darn Cat," and this year's "City by the Sea." He also does voice-over work, and can be seen on TV this season on "Hack."
PAUL SORVINO
Without the "L&O" grind, Sorvino has had more time to pursue his opera singing (he's performed at New York's Met and has recorded three CDs) and sculpting. He was a regular on the show "That's Life," which CBS cancelled last season. You can hear his voice in this year's animated "Hey Arnold! The Movie."
CHRIS NOTH
These days, you recognize him more as "Sex and the City's" Mr. Big. His biggest movie thus far has been 2000's "Cast Away," but you can look for him as Pompey in the upcoming miniseries "Julius Caesar."
BENJAMIN BRATT
Embarked on a hit-and-miss movie career: 2000's "The Next Best Thing" opposite Madonna (miss); 2000's "Miss Congeniality" opposite Sandra Bullock (hit, but that's just our opinion); 2000's "Red Planet" (miss); 2000's "Traffic" (hit, small); and 2001's "Pinero" (hit, according to the seven people who saw it). More importantly, he dumped that mousy starlet he'd been dating, and married "Pinero" co-star Talisa Soto. They have a baby on the way.
RICHARD BROOKS
His acting career since "L&O" has been spotty. Loved him in 1996's "The Crow: City of Angels," but lost track of him around 1999, when he appeared on TV's "G Vs. E."
DANN FLOREK
Rebounded from sitcom flop "The Secret Diary of Desmond Pfeiffer" (1998) with a regular gig on L&O spinoff "Law & Order: Special Victims Unit." Also notably appeared in 2002's reunion special "L.A. Law: The Movie," reprising his role as Dave Meyer.
JILL HENNESSEY
Her movie record has been unimpressive, with small roles in films such as "A Smile Like Yours" and "Autumn in New York." But she's been crackling on TV, landing the role of Jackie Kennedy in 2000's "Jackie, Ethel, Joan: The Women of Camelot." She lets her hair down in her new series, as a tough-talking medical examiner, in "Crossing Jordan," launched in 2001.
CAREY LOWELL
Not the ambitious type, Lowell has almost completely disappeared from the entertainment scene, preferring instead to raise son Homer with husband Richard Gere. However, you can find her on a 2001 video release, "Boogeymen: The Killer Compilation," a collection of scenes from vintage horror flicks. Her fine work in 1990's "The Guardian" is showcased.
ANGIE HARMON
Her biggest production has been her Dallas wedding to the New York Giants' Jason Sehorn, who proposed to her on "The Tonight Show." In January, she starred in Lifetime's "Video Voyeur: The Susan Wilson Story."
STEVEN HILL
A great voice of authority, Hill is part of online investment company TD Waterhouse's $80 million advertising campaign. He's in commercials and print ads.
CELEBRITY GUEST STARS
BIG NAME STARS IN THE LINEUP
Celebrities love to slum it as guest stars on "Law & Order." It's the "Murder, She Wrote" of the new millennium.
Here are some of the bigger names who have appeared on the series. You may notice quite a few crossovers from the cast of "The Sopranos."
Philip Seymour Hoffman (appeared twice, as two different characters)
Felicity Huffman (appeared twice, as two different characters)
Ice-T
Michael Imperioli
Samuel L. Jackson
Allison Janney
James Earl Jones
Robert Klein
Fran Lebowitz
Mark Linn-Baker
Laura Linney
Patti LuPone
William H. Macy (appeared twice, as two different characters, and married to occasional guest star Felicity Huffman)
Costas Mandylor
Camryn Manheim (appeared three times, as three different characters)
Nancy Marchand
Richard Masur
Michael McKean (appeared in an episode with his real-life wife, Annette O'Toole)
Larry Miller
Cynthia Nixon
Michael Nouri
Amanda Peet
Michael Rispoli
Julia Roberts
Tony Roberts
Sam Rockwell
Jerry Stiller
Eric Stoltz
Elaine Stritch
Regina Taylor (appeared twice, as two different characters)
Maura Tierney
Aida Turturro (appeared three times, as three different characters)
Courtney B. Vance (appeared twice, as two different characters)
Robert Vaughn
Abe Vigoda
Eli Wallach

Law & Disorderly
Season 13 is looking to be unlucky number for crime drama
Noel Holston, Newsday, 10.2.02
Time and franchising of Law & Order have taken their toll on the original. Yes, it was up for an Emmy again the other night, but that just adds to the suspicion that the TV academy's members don't stay in often enough. Last season's Law & Order had more ho-hum episodes than ever before. Dianne Wiest continued to deliver her lines as though she had been hypnotized into taking the role of district attorney Nora Lewin. Elizabeth Rohm was and is the weakest actor to hold the second assistant district attorney role. And worst of all, the series' celebrated knack for ripping cases from the headlines and sewing them into something seamless and spiffy was seldom in evidence. The stitching showed like the jagged scars on the Frankenstein monster's neck. I'm not imagining this. This is a show I have a long history of enjoying. As a preseason treat to myself - a break from watching pilots like Good Morning Miami and That Was Then - I took in a triple header of Law & Order reruns on TNT a couple weeks ago. All three were from the mid-1990s, when Carey Lowell and Benjamin Bratt's stints on the show overlapped and the great Steven Hill was still playing D.A. Adam Schiff - and perhaps more importantly, when writer-executive producer Rene Balcer was still fully involved with the show. He's now busy running Criminal Intent, the second L&O spin-off. The three reruns were terrific - credible and crackling with energy - and the endings packed, if not a surprise, a healthy punch. They were everything tonight's 13th season premiere is not. I realize no mere negative review is going to keep serious L&O addicts from watching, so I'll try not to give too much away here. The plot is an attempt to graft aspects of two big post-9/11 news stories - "American Taliban" John Walker Lindh's treason and the pretrial posturing of alleged "20th hijacker" Zacarias Moussaoui - to lessons about good and bad Muslims and a murder. It features some of the clumsiest, potted dialogue since Aaron Sorkin's West Wing opener last year, and the whole exercise feels phonier than the defendant's fundamentalist beard. Oh, and one more thing: New cast member Fred Thompson seems happier to be in the show than Wiest did, but he's not as good an actor, so the D.A. switch is, at best, a draw. Personally, I'd be OK with a hologram of Hill.

"Law & Order" Franchise Flourishes on Three Nights
NBC Entertainment, 10.3.02
ALL THREE "L&O" CRIME DRAMAS HAVE LAUNCHED THEIR 2002-03 SEASONS WITH TRIUMPHANT RESULTS

IN TOTAL VIEWERS AND 18-49, "LAW & ORDER" AND "SVU" RANK AMONG PRIME TIME'S MOST DOMINANT SHOWS

LAST NIGHT'S "LAW & ORDER" PREMIERE CRUSHES ALL TIME-PERIOD COMPETITION

NBC's three highly rated, critically acclaimed "Law & Order" crime dramas have opened their 2002-03 prime-time seasons with towering numbers, reinforcing "Law & Order's" position as the most successful franchise in television history.

Last night's 13th-season premiere of "Law & Order" (6.9 rating, 18 share among adults 18-49, 18.7 million viewers overall) dominated its hour in all key adult and female demographics, plus households and total viewers, capping a hugely successful week of premieres for all the "Law & Order" dramas.

Last Friday, the fourth-season premiere of "Law & Order: Special Victims Unit" (5.3/17 among adults 18-49, 14.9 million viewers overall) crushed its time period competition and led NBC to premiere week's biggest nightlong 18-49 win (by a margin of 48 percent).

Then on Sunday, the second-season premiere of "Law & Order: Criminal Intent" (4.9/11 among adults 18-49, 15.8 million viewers overall) nearly stole its hour from ABC's "Alias" among adults 18-49 and dominated the time period in total viewers. "Criminal Intent" led NBC's exciting new drama lineup to the network's first in-season Sunday 18-49 win with regular series programs since November 26, 2000 and first in total viewers since May 18, 1997.

The "Law & Order" dramas have posted some of the season's most dominant time period performances. Pending updates of last night's preliminary results, the Wednesday "Law & Order" won its hour by 97 percent among adults 18-49, and last Friday's "Special Victims Unit" won its slot by an 83 percent margin. The only prime-time programs with bigger time-period margins of victory so far this season are "Friends," "ER" and "Frasier."

In total viewers, winning margins have been a preliminary 97 percent for "Law & Order," 57 percent for "SVU" and 40 percent for "Criminal Intent." No series this season has topped that preliminary 97 percent margin for "Law & Order," and only "Friends," "The West Wing" and "Frasier" have topped the 57 percent of "SVU."

In 2001-02, "Law & Order" completed its 12th season with its highest 18-49 and viewer averages ever. In its third season, "SVU" achieved series records in those categories as well. "Criminal Intent" boosted NBC into the thick of the Sunday race with the season's best total-viewer average for any first-year Sunday series.

Last season, the Wednesday "Law & Order" beat its combined regular time-period competition among adults 18-49 and delivered NBC's highest 18-49 average (7.0 rating) and viewer total (18.7 million) for any Wednesday series in nine seasons. And "SVU" delivered NBC's best Friday 10-11 p.m. ET viewer average (15.2 million) in 14 seasons. "SVU" was also the only prime-time network series to finish the season undefeated in its time period among adults 18-49.

Last night's powerful "Law & Order" numbers keyed a decisive NBC victory for the night, according to preliminary "fast affiliate" in-home viewing statistics from Nielsen Media Research. At 9 p.m. ET "West Wing" (5.2/13 among adults 18-49, 16.5 million viewers overall) won its time period among adults 18-49, adults 25-54, women 25-54, households and total viewers.

Still Not Gagging on "Order"? There Ought to be a "Law"
John Levesque, Seattle Post-Intelligencer, 11.9.02
It all began in 1990. Like a stealth relative who manages to elude family radar, "Law & Order quietly became part of NBC's prime-time schedule, giving television viewers a balanced diet of ripped-from-the-headlines crime stories unfettered by deep character development.

In time, it became one of the most popular cop shows on television, winning the Emmy Award for outstanding drama series in 1997 and persisting in daily syndication the way fallen leaves multiply on the weekend.

In 1999, creator/producer/crime junkie Dick Wolf added Law & Order: Special Victims Unit, a spinoff centering on the activities of an elite New York police squad dedicated to solving the more lurid type of Big Apple crimes, notably of the seedy, sexual variety. This season, Wolf returned once more with Law & Order: Criminal Intent, aiming to examine wrongdoing from the wrongdoer's perspective and showing a lot more violence than the original ever contemplated.

For those who find three Law & Orders to be two too many, it can seem overwhelming. NBC has only 11 dramas in its prime-time lineup, and three fly the Law & Order banner.

Not surprisingly, Wolf doesn't see it as saturation. He sees it as the ultimate in branding.

"It's like Coke, Diet Coke, Diet Coke without caffeine, Cherry Coke," he says. "As long as we don't screw up one of the brand extensions, I think the brand remains intact."

Wolf is so confident in the scheme that he even develops a shorthand for the new progeny. Thus, Law & Order: Special Victims Unit quickly became Law & Order: SVU, and Law & Order: Criminal Intent has already been shortened to Law & Order: CI, allowing the mind's eye to rest on Law & Order -- the brand -- instead of the unnecessary clutter that comes after. Evidently, NBC likes the idea. So it follows that other dramas on the network will inevitably gather under the Law & Order umbrella. ER will become Law & Order: ER and focus on solving the twin mysteries of Dr. Benton's missing smile and Dr. Romano's missing personality. The West Wing will become Law & Order: WW, zeroing in on a ring of light-bulb thieves who have rendered the White House as poorly lit as the guests at an alcohol-free bachelor party. UC: Undercover will simply become <I

Law & Order: UC, even though we still don't C any reason for it to be on the air.

In the event these conversions don't attract the audience to which the network has become accustomed, we offer Wolf and NBC these additional suggestions to help keep the brand alive.

Law & Order: SUV. Each week, Detectives Lennie Briscoe and Ed Green use the half-hour that they're not working on the original Law & Order to track down the owners of Ford Excursions, Chevy Suburbans and other bloated behemoths, charging them with assorted crimes against humanity, including deliberately taking up too much space and wantonly blocking out the sun. Owners of Lincoln Navigators and Cadillac Escalades face the additional charge of being ostentatious without a permit.

Law & Order: QVC. Michael Moriarty returns as assistant district attorney Ben Stone in this riveting spinoff centering on crimes related to the home-shopping industry. In the series premiere, Stone prosecutes a grisly homicide arising from a domestic dispute over the cost of a pair of 14-karat white-gold earrings with oval-cut pink tourmaline stones in a four-prong setting surrounded by eight round-cut diamonds. Employing an unusual cross-promotional tie-in, NBC makes a copy of each week's piece of evidence available for purchase in four easy installments at ShopNBC.com.

Law & Order: FTD. Martha Stewart stars in her first prime-time drama as a federal investigator looking into the pricing of floral arrangements the sender never gets to see. Using forensic skills acquired at the East Hampton Academy of Forensic Decoupage, Stewart's character, special agent Flora Bunda, uncovers a worldwide racket to pass "medium" off as "large" while simultaneously exposing the wrist corsage as not a good thing.

Law & Order: HBO. In this bold departure for network TV, Chris Noth takes time out from playing Mr. Big on Sex and the City -- hey, it's only a part-time job -- and reprises the role of Detective Mike Logan to investigate why cable shows such as The Sopranos and Sex and the City can get away with saying #?%? and #$%#&?/, while shows on the broadcast networks can't. The probe leads to the networks' standards and practices departments, where each week Logan has his knuckles rapped with a ruler and his mouth washed out with soap. Sponsored by Procter & Gamble. Law & Order: VH1. When he's not appearing on CBS's That's Life, Paul Sorvino, who left Law & Order after one season (1991-92) to study opera, is back as Detective Phil Cerretta to investigate allegations that Behind the Music is really the same show every week, with only the band's name changed to confuse the gullible.

Law & Order: PPV. In a cunning stroke of marketing strategy, NBC airs the first 55 minutes free of charge, then requires viewers to pay $9.95 to see the conclusion. Free six-pack of Pepsi with every purchase.

The Secret Vice of Power Women
Michael Kinsley, Slate (11.14.02)
(Note: In the marital relations system, the people are represented by two separate but equally important groups: the wives who watch Law & Order obsessively, and the husbands who don't. This is their story. Ka-chunk.)

Recently I got married, fairly late in life for that sort of thing, and have made astonishing discoveries. Most of these revelations turn out to be common knowledge. But one, I believe, has not been widely aired.

People's Exhibit A (my wife), Your Honor, is a formidable, intelligent woman with an important and challenging job and a full private life. (Also undeniable loveliness and charm, which are not strictly relevant to the present case.) She doesn't squander her time. And yet she spends many hours a week watching reruns of Law & Order—often back-to-back (the shows, that is).

It would be misleading to call her a fan. Law & Order, the long-running crime drama, is not just one of her favorite TV shows, or even her very favorite. Other than reruns of Law & Order, she has almost no interest in television at all. Specifically, she has no interest in any of the (to me) barely distinguishable Law & Order spinoffs and rip-offs (such as Law & Order: Special Victims Unit, Law & Order: Criminal Intent, Law & Order: Double-Entry Bookkeeping, CSI, CSI: Miami, Mayberry R.F.D. and so on.) She's not even interested in new episodes of Law & Order itself. She couldn't tell you what night it's on and has no view about what this country is coming to when a man like Fred Thompson can be plucked from the obscurity of the United States Senate and entrusted with the responsibility of running the prosecutor's office on Law & Order.

Nor does she care—or even, possibly, notice—whether it is Michael Moriarty or Sam Waterston who is being unvarnished in any episode she may be watching. Don't ask her whether the female assistant district attorney is the blonde or one of the brunettes. Don't attempt to amuse her by predicting what demographic category the judge will be from. ("They've had four black women in a row, so I'm thinking white man. No, I know, that's ridiculous, so I'll go with white woman—but in a wheelchair. Whaddya think, Honey? Honey?? Ouch, that hurt. OK, never mind.")

Exhibit A and I assumed that this was our little secret. Perhaps it had to do with our weather here in Seattle, which affects some people oddly. Or too much coffee. But then we had a visitor from the East Coast who announced that his wife was about to become the TV critic of a major newspaper. "And the amazing thing," he added, "is that she never watches TV except for reruns of Law & Order."

Good grief. I began making discreet inquiries. My closest chum in Washington is a political columnist and TV pundit. I thought I knew her pretty well. Turns out that for years, on all those evenings when I assumed she was at parties to which I wasn't invited, she was at home watching reruns of Law & Order. The dean of a major business school poured out a similar confession, as did a senior editor at a newsmagazine. The girlfriend of one of my Slate colleagues. Half the women at the University of Texas (according to another Slate colleague, who may be exaggerating). Another Washingtonian, this one a teacher, though her husband says she is "drifting back to C-SPAN." Always women. Always high-powered. Always Law & Order. Always reruns. What on earth is going on?

It is not a cult, because a cult is communal. Sex and the City has a cult following: Women, especially, watch it together and/or discuss it the next day at work. New episodes are considered, on balance, a good thing. The obsession with Law & Order is something different. Far from discussing it with one another, women seem to watch it alone and may be unaware that anyone else shares the habit.

Exhibit A may be an extreme case. In a rare glimpse into this secret world, Molly Haskell wrote an essay last April for a local section of the New York Times in which she frankly and courageously labeled herself a Law & Order addict. But she claimed to discuss the show freely with other addicts. She also described her addiction as an essentially New York phenomenon, which suggests that even Haskell does not appreciate the full extent of the situation.

This would all be merely curious except for one ominous recent development. Law & Order reruns used to be scattered across the cable schedule like wildflowers. (Or weeds.) To catch them all, you needed to be able to play the remote control like Paderewski. More important, you had to control the remote control. Under these circumstances, only the smarter and more high-powered women were able to indulge this temptation. Now, though, TNT cable has exclusive rights to Law & Order reruns and, near as I can tell, runs them more or less all the time. That means Law & Order addiction is now available to all women with access to even basic cable.

This presumably is just the kind of chic new social problem the Democrats are being advised to rebuild their party around, now that George W. Bush has solved all the old ones. The new Democratic leader in Congress, Nancy Pelosi, is just the kind of dynamic, smart, take-charge person who can …

Uh-oh. Do you suppose …?

Plot Ideas Ripped From the Headlines
Gary Levin, USA Today, 12.6.02
Torn from today's news: Not just a vérité catchphrase, but also the mantra for NBC's enduring hit Law & Order.

In a seemingly impossible feat, the split drama — cops chase the suspects, prosecutors try them — is near a ratings peak in this, its 13th season. And the show has spawned two successful spinoffs, Special Victims Unit and Criminal Intent, that also rank in TV's top 20. It's the first drama in TV history to have three incarnations airing simultaneously.

In an average week, 41 million viewers see at least one of the series on NBC. And that's not counting reruns on USA and TNT, where the original L&O ranks as cable's top non-original drama.

Though Law & Order follows a long line of case-solving hits from Dragnet to Columbo, its penchant for real-life cases are its bread and butter. They tantalize with a whiff of familiarity, but often veer off in another direction to surprise viewers — and to forestall lawsuits.

A recent episode mirroring the case of missing Washington intern Chandra Levy earned the wrath of Carolyn Condit, the wife of the California representative who'd been linked with Levy. Painted as a murderer, she demanded an apology (producers declined), and threatened to sue for defamation.

But several of Law's writers are lawyers themselves, and they skillfully skirt the limits of liability.

"If the viewers understand they are viewing fiction and it is only inspired by recent events, then a claim would probably fail," says First Amendment lawyer Victor Kovner of New York. But "it is possible to do a roman à clef that is so plainly based on identifiable people without even using their name that the mere fact that it's a fictional setting and there's a disclaimer may not suffice." That explains the usual twist.

The show has other distinctions: It rarely goes home with its characters, avoiding personal stories in favor of crime-solving puzzles and legal turns. And it's known for habitual cast changes: Eighteen actors have filled the main series' six principal roles. Usually the actors ask to leave, but producers embrace the turnover: "It's good for the writers to get new characters in," says Criminal Intent executive producer Rene Balcer. "It just revitalizes you and allows you rejigger the dynamics of the show."

Now, creator Dick Wolf has extended the franchise with Crime & Punishment, a documentary series about actual jury trials (no masking here) that returns for a second season this summer.

How far can the shows go? What topics are off limits? Which episodes caused regrets? Creator Dick Wolf and his executive producers — Balcer, Michael Chernuchin (L&O) and Neal Baer (SVU) — talked about the series recently at their New York studio.

Q: Your shows are promoted as being ripped from the headlines, but often there are disclaimers, sometimes even before each episode, describing them as fictional. Can you really have it both ways?
Rene Balcer: I think we rip off the headline, I don't think we rip the body of the story. I think it's kind of fun: People see the headline, see what the story is supposedly about, and there's already a built-in set of expectations from the audience that when we write the stories we can play off of and play against.
Dick Wolf: (The source material is) the front page of the New York Post. People are not going to stop killing in unique and bizarre ways. It's a constantly renewable resource, virtually every morning.
Michael Chernuchin: The country is bombarded by news; people know the story. So for us to just re-create it would be boring; they've seen it already.
Q: But there were cases that got a little too close for some people. The Chandra Levy story, for instance.
Wolf: That was too straightforward an episode. That was a re-creation. It was Carolyn Condit, but you took them through an alternative version of the crime. There was no real issue or twist.
Q:How do you decide what stories to mine for your episodes?
Neal Baer: Everything is fair game. We all have full-time researchers. (Stories) can be generated from Dick, or just reading the paper, or talking to friends.
Q: Do you guys fight over which show gets a certain story?
Wolf: There's a dibs system, which we're constantly re-evaluating. What's happened is, even stories that are similar are done so differently there's a part of me that would like to have a weeklong Law & Order marathon of the same story done by all three shows. Because they'd be completely different.
Q: What are the different sensibilities each producer brings to his show?
Wolf: Michael is much more interested in the intricacies and turns of the legal system as a storytelling device: How the system can become a participant and how the system itself can lead to justice beyond the courtroom. Neal's storytelling is much more scientifically oriented. It's certainly not just the dry procedure — and that's not a knock —CSI's approach to science is drier. His is more humanistic; he is a pediatrician, and he deals with kids. Rene has always been a crafter of mysteries. I think the hallmark of his show is the twists and turns that a good Sherlock Holmes or a good (Raymond) Chandler has.
Q: Has the network ever said no to something?
Wolf: We collectively (have stayed away from) teenage suicide. I've seen the linkage. It is imitative behavior. But NBC has never said, "You can't do that."
Chernuchin: The flip side of that is when the network calls and tells us to do a certain headline, and actually that resulted in my least favorite show. It was the Tonya Harding-Nancy Kerrigan story. (The ice skaters were recast as tennis players.)
Wolf: My least favorite episode, because it violates the basic premise of the entire franchise, was the one where Jerry (Orbach's) daughter was murdered.
Q: Because it got into their personal lives?
Wolf: I don't know that many children of police officers, especially first-grade detectives, who have ever been murdered, who are also drug addicts. I thought I was watching NYPD Blue.
Q: Why'd you do it?
Balcer: It was the (1995-96) season, where every actor's contract was up, and the idea was to end the season on a cliffhanger.
Wolf: It was too small a universe for Law & Order. And to me, Jerry was bathetic. But he got to do what he wanted to do: He got to hold somebody in his arms and cry. But he didn't get (Emmy) nominated.
Q: The other controversy was the episode about the Puerto Rican Day parade and the assault on a woman that followed. NBC apologized and refused to air it again.
Wolf: That was ridiculous. That was the network completely folding under. That was the stupidest single community-relations mistake I have ever seen any network make in 25 years. We are equal-opportunity offenders, these guys have offended every minority and ethnic group on the planet. So it left NBC in a situation where (others could say), "Oh, I see, we're not as good as the Puerto Ricans." The only other one that was never rerun on the network — but they didn't preclude us from doing it — is probably still my single favorite episode of Law & Order, "Life Choice," the abortion-clinic bombing. In that show, you did have four or five of the characters on different sides of the abortion question.
Q: Because of 9/11, you canceled plans last year for a Law & Order miniseries about a terrorist plot. What happened?
Wolf: To give you some idea of why we had to cancel, it started out in an al-Qaeda training camp in Afghanistan with 10-year-old kids saying, "Death to America," the brother of one of them coming in who is going to become a martyr and perform a great act. Cut to him coming across the Canadian border in a rental car with a United Arab Emirates passport, coming into New York, blowing up the (subway) shuttle under Times Square and killing how many people? 1,700. And then releasing anthrax.
Baer: We had people coming in from Stanford to give us lectures on bioterrorism, and what was so striking was when we said, "Well, if we had anthrax break through the ventilation systems in a hotel and the spores were on the floor, could that really infect people?" And they said, "Nah, it can't happen, don't worry about it." And then, unfortunately, the truth was as scary as the fiction, and all of the things that were in our miniseries actually happened.
Wolf: We were supposed to start shooting on Sept. 24.
Q: How has Law & Order changed over the years in terms of types of stories? Are the stakes higher now that there's more graphic crime on TV?
Balcer: Are we a little more extreme in our depictions of crime? I'm sure, the bar has been raised to a certain extent, and I think the audience expects it because of what they've seen on the news.
Baer: We don't need to be on cable to show decapitations, bullets going through bodies. Sometimes the crimes on SVU are, as we say at the beginning, heinous crimes, and we leave a lot to the audience's imaginations. We'll lift up the sheets, but we won't see under them. We just don't feel a need to. We're not there to titillate that way.
Chernuchin: And we usually come in after the violence. A key word in network television is relatability. In whatever you do it has to be relatable to the audience, and what a lot of us try to do is make the criminal relatable. If I was in that position, could I commit that murder? To me that's very interesting.
Q: Is there room for yet another spinoff?
Wolf: Sure. NBC already knows what it is.
Q: Are there more? When would this max out?
Wolf: Seven. Every night of the week.

Shooting Star
Michael Buckley, TV Guide, 2002
Now in its 12th season and doing better than ever in the ratings, Law & Order may yet fulfill executive producer Dick Wolf's goal of passing Gunsmoke's 20 seasons. (It's already renewed through season 15.) And the franchise has also spawned two successful series: Law & Order: Special Victims Unit, and the freshman show Law & Order: Criminal Intent (which has been picked up for a full-season order). Then you count in all the cable showings following the first-run network airings, and it's no wonder that Jay Leno recently quipped that the next installment will be Law & Order: Enough Already.

The original Law & Order has been around for so long that it's as good a time as any to take a measure of its many cast changes through the years and wonder if, ratings notwithstanding, the dramatic quality is still there. You'll understand when I submit that I'm in a perfect position to make that judgment, having seen all 259 episodes (to date) for the series since it began in 1990 and having written all of the respective listings for TV Guide.

Wolf has said that the main reason for the show's success is because "every week you get a totally contained, complete story." And that's true, although the trend in recent seasons has been to add more red herrings to the plots. There are now so many twists and turns that one could tune in three-quarters of the way through and still see the main elements of the story. It may be an effort to avoid predictability, but it's unnecessary.

Still, change has always been a modus operandi here, and that's been especially true as it relates to the cast. Here's the scorecard to date: Jerry Orbach (Det. Lennie Briscoe), who started in November 1992, is the longest-running regular in the current lineup. As the show's No. 1 detective, he succeeded — and improved on — George Dzundza (Max Greevey) and Paul Sorvino (Phil Cerreta).

Orbach's original partner was Chris Noth (Mike Logan), who had been on board since the debut, but Noth's been replaced, respectively, by Benjamin Bratt (Rey Curtis) and Jesse L. Martin (Ed Green). While it's doubtful that any pairing will best Orbach and Noth, the Orbach-Martin team works well.

There have been two top prosecutors. Michael Moriarty was the stern Ben Stone for the first four seasons, but viewers have taken even more favorably to Sam Waterston's less-intense Jack McCoy, a part he's played since the start of the 1994-95 season.

It's the second assistant district attorney that has undergone the most changes. Richard Brooks II (Paul Robinette) served three seasons, but was dropped when the network wanted the show to attract more women viewers. Enter Jill Hennessy (Claire Kincaid), followed by Carey Lowell (Jamie Ross), then Angie Harmon (Abbie Carmichael), and now Elisabeth Rohm (Serena Southerlyn). The jury's still out on Rohm, who began this season and appears to have not yet found her niche. My favorite was Hennessy, and perhaps others agree, since her Crossing Jordan is one of this season's hits. (By the way, Hennessy and Noth will be reunited in a two-part Jordan episode that begins Monday, Nov. 19.)

The detectives have had two bosses — both top-notch. Dann Florek (John Cragen), in charge the first three seasons, was succeeded by S. Epatha Merkerson (Anita Van Buren). Florek's character has since returned as the boss of the SVU squad. Unfortunately, the superb Merkerson seldom gets enough to do — though she does figure prominently in next Wednesday's episode.

Many still recall Merkerson's guest appearance in a first-season episode, in which she portrayed a cleaning woman whose 11-month-old son was accidentally killed. A truly memorable performance, it might well have been instrumental in securing her present assignment.

There have been two DAs: Steven Hill (Adam Schiff) and Dianne Wiest (Nora Lewin). Everyone misses Hill, who lasted 10 seasons (1990-2000) before retiring. It's been an uphill climb for Wiest, following an actor who had a lock on the role, but the two-time Oscar winner finally seems to be settling down. Likewise, viewers are feeling more at ease with her.

The players may have changed, but one element that has not is the series often drawing its stories from the headlines. Tonight's episode, for example, has shades of the real-life case involving the murder of actor Robert Blake's wife. The episode is titled "Formerly Famous" and deals with a former singer named Tommy Vega (played by Gary Busey) who stumbles into a pub and tells the owner to call for an ambulance because his wife's been shot.

Arriving at the crime scene, Green inquires, "What's with all the press?" A police officer tells him the victim's name and that "her husband was some big-shot singer." "Tommy Vega?" questions Briscoe, adding, "He was gonna be the next Tom Jones." The young policeman asks, "Who's Tom Jones?" Not surprisingly, Busey's character comes under suspicion, but so do his manager (Joe Piscopo) and two adult sons from a first marriage. Bruce Altman is very good as the singer's shrewd lawyer, who enjoys the spotlight himself. In Busey's last scene with Waterston, he's particularly effective, speaking about fame and his "second chance." It's a solid episode with the usual twists, but, thankfully, fewer red herrings.

It's absorbing stuff, and that's what we've come to expect from L&O. Consistently superb writing and direction, as well as strong performances — both by regulars and guests — account for its continuing popularity. So, in its second decade, the verdict is this: Law & Order is basically as good as ever.

"Law & Order" Saved Yates
Richard Johnson, The New York Post, 2002

Andrea Yates owes her life to a writer from Law & Order.

Suzanne O'Malley, an investigative journalist who writes for the hit series and consulted on the Yates trial for Dateline: NBC, was sitting in the courtroom when world-famous forensic psychiatrist Park Dietz testified that Yates was perfectly sane when she drowned her kids - a key moment in the state's case.

O'Malley, who worked with Dietz when the shrink was a consultant to Law & Order, paid particular attention to his testimony. Dietz testified that the Sam Waterston-starrer was Yates' favorite program and that she planned her children's murders after watching an episode in which a mother drowns her kids, claims post-partum depression, and is acquitted. Dietz said Yates used the show as a "blueprint" to escape her rotten life and marriage.

But O'Malley was stunned, because she knew that while Law & Order was indeed Yates' favorite, "no such episode had ever been written, much less aired," she says.

As an authority on the subject, O'Malley passed the information along to Yates' lawyer George Parnham. The night before Yates' sentencing, Parnham had Dietz admit to false testimony.

"Jurors were shocked," O'Malley says. "The prosecutor had egg on his face. And the misinformation became the grounds for a mistrial, so the prosecutor was forced to give up asking for the death penalty. [Parnham] told me, 'You saved her life.' "

Yates, 37, was sentenced to life in prison and will not be eligible for parole until 2041. If the state decides Yates needs special treatment in jail, it could end up costing taxpayers $30,000 to $50,000 a year.

"It was the dream of why I had ever wanted to be an investigative reporter," O'Malley says. "And spiritually speaking, it had to be me - with my particular set of circumstances - sitting in that courtroom for the chain reaction to occur. It was awesome."

Earlier this week, Yates's husband, Rusty, rejected criticism from family members who charge he didn't do enough for his mentally ill wife. Andrea's brother, Brian Kennedy, said Rusty was "unemotional and inattentive," and claimed he and other relatives had to beg him to get help for Andrea. Kennedy says he thinks legal action against Rusty should be looked into.

But Rusty blamed Andrea's doctors for the tragedy, saying he may sue them for taking her off anti-psychotic medication and not hospitalizing her in the days before she killed their kids.

"Law & Order" Interactive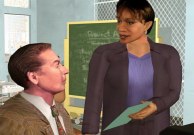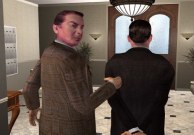 Law & Order Interactive, based on the popular television series, will let players assume the role of both detective and prosecutor in a series of criminal cases. Law and Order Interactive is a realistic role-playing game that follows a case through the guts of the criminal justice system, from initial investigation through completion of the trial just as in an episode of Law and Order. As the player, you assume two different roles. First, you are the lead detective on the case, and it's up to you to collect and sort through the evidence, then identify and arrest the prime suspect. Then, as the Assistant District Attorney assigned to the case, you must steer it through the treacherous waters of a jury trial and secure a guilty verdict. Of course, the process may also end before the jury reaches a decision, through plea bargaining, bungling or misconduct on your part but that's as it is in real life, and adds to the challenge that you face, as well as the intense realism of the game experience. High-resolution, full-screen, full-motion video footage featuring well-known actors will place you in the middle of the action and capture the realistic feel and ambience that has made Law and Order a favorite of critics and audiences alike. As the game begins, you fade in on the maelstrom of activity in a Manhattan police precinct. Right away, your superior, Lt. Amy Van Buren, summons you into her office. She introduces you to your new partner, Det. Lennie Briscoe. Barely have the two of you shaken hands, however, when a call comes in. She informs you that the Grover Academy, a private secondary school in Manhattan, has just reported a possible arson in its computer lab. You and Briscoe have your first case.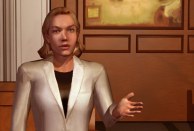 CD Rom release date: 9.3.02

"Law & Order CD-Rom Deserves Favorable Verdict
Gene Emery, Reuters, 11.17.02

The new computer game based on television's popular Law & Order program gives PC owners the chance to play both detective and prosecuting attorney in the case of a murdered investment adviser.

Law & Order: Dead on the Money ($30, Windows) unfolds like an original episode of the hit TV show, with interesting characters, sharp dialogue and some nice twists and turns -- some of which involve insider trading on Wall Street.

Legacy Interactive has created the mystery story and courtroom drama using features typically found in an adventure game, such as video clips, scenes to explore and plenty of personal interaction with the characters.

The "puzzles" involve finding a password to a computer, the combination to a safe, and the right pieces of evidence to get people to spill their guts.

The story opens with the discovery of a woman's body in New York's Central Park. Detective Lennie Briscoe is called to investigate and players assume the role of Briscoe's partner.

The game uses virtual characters, sometimes known as cyberpuppets. But the computer-generated humans have a convincing array of expressions: you can see the perps twitch nervously when Briscoe and his partner ask the right questions.

And there's nothing virtual about the voices. Jerry Orbach, who plays Briscoe on the show, does the voice-over for his character, as do the actors who play Briscoe's supervisor and the assistant district attorney.

The first half of the game focuses on the police investigation. At the murder scene, the player must scour the area, looking for clues to the identity of the victim. You'll need a good computer monitor to see some of the tiny pieces of paper that must be picked up. Items that seem significant must be stored in a case file, where they can be sent to the crime lab or the research department to get more information.

When someone needs to be interviewed, the player selects from three questions -- an aspect of the game that isn't particularly challenging. Many of the questions are obviously not relevant to the investigation, and if you miss the opportunity to ask a key question the first time, the game gives you other chances.

The controls for the game are very easy to use. To send things to the lab, just click on the casebook to open it, find the lab form, drag a picture of the evidence into a box and click "submit." Your cell phone rings when the results are ready. If you need to go somewhere, click on the map icon and select the location -- but be careful because some locales are below the screen and you need to scroll down.

If you identify the perpetrator and include all the key evidence into your arrest warrant, you'll move on to the trial part of the game and assume the role of prosecuting attorney.

You'll also have to do some gumshoe work because the judge has thrown out a key piece of evidence, so you must snoop around for additional information.

At trial time, you select the order in which the prosecution witnesses are presented and the questions to be asked. You can also object to a defense question if it's out of line, although the game gives you only a few seconds to do so -- something that is unlike in a real-life trial.

Players unfamiliar with court procedure can do a little research in the assistant D.A.'s office to find explanations of the different reasons for objecting as well as other rules. Those are important to know. Near the end of the game, the defense tries to exclude a piece of testimony. If you don't select the correct counter-argument (you have a 1 in 3 chance of being right if you simply guess), you lose the case and the bad guy goes free.

Fortunately, you can save the game at any point and try a different path.

Aside from the need to object almost immediately if the defense lawyer asks a bad question, I have a few other objections to the game's design.

You can't dawdle in your investigations. For reasons that are not explained, Law & Order gives you a time limit for finding all the right clues and zeroing in on the suspect. In real life, the statute of limitations for murder is a lot longer than one week.

There are times when the cursor takes on a life of its own, rapidly skimming past the point on the screen where you're trying to click. It's the most maddening element of the game.

Ultimately, with its twists and timing geared to the fast pace of TV drama, Law and Order: Dead on the Money is guilty of simulating a television drama better than a real-life murder mystery. But fans of the show and people who like whodunit games will find that this CD-ROM acquits itself well.