Law & Order: Articles, 2002 (1)


Officers and Gentlemen
Dennis McCafferty, USA Weekend, 1.27.02

We didn't need an APB to round up this trio of stars from primetime's hot Law & Order shows. When USA WEEKEND Magazine offered Jerry Orbach (Detective Lennie Briscoe of Law & Order), Christopher Meloni (Detective Elliot Stabler of Law & Order: SVU) and Jamey Sheridan (Capt. James Deakins of Law & Order: Criminal Intent) the chance to celebrate their series' success in tuxes and top hats, they raced to the scene of the shooting -- photo shooting, that is. The original Law & Order series launched its run in 1990, followed by SVU in 1999 and Criminal Intent in 2001; now all three routinely rank at the top of their time slots. Here, the actors sit down for their first-ever three-way chat and get "interrogated" on what they've learned playing New York cops, how the real men in blue react to them, and whether they're hot dog or doughnut guys.

Let's face it: Format-wise, the Law & Order shows are more Dragnet than NYPD Blue. Is the franchise the television equivalent of comfort food?

Orbach: Yes. Our show is a ritual, almost like a Mass. There's going to be discovery of a crime, then the follow-up, then the arrest. In the second half, the suspect goes to trial and either gets convicted or gets off. All of this in 60 minutes. The viewers know what they're getting and like it.

Of course, Jerry's throwaway line is an indispensable

part of the ritual. What's the most memorable one?

Sheridan: Give 'em "The Duvet"!

Orbach: [Grins] Ahhh, "The Duvet." That was a great one but, unfortunately, one the audience didn't fully get. We edited out the set-up, where I said, "$5,000 for a quilt?" And my partner says, "But that's a duvet." This got cut out. So the audience just sees the old lady, who's dead in the hallway, and she's covered up with a little ratty blanket. I say, "At least they could have covered her with a duvet." It sounds like I came up with that out of nowhere.

We're sure TV corpses appreciate your efforts. So what makes for a great throwaway line, anyway?

Orbach: Neil Simon's rule of comedy: If there's a "K," it's funny. "Pickle" is funny. [Co-star] Sam Waterston and I debated the throwaway line once. He told me, "It's not always about which is funnier." I said: "Yes, it is. It is always about which is funnier. Especially in a scene in a morgue."

The line will be there every week, but the casting goes through more lineup changes than a pro sports team. Do you guys need a scorecard to keep everyone straight?

Meloni: Except for Jerry. He's the Cal Ripken Jr. of the cast. He's penciled in for every game. As for the rest of us? Uneasy lies the crown upon our head.

You seem safe for now, given your appeal to both men and women. What's the sexiest thing about your character, Chris?

Meloni: His underwear. They're these skimpy little blue bikini numbers. We did one episode where I was talking to my wife and I dropped trou because I'm getting ready for bed. I got a lot of mail about that.

Are you going to get naked on Law & Order, as you did in HBO's Oz?

Meloni: We'll see. So far, they're pulling out all the stops to make me not pull an Oz.

The interrogation room, incidentally, looks as drab as anything on Oz's prison set. How would you customize it?

Sheridan: I'd just nail down one chair. The suspect is right where I want him, every single time.

Orbach: And he can't pick it up and throw it at you.

OK, guys. Law & Order 101, Case Study A: What's the best way to interrogate an Upper East Side socialite who had her husband whacked and dumped his body parts into the Atlantic Ocean?

Orbach: You start with "It's so hard to get good help these days."

Case Study B: If you have only an hour while a Park Avenue lawyer, who happens to be a suspect, dines at Nobu, what's the best way to strip down his roadster

for evidence?

Meloni: First, those cars can rot out at the bottom, so I'd stomp my foot through the floorboards. Then I'd rip off the wheels. From there, it's just a matter of going from the bottom up. If it's already rusted out, you're halfway home.

Orbach: This is the sort of thing you turn over to a guy like Chris, as you can see.

Meloni: If you'll notice, his nails are much nicer than mine. So he practices what he preaches.

Any tips for avoiding a subpoena server?

Meloni: Don't answer the door or the phone. But that's just good, common-sense advice for living in general. At least that's how I live my life.

Let's get serious for a moment, because your city has gone through so much trauma this year. What effect have the events of Sept. 11 had on the show and your

feelings about police officers?

Orbach: We've always felt they were heroes. These guys don't know if they're going to come home at night. They're heroes for just showing up. The best compliment we get is when the real cops say, "Keep making us look good."

Sheridan: We didn't get back to shooting for several months [after] that day. But I couldn't wait to talk to the guys on the real-life major case squad. I was dying to know how they were doing. As for the show itself, we know the audience is going to be saying, "Where is 9/11?" But it will slowly become part of the show. Something will happen to a character on 9/11 that drove them to do something else, and we'll react to that. You'll see some dust-ups between the fire department and police department. Things like that.

Like so many others in public safety in New York, the Law & Order guys have made a tradition of eating from street vendors while walking down a crowded sidewalk. What's on the menu?

Meloni: Sabrett's hot dogs with sauerkraut, mustard, onions and just a hint of ketchup. You either bring your A game for a hot dog or you don't bother coming.

Sheridan: In my case, Deakins has been trying to lose weight for 10 years. He's avoiding that bad Irish food, the mashed potatoes and corned beef. He's doing the granola-and-salad thing, and he hates it.

And coffee?

Meloni: Yes. As strong as possible. But with year-old sugar and sour milk.

Sheridan: Deakins is fighting not to drink it. If he did, he'd probably kill somebody. It's supposed to be decaf, but you never get decaf in a police station.

Given your status, we bet you guys never get traffic tickets.

Meloni: Oh, yes, we do. I just got a speeding ticket. I was upstate, and the guy pulls me over. I thought: "I'll flash him a smile. I'll make eye contact. He'll recognize me, and everything will be fine." I give him my license, and I pull it out and show it to him, like "Recognize the face?"

The old "I'm not a police officer, but I play one on TV" trick?

Meloni: Yep. He came back 10 minutes later, and I was $110 poorer.

We're sure it was nothing personal, because he probably watches the show every week. How obsessive do the Law & Order fans get?

Orbach: There are people who watch our show three times a day in reruns. There are people who know all the different partners, all the different assistant DAs. They'll quote to me the specific title of an episode; I may or may not remember it. But they know the title, plot synopsis, cast -- everything, chapter and verse.

Sheridan: They probably have the Law & Order reference guide in their library. There really is one [Law & Order: The

Unofficial Companion]. It catalogs every episode: who's on

it, the title, the synopsis.

Do fans notice you on the streets of New York, or are you able to walk around without too much of that?

Meloni: That's the difference between television and movies. There's a story about George Clooney [before he moved to the big screen] being on a plane with Mel Gibson. They get off the plane together, and people are whispering, "Oh, look! It's Mel Gibson!" They pay $10 a ticket to see him 60 feet high on a movie screen, so they're excited. Then George comes around and it's "Hey, George. How ya doin'?" That's because he's in their living rooms for free. In television, you're part of the family.

Orbach: For the most part, I can just walk down the street, and a guy says, "Hey! Love your show!" Then you give them a friendly nod, and it's "Thanks. Great. I'll be seeing ya ..." And that's it. It keeps it simple.

Favorite crime flicks

Sheridan: Bullitt, because Steve McQueen ticked like a watch. His upper lip sweats. That's about it.

Orbach: One that I was in, Prince of the City. It conveyed the humanity of the cops, how they could be tempted by money and narcotics.

Meloni: Blood Simple. It kept me on the edge of my seat.

Best trick to play on SVU's conspiracy nut, Detective John Munch, played by Richard Belzer Sheridan: Show up on his show out of sequence and make him think he's lost it.

Orbach: Make him play somebody else besides Belzer.

Meloni: Prove to him that it was, in fact, Lee Harvey Oswald who acted solo.

Their characters' Walter Mitty fantasies

Meloni: To have a crush on Detective Munch.

Sheridan: To be Phil Simms. For Jim Deakins, nothing could

beat being the Super Bowl quarterback of the New York Giants.

Orbach: To be on the PGA tour. He only gets to play golf every once in a while. He has to take the subway to Van Cortlandt Park, where you hit balls around old used cars.

Lone Wolf of Success
L&O creator/producer justly praises series and hints at another new one
Bill Brioux, Toronto Sun, 1.30.02
Dick Wolf was at it again.

The creator and executive producer of TV's most successful franchise -- Law & Order -- was living up to his reputation as the human quote machine earlier this month in Pasadena during the network press tour.

Wolf was venting that his new series, Law & Order: Criminal Intent, was being ignored by critics. This despite the fact that all three L&Os win their time slots, "which is kind of unheard of," Wolf points out. He also mentions that all three shows have cracked the U.S. Top-20 (they're just as popular here on CTV, where L&O airs tonight at 10).

"I don't snipe at other shows," says Wolf, but why, he asks, is everyone raving about Alias when it's getting creamed in the ratings opposite Criminal Intent? "One is a cartoon and one is really, really good television," he says. "Sorry."

It's hard to argue against Wolf, especially when he comes prepared with statistics. The former advertising executive says that the three L&O shows draw 48 million viewers a week on NBC. That The West Wing and Law & Order have the highest median income, over $70,000 per household, than any other network shows. "It means that there are a lot of smart people watching the show, which really, really helps," says Wolf.

He went on to say that if you combined all of the viewers who watch L&O reruns on USA, TNT and A&E each week, the number tops a staggering 80 million viewers.

And there may be more L&O shows in the works. Wolf says he has other ideas, but wasn't about to spill the beans. "Actually, it's Law & Order: CSI," he quips, in a sly reference to CBS's plans to spin off their No. 1 drama with a second CSI show set outside Las Vegas next season.

Wolf can afford to joke. L&O has already been renewed through the 2004-2005 season. After 12 years, that's an astonishing commitment.

It sure works for Jerry Orbach, who for a decade has been the one consistent element of an ever-changing cast. The 66-year-old actor joined Law & Order in 1992 as streetwise Detective Leonard "Lennie" Briscoe, taking over from Paul Sorvino, who in turn had replaced George Dzundza as the show's senior cop.

Orbach says he long ago lost count of how many episodes he's filmed. "Some cases touched me a little more than others," he told critics, citing the one where Jill Hennessy's character was killed off --forcing every other character to examine their own lives -- as a personal favourite.

Even though the unusual shows stick out for him, he says that's not what the audience expects from Law & Order. "They want to see a case from beginning to end, like a ritual, like a high mass," he said.

Orbach had a long and distinguished stage career before L&O. He originated several Broadway roles, including El Gallo in The Fantasticks, Billy Flynn in Chicago and Julian Marsh in 42nd Street.

He was asked if, just like his character, he was beginning to feel as if he's "seen it all" in terms of plots and storylines. "Every case is different," he insists, adding that the huge talent pool of guest actors helps keep things fresh.

Besides, why would he leave? "The idea that I can stay home in New York as an actor and I don't have to be on the road and away from my wife and travelling to (Orbach shudders) CANADA ..."

Hey, Dick Wolf. Cancel those plans for Law & Order: Cross-Border Criminal Intent.

The Beat Goes On
Andrew Ryan, The Globe and Mail, 2.2.02
Now in its 12th season, the Law & Order formula keeps viewers enchanted

Dick Wolf is a pretty sombre fellow most days but he was in rare great spirits while talking with press at NBC's leg of the midseason press tour a few weeks back. In fact, he was downright giddy.

The veteran TV producer turned up with the cast from his three current hit series - Law & Order, Law & Order: Special Victims Unit and Law & Order: Criminal Intent - with the presumed intent of promoting the shows. Instead, Wolf indulged in a little personal in-joke. "In the last two weeks," he deadpanned, "all three shows have been in the Top 20 [U.S. Nielsen ratings]. I was really worried they were going to cancel us."

Not likely. Law & Order and its subsequent series represent TV's sturdiest franchise. Most weeks, the original Law & Order is the top-rated program in this market (followed by The West Wing and Jeopardy). It also runs four times a day on A&E's weekday schedule.

The original series also has NBC's strongest vote of confidence: The network recently renewed Law & Order through the 2004-2005 season. To its credit, the original has survived umpteen challengers and dozens of cast departures. The formula has never changed: focus strictly on a crime and the subsequent prosecution and keep well outside the characters' personal lives. "That's always been the Law & Order formula and it's worked incredibly well so there's no reason to change it," says Wolf.

More important to Wolf is that viewers - and reviewers, for that matter - make a clean delineation between the original and the two spinoff series. "All three shows are very, very different," he says. "I've said it before: All Campbell's Soup comes in red cans Each show is unique from the other."

Industry insiders know that Wolf has always been the driving force behind the Law & Order machine. He created the show in 1990 after stints as a writer/director on acclaimed '80s series like Hill Street Blues and Miami Vice. Since its inception, Law & Order has always been a different TV animal. It is also, according to Wolf, a show that attracts a higher class of viewer.

"One of the most interesting statistics came out last week," says Wolf proudly, "which was that The West Wing and Law & Order audience has the highest median income, more than $70,000 annual income, which is extraordinary. It means there are a lot of smart people watching the show."

So far this season viewers are watching all three variations of Law & Order. SVU is holding its own in the Top 20 U.S. Nielsens (in fact, it's the only Friday-night show in that elite group) and Criminal Intent is also doing solid numbers on Sunday night, even against the tough competition of ABC's hit action series Alias. "You look at these two shows," says Wolf. "One is a cartoon and one is really, really good television. Sorry."

Wolf is particularly nurturing in regard to Criminal Intent, his newest show. It was initially denounced by many critics and got off to a shaky start in the ratings. It differs from the others series in that it focuses on a crime from the perpetrator's perspective. Such growing pains should be expected, says Wolf, since the show's format is much more freeform than the other series.

"It's not as strict a formula as Law & Order and less so than Special Victims," he says. "It depends on the structure of the story. It's an open mystery; most of the time you know who committed the crime - but there are variations on the theme."

At the same time, Special Victims Unit has done quite nicely in its Friday-night timeslot. In its third year, SVU is the most controversial of the Law & Order series. It deals specifically with sex crimes and is difficult to watch some weeks, particularly when the episode deals with younger victims.

"It can be painfully honest, but that's the point," admits Mariska Hargitay, who plays Detective Olivia Benson. "We don't wrap it up in a bow at the end of the episode, which I think is great. Sometimes we find them, sometimes we don't. Sometimes the justice system puts them back on the street, just like in life."

Similarly, Wolf makes no apologies for SVU's contentious subject matter. "It deals with very serious issues in a non-exploitive, non-titillating way," he says. "The number of cops and law enforcement officials who have thanked me the last year has been extraordinary, because reporting of sexual crimes and crimes against women is up significantly in a lot of major cities."

Law & Order and its spinoffs are all filmed on location in New York (unlike NYPD Blue, for example, which is mostly filmed on an L.A. soundstage) but there have been unavoidable production problems this year in the wake of Sept. 11. Ordinarily there would be Law & Order location units all over downtown New York.

Instead, "We can't shoot below 14th Street, we can't shoot on the courthouse steps," says Wolf. "To go to ground zero is a life-altering event because no matter how many times you see it on TV, the area is so much larger than it appears on a TV screen. It is very disturbing."

Regardless, the city of New York has long been an integral character on Law & Order and things are slowly moving back to normal. Cast veteran Jerry Orbach, in his ninth season as Detective Lennie Briscoe, thinks the show has actually become part of the healing process. "I can't go down and physically remove beams from the rubble of 9/11," he says, "but I feel we're helping in some way by the image we're portraying. It's like that old line cops keep saying to me, 'Keep making us look good'."

Ever protective of his progeny, Wolf has been actively campaigning NBC to move Criminal Intent from Sundays at 9 p.m. to Mondays at 10 p.m., which he feels is more suitable for its content (NBC currently has the rookie drama Crossing Jordan in that timeslot). "We're still trying," he says. "You know, it would just be this amazing symmetry - Monday, Wednesday and Friday at 10 p.m."

Down the line, Wolf isn't dismissing the possibility of doing a fourth version of Law & Order, although he won't get specific at this point. "Actually, it's going to be Law & Order: C.S.I.," he jokes.

For now, most of Wolf's energy is focused on promoting the more recent entries in the Law & Order franchise - and making sure viewers know they are separate entities. "The only thing identical in all three shows are the title cards and the 'ching-ching'," he says, referring to the ominous soundbite that ends each scene. "The only thing the same is great writing. I think we have the best writers in television, but I'm probably biased."

Jerry Orbach Restores Order to N.Y.
Charlie Mason, TV Guide, 2.6.02
After a decade on the mean streets of Manhattan, many a police officer are ready to pack it in. However, Jerry Orbach, who has played dry-witted Det. Lennie Briscoe on Law & Order since 1992, has no intention of turning in his badge and retiring.

"It may sound a little off the wall to say this, but having the opportunity to do this in this long an arc has given me — and is continuing to give me — a feeling that I'm doing something for the city and for the people of it and for the cops," the 66-year-old Bronx native says. "I see it every day on the street — the profile of Law & Order has gotten bigger and bigger. And the way the city feels about us [cast members]... it's like we're part of the good things that happen in the city."

In the wake of the Twin Towers tragedy, Orbach believes that his small-screen crime-fighting is an especially big deal. If Gothamites must see Osama's scary mug on the tube, then by God, Orbach is going to make sure that they continue to see his reassuring face as well. "I can't go down and physically remove I-beams from the rubble of 9/11, but I get a sense that [my colleagues and I are] helping in some way by the image that we're projecting," he explains. "It's the old line of the cops saying to me, 'Keep making us look good.'

"As long as we continue to do that," he concludes, "it's a joy to go to work."

TV on the Cheap
James Surowiecki, The New Yorker, 3.4.02
Six years ago, the cast members of the sitcom "Friends" threatened to walk out unless NBC agreed to renegotiate their contracts. Each of them was earning forty thousand dollars per episode, and they were now demanding six-figure deals. When Dick Wolf, the executive producer and creator of "Law & Order," heard the news, he called Warren Littlefield, then the president of NBC Entertainment, and told him that he should start firing the young stars, one by one. "I guarantee you that Warren would not have had to get rid of more than two of them before they caved," Wolf said recently.

Littlefield did not heed Wolf's advice. NBC gave the cast members a big raise, which was followed, almost four years later, by another big raise. Finally, a couple of weeks ago, the network agreed to pay each of the actors a million dollars per episode. They will now be making twenty-five times what they made in 1996. A good deal—for the stars, anyway. The show is still popular, but it's not twenty-five times more popular than it was then.

Why did Jennifer Aniston's salary demands bother Wolf enough to make him harangue Littlefield? For one thing, as a producer he had a vested interest in keeping costs down, and he knew that any large contract would ripple through the industry. (Today, he says that what happened in 1996 was "the beginning of a horrifying escalation of performers' salaries.") But Wolf had another reason for objecting to the "Friends" deal: he has built a career on refuting the show-business postulate that stars are the key to television success. To Wolf, paying any actor a million dollars per episode is madness. People tune in to see shows, not celebrities. "I have this sheet of paper, which I always keep with me," Wolf said. On the sheet is a list, made a half-dozen years ago, of actors whom the networks had signed up for future projects. "There are about fifty people on that list," Wolf said. "I think one of them is doing television today."

With "Law & Order" and its two spinoffs—"Law & Order: Special Victims Unit" and "Law & Order: Criminal Intent"—Wolf has chosen another tack, what you might call franchise television. "Law & Order" is not star-driven, though it does feature well-known actors. It focusses on story and process, rather than on character, recognizing that television is fundamentally a writer's medium. (A few years ago, Wolf sent out cards to network executives that read, "It's the writing, stupid.") Many actors have departed the show without denting its popularity. Some left because they were bored, some because they wanted larger roles, and others because they wanted more money. Paul Sorvino dropped out because he didn't want to shoot episodes outside during the winter—he feared that recurring bouts of bronchitis would make it impossible for him to sing opera. Most of the time, Wolf didn't want his actors to leave, but he offered them little incentive to stay, because ultimately he didn't need them. The show's cast door has revolved so quickly that there have been few salary disputes or prima-donna fits. Consciously or not, actors know that the "Law & Order" franchise is bigger than they are.

By contrast, developing a show around a star—be it "Roseanne," "Frasier," or "Doogie Howser, M.D."—insures that the star will be indispensable. When Kelsey Grammer recognizes that without him there can be no "Frasier," he effectively runs the show. The more successful the series becomes, the more leverage he gets—which is why Grammer now makes $1.6 million an episode—and the smaller the profits for the show's producers. (There also tends to be an inverse relation between the power of the star and the quality of the show, Exhibit A being the final years of "Roseanne.") At worst, you end up with the sort of problems described by the TV writer and producer Charlie Hauck in his 1993 novel "Artistic Differences." In the book, a megalomaniacal sitcom star tinkers mindlessly with dialogue, forces episodes to be scrapped, and drives a hairdresser to suicide. The writers are powerless against her, because no one will break the elementary rule of show biz: "Never let the star know that there are other people in the world."

Dick Wolf tossed this rule aside and made "Law & Order" actorproof. So far, he has gone unpunished by the Nielsen gods. The three "Law & Order" shows regularly rank in the top thirty, with "Law & Order" itself consistently in the top ten. Between prime-time showings and reruns on cable, the three series are on TV twenty-seven hours a week, and the franchise has been valued at seven hundred million dollars. Last year's one breakout hit, "C.S.I.," is basically "Law & Order" in the lab."NYPD Blue" and "E.R.," two of the past decade's strongest hits, are franchises, not star vehicles. The big flops, meanwhile, have been would-be showcases for high-profile actors—Bette Midler, Geena Davis, Nathan Lane, and half the cast of "Seinfeld."

The real virtue of franchise TV is that success shows up not just in the ratings but on the bottom line. At $2.2 million per episode, "Law & Order" is more than three times cheaper to produce than "Friends"—no small matter at a time when network ratings and ad revenues are plunging. Yet, amid all the belt-tightening, stars keep getting multimillion-dollar deals. "Look, everybody is scared all the time," Wolf said. "So you think signing big names is a hedge, and in some ways it is." The problem, as William Goldman has observed, is that it's a hedge not against losing money but against looking foolish while doing so.

Law & Order Won't Apologize to Condit's Wife
USA Today, 3.7.02
Rep. Gary Condit's wife has been turned down in her demand for an apology for a Law & Order episode about a politician and a missing aide.

The show's producers rejected Carolyn Condit's appeal and NBC, which airs the long-running series, concurred with the producers' announcement Wednesday, a network spokeswoman said.

The episode aired Feb. 6 and carried the series' standard disclaimer that the story "does not depict any actual person or event."

"We believe there's no basis for her claim. The show is fictional," said Neil Schubert, spokesman for Studios USA, which produces the series for NBC. Attorneys for Studios USA are investigating the matter and plan to respond, Schubert said.

The decision came a day after Rep. Condit lost his re-election bid for the congressional seat he has held for six terms. In the Democratic primary, he was swamped by state Assemblyman Dennis Cardoza.

Chandra Levy, 24, vanished last May. Police sources say Rep. Condit admitted having an affair with the Washington intern, but that he is not a suspect in her disappearance.

In the Law & Order episode, a 24-year-old aide to a state senator disappears from her Manhattan apartment. The ending implies that the wife of another official, the state gaming board chairman, was involved in her death.

A letter titled "Demand for Retraction" was sent to Law & Order executive producer Dick Wolf and to NBC attorneys Feb. 26 by the Los Angeles-based law firm of Johnson & Rishwain, which represents Mrs. Condit.

"It is undeniable that the viewing public would identify Mrs. Condit as the wife depicted on the episode," said the letter, which calls the episode "defamatory."

Mrs. Condit wants a retraction aired that apologizes to her on behalf of NBC and states that there is no factual basis to assert that Mrs. Condit ever contacted Levy or was involved in her disappearance.

Attorney Brian Rishwain said Wednesday that the statement should be featured at the start of a Law & Order episode airing reasonably soon.

Told that the studio and network had rejected the demand, Rishwain said: "We either go away or file a lawsuit."

Rishwain said he hadn't spoken to Mrs. Condit Wednesday. She did not return messages left by The Associated Press at the family's home.

Rishwain's firm has also filed a $10 million lawsuit on behalf of Mrs. Condit over a National Enquirer headline and story that Rishwain said implied she had spoken to and attacked Levy. He said Levy and Mrs. Condit have never spoken or met, he said.

Law & Order Law & Order is known for "ripped-from-the-headlines" plots that are drawn from news stories. Last year, an episode about violence during New York's Puerto Rican Day parade provoked complaints from Hispanic groups and drew an apology from NBC.

Cop Confesses: L&O Steals the Show
Charlie Mason with Daniel R. Coleridge, TV Guide Online, 3.20.02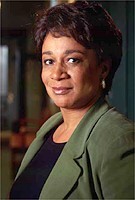 Over and over,
Law & Order
has made news by fictionalizing cases that are ripped from the headlines. And while this approach has its detractors, it also boasts an eloquent supporter in S. Epatha Merkerson, who has played Lt. Anita Van Buren since 1993.

"The show is very topical and provocative, and I do believe that's why we've been on for 12 years," she tells TV Guide Online. "We've always found a way to take a news story and find a twist to it. Sometimes it gets very close."

Close, indeed. A recent L&O plot inspired by Chandra Levy's disappearance understandably displeased Mrs. Gary Condit, whose screen counterpart was revealed to have murdered her husband's mistress. Naturally, she, for one, wouldn't agree with Merkerson's suggestion that the show "does a service."

"Probably not, but you know, [the Levy case is] in the news, and we're going to use it," the actress insists. "Hopefully, we'll use it in a way that won't tell the story word for word, but you can look at the story a different way."

Merkerson stops short of concurring with L&O Dick Wolf's assertion that, by getting viewers to discuss issues that they ordinarily wouldn't, he is doing "God's work." "I'll let Dick say that," she chuckles.

However, she doesn't see any reason for the show to stop swiping hot topics from the paperboy. "I believe that [utilizing fact-based tales] opens up dialogue," she theorizes, "because people already have a point of reference."

So, ultimately, L&O is as unlikely to change its tune as Merkerson's character is to change hers. "Van Buren is pretty staid," she observes, "but you can always count on her kickin' a little ass and being straightforward, and you can expect more of the same."

Brotherhood of the Wolf
Diane K. Shah, Los Angeles Magazine, 4/02
Ten years ago Dick Wolf created Law & Order. Now he's got so many spin-offs and reruns airing each week that you'd have to be unemployed to catch them all. Sure, he may have founded an empire, but don't ever accuse him of being a one-man show.

Last year NBC was looking for a five-hour miniseries it could air this May. Steve White, the network's head of movies and mini-series, phoned Dick Wolf, the creator of Law & Order, at his offices on the Universal lot. Any ideas? Well, yes. There was a story, a story Wolf had long wanted to do. "Terrorism in New York City," he said. White gave the green light. There wasn't much time. Shooting was set for September.

Cut to: A sultry August morning in New York, as the final scenes of a Law & Order episode are being shot. We are at Chelsea Piers, where the 122-foot yacht Mariner is bobbing and rolling somewhat alarmingly. On deck a greenish Cathy Moriarty smiles bravely from under the brim of an enormous pink hat as she sits across a dining table from her sullen daughter (Kate Moennig). Suddenly, from off-camera, bellows the familiar voice of Detective Lennie Briscoe (Jerry Orbach): "Lorraine Cobin, you're under arrest."

As Briscoe and his partner, Ed Green (Jesse L. Martin), scamper onto the yacht, Moriarty rises, indignant. "This is ridiculous, for what?"

"What's ridiculous," says Briscoe, "is what you must be paying in rent for this boat." A pause. "No, what's ridiculous is your hat."

"Cut!"

"It's a better line," Orbach pleads. "The other's too long. By the time I get to `What's ridiculous,' I'm tripping over my tongue."

Director Lewis Gould reaches for his phone. He dials a number at Universal in Los Angeles and leaves a voice mail for Barry Schindel, the show's executive producer, suggesting the line change. Since dialogue cannot be altered without Schindel's approval, and since it's only 8 a.m. in L.A., the scene will be shot both ways.

So it goes as Law & Order keeps cranking them out. Since the show first aired on NBC in 1990, there have been 253 episodes, and by the end of this season, its 12th, you will have 25 more. Not enough? The old ones recycle four times a day on A&E, Monday through Friday, plus twice every Tuesday on TNT Still not enough? Law & Order: Special Victims Unit is in its third season, and if you miss it on Friday night you can catch it nine days later on USA. Want more? Law & Order: Criminal Intent, starring Vincent D'Onofrio as a sort of Sherlock Holmes-slash-Columbo, debuted last fall on Sunday at 9. A fourth show, Crime & Punishment, a "drama-mentary" depicting real-life court cases from the D.A.'s point of view, is in production.

What this means is that a human being can watch 27 hours of Law & Order a week (excluding those A&E marathon weekends). Whether anyone ever has is unclear, but it is known that every week 80 million viewers see a Law & Order something. This does not figure in the number of dogs that, home alone with the TV on, are reported to howl in delight at the show's signature ch-ching! sound. With a Russian version franchised out (Law & Disorder?), a monthly magazine on the drawing board, and yet another Law & Order series percolating for 2003, one wonders, cross-eyed, if the sun ever sets in creator Dick Wolf's brain.

"Once the tap is open and the ideas are flowing, it's hard for Dick to stop having them," says Rene Balcer, who worked on Law & Order for ten years and now oversees Criminal Intent. "It's like saying to Barry Bonds, `Don't you think you have enough home runs now?"

Wolf can write, too. As consistently good as the scripts on all three shows are, rarely is the dialogue as tight or pungent as it was in the first batch of Law & Orders, the ones Wolf wrote. A master pitchman, Wolf often tells the story of how, in 1989, he walked into the office of NBC Entertainment president Brandon Tartikoff to sell a series called Nasty Boys. Six people filled the room. Wolf handed each an envelope. Inside was a photo of four guys in black masks and ninja suits holding automatic weapons and standing against a wall. The words beneath them said WE MAKE HOUSE CALLS. Says Wolf, "It was the only completely nonverbal pitch I ever made. Brandon laughed and said, `Sold!'" (The show ran for halt a season.)

"He's the P.T. Barnum of drama series," testifies Tom Fontana, cocreator of Homicide: Life on the Street. "And I mean P.T Barnum at his best. Each new Law & Order series reignites the others. Really, it's an extraordinary achievement the way he gets people into the tent."

"Quite simply," says David Kissinger, president of USA Television Production Group, the studio that finances the shows, "the man is insatiable."

At the moment, the man is seated somewhat stiffly on a stage at the Ritz-Carlton in Pasadena. Barrel-chested, with dark hair and the ability to scowl without actually doing so, he looks as if he's been dragged at the end of a rope into a coliseum of blood-thirsty spectators--which, in a way, he has. Below him sit the nation's TV critics, who have gathered for their fill press tour. Wolf has a TV rap sheet of considerable length, filled with far more misses than hits, but this season only he and John Wells (The West Wing, ER, Third Watch, and the short-lived Citizen Baines) will attempt to stack prime time with four series each.

"How often do you think you can go back to the Law & Order well without hurting the other series?" snaps one critic.

Although Wolf is flanked by Balcer and the four starring cast members of Criminal Intent, the question can't be handed off. "Well, I just happen to have some statistics here," he says slyly, reaching into his jacket pocket. But as he pulls out a folded sheet of paper, several dollar bills come with it and flutter to the floor. There is a stunned silence at the unwitting symbolism ... then a burst of laughter. Wolf, normally a master of quick comebacks, seems nonplussed as he sweeps up the money and shoves it in his pocket. Then he recites numbers indicating Law & Order's audience is bigger than ever. "There is a huge appetite for the show," he says. "It's a brand. Like Coke and Diet Coke, Coke without caffeine, and Cherry Coke. I think Criminal Intent has to be looked at as a brand extension, not the oversaturation of Law & Order."

Three days later, as I enter his office, Wolf says, "I shouldn't have said Coke. Most people drink only one kind of Coke. But everyone likes many kinds of soup." A pause. "Law & Order is Campbell's soup."

The sheer expanse of his empire is enough to tangle the synapses. Though two of his shows are filmed in New York and one in New Jersey, Wolf's headquarters are planted in Hollywood. "Once a TV producer moves to New York," he observes, "the networks assume he died. Besides, it's harder for them to kill your show if they have to worry about running into you that night at Pinot."

Thus, the empire begins in Santa Barbara, where Wolf, 55, lives with his wife and three children (like a character from one of his shows, Wolf reveals little about his off-duty life). From there the empire stretches south, via chauffeur-driven Town Car, down the 101 freeway to Universal Studios, where Wolf Films occupies three separate buildings. Two of them stand in a courtyard off Ella Fitzgerald Drive. (The third, which houses Criminal Intent, can be reached only by tortured progress behind trams spilling over with Universal Tours people.)

In the sun-dappled courtyard Wolf's chauffeur lounges on a bench reading a script. Behind him are the headquarters--the Jack Webb and the William Goetz. Wolf is in Goetz, up beige-carpeted stairs and down a hallway hung with movie posters. The one slender thread of reality springs from two large wall maps: one of the New York subway system, the other of the city's five boroughs.

Peter Jankowski, a co-executive producer who runs Wolf's operation, is stationed in a large airy office across the hall from the maps. "You could say I manage Dick," says Jankowski. "I make sure he knows everything that's going on. I oversee the inner workings of the company, deal with agents, the network the studio production schedules, and quality control. I end up doing a lot of things Dick, as creator and executive producer, would normally do. Only he's like a CEO and I'm like his personal secretary."

Which involves a monumental juggling act, since the brains of the operation (the producers and writers) are at Universal, while the bodies (the actors and crew) are in New York.

It works like this: Once a first draft is completed (and read by Wolf) it's faxed to New York, where locations are scouted. This is serious business, for Wolf regards the city as the main character. "New York," he says, "is the greatest backdrop ever made. Anywhere you point the camera in New York will be more interesting than anywhere you point the camera in L.A. There simply is no here here."

Determining where to point the camera falls to Moe Bardach, the location manager for all three shows. At Chelsea Piers, where Law & Order and Criminal Intent have their offices and sets, Bardach scrolls a database stocked with 21,000 stores, restaurants, parks, schools, and--probably worth a small fortune, this--10,000 apartments and town houses. "Friends tell me I should get a realtor's license because I know where the available rentals are," Bardach says.

As Bardach and his scouts comb the city, director Gould prepares for the inevitable. "February," he grumbles. "That's when all the scripts have night scenes pulling bodies out of the East River or digging corpses out of snowbanks in Central Park. The writers are in L.A., right? Probably drowning in sunscreen."

Meanwhile, Wolf is batting back and forth like a shuttlecock, reading four scripts per cross-country flight, gridlocking around New York in another Town Car with another chauffeur, ear to cell phone as he commutes from his Upper East Side apartment to Chelsea Piers to that day's locations--or through the Holland Tunnel to North Bergen, New Jersey, home of SVU. So fluid is the synchronization that one wishes Wolf would give it all up and go run the airlines.

At three o'clock on a summer afternoon Wolf is in his office on the Universal lot, sighting down a reporter with narrowed eyes. As usual, he is wearing a long-sleeved shirt with an actual tie, and Italian loafers with actual socks. The look of the office, like that of Wolf himself is Ivy League-ish. A sailing buff turned motorboat man, Wolf has pictures on the wall of the boat he helms at his summer retreat in Maine. More arresting is a black-and-white photo of the Titanic as it steamed out of Southampton. Also on the walls is a collection of handwritten letters from John Steinbeck, Charles Dickens, Jack London, and Dashiell Hammett to agents and editors pleading for money.

But back to the narrowed eyes. Wolf is annoyed that I am still not "getting it." What I don't seem to be getting, to Wolf's satisfaction, is that Law & Order is not a one-man operation. Apparently his people have reported back that I asked them questions about him. A man who doesn't suffer fools well, he is trying to temper his words.

"You need to think of it like a military operation," he says, "with a chain of command. If I'm Eisenhower, I've got six Pattons working for me. My job is to make sure they've got the gas for the tanks. To call in air support. I'll push things that are out of alignment back into alignment. I make sure various factions are getting along. I'm the quality guarantor, not the day-to-day show runner."

Um ...

"This season I've got 25 hours of Law & Order, 22 hours of Special Victims Unit, 13 of Criminal Intent, and 13 of Crime & Punishment, plus a five-hour miniseries. That's 78 hours of TV we're producing. No way I'm producing it alone."

Unlike Aaron Sorkin, the creator and an executive producer of The West Wing, who had to publicly apologize for hogging all the writing credit on his show, Wolf seems determined to shrink his own importance. Whether he is catering to the egos of his executive producers or fears the networks will think he's overextended and won't let him do one hour more, he persistently extols the workaholics he's hired.

They include his three West Coast show runners. Rene Balcer, a Canadian-born journalist who switched careers, ascended to head writer, then show runner on Law & Order, and now displays a wallful (a very large wallful) of awards, including the show's one Emmy, for Outstanding Drama Series. Neal Baer (make that Doctor Neal Baer) is a delightfully calm individual who divides his time between his SVU office and the emergency room at Childrens Hospital, where he plays a pediatrics intern in real life. Barry Schindel, a former public defender from the Bronx who took over Law & Order midway through last season, has steered the show to its highest ratings yet.

If Wolf is eager to deflect credit to them, they are hungry to grab it. "I met with Dick twice on Criminal Intent," Balcer recalls. "He said, `Let's do a show where we see the crime from the point of view of the criminal.' He wanted to portray how the bad guys deal with pressure, with the lawyers. And he wanted the protagonist to be an American Sherlock Holmes. The first thing I did was change his title from Criminal Intentions to Criminal Intent. I came up with all but one of the initial 13 stories. I worked out the beats with the writers. Then they wrote the teleplays. Depending on the writer, I rewrote a half to three-quarters of each script."

Or Baer: "My strength is story. I try to tell a story in an emotional way that defines who the characters are, though not in a maudlin way. When Dick said he wanted to do a miniseries on terrorism, I told him it should be bioterrorism."

And Schindel: "I may be the first criminal attorney to run a show, so my approach is probably more legal. There was one episode when I had a scene that depicted how a committee of D.A.s meet and decide issues. We had our best ratings last year. My relationship with Dick? I say hello. He reads my scripts."

Even so, once Wolf issues the orders, he monitors progress with a microscope. "He has a great sense of storytelling," says Garth Ancier, former president of NBC Entertainment and now executive vice president of programming at Turner Broadcasting. "He'll look at a first draft and see a possible problem down the line. He'll get it fixed before it's a problem."

The scene shot on the Mariner that day was, in fact, a reshoot. The original story had mom and daughter getting away with murder. But Wolf remembered a long-ago episode with a similar ending, so he asked Schindel to rewrite it. He gave the order. Patton carried it out.

Across from Wolf's office the generals are seated around a conference table--waiting for Eisenhower. They've been waiting for some time. Wolf's door is shut tight as he converses on the phone. In his absence, the empire has come to a screeching halt. Neal Baer, co-executive producer Judith McCreary, and Peter Jankowski are discussing directors to hire for SVU. Charlie Engel, executive vice president of Studios USA, is on his cell phone, as is a thin blond woman sitting in the corner. Two transplanted New York writers stare at their blank notepads. The purpose of the meeting: the third hour of the bioterrorism miniseries.

Ever since the first bombing of the World Trade Center in 1993, Wolf had been reading, with increasing alarm, accounts of events in Afghanistan. It took him two weeks to hammer out a 40-page outline for the five-hour drama. In June he summoned Jankowski, Schindel, Baer, Engel, and several writers to New York. For two days they hunkered down at Chelsea Piers refining the story.

It would open in an Afghan camp where a bin Laden devotee was teaching terror tactics to eight-year-olds. With English subtitles crawling across the screen, the man, speaking Farsi, would tell the children that he was going to America on a mission for Allah, which the whole world would soon know about. Before the first hour of the miniseries had run out, explosives would be detonated in the New York City subway, 1,200 lives lost. Then would come the anthrax.

Back in L.A. Baer read books on biological warfare, talked to experts at the Rand Corporation, and hired a consultant from Stanford University. By now Wolf had signed off on the first two hours. Baer, charged with hour number three, is ready to run his latest "beat sheet" by Wolf. Who is just walking in.

Taking his place at the head of the table, he listens as Baer describes each scene. Occasionally Wolf breaks in with:

"The traffic going into the city on the Tuesday after Memorial Day would be bad."

Or "Why would they kill this man? I don't understand."

And "It seems strange if it's this well planned they'd dump a body into Lake Ontario."

Although Baer holds the floor, eyes never stray long from Wolf; comments are directed at him. Everyone at this table is auditioning, eager for his approval.

"I have another problem," Wolf interjects. "Did the press corps suddenly take a four-day weekend when a major story was breaking?"

Wolf's assistant enters and takes whispered lunch orders for sushi. When the food arrives, all use chopsticks except the New York writers; Wolf, of course, handles his with the most finesse.

In the mercurial world of TV, what succeeds and what doesn't is a mystery. Wolf has had 16 series air, only four of which--the three Law & Orders and New York Undercover--survived more than a season. To an outsider, this doesn't sound impressive. "But 97 percent of all series don't make it to a second season," Wolf says, "so you look at the money. The gross revenues of Law & Order and SVU alone are approaching $1 billion." A smile. "My father had a great line: Network people are temporary people making permanent decisions."

In the fall of 2000, NBC pulled the plug on Wolf's heavily hyped Deadline, starring Oliver Platt as a tabloid columnist, after five episodes. "And," adds Wolf, "after giving me the worst possible time slot." Namely, Monday at 9 p.m., opposite Ally McBeal, Monday Night Football, and Everybody Loves Raymond.

"It was a rash decision," says Garth Ancier, who, along with NBC West Coast president Scott Sassa, trooped into WoWs office to break the news. "The show was still finding itself. It was a bit uneven, but that's common with a new show. Scott asked me if I thought we should pull the plug. I said no. Scott said, `I do.'"

Ancier phoned Wolf to warn him messengers were en route and that Sassa was adamant. "I wanted him to be fully prepared," he says.

The meeting, in Wolf's office, was nasty. Sassa, when he's under stress, tends to joke. His tone, which came across as flip, offended Wolf. "When you're canceling a show, you're rejecting it," Ancier says. "You're supposed to take a funereal tone. In retrospect, I regret I didn't fight harder for it."

Given time, maybe Deadline would have found itself, but its problem seemed more to do with concept than time slot. For some reason shows about journalism rarely ring true, and Deadline didn't, either. Platt portrayed a big-city columnist who also happened to be an investigative reporter--a combination as unlikely as a cop who moonlights as a D.A. When I try to make this point, Wolf cuts me off. "The show should have been on at 10," he says.
Wolf's affinity for the investigative story grew out of his fascination with Sherlock Holmes. As an only child in Manhattan, he read all of Arthur Conan Doyle. In prep school at Andover he was a classmate of George W. Bush, who "was the only boy in our class of 140," he recalls, "whom nobody spoke badly of. He's probably the only one who could, 39 years later, remember every one of our names." A glint. "Having said that, I still haven't been invited to the White House."

Wolf had a bit of television and Hollywood lineage going for him. His grandmother wrote title cards for silent pictures at Paramount. His mother worked in publicity at NBC, while his father was head of production at two ad agencies, back when agencies owned TV shows. After graduating from the University of Pennsylvania, Wolf followed his father into the business and wrote commercials for eight years. "Remember the Braniff campaign `I'm Cheryl--Fly Me'?" he asks with a smile. "That was mine. I also wrote `Scope Fights Bad Breath. Without Medicine Breath.'" By the time he left advertising he had leamed two valuable lessons: the importance of branding and how to tell a complete story with a complete message succinctly.

He moved to Los Angeles in 1977 and sold a few screenplays. Most went unproduced. Although Skateboard was made, it was panned, Wolf remembers, "as `Bad News Bears on skates,' which really depressed me." He wrote for Steven Bochco on Hill Street Blues, then joined Michael Mann's Miami Vice, which he ran for two years. By then he wanted to create his own show. In 1988 he went to see Barry Diller at 20th Century Fox: "I told him my idea for a series called Law & Order," Wolf recalls over lunch one day in New York. "He bought 13 episodes fight there in the room." The next day Diller phoned back. Upon reflection, he said, Law & Order was not really a Fox show. "Barry was right," says Wolf. "If it had gone on Fox, it would no longer be on the air." (Later, as owner of Studios USA, Diller did, of course, get Law & Order back. Of the five series Studios USA produces, Wolf's three provide the lion's share of the studio's income.) Wolf tried CBS next and got a pilot order. A painstaking researcher, he began hanging around with Detective Stanley White of the Los Angeles County Sheriff's Department to bone up on homicides. On Super Bowl Sunday, 1989, White phoned Wolf and sent him to an address in a seedy part of town. "So I walk in and there are three cops sitting in the living room watching the Super Bowl on TV," Wolf says, "while the corpse, which had been strangled with a telephone cord and stuffed into a closet, was hanging upside down, eyes wide open, apparently watching the game, too."

As Wolf was writing the pilot, he began plotting his business strategy. The syndication market for one-hour dramas had dried up; thus he devised the split format. The show, he reasoned, could be broken in half and presented as two 30-minute dramas: the police work and the resulting trial.

He also believed that a series in which each episode is self-contained was the key to TV longevity. "Hill Street has been worth nothing in syndication," he says. "Miami Vice is still on. Rockford, Magnum, Columbo, Dragnet, Murder, She Wrote--all were stand-alone pieces of television that are still on. It didn't matter if you didn't see the show for months. That's the problem, I think, with ER, NYPD Blue, Ally McBeal. Those shows are doing nothing."

He cast George Dzundza, Chris Noth, Michael Moriarty, and Richard Brooks and delivered the pilot to CBS. Entertainment president Kim LeMasters turned it down. "He said there were no breakout characters, no stars," Wolf says. "He was right."

Next stop: NBC. Brandon Tartikoff liked the pilot but was dubious. "How can you do this every week?" he asked. Said Wolf: "Give me six script orders and I'll prove it to you." Tartikoff agreed. When the scripts came in, he ordered 13 more. And so, after selling it to three networks, Wolf finally got Law & Order on the air in 1990.

It landed with a thud. "It had the highest advertising pullout of any show in the history of NBC," says executive producer Jeff Hayes. The ratings were lousy, too. But Tartikoff, who had kept Cheers and Seinfeld going as they struggled to find an audience, stuck with Law & Order.

Dry as a Conan Doyle story, the show has a complex structure. "The series puts great storytelling in a format that celebrates narrative. Most TV does not," says Diller. "Either a series is somewhat procedural or ifs strong in terms of character, with long story arcs that go beyond the hour. Law & Order is an original creation that looks easier to do than it is."

Says Hayes, who has been with the series from the beginning: "It's difficult to write for. The show is about the consequences of crime, not the crime itself, so we can't hide behind violence and fights. We don't have establishing shots showing the detectives driving up. We show them banging on the door."

Only twice, says Wolf, has he heard complaints from NBC. Before the fourth season, Warren Littlefield, who succeeded Tartikoff, warned Wolf that if he didn't cast some female leads, he'd cancel the show. In came the beautiful assistant D.A.s. The second "note" arrived two years later from Don Ohlmeyer, then NBC West Coast president. "Sometimes," he told Wolf, "I feel like I'm watching Christiaan Barnard perform heart surgery, it's so clinical. But if you put my kid on the table, I'll watch the show forever."

Indeed, so resolute was Wolf that the series not become "soapy," it lacked any emotion at all. "Now we always make a point of showing the cost of crime, the pain and suffering of the loved ones," he says.

Perhaps. But ifs the main characters viewers want to care about, and after 11 years none of the 80 million addicts who tune in each week has the foggiest notion what these people are like. "The show plays out like any other office situation," Wolf protests. "Do you have any idea what the guy working next to you does when he goes home?"

That Wolf protects his shows from soapiness does not please his actors. When Noth left Law & Order after five years as Detective Mike Logan, the writers had him punch out a congressman and exiled to Staten Island. I begged them, `Let him die in my arms,'" says Jerry Orbach, killing time between scenes in his Chelsea Piers dressing room. "Andy Sipowicz [NYPD Blue] is estranged from his son. Then his son joins the force. They grow close. Then the son is killed in the line of duty. Then Sipowicz's wife is killed. He starts drinking again. His little boy nearly dies. And every year Dennis Franz would win an Emmy! I can do that stuff. Please!"

After a long career in theater and film, Orbach took the role of Lennie Briscoe ten years ago, thinking, "I might get five years out of it. I took it for the security and the money. It ain't King Lear." Asked why people watch the reruns again and again, he says, "It's a ritual, like the stations of the cross. There is a killing; we try to find out who did it. We arrest them. There's some kind of legal problem in the second half. The prosecution wins the case or loses it. You see the show again, you're thinking, Wait. Did they acquit the guy or not?"

Still smarting over the loss of Deadline, Wolf struck back last fall with Criminal Intent. At the same time, Crime & Punishment was in production under the direction of Oscar-winning documentarian Bill Guttentag. The concept, which Guttentag brought to Wolf, is a reality version of Law & Order. Knowing that the people are real makes their stories all the more gritty. Set in San Diego, the series requires three hidden cameras in a courtroom, six camera operators controlling the angles from a tent in the hallway, and massive doses of patience. "Every time we had a great D.A. and a great story," Guttentag says, "the case would be settled." The show is expected to debut on NBC this summer.

Meanwhile, the miniseries Terror was to begin shooting in late September. Variety ran a front-page story plugging it. "Terror was made," the article said, "because Wolf feels passionate about preparing for the possibility of the cataclysmic event of bioterrorism." That morning, as Variety was landing on Hollywood's doorsteps, two planes slammed into the World Trade Center. NBC killed the miniseries a week later.

It's a crisp January morning, and like Groundhog Day, here we are again at the Ritz-Carlton in Pasadena for another press tour. Wolf is seated onstage just as before, though looking somewhat less pained. His soups are scoring big numbers. Some weeks all three are in the Nielsen top 20 dramas. Criminal Intent has been renewed for next season. Wolf has been signed to a new five-year deal with Studios USA at some unprintable price, ensuring., among other things, that Law & Order will surpass Gunsmoke's 15 years as TV's longest-running one-hour drama.

But hold it--what's this?

Up on two big screens yet another Law & Order flashes before our eyes. A pair of uniformed cops, faces grim, leap out of a squad car and stare stonily at the scene of the crime: an expired parking meter.

"Law & Order: Parking Violations Unit," proclaims the godlike voice-over. "Critics have said, `Almost as good as the second spin-off, not as good as the third.'"

Yeah, well. Stay tuned.

A "Law & Order" Addict Tells All
Molly Haskell, New York Times, 4.7.02

Walking up Madison Avenue through the usual thicket of cellphones, I heard my first interesting snatch of conversation since that accursed invention forced an avalanche of inanities on our ears. A woman was saying: "He's a bastard. Justified homicide." She didn't have to mention the quality of the food on Rikers Island for me to know she was one of us, the not-so-secret addicts of Law & Order Dick Wolf's long-running, ubiquitously syndicated, hydra-headed NBC series about New York cops and district attorneys. I know it's a hit of major proportions around the country, too. Its ratings are phenomenal. Like Woody Allen, it travels better than you'd think.

But its heart beats to a New York rhythm, its in-jokes and phony addresses and familiar locations are for us and us alone. These days, with its spinoffs and reruns, the show has become something of a joke itself, risking critical contumely and self-parody by spreading like an oil slick into every unoccupied slot on television. But the miracle is that it hasn't worn out its welcome, and the spinoffs have developed distinct and different virtues of their own. If anything, like an old friend, like New York itself, Law & Order has grown more precious since Sept. 11.

Familiar stories (the Mayflower Madam, Lisa Steinberg); locations from Chinatown and the Battery to the quadrangle of a certain well-known uptown university (bordered by the Low Memorial Library and Butler Library); working-class cops and D.A.'s with their own baggage and biases; a story with a beginning, middle and end: all have become, since the terrorist tragedy, as much consolation as diversion.

The standard and often justified criticism of long-running shows is that they begin to try too hard, recycle material, make disastrous cast changes. Of those cast changes Law & Order can certainly be accused: How could they kill Claire? How could they get rid of Jamie for the fashion-plate Angie?; I still miss George Dzundza, and some of the new D.A. babes look as if they spent more time on their hair than their law books. But I'm amazed at the health of the basic organism, how it survives and adapts not only to weaker cast members but also to the changing times and moods of the city itself. It seems to me the number of convictions on the show rose during the Giuliani years, for example, as exasperation with judges throwing out evidence and perps getting off on technicalities reached critical mass.

On the other hand, the show remains marvelously evenhanded. The sheer quantity, the multiplicity of shows, allows for a roughly equal distribution of venality over time. Good and bad apples are to be found among whites and blacks, Asians and Hispanics, cops and robbers, thus avoiding the deadening hand of political correctness.

In its 12-year history, and as it roams with egalitarian fervor into every area of the city, showing how intertwined different ethnic groups and neighborhoods are, Law & Order has rubbed up against a remarkably complex range of social issues: from capital punishment (a harrowing show in which Sam Waterston's D.A. is forced to watch the execution of a criminal his office had prosecuted) and biotechnology (Is a dead man's widow entitled to his ex-wife's frozen embryos as part of the estate?) to constant badgering and second-guessing from the media, and ever-present issues of class and race. (Should blacks be accorded more lenient treatment after years of inequity, or is that a more pernicious form of racism, damaging to both blacks and the law?) And there's the vexing question of how we temper the either-or edicts of criminal law with a more nuanced appreciation of the enormous (but incalculable) influence of environment and genes.

All of these thorny matters, plus the often questionable tactics of the law enforcers themselves (deals and lies and subterfuges for the greater good), constitute pressures that bend and sway the law so that its determinations are never completely clean or bias-free. Yet for all the question marks it leaves, and however queasy the aftertaste, its conclusions are never open-ended. There is a thin line between outright corruption and necessary compromises, but there is a line, and it is faithfully maintained. And there's a consolation in watching our city, its institutions and protectors survive, battered but intact, week after week.

Especially welcome after the real-life cataclysm that robbed us of many of our finest and bravest, Law & Order remains a testimonial to the teamwork and no-nonsense valor of the cop on the beat. Long before 9/11 shifted our perceptions in that direction, the show had been chipping away at the stereotype of the bad cop, humanizing the men and women in blue.

Central to that process and to the proletarian soul of the show has been Jerry Orbach's divorced detective with a hard-drinking past, Lennie Briscoe, the 27th Precinct's maestro of the reality-check wisecrack that zaps the pretensions and fads of the upper-crust celebrity-plutocracy of New York. Managing the complex tone of black humor in the face of horror, he surveys bodies lying in an East Village boutique and when told it's a "vintage" clothing shop, says, "Oh, yeah, I think I recognized my old bowling shirt." When told a perp smokes high-end cigars, he remarks, "They're hard to find since Demi Moore and the beautiful people started smoking them."

The show is a time capsule, reminding us of a time when the worst things that happened were individual crimes with (mostly) single vics: a Park Avenue philanderer found in a pool of blood, or a black dope pusher wrongfully arrested for murder, or an S-and-M artiste hanging by his leather belt, or a ranting homicidal psychopath, suddenly back on his meds, turning into a slick legal mind who can mount his own defense.

Even the show's more lurid siblings — Special Victims Unit (which deals with sex crimes) and Criminal Intent (in which a Columbo-like Vincent D'Onofrio uses guile and brainpower to seduce a villain into self-exposure) — are not so harrowing that they keep you up at night. The original classic is, for some people I know, the cup of Ovaltine that, with reassuring predictability, tucks them in at night. One couple falls asleep, like clockwork, just before Sam Waterston or Steven Hill (the pre-Dianne Wiest D.A.) has closed the office door with yet another rueful aperçu. They're on the late-night rerun track, whereas my husband and I are on the early-bird cocktail-hour shift, on A&E at 7, or at least we were until a week ago, when the 7 p.m. reruns moved to 6, and we followed.

For those of us who are hopelessly hooked, the symbiosis with Law & Order begins with its physical presence on this corner or that, turning iconic and less well-known quarters of the city into a New York set. As it reaches into all areas of the city, from the barrio to the boardroom, from prisons to institutes of higher learning, the show restores New York's rightful place as capital of glamour and grit at a time Hollywood has abandoned us for Toronto, that cheaper, cleaner but ersatz "New York."

The New York of Law & Order may be as much a myth as the skylines and dance floors and Park Avenue apartments that starred in an earlier, more rhapsodic vision of the city. But its myth is modern, multiethnic, capacious in its reach, and startlingly close, something you can reach out and touch. Many's the time I've stumbled onto a shooting and felt as if I were living inside it, like The Truman Show. Likewise when watching an episode with particular geographical resonance. Like the scene in Criminal Intent in which the art dealer perp is standing in front of the Church of the Heavenly Rest (where my husband and I were married) with the Guggenheim Museum (right around the corner from our apartment) in the background, complaining about the vacuity of the museum's motorcycle show. Or the Law & Order episode in which the highbrow suspect (a New York variant of the Unabomber, Ted Kaczynski) provides his alibi: at the time in question, he was, he says, at the Metropolitan Museum, listening to the free chamber music on Friday night, "one of the few civilized things left in this city."

Then at a more advanced level of addiction, the show is a member of the family. It is a ritual woven into our lives as "their stories" become ours, a mirror that not only reflects matters of civic concern, that packs a wallop as a crime show and is wittier than most (streetwise suspects with "priors" know the angles and how to deal better than any law student), but also serves as a template in which we vicariously act out and perhaps exorcise little conflicts of our own.

When in a group the subject comes up, we shriek with delight at discovering fellow hard-core fans. The first question is, When did you first turn on? The conversation becomes more sheepishly confessional. Which show(s) and how often? Time(s) of day? Do you have a limit on repeats of any particular episode? How long until you recognize it?

We compare notes on how the show insinuates itself into our lives, creating a whole set of games and guilty rituals that vary from person to person, couple to couple. My husband and I have established ground rules: only one a day. Watch no episode more than three times. One of the few benefits of growing old and dim, I remind my friends, is that we'll all be able to watch Law & Order over and over again without remembering if we've seen it.

For us, the evening begins with the Dragnet-like opening: "There are two separate and equal . . . These are their stories." Then the teaser precredit sequence: cops in a patrol car stopping at a deli for coffee, their kvetching rudely interrupted by a gunshot. Two black women walk into a pawn shop to find its owner dead on the floor. A husband and wife arguing — in a car, on the sidewalk, in the garage — when suddenly they stumble over a corpse. In the precredit sequence, husbands and wives are always arguing, presaging the connubial carnage to come.

I remember the sequence vividly, but not what follows, since the opening is a deliberate feint, setting you up for one kind of tragedy before zigzagging in a whole other direction. My husband, who has total recall for movies, has none for the opening scenes of each episode of Law & Order and will insist that we've never seen a particular show. I counter that not only have we seen it, but we've seen it more than the allowed three times. A dispute ensues, as difficult to adjudicate as some of the conflicts on "Law and Order." Will we watch it again until his memory clicks in (by which time we're already into the courtroom, too late to start another) or will we go ahead and put on one of the Law & Order tapes we keep in reserve?

We love the episodes in which husbands or wives kill each other. They allow us to express all sorts of murderous feelings vicariously and playfully. We pretend (heh, heh) to pick up tips and ideas, using the jargon of the show. The efficiency of various weapons and methods, alibis, and so on, we've got it all figured out, even how we'll play it when arrested.

Bail, for instance. My husband, though perhaps not an upstanding member of the community (his fondness for the prone position works against that), is such a known homebody, so averse to travel of any kind, that the idea that he might pose a "flight risk" would have the judge falling off the bench. On the other hand, that same clinging to the hearth will limit the freedom of movement and location that provides plausible alibis. An "accident" in a car or private plane, indeed one that involves extensive locomotion of any kind, is out of the question. But my husband does teach at Columbia. Does the student employment office offer hit men as well as bartenders?

Bonding with the show means that you feel its sorrows as your own. The departure of a beloved cast member can be traumatic. The stories themselves can break your hearts: parents, of both the victims and the perpetrators, who lose their children, to death, to drugs, to crime, to lovelessness and missed communication.

Even more wrenching are the rare eruptions of grief from the regulars. Who can forget the scene in which Lennie sits in wordless companionship with an old friend, a cop recently exposed for corruption, on the small patio of the friend's house in Queens? Or when he visits a wounded Paul Sorvino, playing his partner, at the hospital, and offers desperate words of cheer, trying to reassure him — and himself — that he'll be back on the street in no time. I could be dead. I could be wounded. I could be crooked. I could have gone down in a river of booze. But here I am. So goes the unsung threnody, the there-but-for-the-grace-of-God lament, that runs through the show, imbuing it with a magisterial tone of dignity.

Over and over it is brought home to us, at the end of each episode, that whatever small triumph has been achieved, it's just a drop in the bucket. We're holding fast for now, but tomorrow's another day when we might prove less resistant to temptation, might finally slip across that thin line between the urge to kill or steal or betray or take a little on the side and actually enjoy doing it.

`Law & Order' Spinoff Taps Real-Life Cases in San Diego
Charlie McCollum, Mercury News, 6.15.02

"Crime & Punishment'' looks, sounds and feels like what it is: the newest addition to the `"Law & Order'' television franchise. The distinctive music is the same, the spoken introduction is similar, the rhythm of the storytelling has the same punch.

What's different about this piece of the ``L&O'' world is that it's real. For 13 weeks starting Sunday (10 p.m., Chs. 8, 11), the series will present real criminal cases involving real people, filmed in the real courtrooms of San Diego County.

``One thing that we've said around our office is that there's not a lot of reality in reality television,'' says Bill Guttentag, the award-winning Bay Area documentary filmmaker who is creator and executive producer of ``Crime & Punishment.''

``We are trying to put reality back into reality TV. It's our contention that you can make the real cases as interesting as anything in fiction.''

Guttentag, who moved to Palo Alto in 1998 to be a John S. Knight Fellow at Stanford and decided to stay around, has built a reputation on serious documentaries. His subjects have ranged from hate crimes and teenage crack dealers to handgun violence and the drug war in South America. He won an Oscar for ``You Don't Have to Die,'' a 1988 film about a young boy's successful battle against cancer. He won Emmys for ``Images of Life,'' a CBS special on Life magazine, and for ``A Second Chance,'' which aired on HBO.

The filmmaker insists there's nothing contradictory about switching from documentaries to ``Crime & Punishment,'' which is structured more like a television drama -- specifically ``Law & Order.''

``We're dealing with the drama of the situation,'' with the new series, says Guttentag. ``And that's been true of the documentaries I've done in the past . . . and it's true here. What we've tried to do is present cases the way `Law & Order' might have presented them, but that doesn't mean it's any less true . . .

``I hope we did it in a way that didn't sacrifice integrity or truth or journalistic standards. You know, I've done documentary films for HBO. And I think if you see the HBO films, they're in general more dramatic than most documentaries. A lot of documentaries are really boring.''

Veteran TV producer Dick Wolf -- the patriarch of the ``Law & Order'' empire -- says he was immediately intrigued by the idea of a real-life ``L&O'' spinoff because he felt Guttentag was on to something different in terms of courtroom TV.

``The aim on `Crime & Punishment' was very clear'' from the first time he met Guttentag, Wolf says. ``This is not `Investigative Reports,' this is not A&E, this is not Court TV. This hopefully is a form that people will recognize immediately as being evolutionary beyond a locked-down courtroom camera and interviews.''

Winnowing cases

Guttentag and his crew did filming on 78 cases to get the 15 that will be presented during the series. Three cameras were hidden behind opaque class in the courtrooms. Crew members operated the cameras by remote control from outside the courtroom. The series was shot in high-definition video so that no additional lighting was needed.

``I think we filmed it fairly and accurately, but we were not obtrusive in the process,'' says Guttentag. ``It was a very naturalistic experience in the courtroom. People weren't aware they were being filmed.''

The footage was then edited like a drama which, Guttentag says, ``at times was challenging. I mean, on `Law & Order,' they can write the scenes. We can't.''

As for the series' setting, it came down to a choice between San Diego and San Francisco, and Guttentag says San Diego County was chosen because it offered a wide variety of what the filmmaker calls ``high-stakes cases'': murder, attempted murder, child abuse, rape. It also helped, he admits a bit reluctantly, that lawyers in the San Diego prosecutor's office are pretty telegenic.

``They don't all look like models,'' says Guttentag, ``but it's San Diego. People tend to be young, athletic; and it doesn't detract from the fact that they are good attorneys.''

D.A.'s reservations

Eugenia Eyherabide, the head of the district attorney's Family Protection division, admits she initially was hesitant about involving her office in the series, worried that the show would invade victims' privacy. Guttentag convinced her otherwise.

``It wasn't a question of opening doors,'' says Wolf. ``Whatever was closed, Bill kicked open and then everybody was so stunned when he got inside the door that they thanked him. He is remarkably erudite and persuasive.''

Adds Eytherabide: ``They were true to their word and that's what made this whole thing work.''

And ``Crime & Punishment'' does work with episodes that are always engaging and sometimes riveting in their drama. In Sunday's opener, for example, an assistant district attorney has to prosecute a husband for the murder of his wife without a body, any witnesses or even a murder weapon. Some of the twists and turns in the real-life trial would seem implausible as scripted drama, and the emotional moments involving the victim's family are compelling.

It's the very real emotion of these cases that make the series involving television, says Guttentag. ``Look, Jodie Foster won an Oscar for playing a rape victim in `The Accused' -- and justifiably so. But she's still an actress.

``In our case, when a rape victim takes the stand, it's a real person who suffered through the worst night of her life and you hope the rapist will go to jail for a long time.''

Law & Order: Still an Arresting Drama
David Kronke, Los Angeles Daily News, 7.5.02
``What is this - 'Law & Order's' 15th press tour event?'' asks one journalist, exhausted and exasperated at this point, though we have only precious few days left before this incarnation of the semi-annual Television Critics Association press tour will mercifully conclude.

And since it does seem like such redundant overkill, this session is one of the most poorly attended of the entire three weeks, with maybe only a couple of the lesser cable networks giving it competition for that dubious distinction.

Nonetheless, there's still plenty of reason to discuss ``Law & Order,'' as franchise mastermind Dick Wolf revels in pointing out. As the original series enters its 14th season, it's enjoying its highest ratings ever. Its four iterations - including ``Special Victims Unit,'' ``Criminal Intent'' and the summer reality series ``Crime & Punishment'' - all ranked in the Top 20 in the ratings this summer.

Additionally, some episode from some season of some ``Law & Order'' series is currently shown 27 times a week, meaning you could spend more than a day out of every week watching the show (though, let's face it, !ital!no!end! show is !ital!that!off! good). In May, Wolf reports, 95.8 million people saw one version or another of the show per week.

So even Wolf, notorious for his kvetching about this or that aspect of the TV industry, has to allow, ``I'm a very happy guy.'' He's appearing, flanked by showrunners from each of his series - ``Special Victims Unit's'' Neal Baer, ``Criminal Intent's'' Rene Balcer, ``Crime & Punishment's'' Bill Guttentag and the mothership's Michael Chernunchin - but he's still fielding most of the questions, even if they're addressed to someone else.

Only once does Wolf seem less than ecstatic. When Chernunchin says, ``Dick told me, 'This show is actor-proof,' '' Wolf plops his head in his hands. ``Actor-friendly,'' he corrects.

But really, there isn't much more to say about the show. Wolf and company gamely field a handful of questions about the crime genre's evergreen appeal (``It's life and death - the biggest dramatic stakes on a weekly basis,'' Wolf declares; ``the best cop shows have a dead body somewhere''). Wolf doesn't quite accuse ``CSI: Crime Scene Investigation'' of cribbing directly from his format, but he does say, ``I wish Jerry (Bruckheimer, ``CSI'' executive producer) would stay in the film business.'' He smirks at a question about the limits of what ``Special Victims Unit'' can depict as Baer offers, ``No bestiality, that's the only rule.''

As for news, Baer lists an impressive array of actors who will guest-star on ``Special Victims Unit'' next season - Sharon Lawrence, Sherilyn Fenn, Pam Grier and John Heard - and Balcer announces that ``Criminal Intent'' is adding a recurring female villain, a sort of Dr. Moriarty to Vincent D'Onofrio's Sherlock Holmes. Oh, and the crossover miniseries that was proposed last year involving bioterrorism but was scrapped after Sept. 11 has been buried for good.

So the session was as cut-and-dried as the show's procedural format - so what? This franchise will still be on TV long after we're all dead.

The Happy Family of TV Crime
Hal Boedeker, The Orlando Sentinel, 7.26.02

Dick Wolf knows who's responsible for the TV crime wave headed your way this fall: Dick Wolf.

The creator of NBC's Law & Order rattles off stats about his franchise, which has yielded Special Victims Unit, Criminal Intent and the summer reality series Crime & Punishment.

"Every week during May, 95.8 million people -- unduplicated viewers -- saw one of the versions of the show, which staggered me," Wolf says. He brags that Law & Order is "the only scripted series in the history of television to have its highest ratings in its 12th season."

Envious programmers are determined to duplicate his success. In the fall, CBS will introduce four crime-related series, including a CSI spinoff set in Miami. Fox will go a glossy route with Fastlane, a sleek, violent series aimed at young adults. NBC will offer Boomtown, a stylish, Los Angeles-based drama, after Criminal Intent on Sundays. And Wolf will do an updated Dragnet for ABC at midseason.

Wolf takes credit for the trend because of Law & Order. "That's the franchise that's working," he says. "Every really successful show invites repetition, but usually the original is still the greatest."

NBC Entertainment President Jeff Zucker agrees "the tremendous glut" of cop shows can be traced to Law & Order -- and adds that there are drawbacks because of it.

"One of the biggest problems this fall is going to be the promotion of these crime dramas," he says. "It adds a sameness to network television that's a shame. We always hurt each other when we do the same thing."

CBS President Les Moonves says he studied the Law & Order model in expanding CSI, currently the highest-rated drama. The network will examine the ratings for CSI: Miami, the first spinoff, before deciding whether to do more.

Wolf finds differences between the L&O and CSI styles. "CSI, from what I can see, is kind of like you could almost re-use the scripts in Miami," he says. "It's not quite the same methodology, which is creating a brand as opposed to duplicating the show."

The CSI producers maintain that their Miami series will be quite different from the original. They say the Miami characters will be more extroverted and have more conflicts. The Las Vegas-set CSI is a night show while CSI: Miami will be a day show filled with color and ocean.

Still, CSI has a long way to go to match the Wolf brand, one he compares to Campbell's soup. "If you want tomato or chicken noodle, they're all going to be good if they've got that red label on it," he says. From the L&O brand, viewers expect "a certain level of quality writing and production value, which we've been able to supply."

The various Law & Order soups will have different flavors this fall. Oscar winner Dianne Wiest is leaving Law & Order, and her character will be replaced by a conservative district attorney, executive producer Michael Chernuchin says.

"We're doing a lot of the after-effects of 9-11 -- nothing to do with the actual terrorism, but the way the world has changed since then," Chernuchin says. "There's more of a law-and-order attitude around the country right now. The Fourth Amendment is dwindling a bit."

On Special Victims Unit, Broadway actor B.D. Wong becomes a regular, and Judith Light returns as the SVU bureau chief. Mary Kay Place and Jane Powell act in an episode about elder abuse. Pam Grier plays an assistant U.S. attorney. Sharon Lawrence portrays a serial killer.

Criminal Intent will do headline-inspired episodes on a boy genius and a notorious crematoria. The show also brings on a recurring villain who will function like a Professor Moriarty to the Sherlock Holmes of Detective Robert Goren (Vincent D'Onofrio). Criminal Intent is more of a star vehicle than the other series, Wolf says, because it gives D'Onofrio a career-defining role like Peter Falk's Columbo.

Setting any Law & Order series outside New York is unthinkable for Wolf. "It is kind of Dickens' London that those characters can all interact," he says. "It's pretty hard if one cast is in Chicago."

Wolf has an idea for what the next Law & Order could be, but he's not sharing it. "The whole secret of the success of the shows [is] the writers," he says. "Once the writing goes, the shows are over."

"Law & Order" Still Has Lock On Fans After 12 Seasons
R.D. Heldenfels, The Beacon Journal, 7.27.02

Law & Order maestro Dick Wolf knows how to play the press. If there's a controversy somewhere in TV, he'll be ready to jump on it. If there isn't, he may create one. He knows reporters and columnists need material, and he's happy to provide it, usually with a rising voice and outraged tone.

Until now.

Appearing before reporters at a news conference Tuesday, Wolf actually ducked a chance to stir things up. Asked if NBC should put Law & Order: Criminal Intent in a 10 p.m. slot (it's at 9 p.m. Sundays), he replied, "No comment."

And when asked if there were anything he was unhappy about, he said, "No, I'm a very happy guy." One reason was that, as he sat onstage, Wolf had beside him executive producers of the four shows he has on NBC: Law & Order; Law & Order: Special Victims Unit; Law & Order: Criminal Intent; and Crime & Punishment, a summer documentary series called "a real-life version of Law & Order."

Wolf says a fourth L&O is also possible, though he's not saying what the idea for it is. And, for ABC, he's working on a new version of Dragnet to premiere in January. "The DNA of Dragnet is in Law & Order, and the DNA of the new Dragnet will have Law & Order's DNA in there, too," Wolf said.

The centerpiece of Wolf's work and reputation is the sprawl of Law & Order. Counting the various replays on cable, Wolf said he had learned that "every week during May, 95.8 million people... saw one of the versions of the show. Which staggered me."

Even the original series remains strong, he said. "Law & Order is the only scripted series in the history of television to have its highest ratings in its 12th season," he said.

Just staying on for 12 seasons is something most shows don't manage. But through consistent storytelling, and subtle differences in tone from one show to the next, the three Law & Orders remain at once fresh and familiar to viewers.

Still, it can be tricky coming up with stories for all three shows, said Law & Order executive producer Michael Chernuchin.

All are set in New York City and draw on the same sources for cases, Chernuchin said. The original show does not have an advantage, he said, because "we want to spread the popularity of the other shows."

"Anything sexual now goes to SVU," he said. "Kids go to SVU, and I think elderly people go to SVU. Rene (Balcer, executive producer of Criminal Intent) and I fight it out for stories. If there's a story that lends itself to a back half, to a legal question, that comes to Law & Order."

And they do so even through changes, including some in the coming season. (Law & Order starts new episodes on Oct. 2, SVU on Sept. 27 and Criminal Intent on Sept. 29.)

Dianne Wiest, who played district attorney Nora Lewin on the original Law & Order, has left the series and a replacement has yet to be cast.

Drawing again on famous cases for inspiration, Law & Order this season will include variations on the John Walker Lindh case and on "the CEOs walking away with billions while their investors walk away with nothing," said Chernuchin.

"We're going to have some gritty stories this year, because I like writing those," he said. "The perfect Law & Order for me is one where our guys win at the end, and feel bad about it, or lose and feel good about it. I don't want anything cut and dried.... This year, all the characters are going to have a different opinion about everything."

The newest show in the franchise, Criminal Intent, will continue to be a Sherlock Holmes-like mystery, with Vincent D'Onofrio as its Holmes, police Detective Robert Goren.

In the show's second season, Goren will get his own Moriarty, "a very attractive young woman who will be recurring, hopefully, over the next few seasons," Balcer said. She will be played by Olivia D'Abo.

He also hopes viewers will get to know more about the supporting regulars, including police Capt. James Deakins (Jamey Sheridan) and District Attorney Ron Carver (Courtney B. Vance).

"What's fun about them is building in conflicts, especially between Courtney and Vince," Balcer said.

As for plot lines, Balcer said, "We have a story taking off on the Georgia crematoria story that was in the news last May, with a very unusual twist. And one script deals with a boy genius."

At Special Victims Unit, which has already finished six episodes, B.D. Wong returns as forensic psychiatrist George Huang, now a series regular, and Judith Light will reprise her role as the district-attorney boss of Alexandra Cabot (Stephanie March).

"We have guest stars," said SVU executive producer Neal Baer, among them old-time movie star Jane Powell in a story about abuse of the elderly, and Pam Grier as an assistant U.S. attorney locking horns with Detective Elliott Stabler (Chris Meloni).

Even though the shows go in different directions, they all have that Law & Order in their names. And that creates opportunities they might not have otherwise.

"The hardest thing on TV is launching a show, and getting people to tune in," Balcer said. "The fact that Law & Order's name is on the show probably saved NBC several millions of dollars in advertising. Where a show like Alias is probably paying, I don't know, $10 for every pair of eyeballs that's tuned in, NBC only has to pay 10 cents.

"It's an advantage," he said. "But over the years, all of these franchises establish their own identities. You could just call it Special Victims Unit or Criminal Intent, and the shows will do quite well."