Law & Order: Articles, 2001


Wolf Howls As NBC Yanks "Law & Order" Episode
Mark Armstrong, E! Online, 1.26.01
NBC has laid down its own brand of Law & Order, but creator Dick Wolf says there's no justice.
In what Wolf has labeled a "dangerous precedent," NBC announced it will never again air this week's episode of the Emmy-winning cop-and-lawyers drama, after the network fielded complaints from Hispanic groups who argued that it cast the Latino community in a bad light.
The episode in question, "Sunday in the Park with Jorge," aired Wednesday night and was inspired by the real-life "wildings" that occurred last June in Central Park, following the city's Puerto Rican Day Parade. The episode depicted a parade day rampage and a murder for which a Brazilian kid is convicted.

NBC had been discussing the matter with Hispanic groups, including the National Puerto Rican Coalition, prior to the episode's airing. But the network decided to let it run anyway.

By Thursday, the network apparently changed its mind, releasing a statement apologizing for "offending members of the Latino community" and vowing not to air it again.

"We had an extremely productive meeting with members of the Latino community, and given the context in which the program was aired, we have agreed not to repeat the episode on NBC," the statement reads.

Manuel Mirabal, head of the National Puerto Rican Coalition, told the Associated Press he was pleased with the decision. "We're no longer going to allow networks to shrug off their responsibility to ensure this doesn't happen again," he said.

But Wolf promptly lashed out against the network, claiming NBC bowed to pressure from special interests and disregarded his show's right to free speech.

"The network has caved in to the demands of a special interest group and I am extremely disappointed with this decision, about which I was not consulted, as I think it sets an extremely dangerous precedent."

The Wolf Films/Studios USA series, currently in its 11th season, is the longest-running drama series currently on network television.

This isn't the first time NBC has faced complaints from the Hispanic community. Just three years ago, the network was criticized after an episode of Seinfeld, which featured the accidental burning of a Puerto Rican flag.

It also isn't the first time Wolf has faced the ire of certain groups. Wolf said that over 11 years of producing shows "ripped from the headlines," the series "has offended the sensitivities of a variety of special interest groups, including, but not limited to Jews, Catholics, Protestants, African-Americans, Asian-Americans, Aryans, gays and lesbians, Italians, Russians, Greeks, conservatives, liberals, pro-life and pro-choice advocates, and the list goes on ad nauseum."

Wolf failed to mention one more offended party. In 1999, the father of infamous White House intern Monica Lewinsky lashed out at Wolf and his series for an episode in which a character used the phrase "getting a Lewinsky" to describe oral sex.

On that matter, however, NBC chose not to capitulate.

In related PC-policing news, Tom Clancy's latest installment in the Jack Ryan series for Paramount Pictures, The Sum of All Fears, will have different villains than the novel, after the studio received complaints from an Islamic advocacy group.

Director Phil Alden Robinson has apparently decided to turn the bad guys into European Neo-Nazis instead of Muslim terrorists. The film, starring Ben Affleck in the role made famous by Harrison Ford, is set for release this year.

The Council on American-Islamic Relations, which had been in contact with Paramount over the past two years, released a statement saying it was pleased with the decision.

"Given the existing prejudice against and stereotyping of Islam and Muslims, we believe this film could have had a negative impact on the lives of ordinary American Muslims, particularly children," said chairman Omar Ahmad. "This move should set a precedent for other movie producers."

NBC Apologizes to Latinos for 'Law & Order' Episode
Lynn Elber, Associated Press, 1.28.01
A "Law & Order" episode inspired by violence during last year's New York's Puerto Rican Day parade provoked angry complaints from Hispanic groups and a promise from NBC never to air the hour again.

"We sincerely apologize for offending members of the Latino community regarding the portrayal of Latinos and the Puerto Rican Day parade ... we have agreed not to repeat the episode on NBC," the network said Thursday.

The episode that aired Wednesday depicted a parade day rampage by Puerto Rican youths in which women are molested and one is killed. A Brazilian youth is shown convicted in the death.

NBC made the decision after a meeting in New York with Hispanic representatives, including Manuel Mirabal, head of the National Puerto Rican Coalition, and Maria Roman, parade president.

Mirabal said he was pleased with the decision and apology but that more would be expected.

"We're no longer going to allow the networks to shrug off their responsibility to ensure this doesn't happen again," he said.

In a statement, NBC said that "we realize we still have further improvements to make" and will do so.

The network's action was swiftly criticized by Dick Wolf, executive producer of the long-running legal drama.

"The bedrock of American democracy is free speech and lack of censorship," Wolf said. "The network has caved in to the demands of a special interest group and I am extremely disappointed with this decision, about which I was not consulted, as I think it sets an extremely dangerous precedent."

Mirabal said the drama distorted a real occurrence on parade day last year in which groups of men sexually assaulted women in Central Park.

The attacks occurred after, not during, the parade and the majority of those arrested were not Latino, Mirabal said.

"Every Puerto Rican shown in that show was portrayed negatively as a criminal, as a delinquent, as someone who abuses women," he said in a telephone interview from New York.

Such depictions reflect negatively on all Hispanics because many viewers fail to distinguish between different groups, he said.

Wolf said in its 11 years of "ripped from the headlines" stories his series has offended many ethnic and political groups.

"The show reflects real life," he said.

Writers Attack "Law & Order"
Emily Farache, E! Online, 2.9.01
The Writers Guild of America thinks Law & Order creators may be breaking labor laws and upsetting the established order.

The guild is accusing the show's producer, along with NBC and related production companies, of possibly stockpiling scripts in an effort to reduce the impact of a potential strike by Hollywood writers.

The guild names Wolf Films, Universal City Studios, Studios USA Television, USA Development and Studios USA Pictures Development in the charge, which was filed Monday with the National Labor Relations Board.

"Within the last six months, the above-named employers failed and refused to provide the charging party with information necessary and relevant to its bargaining obligations," the complaint reads.

The accusation stems from rumors that began circulating around Hollywood several weeks ago that writers at Law & Order and its spinoff, Law & Order: Special Victims Unit, are facing undue pressure to write additional scripts--a WGA no-no. If writers do go on strike, Law & Order would then be able to show new episodes while everyone else is forced to air reruns. However, the guild has told members not to help producers because it would weaken the writers bargaining position in the ongoing contract talks.

The WGA says it has asked show producers about the rumor, but they never responded and therefore have "interfered with, restrained and coerced employees in the exercise of the rights" guaranteed by the National Labor Relations Act.

The National Labor Relations Board would only say the matters were under investigation. NBC declined comment.

However, Law & Order creator Dick Wolf, the head of Wolf Films, says the WGA is out to get him.

"It is clear I am being targeted because I am one of the only people who is willing to speak on the record about the ultimate cost of a strike to working writers," Wolf said in a statement.

The Law & Order complaints come just days after the WGA agreed to extend negotiations on a day-to-day basis in an attempt to avert the first writers strike since the devastating 1988 walkout, which lasted 22 weeks and delayed the start of the fall TV season.

Still, WGA spokeswoman Cheryl Rhoden says the charge "shouldn't affect negotiations because the request [for information] preceded negotiations."

The contract for the WGA's 11,000 members expires May 1. The writers want increased TV and movie residual payments and "creative rights" for more prestige and control of projects.

Harmon Leaving "Law & Order"
Emily Farache, E! Online, 4.10.01
Okay, so it's not exactly surprising when a cast member of NBC's Law & Order decides to leave the drama, but we just thought you'd like to know that Angie's angling for an exit.

Angie Harmon (aka Assistant D.A. Abbie Carmichael)--the woman you hired to replace Carey Lowell, who replaced Jill Hennessy, who replaced Richard Brooks--wants out of her contract.

Like those former assistant district attorneys before her, Harmon's itching to pursue a career in movies. (Of course, their legacy has been so fruitful. What's Lowell up to lately? And Brooks? There's still time to reconsider, Angie.)

Harmon, whose career was pretty much nonexistent prior to joining the top-rated crime series (we're not counting that brief stint on Baywatch Nights) three seasons ago, will be able to exit early if producer Dick Wolf can find a replacement.

"She asked to be released early from her contractual commitment to the show," Wolf said in a statement. "As I've said numerous times in the past, if an actor wants to leave the series for personal reasons, and gives ample notice so that it doesn't affect production, I have never stood in anyone's way."

Amazingly, Law & Order has not only survived numerous casting changes in its 12-year history, but has managed to thrive. Last season, Steven Hill, the series' longest-running cast member who played the stodgy District Attorney Adam Schiff, left and was replaced by Diane Wiest. And the show has been picked up by NBC through the 2005 season.

In addition to wrapping the feature Good Advice with Charlie Sheen (she's leaving for more of that?!), Harmon has been busy shooting the first six episodes of next season's Law & Order. The Studios USA-produced series has agreed to shoot the extra shows before a possible strike by writers and actors this summer (the additional shooting didn't sit too well with the writers union).

The 28-year-old actress will marry New York Giants cornerback Jason Sehorn in June, after a surprise proposal to her on Jay Leno's Tonight Show last year.

But she still might have to hold off on the honeymoon. Although Wolf says he is happy to let Harmon go, if he can't find a replacement, the law is clear--she'll have to stay and fulfill her contract.

'Law' in Disorder
Why Angie Harmon's departure spells trouble for ''L&O'' -- The formula behind the long running cops and lawyers show is tired, and new cast members won't help
Mark Harris, Entertainment Weekly, 4.11.01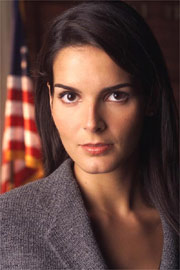 This is a plea: ''Law & Order,'' get your act together.

That's not a sentence I ever thought I'd write. For the last decade, NBC's ''Law & Order'' (Wednesdays, 10 p.m.) has been that rarest of TV phenomena, a virtually indestructible dramatic series. While ''NYPD Blue'' gasps for air and recycles plotlines after eight seasons, and ''The X-Files'' and ''ER'' stumble along after seven years, past their peaks in the eyes of anyone but the most devout fans, producer / creator Dick Wolf's cops and lawyers series is soldiering toward the end of its 11th season riding high in the ratings (it ranks 11th out of 155 shows) and still offering compelling storytelling and, thanks to a rich New York theater talent pool, the best guest actors on TV.

But this week's abrupt decision by Angie Harmon to leave the role of fiery prosecutor Abbie Carmichael after three seasons is bad news for a show that doesn't need any more bad news. Harmon reportedly objected to Wolf's decision to keep the ''Law & Order'' cast working through May to stockpile episodes for next fall in case of SAG and WGA strikes, and Wolf seems to have responded with the ''my way or the highway'' gruffness that has been one reason that the show's six roles have been filled by no fewer than 16 actors.

Harmon, let's be clear right up front, is a big loss. She brings energy and piercing toughness to the show's second half hour, has great chemistry with Sam Waterston, and is probably largely responsible for the show's uptick in popularity among 18 to 49 year olds. She shouldn't be tossed away casually by a producer who, frankly, is looking just a little greedy in his attempt to bully past any possible strike. (Taking no chances, Wolf may also extend shooting on ''Law & Order: Special Victims Unit'' and already has 13 episodes of a THIRD ''Law & Order'' series called ''Criminal Intent'' in the can.) Since Harmon is the third woman to exit the same assistant district attorney role prematurely (the others were Jill Hennessy and Carey Lowell), one has to at least wonder if there's a gender problem in the management of the show.

And, although Wolf is justly famed for his knack for recasting, his last graft hasn't taken very well. Dianne Wiest, a year into her role as Steven Hill's replacement, still seems ill at ease as District Attorney Nora Lewin. She's hard nosed one week, indecisive the next; both character and actress seem unsure of their prospects.

Truth be told, ''Law & Order,'' though its quality remains high, is coming off a notably undistinguished season. Wolf's installation of veteran director Arthur Penn as show runner, the loss of master plotter Rene Balcer, the distraction of two spinoffs and the failed journalism drama ''Deadline'' -- whatever the reasons, the winding, sidelong unpredictability of ''Law & Order'''s plotlines, which is what makes the show great, has eroded badly. Too many episodes have been EXACTLY what they seemed after the first 15 minutes, and too many ads promising an episode ''ripped from the headlines'' (a designation the series used to shun and now brags about) have been just that: dull rehashes of uncomplicated but promotable stories.

''Law & Order'' has a lot of life left in it. It better, because last year it won an unprecedented five year renewal that will keep new episodes coming into 2005. That's all the more reason why the franchise can't afford to get sloppy. Pushing to churn out six extra episodes at the end of a creatively weak season is not what this show needs right now, and neither is the loss of one of its most valuable players. Having three ''Law & Order'' series running simultaneously next fall may be impressive, but if the mother ship doesn't right itself, this empire will have no clothes.

Law Not On Her Side
Angie Harmon to leave L&O next season
Bill Brioux, Toronto Sun, 4.12.01
There will likely be no motion to appeal when Angie Harmon checks out of Law & Order early next season.

The 28-year-old actress has played flinty Assistant D.A. Abbie Carmichael for the past three seasons. However, one senior member of the L&O brass told me not too long ago that Harmon wasn't exactly everyone's favourite line reader.

Then again, she had a hard act to follow. Many of us still miss Jill Hennessy, the Edmonton-born brunette who shone for three seasons in a similar role on the series.

Hennessy's character, Claire Kincaid, was killed off in a car accident, but the actress told me last year that she was open to returning to the show and even pitched executive producer Dick Wolf on the idea of reviving her character or returning as a twin.

The idea isn't so far-fetched; Hennessy has a twin sister in real life.

Meanwhile, Hennessy, 32, is busy shooting her own TV project for next season. She is playing a coroner in an untitled NBC pilot. Whether or not that gets picked up may decide her L&O availability.

That's if Wolf wants her. He hasn't invited back any of the other departees, including George Dzundza, Dann Florek (although Wolf did give him a gig on Law & Order: SVU), Michael Moriarty, Paul Sorvino, Richard Brooks, Carolyn McCormick, Christopher Noth, Benjamin Bratt, Carrie Lowell and, most recently, Steven Hill.

There are also reports that Dianne Wiest, who replaced sole original Hill this past fall, may be the next Law breaker to hit the streets. Motion to adjourn!

'Law & Order' Hires Harmon Replacement
Jam! TV, 4.23.01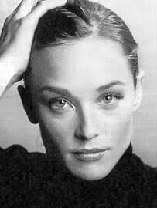 Order has been restored to the cast of "Law & Order."

Departing star Angie Harmon has been replaced by Elisabeth Rohm, of the TNT series "Bull," according to The Hollywood Reporter.

Rohm will join the series next week as the cast and crew begins work on additional episodes that are targeted to air in the event of an actors strike that could shut down production on next season's shows.

Harmon, who is believed to be departing the series to launch a feature film career, had offered to stick around to film the contingency episodes, if casting her replacement proved to be problematic, but producer Dick Wolf moved quickly to secure Rohm for the series.

Rohm will play an ambitious prosecutor assigned to work with Sam Waterson's character Jack McCoy. The Hollywood Reporter said Rohm first came to "Law & Order" producer Dick Wolf's attention when he cast her opposite Kyle MacLachlan in his 1998 pilot "The Invisible Man."

"I have watched her develop into one of the finest young actresses working in television," Wolf told The Hollywood Reporter.

"Both (executive producer/head writer) Barry Schindel and I look forward to introducing another new and unique member of the 'Law & Order' family."

New Hire for "Law & Order"
Emily Farache, E! Online, 4.23.01
"In the criminal justice system the people are represented by two separate, yet equally important groups. The police who investigate crime and the district attorneys who prosecute the offenders. These are their stories."

And how many stories there are.

The latest one is all about cast changes at NBC's Law & Order. The drama, which practically depends on defections and replacements to keep things lively, has hired actress Elisabeth Rohm to replace Angie Harmon in the show's ever-revolving D.A.'s office.

Harmon, who reportedly butted heads with show producer Dick Wolf, announced earlier this month that she wanted to leave the show to pursue a career in films. Wolf agreed to let her out of her contract only if he could find a speedy replacement.

Two weeks later and Rohm is on the case. The actress, who previously worked with Wolf on a TV pilot called The Invisible Man, will join the cast next week in New York, where the Wolf Films and Studios USA production is going into overtime to shoot extra shows before a possible strike by writers and actors this summer.

Wolf said Rohm's assistant district attorney character will be a gifted and ambitious young prosecutor with a Harvard Law Review background and the goal of one day moving beyond the district attorney's office.

"I first worked with Liz three years ago and I have watched her develop into one of the finest young actresses working in television," Wolf said in a statement. "Both [executive producer/head writer] Barry Schindel and I look forward to introducing another new and unique member of the Law & Order family."

During the past two seasons, Rohm has had a recurring role on the WB's Angel. She spent one year on the soap opera One Life to Live before guest spots on the NBC miniseries The 60s and Eureka Street for BBC. She also had a regular gig on the TNT series Bull.

Rohm's first episode will be the show's 12th season premiere next fall.

"Law & Order," "Law & Order: Special Victims Unit," "Steve Martini's The Judge"
Ken Tucker, Entertainment Weekly, 5.4.01
The two-night courtroom miniseries Steve Martini's The Judge, based on the best-selling novel by the author who's awkwardly wedged into that title, amounts to a four-hour version of a not bad episode of Law & Order. This is a comparison made all the more apt by the fact that Martini's series hero, District Attorney Paul Madriani, is played by Chris Noth, whom many of us L&O fans consider the best of the police detectives who've spun through that series. (Noth's frequently bullheaded Det. Mike Logan appeared on L&O from 1990-95 and can still be happily nabbed in regular reruns on A&E.)

Moving from cop to lawyer hasn't lessened Noth's appeal: He plays Madriani as a combo of his tough L&O character and the sloe-eyed smoothie Mr. Big, his role on HBO's Sex and the City. For the first night of The Judge, however, Noth is obliged to wear a mustache that looks like a stray bit of black carpet pasted to his lip. At the end of May 6's episode, his colleague and love interest, played by Lolita Davidovich (Gods and Monsters), mercifully tells him ''it doesn't look good on you, and these things matter to a jury,'' and, she might have added, to a television audience; at the start of the May 7 installment, the mustache is gone. It's an odd little plot device, but no odder than the remark made by a judge played by veteran character actor Charles Durning, who notices the missing bit of mini-rug, and growls, ''You shoulda shaved your skull.'' Noth gives a puzzled look that communicates the ''What the...?'' bafflement viewers may be feeling as well.

If I dwell on small details like this, it's because The Judge doesn't have much going for it in its big ones. The titular character is played by Edward James Olmos (Stand and Deliver), a judge accused of murdering a young woman. Mick Garris, who also directed the Stephen King minis The Stand and the ABC remake of The Shining, deploys Olmos' eternally frozen, stoic look well: This guy's got a secret and he's dang well not gonna give it up until the miniseries' second night. To fill the time, there's a lot of melodramatic gush about Noth and Olmos like, ''You're both headstrong...this is about justice!'' That one is delivered by Sonia Braga (The Burning Season), wasted in a small role as Olmos' wife.

As The Judge revs up its pace, film buffs will want to catch an otherwise pointless cameo by director David Cronenberg as a police detective who takes the stand. There's more soulfulness emanating from the eyes of the man behind such movies as Crash and Dead Ringers than there is in The Judge's entire four hours.

If Noth hasn't found a character as good as L&O's Mike Logan -- he tried to revive Logan a few seasons ago in the TV movie Exiled and had a thankless role as Helen Hunt's husband in Cast Away -- it's because L&O is tough on actors: The series is so good at cementing its regulars in our minds that, for example, it's hard to imagine that L&O detective Jerry Orbach was once an esteemed Broadway song-and-dance man. Yet for all its excellence -- after a lumpy start, L&O's been having a sleek, swift season -- it wears out its Assistant District Attorney actresses in record time; Jill Hennessy lasted three seasons, Carey Lowell two, and Angie Harmon, who joined in 1998, just announced that she's fleeing Sam Waterston's severe gaze (to be replaced by Angel's Elisabeth Rohm).

Meanwhile, the L&O spin-off Law & Order: Special Victims Unit, has never found the right tone for its central hook, the investigation of sex-related crimes. Week after week, rape and child-abuse case files plop onto the desks of cop partners Christopher Meloni and Mariska Hargitay, who've apparently been instructed to muster ceaseless reservoirs of righteous indignation. Yes, the crimes are appalling, but it's hard to believe these pros wouldn't either burn out or take a more businesslike approach to their work.

SVU is airing a couple of sweeps episodes with guest stars -- Oz's B.D. Wong as a serial-killer catcher, Richard Thomas as a suspect, Karen Allen as Thomas' wife -- but the show still seems like seedy exploitation of our L&O loyalty. The best new character the show has introduced is Stephanie March's hard-boiled Asst. DA Cabot, and the SVU writers should take a lesson from the Steve Martini TV movie and realize that the minimal-emotion methods of Noth and Olmos -- to say nothing of SVU's own excellent, underused Ice-T -- are more effective than forcing Meloni and Hargitay to look as if every nasty crime is going to drive them to tears. Steve Martini's The Judge: B- Law & Order: A- Law & Order: SVU: C+

"Law": A Series of Orderly Transitions
USA Today, 5.23.01
How long will Law & Order's newest member last? Give Elisabeth Rohm's Serena Southerland three years, based on the longevity of the younger prosecutor, the role with the most turnover (four characters/actors) in what has become series TV's biggest revolving door. In the fall, Rohm will arrive as a Harvard Law graduate who shares an alma mater (University of Chicago) with senior assistant district attorney Jack McCoy (Sam Waterston). She succeeds Angie Harmon, whose assistant DA Abbie Carmichael leaves the Manhattan prosecutor's office after tonight's two-episode, 11th-season finale (9 ET/PT) to take a job with the U.S. Attorney's office. Harmon will soon marry New York Giants star Jason Sehorn.

Cast changes — Rohm will be the 17th actor to hold one of the six main roles — have been a constant since the drama's first season (1990-91), a situation that creator/executive producer Dick Wolf calls "an opportunity, not a liability. When we bring in a new character, it changes the chemistry. It's healthy."

The current cast mixes newcomers and veterans, with Waterston, S. Epatha Merkerson (Lt. Anita Van Buren) and Jerry Orbach (seen-it-all Detective Lennie Briscoe) finishing their seventh, eighth and ninth seasons, respectively. Jesse L. Martin (Detective Ed Green) has two seasons under his belt, one more than Dianne Wiest (DA Nora Lewin).

Law & Order, which last week scored its highest rating ever among 18- to 49-year-olds, is renewed through 2004-05, and Wolf hopes it goes even longer. Who will be the next departure, then? "One never knows," he says. "I really don't think anybody has anything to fear. It'll be a matter of somebody raising their hand and saying, " No mas."

USA TODAY's Bill Keveney looks at the characters/actors of Law & Order since its premiere in 1990:

Role

Older cop

Older cop

Younger cop

Younger cop

Superior officer

Character's name

Det. Sgt. Max Greevey

Det. Phil Cerreta

Det. Mike Logan

Det. Reynaldo Curtis

Capt. Donald Cragen

Actor's name

George Dzundza

Paul Sorvino

Christopher Noth

Benjamin Bratt

Dann Florek

Years on show

1990-91

1991-92

1990-95

1995-99

1990-93

Character description

Crusty veteran; killed in second season opener

Sophisti-

cated veteran - wore a fur hat

Handsome hothead

Straight arrow

A rock - strong, solid with no vegetation on top

Post-Law & Order

Played a cop in Basic Instinct; choosing NBC's Jesse was criminally negligent

Ex-cop mayor in Showtime's Thin Blue Lie; now works in a New Jersey tollbooth (CBS' That's Life)

Perpetrating crimes of the heart as Mr. Big on HBO's Sex and the City. Back in court on NBC's The Judge

Left to pursue both Miss Congeniality and Miss Julia Roberts

Got a transfer to Law & Order: Special Victims Unit

Role

Older ADA

Younger ADA

Younger ADA

Younger ADA

Younger ADA

Top prosecutor

Character's name

ADA Ben Stone

ADA Paul Robinette

ADA Claire Kincaid

ADA Jamie Ross

ADA Abbie Carmichael

DA Adam Schiff

Actor's name

Michael Moriarty

Richard Brooks

Jill Hennessy

Carey Lowell

Angie Harmon

Steven Hill

Years on show

1990-94

1990-93

1993-96

1996-98

1998-2001

1990-2000

Character description

Monastic lawyer/ ballistic actor

Somber; even for this show

Smart but naive, her character was killed off in car accident

Former defense attorney

Hang-'em high Texan

All-star curmud-

geon

Post-Law & Order

Gave up civil service for politics, with roles as governor, president and most recently senator (Along Came a Spider)

Fought evil in USA's G vs. E Returned to L&O as defense attorney

Switching legal disciplines to become a coroner (NBC's Crossing Jordan)

She's been back as a defense attorney, too, most recently last week

Pursuing a life term for Sehorn - as her husband

After a decade, perhaps the prosecution rests


"Law & Order" Getting Virtual Ads?
Mark Armstrong, E! Online, 5.23.01
(The following Law & Order story was brought to you by Target. For all your fashion needs. That's Target.)

Having trouble avoiding ads lately? Get used to it: Starting June 5, reruns of Law & Order on TNT may include computer-generated advertisements embedded inside the show.

Thanks to the wonders of virtual product placement, Detective Briscoe's coffee mug could become ripe real estate for Madison Avenue. And soon, the crime drama could become home to a new crop of make-believe signs and soda cans, marking the first time the technology has been used on a scripted TV series.

Both TNT and the creators of the technology, New Jersey-based Princeton Video Image, confirm to Advertising Age magazine that the plan is moving forward. The cable network, which struck a 10-year deal for the long-running NBC series, is planning to air Law & Order reruns twice a night starting next month.

But the show's producers, Dick Wolf and Studios USA, insist that no agreement has been signed. "It is by no means a done deal," says Neil Schubert, spokesman for Studios USA. "There have been discussions in the past, but there's no deal existing right now."

Product placement is nothing new--brand names can be seen plastered all over films and TV shows. Last year, Coca-Cola spent $6 million to place its logo prominently throughout the WB's short-lived series Young Americans. And Survivor featured unavoidably cheesy references to Bud Light, Target, Doritos and the Pontiac Aztek. The same type of product plugs will be used for ABC's reality game show, The Runner.

Just this week, the season finale of ABC's Dharma & Greg even used its own script to promote makeup giant Maybelline. As part of a cross-branding sweepstakes, Dharma viewers were encouraged to find out which character muttered the company's slogan, "Maybe she's born with it."

No series, however, has ever included virtual product placement--which could make it possible for logos to change with every rerun, and make syndication that much more lucrative.

Hard to imagine, but the logos on Law & Order could change more times than, well, the cast members on Law & Order.

Still, the prospect already has watchdogs nervous. "It's all part of the same thing, potentially manipulating audiences [through] potentially deceptive marketing practices," Jeff Chester, executive director of the Center for Digital Democracy, tells The New York Times.

For its part, Princeton Video Image insists it won't do anything extreme with the technology--like, say, pasting American Express banners on Jack McCoy's forehead.

"We're going to be doing it on a controlled test basis, to get the logistics down and make sure it can be done organically and seamlessly," Princeton Video v.p. Paul Slagle tells the Times. "We've all agreed going forward it's only a bad idea if we do it in a nonorganic way."

"Organic," of course, is all relative. With gadgets like TiVo now growing in popularity, advertisers are feverishly searching for new ways to prevent viewers from fast-forwarding through their spots. Virtual product placement is commonly used during televised sporting events--whether it's the banner ads behind home plate during a Major League baseball game, or logos digitally pasted onto sidewalks.

The technology was briefly tested in prime-time in 1999, when images for Coca-Cola, Kenneth Cole, Evian and Wells Fargo were dropped into scenes of the UPN series, Seven Days. A Princeton Video subsidiary also reportedly used the virtual ads successfully for a Mexican soap opera.

According to Advertising Age, the company previously pursued a deal to place virtual ads in reruns of Friends and The Drew Carey Show, but it eventually fell through.

Rohm's Harmon-ious Transition
Michael Ausiello, TV Guide, 5.30.01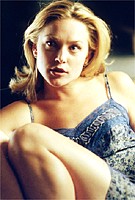 Angie Harmon — whose three-year run as assistant district attorney Abbie Carmichael on
Law & Order
ended with last week's season finale — didn't leave the show without giving her replacement,
Bull
's Elisabeth Rohm, some lasting words of encouragement. "She said, 'Come on, I wanna give you a tour of the set,'" laughs Rohm. "She's a very gregarious person. I really didn't talk to her that long, but she was lovely."

Given the speed of the transition — Rohm started work less than 24 hours after Harmon taped her final scene — it's no surprise their encounter was a brief one. (Fearing a writers strike, L&O creator Dick Wolf got an early jump on Season 12; an agreement between scribes and producers has since been reached.) "I must say, we had wondered what it was going to be like ahead of time," admits co-star Sam Waterston of the rapid leading-lady switcheroo. "But they're two wonderful women, and I think they just did it beautifully."

For her part, Rohm — who will first appear as the new ADA during the season premiere next fall — credits Waterston and company with helping her ease into Harmon's Manolo Blahnik pumps. "I knew the work would turn out alright," she concedes. "I was just hoping the cast would accept me. It's been a really long run, but they've been so sweet. I could not be happier.

"And I am from New York [where L&O tapes]," adds the former One Life to Live ingenue, "so I came home and its just been awesome."

In fact, the only drawback to the L&O gig is that it may preclude her from reprising her recurring role on the WB's Angel. "I think [the Angel brass] want me to do it, but it would be so hard just because it's on the opposite side of the country," sighs Rohm, who played a cop with a vendetta against Angel (David Boreanaz) on the L.A.-based drama. "In all perfect worlds, I think I'd like to continue because it would be great to do two different parts at the same time, but it is a little hard geographically."

Law & Order Gal's Anti-Angel Bias
Michael Ausiello, TV Guide, 6.12.01
Angel may have earned a rep as one of TV's best hours, but Elisabeth Rohm still hesitated before sinking her teeth into the recurring role of vengeful cop Kate Lockley on the WB drama.

"When [series creator] Joss Whedon offered it to me — and he knows this, so it's not off the record — I wasn't sure I wanted to do it, being a serious New York actor," the theater-trained thesp tells TV Guide Online. But after meeting with the Buffy the Vampire Slayer sire, her doubts were put to death. "He's so Dr. Seuss. He's got these incredible metaphors woven into [stories with] all these vampires and demons, and I was so excited. I thought, 'This could be really interesting,' and I think it helped me as an actress."

Rohm will get no argument from Law & Order producer Dick Wolf, who tapped her to replace Angie Harmon as the show's new assistant district attorney beginning next fall. Still, despite the big break, the 28-year-old — who admits her new gig will likely preclude her from making any more Angel appearances — insists that she won't be spending her final summer of obscurity erasing any record of her soap star past.

"Hell no," asserts the former One Life to Live ingenue. "I am so proud of doing a soap; it taught me a ton. I got it right out of school and it was like being thrown into the fire. I had to memorize one act of a play a day — and I could not mess up. And now, [L&O co-star] Sam [Waterston] will say to me, 'Wow. You never go off of your lines.' And I'll say, 'That's because of One Life to Live.' God bless One Life!"

Law & Order Actor: Politics Cost Role
USA Today, 7.5.01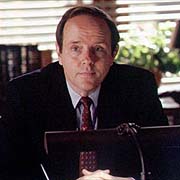 Michael Moriarty, the actor who played prosecutor Ben Stone on
Law & Order,
said he was pushed out of that role because of his political stand against then-Attorney General Janet Reno.

Dick Wolf, the show's executive producer, denies the allegation.

In 1993, Reno had campaigned against violence on television, citing Law & Order and Murder, She Wrote as examples of shows that needed toning down. Moriarty held a press conference in which he condemned Reno and asked other entertainers to help defend the industry.

In the July 7 issue of TV Guide, Moriarty said he blames that feud for the loss of his job and his descent into alcoholism.

"He came into my office and told me he was going to sue Janet Reno," Wolf said. "I said, 'Michael, this is the attorney general of the United States, not some local politician."'

Moriarty offered his resignation not long after that.

"Day by day, there was increasing distance between me and Wolf," Moriarty told the magazine. He said Wolf's production company, Wolf Films, "is a company that fires you after pushing you out of the loop, by making your situation so humiliating that you resign."

Rohm Talks "Law & Order"
Vanessa Sibbald, Zap2It, 7.19.01
Best known for her roles on the TV series "Bull" and "Angel," Elisabeth Rohm was introduced as the latest assistant district attorney on the hit drama "Law & Order" to reporters Thursday during the annual Television Critics Association Press Tour.

Rohm's character on the series, Serena Southerlyn, will be introduced in the first episode of the season as a researcher on a case Jack McCoy (Sam Waterston) becomes involved in.

"I guess I shine and Jack sees similarities in me and he wants to give me an opportunity," Rohm explains. "I don't just show up and I don't just have the job -- you actually see me on my feet earn it."

In real-life, Rohm was still attached to the TNT Wall Street series "Bull" when she was approached about joining "Law & Order."

"I think we actually knew ['Bull'] was over and done with toward the end of production because of the fact that we only aired 11 [episodes]," she says. "When this came around it was a catalyst for them to release me. It was all pretty simultaneous."

Dick Wolf, creator and executive producer of "Law & Order," says it was Rohm's performance on "Bull" which caught his attention.

"I thought Liz's work on 'Bull' was quite extraordinary and projected edge and intelligence," he says.

Although the show's first assistant district attorney was played by male actor Richard Brooks, Wolf says he switched to casting women in the role after receiving advice from a well-placed NBC executive.

"Warren Littlefield, at the end of the third season, said, 'If you don't put women in the show, I'm giving you a cancellation notice a year early.' And Warren was right. That's when 'Law & Order' started to grow," Wolf recalls.

Rohm is the fourth woman to inhabit the role after actresses Jill Hennessey, Carey Lowell and Angie Harmon. While some shows, such as "ER," try to hold onto original cast members, Wolf says the changing cast has helped draw audiences.

"I think people actually look forward, at least on 'Law & Order,' to seeing who the new cast member is. We used to get letters saying, 'I'll never watch the show again,' but I found it was the same handwriting on it each year."

Law & Order Will Thicken Plots With Current Events
Bill Keveney, USA Today, 7.26.01
After 11 years, how does a hit crime drama come up with new plots? It doesn't hurt to check police logs, a source that NBC's Law & Order sometimes mines for its fictional dramas. In the upcoming season, watch for plots inspired by the shooting of Robert Blake's wife, the arrest of Sean Combs, the Chandra Levy disappearance and the murders that took place in an apartment above the Carnegie Deli in May. A story that parallels former U.S. senator Bob Kerrey's revelation about his service in Vietnam becomes the jumping-off point for a fictional murder, executive producer Barry Schindel says.

In the episode with ties to the murder of Blake's wife, Bonny Lee Bakley, a woman is shot outside an Irish pub while waiting for her husband, a washed-up singer (Gary Busey) who claims he went back inside to place a bet. And an episode inspired by the arrest of Combs, who was acquitted of charges stemming from a nightclub fight, looks at a shooting that occurred after someone throws money in the face of a rap star, who is accompanied by his actress girlfriend.

Dick Wolf, the creator and executive producer of Law & Order and its two younger siblings, including the new Law & Order: Criminal Intent, says the Carnegie Deli-related story includes a mistaken cross-racial identification that leads to a very politically incorrect situation.

Order Restored to Harmon's Life
Michael Ausiello, TV Guide, 9.11.01
What's the secret behind Angie Harmon's happy marriage to New York Giants cornerback Jason Sehorn? Apparently, unemployment. The Law & Order alumna — who quit the NBC drama at the end of last season to pursue film work — confesses to TV Guide Online that she's growing increasingly fond of her new domesticated lifestyle.

"It's the first time that my husband actually has to leave the house before I do," she enthuses. "He's leaving at 6:15 in the morning and I'm like, 'Buh-bye!' And when he comes home I get to cook for him. I've had a blast — I'm loving it."

In fact, the 29-year-old ex-Baywatch babe is relishing her gig as homemaker so much that she's tempted to take early retirement. Natch, she's kidding — or so Hollywood better hope. Asked when she plans to start pounding the pavement again, Harmon winks: "Probably in like 10 or 15 years.

"I'm at a really good place right now, just because of Neutrogena (she's the company's spokesmodel) and being married," adds the Texas native. "I've gotten to a place where I don't have to just snatch up anything that comes my way. I can take some time and find the projects that I'm really passionate about. It's more about quality instead of quantity."

Currently, the project that Harmon feels most passionate about is Sehorn — which is why she'll likely turn down any small-screen opportunities that come her way. "Everyone pretty much knows that I'm going to concentrate on movies, just so I can spend some time with my husband," she shares. "Because once you get into TV, you're gone 24-7."

"I mean look at him!," gushes the actress, pointing to her hunky 6'2", 215 lb. spouse, who is standing nearby. "I want to spend some time with him!"

'Law & Order' Terrorist Mini-series Cancelled
Jam! TV, 9.18.01
A planned "Law & Order" mini-series involving terrorist attacks on New York City has been cancelled in the wake of last week's World Trade Centre tragedy.

Producer Dick Wolf had planned to create a TV mini-series about a group of terrorists operating in New York -- a series that would cross over into all his "Law & Order" series.

The show was announced one day before terrorists crashed passenger jets into the World Trade Center and the Pentagon. Wolf was quoted as saying he wanted to do the series to raise awareness of the real threat of terrorism on American soil.

Now, though, the show's producers, Studios USA, have nixed the project.

The company said they "believe it is inappropriate to produce the 'Law & Order' mini-series, dealing with terrorism, in light of the horrifying events that have unfolded over the past week."

"Our thoughts and prayers are with the families, friends and colleagues of everyone touched by this tragedy."

'Order' Patrol
Entertainment Weekly, 10.17.01
In the network television system, the people are presented with three separate yet equally self-important shows: ''Law & Order,'' ''Law & Order: Special Victims Unit,'' and ''Law & Order: Criminal Intent.'' These are my reviews (dun-dun!):

LAW & ORDER (NBC, Wednesdays, 10 p.m.)

The twelfth season of executive producer Dick Wolf's original-recipe New York cops-and-lawyers show is off to its strongest start ever in the ratings, locking up more than 22 million viewers (thanks in part to an inflated ''West Wing'' lead-in). So does this mean I'm the only one who misses Angie Harmon's flinty ADA Abby Carmichael? Her hastily-integrated replacement, legally blonde Serena Southerlyn (Elisabeth Rohm), is about as believable as her name. In only a few short weeks, ''Angel'' alum Rohm has somehow managed to surpass Carey Lowell and Dianne Wiest in the ranks of the most ineffectual ''L&O'' actresses ever. But at least the first two scripts spun fresh riffs on a pair of ripped-from-the-headlines cases: the San Francisco dog-mauling imbroglio and Sen. Bob Kerrey's Vietnam-massacre scandal.

LAW & ORDER: SPECIAL VICTIMS UNIT (NBC, Fridays, 10 p.m.)

I've always defended the sex-crimes spinoff against those who have charged that it's an unworthy successor; last season, I even thought ''SVU'' was the superior show. Yet as its ratings continue to build, the series already seems to be repeating itself -- and it's only starting its third year. Despite fine guest performances from Amy Irving and Shirley Knight, the opener, about a shrink who convinces a patient to recover false memories of sexual abuse by her father, felt awfully familiar. By week two, Det. Olivia Benson (weakest link Mariska Hargitay) was being stalked by an ex-con she'd sent to prison. What is this, ''L&O'' or ''Hunter''? Plus, I'm tired of waiting for the writers to give the promising odd-couple partnership of Munch (''Homicide'' vet Richard Belzer) and Tutuola (''Cop Killer'' vet Ice-T) something -- ANYTHING -- to do.

LAW & ORDER: CRIMINAL INTENT (NBC, Sundays, 10 p.m.)

The purported selling point -- that ''see through the eyes of a criminal!'' gimmick trumpeted in the Peacock's promos -- isn't the real reason to check out the uneven but intriguing ''CI.'' Rather, it's the impressive acting ensemble. Vincent D'Onofrio's mastermind Det. Robert Goren may be a bit overwritten, but just try to take your eyes off the guy (I'd watch D'Onofrio read the New York State penal code). As his partner, ''Oz'' alum Kathryn Erbe has somehow already managed to surpass Harmon and Jill Hennessy in the ranks of the most credible ''L&O'' actresses ever, and supporting actors Jamey Sheridan and Courtney B. Vance are charismatic enough to carry their own series. Now they just need consistent scripts.

Law & Disorder
As one of TV's best and best-loved series launches a new spin-off,
its creator grapples with the aftershocks of terror
Robert Wilonsky, Dallas Observer, 2001

Rene Balcer, like you and everyone you know, can't stop talking about what we now refer to simply as The Attack. We may resume our lives, fall back into our routine until it again feels mundane and comforting, but sooner or later, The Attack becomes the only topic of conversation. As we count the missing and bury the dead, even from a distance, and piece together what little remains of our stock portfolios and send friends and family off to fight the unseen enemy, we wonder and fret: How will the carnage and chaos of September 11 change our lives? Or will it? After all, who has time to worry about toppled landmarks and forthcoming war when a new season of Friends is about to begin? Like the president says, it's time for America to get back to business: Just who is the father of Rachel's baby?

On September 10, maybe we cared a little too much about that question. On September 11 and in the days since, it was doubtful we cared at all about what we saw on TV, save for images of smoke and rubble and a president behind a lectern. Movies were held out of theaters. Networks postponed the beginning of the fall season. The Emmys were pushed back until October 7; now, there comes word that HBO, up for nearly 100 awards, isn't even sending representatives to the awards show, and others may follow. The entertainment industry hides its collective head in shame. We're so pointless, mutter studio executives and record-label bosses, so inane.

And this, at last, is where Rene Balcer comes in. For 11 years, he has been a writer and executive producer on Law & Order, among the most successful and adored series in the history of the medium. On September 30, Balcer's name will be attached to the third installment in what has become a brand name: Law & Order: Criminal Intent, which differs from its predecessors, including Law & Order: Special Victims Unit, in that each episode begins with a crime being committed. We see bad men and women doing bad things: stealing diamonds, for starters, or murdering the innocent with broken bottles. And then we see good men and women, including Men in Black's Vincent D'Onofrio and Oz's Kathryn Erbe, solving the crime. As always, there is the patented Law & Order twist. We cannot always trust what we see or what we think we know.

Balcer is credited as the show's co-creator, with Dick Wolf, and developer. It was his idea, more or less--his characters, his setting, his stories. It was born out of the ashes of one of Wolf's failed shows, Crime & Punishment, which aired briefly in 1993 and told essentially the same kind of tale: Criminals spilled their guts to the unseen Interrogator. At this moment, Balcer would no doubt prefer to talk about his new television show. There is no one better suited to promote Criminal Intent, one of the few new shows of the fall worthy of your attention.

But the conversation, of course, keeps coming back to The Attack. And with great reason--a few, actually. First of all, the three Law & Order series were to be part of a five-hour mini-series dealing with bioterrorism in New York City. Those five hours of television no longer exist: NBC, Studios USA (which makes Law & Order) and others involved with the show axed the mini-series. Most likely, it will never see the light of day--a decision, Balcer says, that was a no-brainer, as far as he was concerned, though there were some among the staff who believed it could be merely pushed back. Some of the people who had worked and invested a lot of time and effort into the mini-series may have entertained thoughts of finding a way of still doing it, says Balcer, who, the day before this interview (September 20), returned to Los Angeles after spending a few days in New York City with his wife, who lives in Manhattan. "But I think cooler heads prevailed. In the aftermath of such a big shock, everybody reacts differently, and it's hard to hold people accountable for what they do in a crisis and in the immediate aftermath."

Discussions have been taking place all over New York and Los Angeles, as studios started yanking movies that had anything to do with terrorism, mayhem, and mass murder and networks started rethinking shows that depicted exploding airplanes (Fox's 24) and mentioned Osama bin Laden (CBS's The Agency). A few days after the World Trade Center collapsed to the ground like a child's toy model, Balcer even received a phone call from a writer-producer on another show--he won't say which, only that it's been on the air "for a couple of years"--seeking his advice. The call came out of the blue: Balcer (pronounced bal-SAY) had never even met the woman on the other end of the line.

"She told me people at her show were sitting around wondering how do we write for a universe that no longer exists," says Balcer, once a journalist for a now-defunct Canadian newspaper. "She seemed pretty distraught. She was referring to the idea that as of now, everything changes. That's an amorphous catchphrase. We don't really know what that means. My thought was, 'Well, if aliens landed, that would change the universe. That would change everything. That would change our views about ourselves, our view of God, of evolution, etc., etc.' I don't know if this is an event that changes everything. I think it will change some perceptions about our own safety, our role in the world, so forth.

"I'm not going to go through a list of platitudes, but, yes, it's going to have an impact. I just don't think it's a world-shattering event, as awful as it is. It's not something that will change the course of history...On the other hand, I'm kind of a guy who believes the glass is half full. As awful as this is, there may be something good that comes from it. If nothing else, Arafat declares a cease-fire, and Ariel Sharon decides, OK, now we can talk with the PLO. If nothing else, there's one thing. Sometimes, it takes a very sobering, awful tragedy to wake people up."

But what happens now that we're awake...and unable to fall back asleep, lest we let down our guard and make ourselves easy prey? Law & Order has always been a television show very much grounded in the real world, the awful here and now. Its plots have long been ripped from today's headlines: mothers who kill their children, politicians caught in sex scandals, priests who molest parishioners, revelers who attack bystanders in Central Park, athletes who have their girlfriends offed. But the show must now grapple with the fact that the headlines, big and bold, scream only one thing: AMERICA UNDER ATTACK.

Balcer is no stranger to war. He began his career, by accident, as a cameraman covering the Yom Kippur War in October 1973. He had gone to Israel to visit a girlfriend and landed just as the Egyptian and Syrian armies were storming the country, on the holiest day of the Jewish calendar. He got his hands on a camera and went to work for Canadian television. But he must now contemplate how to let his televised fiction deal with horrific fact.

Balcer insists that Law & Order's reputation as a based-on-actual-events show is a bit misleading; he likes to say it doesn't simply offer "knee-jerk reactions to reality." Though the show's staff writers and freelancers, most of whom are based in Los Angeles, often construct their teleplays from newspaper stories, they're merely inspiration for plot lines--not the whole truth and nothing but. After all, this is fiction, entertainment, a diversion, not docudrama. While agents and authors hustle to publish books about the terrorist bombings of the World Trade Center and the Pentagon--two are due within days, and more are sure to follow--television, especially series TV, bides its time and searches for some kind of opening. There is no rush.

"And I think something like the events of [September 11] are so huge that we still can't get our heads around it, let along start being contemplative about them," Balcer says. "We don't know what else is going to happen as a result of this. I hate to go back to Pearl Harbor, because I don't think it's an accurate parallel, but it's like trying to do a story about Pearl Harbor in isolation, without going into what led up to it and what followed. And right now, we don't know what's going to follow, so that would be another reason not to go to it as a story. And also, I would be very skeptical about motivations for doing a story like this. It's too raw. Maybe two, three, four, five years from now, we can look back at it and hopefully mine it for more universal truths."

And it might all be a moot point: NBC has ordered only 13 episodes of Criminal Intent, which are all completed. The audience will decide whether there will be more: If the network is happy with the show's early ratings, Criminal Intent will shoot nine more episodes at the end of January. For now, Balcer has little to do other than finish some small post-production details, wait for the show to debut...and talk about The Attack. He insists he is no more worried about the show's fate now than he was on, say, September 10. He says he'd be far more concerned if he was running The West Wing, which risks being rendered irrelevant--indeed, a completely useless fantasy--if it doesn't address the terrorist attacks. (It will, in at least one special episode to air October 3.) His is just a cop show. They've been around since the inception of the medium, and they'll outlive us all, war or no.

"Last week, we were talking about the entertainment business and, God, how silly everything is and how silly we are and what we do is," he says. "I think, well, there is a value in this. In New York last weekend, a lot of people went to museums. A lot of people went out and bought music. A lot of people went to plays. You can only stare at graves for so long, and you need to turn away from it in order to think about other things--in order to process the horror. Staring at it and staring at it forever is unhealthy. I'm not saying what we do is art, but art or popular entertainment helps put things in context. And it keeps us in touch with values that are eternal, that were there before and will be there after."