Law & Order: Articles, 2000


"Law's" Long Legs Perk NBC
Tom Bierbaum, Variety, 1.10.00
Quick, name an NBC series that's up substantially vs. its year-ago Nielsens without benefit of a major slot change. Here's a hint: think of a show that's in its 10th season.

If you guessed the amazingly durable "Law & Order," give yourself a detective badge. Perhaps it's only fitting that, in the Year of the Drama, this battle-scarred survivor of the Decade of the Sitcom, the longest-running drama currently on the primetime schedule, is emerging as one the fastest-growing series in primetime.

So far this season, "Law" has laid down an average 6.3 rating among adults 18-49 in its regular Wednesday slot, the best for a non-Thursday series on the entire NBC schedule, and 17% better than "Law's' year-ago figures (all figures based on Nielsen data).

Excepting series such as "Will & Grace" and "3rd Rock from the Sun," which have boosted their numbers by upgrading their timeslots, no other Peacock series is up more than a tenth or two vs. year-ago levels.

"Law" is, in fact, a direct beneficiary of this season's bumper crop of new dramas.

The Wolf Films-Studios USA series is gaining audience in part because it's no longer following such incompatible fare as newsmags, sitcoms or "World's Most Amazing Videos." For the first time in more than six years, "Law" is regularly airing after another drama.

Even better, that lead-in is the fairly successful rookie "The West Wing," which is not only running 15% ahead of the year-ago 18-49 average in the slot, but delivering to "Law & Order" an audience more in tune with the veteran drama's weighty subject matter than, for example, an "Amazing Videos" or "3rd Rock from the Sun" viewer.

But if "Law" owes something to the Year of the Drama, the Year of the Drama certainly owes something to "Law" and its contemporaries, those series that have kept the form vibrant and respected through the genre's lean years, and ready for the comeback that finally materialized this season.

For all these reasons and more, "Law" has emerged as one of NBC's most important series.

This fall, the Peacock successfully launched the "Special Victims Unit" spinoff, which has survived primetime's toughest hour (9-10 p.m. Mondays vs. "Ally McBeal," "Everybody Loves Raymond" and "Monday Night Football") and is now headed to Fridays to try and fill the hole created with last fall's rapid meltdown of "Cold Feet."

Reruns of the original "Law" have paved the way for "SVU" on Fridays by successfully filling the "Cold Feet" slot since early November; while the last two "Cold Feet" segs fell 8 shares or more behind the hour's 18-49 leader, "Law" reruns have finished 3 shares or closer to the slot lead in five of six Friday airings.

That's one of the bonuses of a relatively episodic drama such as "Law" -- its reruns hold up a lot more effectively than those of more serialized dramas.

This season, reruns of the highly serialized "ER" have averaged a 55% 18-49 falloff vs. firstruns (with a 6.5 rating vs. a 14.3), while Wednesday's "Law" has held those dropoffs to 27% (5.1 vs. 7.0). Even a somewhat serialized sitcom like "Friends" (down 34%, 7.4 vs. 11.2) can't match "Law's" rerun-vs.-firstrun retention rate.

The strength of "Law's" straightforward format- the investigation of a crime, followed by its prosecution-- has also allowed the series to gradually lose and replace every actor in its entire original cast except Steven Hill and remain a stable ratings draw throughout those transitions.

That durable format has also helped "Law" reruns excel on cable's A&E, where it consistently vies with "Biography" and "American Justice" as the service's top-rated series. This ongoing cable exposure has apparently only fortified "Law's" firstrun strength on the NBC schedule.

Thus, it comes as no surprise that cablecasts of "SVU" on USA Network are nearly matching A&E's results with the original "Law" and have had no discernible impact on "SVU's" network performance despite a mere two-week window between net and cable debuts.

Given its pedigree, "SVU" could remain an important force on both the NBC and USA schedules for years to come.

Ripped From Our Headlines?
Law & Order episode mirrors Bernardo/Homolka case
Bill Brioux, Toronto Sun, 2.11.00
"Although inspired in part by a true incident, the following story is fictional and does not depict any actual person or event."

That's the disclaimer to an episode of Law & Order airing in two weeks.

Ontario viewers, however, will quickly see that the episode entitled Fools For Love is largely based on the brutal Bernardo/Homolka sex slayings.

CTV, which briefly debated whether even to air the episode, has decided to show it on Tuesday, Feb. 22 at 10 p.m. -- a day earlier than the source U.S. network, NBC. That's because on Feb. 23, CTV instead will broadcast the Grammy Awards, originating from CBS.

The show opens with the discovery of the bodies of two teenage women. One choked to death on her own vomit, the other was strangled. Both were sexually savaged.

"Some wacko had them tied up some place, feeding them drugs and doing whatever he wanted with them," says seen-it-all detective Lenny Briscoe, played by Jerry Orbach.

A handsome young man, Peter Williams, is arrested for the slayings. His beaten, blonde wife named Laura Kendricks -- whose kid sister was the choking victim -- is also picked up.

Kendricks' lawyer swings a deal with the prosecution: Her testimony nailing the evil hubby in exchange for a ridiculously light sentence.

And the similarities go on and on.

The typically tense Law & Order episode was written by Rene Balcer, a Montreal native who has been the head writer of the durable NBC drama for the past four seasons.

"We didn't start off with the Bernardo case as the template," Balcer said yesterday from L.A. "We started off with the story of a killing, or a serial murder."

Balcer, however, remembered the Bernardo case, which made headlines even in Los Angeles.

"It wasn't the sensational aspects that drew us to this story," he said. "It was the ethical dilemma that the prosecutors faced."

Balcer said he was fascinated by the "deal with the devil" the Canadian prosecutors made in order to get Homolka to testify against her husband.

"It's what our show is all about," he said.

While there are many similarities in the stories, Balcer insisted this episode is not a docu-drama.

"We don't set out to recreate crimes. These things are taken from the public record."

There are, in fact, several departures from the Bernardo case, especially at the end of the episode. Many viewers might walk away wishing life imitated art.

Weaving drama from true facts is not a new process, Balcer said. "You could argue that the story of Julius Caesar is ripped from the headlines."

Just the same, L&O has its own team of lawyers go over every script. The writers certainly don't have to go far for a legal consultation. Executive producer Dick Wolf has lawyers among his writing staff.

Given the sensitivity of the case here, CTV even ran the episode past its own legal team.

This episode isn't the first to be loosely based on a notorious Canadian case. Earlier this season, Law & Order aired an episode about a mass murderer which hearkened back to the terrible University of Montreal shootings of more than 10 years ago.

Law & Ardor
From Ally McBeal's love interest to Love & Order's new heartthrob,
Jesse L. Martin makes his case for colorblind stardom
Jeffrey Zazlow, USA Weekend, 3.19.00
In a controversial TV season marked by NAACP protests over the dearth of minority roles, Jesse L. Martin stands out. The new star of NBC's flourishing 10-year-old drama Law & Order (Wednesday, 10 p.m. ET) has become one of TV's highest-profile African Americans. "Jesse is the kind of actor an audience appreciates for who he is, not what he is -- not his color," says Law & Order creator Dick Wolf. Wolf, who has walked in public with great-looking actors from Don Johnson to Benjamin Bratt (whom Martin replaced on Law & Order), says, "This will probably embarrass Jesse, but I've never seen the young female demographic respond to anybody like they respond to him. It's unbelievable. Talk about a rainbow coalition of female admirers! And he's very charming with fans, very responsive."

Martin, 31 and single, notices his growing appeal -- "I get approached by many different kinds of women" -- but he still sees himself as a timid boy from Buffalo. The son of a truck-driver dad and career-counselor mom, he moved there at age 7 from a small town in Virginia's Blue Ridge Mountains. "It was really difficult at first. I was a shy kid with a thick accent. I was afraid to speak. There was forced busing in Buffalo, and people were vehemently opposed to it. It was scary as a kid to go into a community that didn't want you there. And they were very vocal about it."

Despite the rough start, he developed meaningful relationships with white classmates and teachers, who saw his talent for singing, dancing and acting and recommended him for a performing-arts high school. He got his first big television break thanks to Michelle Pfeiffer, who saw him on Broadway in Rent and alerted her husband, Ally McBeal creator David E. Kelly. That led to his recurring role as Ally's love interest, which led to a turn as a baseball-playing alien on The X-Files -- and then to his part as a police detective on Law & Order.

In this role, Martin's race is incidental. He likes that. He thinks the show keeps getting more popular because it is story-driven -- the police and court cases are the focal points -- not character-driven. "The stories are so compelling. That's more important than who's in the cast."

Martin says he may someday return to Ally McBeal in guest spots. He'd enjoy re-exploring the interracial romance on that show. So far, race has never been mentioned as an issue between the characters. Critics called that unrealistic, but Martin found it refreshingly progressive. "We really enjoyed working without that weight," he says. "It's silly to assume that problems are inherent in mixed relationships."

Martin is heartened that many kids today take his perspective for granted. "Race doesn't really matter much to a lot of kids these days. They see a person, not a color. When they grow up, just think of the possibilities."

Not just an actor -- he's a song-and-dance man, too:

Martin was first noticed in Rent on Broadway. "He has an incredible voice and he's an incredible dancer, but he's not going to sing on Law & Order," says show creator Dick Wolf. "It's not The Gene Autry Show."

Martin may never perform as a crooning cop, but he vows America will hear him sing. His longtime dream is to star in a film biography of the late singer Marvin Gaye. His manager is "pursuing it like crazy."

What's in Martin's CD changer? "Beck, Macy Gray, Aretha Franklin, Stevie Wonder and a heavy rotation of Marvin Gaye."

Producer Describes "Grinding" Work Behind "Law & Order"
JinAh Lee, Yale Bulletin & Calendar, 4.21.00

Speaking to a room full of fans at a tea on April 12 in the Calhoun College master's house, Edwin Sherin, the executive producer of the NBC show "Law & Order," discussed the difficulty of achieving excellence in the "shark-infested waters" of television.

"Law & Order," a crime drama now in its 10th season, is television's longest running drama series currently on the air. A 1997 Emmy Award winner for Outstanding Drama Series, the show was ranked among the top 20 shows on television during the 1998-99 season with an average of 14 million viewers. In addition to being critically acclaimed, the show is also hugely profitable and has been syndicated around the world. Despite a cost of $2.2 million per episode, Sherin likened the show to "the goose that lays the golden egg."

Such success does not come easily, noted the producer. Each episode takes two months to write; a week of pre-production during which the cast is hired, locations are found and sets are built; eight days to shoot; and 22 days to edit. Working days often last 14 or 16 hours. "It's not glamorous," said Sherin. "It's grunt work. It's hard, grinding work."

Sherin credits a number of factors for his show's longevity. Foremost, said the producer, is the fact that it is "a plot-driven show." Despite an almost complete turnover in its cast, the show continues to succeed. "It simply doesn't depend on anyone," said Sherin. "The story is the thing." Contrasting "Law & Order" with "Ally McBeal," he queried, "What would it be without Ally? Jenny McBeal?"

Sherin also lauded the writers of "Law & Order." He believes that the fundamental difficulty in doing the show is that "not every crime is a good story." Writers must amalgamate great crimes with great trials, and squeeze in the history of a crime -- from its discovery to the apprehension of the perpetrator to the trial -- into 43 minutes and 37 seconds, he said.

Finally, Sherin heaped praise on his actors, especially Sam Waterston and Angie Harmon, who both play assistant district attorneys on the show. He described Waterston, a 1962 graduate of Yale College, as "erudite, gentlemanly and a brilliant actor," quipping "you don't have to be a nut to be an actor." Although Waterston, like most actors, "requires a lot of tending, a lot of babysitting," said Sherin, "he is a perfectionist. He won't let go of a script unless it is right, and that's good for the show."

Because "Law & Order" is so successful, the show has freedoms that are rare on television, said Sherin, noting that NBC rarely interferes with the content of the show, as long as the advertisers are happy. "It has nothing to do with censorship beyond the dollar," contended Sherin, although he admitted that the power of the dollar is substantial. To keep advertisers happy, the show rarely deals with AIDS or homosexuality. Yet, when an episode on the murder of an abortion doctor was aired, NBC stood by the program, he noted.

Despite being an entertainment medium, "Law & Order," also has the power to educate its viewers, said Sherin. By the nature of the show's subject matter, episodes are often violent. However, it is very rare to see a gun being shot on the show. It has happened only twice in 240 episodes, Sherin pointed out. One of the goals of the show is to "deglamorize violence and reveal the effects of violence on people and how much pain occurs," he said.

As an example, Sherin pointed to an episode on pro-gun lobbyists that was aired this season in which a mass killer shoots a semi-automatic rifle modified to be fully automatic into a group of female medical students in Central Park. Gun shots were heard off-screen and screaming survivors ran past. When the camera panned toward the crime scene, viewers were shown the human debris that was left behind by the killer. Eleven were dead and three were wounded.

Later in the show, prosecutors compared a semi-automatic rifle with a fully automatic one. They poured out the bullets a semi-automatic gun could shoot during a certain amount of time, and a number of bullets fell on a table. Then they poured out the bullets a fully automatic rifle could shoot during the same amount of time, and a flood of bullets covered the desk and fell to the floor. Watching that scene, said Sherin, "I was overcome with emotion."

He believes that the best shows are when every member of the permanent company has a different point of view about the event. "The most important shows are the ones where I can look at them and think, 'There, but for the grace of God, go I,'" said Sherin.

Peacock High Five Takes 'Law' to 2005
Drama Skein Fetches $3 mil per episode, 'Special Victims' renewed
Joseph Adalian, Variety, 4.27.00
Producer Dick Wolf's drama war-horse "Law & Order" will remain on NBC through spring 2005 as part of a blockbuster long-term renewal deal with Studios USA Television.

Pact means "Law" will survive through its 15th season, making it the longest-running police drama in TV history. "Gunsmoke," which aired for 20 seasons on NBC, remains TV's longest-running entertainment skein.

Peacock, which last spring ordered "Law" through 2002, has picked up an additional three seasons of the series. NBC will pay roughly $3 million per episode for the skein, with the license fee increasing slightly every year over the next five seasons, according to industry insiders. NBC had been shelling out around $2.5 million per seg.

In addition, NBC has also renewed Wolf-produced spinoff "Law & Order: Special Victims Unit" through May 2002. Series had been picked up through next season.

NBC had previously made an episodic commitment to the Studios USA/Wolf Films drama "Deadline" for next fall. Assuming the show goes forward, Wolf will produce more than 10% of NBC primetime sked next year.

"The 'Law & Order' franchise will go down in the TV history books for its unparalleled ability to draw in more viewers even in its 10th season," said NBC Entertainment prexy Garth Ancier. "Dick Wolf and company continue to keep the shows fresh, relevant and compelling. (We) look forward to building and growing the franchise together."

Studios USA topper David Kissinger called "Law & Order" one of the "most consistently distinctive programs on television, and 'Law & Order: Special Victims Unit' has quickly established itself as a show that honors the high standard of its predecessor while dealing unflinchingly with some of the justice system's most harrowing cases."

In an interview with Daily Variety, Kissinger said the long-term deal made sense on many levels. "There was an enormous amount of mutual interest involved for all of us," he said, noting the sheer length of the deal "allows us to protect the quality of the shows over time."

Kissinger hinted that, with "Law's" fate locked up for a long time, Studios USA will be announcing a round of deals with "Law" writers and producers over the next few months.

Despite its age, the original "Law" continues to be a Nielsen juggernaut, ranking No. 12 among all primetime series this season with an average 11.3 rating/18 share.

"SVU" has significantly boosted NBC's Friday night average since moving there in January.

Renewals are also a major boost to the Gotham production scene, since "Law" and "SVU" are both filmed on location in New York.

Wolf called the long-term renewal pacts "a credit to (USA Networks prexy and chief operating officer Barry) Baker's deal-making skills and (company topper Barry) Diller's overall vision. It's a win-win for everybody."

"Law" Ordered Back for More
Emily Farache, E! Online, 4.27.00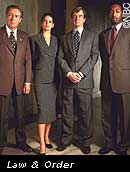 In the National Broadcasting Company, decisions are made by two equally important yet separate groups: the shows, which display the talents of the actors and creators; and the ratings system, which checks to see how many people are watching those shows.

Here is one NBC story:

Law & Order is staying on NBC through spring 2005, making it one of the longest-running shows in television history.

The network's unprecedented, blockbuster deal with producer Dick Wolf and Studios USA Television means Law will continue at least through its 15th season. (NBC's Gunsmoke holds the record for longest-running entertainment series at 20 years.)

No official word on why NBC, which renewed the series through 2002 last spring, is ordering the extra seasons now. But we're guessing it has something to do with show's remarkable ability to get better with age, despite numerous key cast defections over the years.

Studios USA president David Kissinger tells Daily Variety the long-term deal made sense on many levels. "There was an enormous amount of mutual interest involved for all of us," he says, noting the length of the deal "allows us to protect the quality of the shows over time."

NBC will shell out about $3 million an episode, with the license fee increasing slightly over each of the next five seasons, according to trade reports. NBC had been spending about $2.5 million per episode.

Hoping to keep a good thing going, NBC is also renewing Law's spinoff, Law & Order: Special Victims Unit, through May 2002. The rookie series had already been picked up through next season, despite mixed reviews and schedule changes.

Kissinger calls Law one of the "most consistently distinctive programs on television, and Law & Order: SVU has quickly established itself as a show that honors the high standard of its predecessor while dealing unflinchingly with some of the justice system's most harrowing cases."

It may be a senior citizen in terms of years of service, but ratings-wise the original Law is still spry. It ranks number 12 among all prime-time series this season, averaging about 16.1 million viewers per week. The show ranks as NBC's second highest-rated drama behind only ER.

"Law & Order" Junkies -- Here's Your Fix
Montrealer Rene Balcer, top dog at the hot crime drama, spills the beans on the final episodes
Tralee Pearce, The Globe and Mail, 5.6.00
Vaya Con Dios (Go with God) isn't merely the Pinochet case-inspired season finale of NBC's popular cops and lawyers drama Law & Order airing May 24.

It just might be head writer and executive producer Rene Balcer's swan song. After 10 years penning witty repartee for the show's hard-boiled detectives and dreaming up the ever-twisted legal wranglings for the state prosecutors, the Canadian ex-pat is after a little closure.

"Hopefully, it will be my good-bye to the show," said Balcer, who finds out a week before the finale, May 17, if his pilot for a new legal drama, Hopewell, starring Treat Williams, is picked up by CBS. "There's nothing pushing me from Law & Order, I'm just being drawn to something else."

This, even as NBC announced recently that Law & Order has been renewed until 2005, taking the show's tally to an astounding 15 years -- the longest running show now on televison.

"As far as the pick-up, it's very satisfying knowing that I left the show in better shape than I found it," he says. Indeed, Law & Order was a sleepy little cult favourite for its first few years, winning its first Emmy for outstanding drama series in 1998. By then legions of fans were tuning in for the tightly contained two-part episodes split between police investigation of a crime and the subsequent district attorney's court case. For most fans, the show's crisp writing, detailed legalese and the intense courtroom showdowns are unsurpassed on television -- or even, film.

Now that he's rocketed up the hierarchy and is listed in the credits alongside show creator Dick Wolf, Balcer, originally from Montreal, says he's ready to move on.

"This idea had been tossing around in my head for years. It's about a big city lawyer who moves to a small town to practise -- a twist on one of my favourite movies, To Kill A Mockingbird."

Balcer is giving a workshop and a talk sponsored by the Canadian Film Centre at University of Toronto's Innis College Monday. He's also screening a preview of the pilot. If Hopewell is picked up for next fall, Balcer promises a case a week.

His strength has been ripping stories from the headlines. For instance, one of L&O's final shows is based on the Wall Street-porn star imbroglio recently splashed across the news. As if that case wasn't fodder enough, Balcer let his vivid imagination wander. "It unites such an unlikely cast of characters. It goes from college students to skinheads, to strippers, to Wall Street, to IPOs, to the head of the investment bank." Ever the master of snappy dialogue, Balcer edits that last line for his interviewer: "It's the banker, the bimbo, the bigot and the B.A. student."

But Balcer admits he will miss both the real people he's worked with and the characters he created, especially executive assistant District Attorney Jack McCoy, who has been played by Sam Waterston since 1994. So Balcer intended Vaya Con Dios to be a showcase for McCoy, who is prosecuting a second-in-command Chilean villain. "I've had a lot of fun with the Jack McCoy character," says Balcer. "In the finale, the case takes him all the way to the Supreme Court. It's Jack McCoy doing his quixotic quest for justice."

The episode takes its inspiration from a French revolutionary quotation: "A man has only the rights that he can defend." "McCoy takes this as his creed for going to the wall to prosecute this individual even though the crime took place in Chile 25 years ago."

If other ripped-from-the-headlines Law & Order plots are any indication, don't expect this defendant to weasel out with a claim of mental illness. Balcer delights in rewriting history.

For instance, the episode Fools For Love, which aired in February, took as its starting point the Paul Bernardo-Karla Homolka "folies a deux," as Balcer calls it. It explored the deal-with-the-devil angle, but the fictional Homolka faced a much stiffer penalty than her real-life counterpart.

"I like finding a more satisfying ending to a case. Or a more disturbing ending, or maybe an ending that speaks more to the truth of the case. They're not only whodunnits, but whydunnits."

Other cases have tipped their hat to the Menendez brothers, Lorena Bobbitt, the O.J. Simpson trial and battered wife syndrome, to name a few. If those cases, not the individual acting performances, withstand the test of time, it's by design, says Balcer. "It's absolutely a writers' show. In the last 10 years, only one story has been suggested by an actor. It was the one about ritual genital mutilation. Carey Lowell suggested it. That's the only time we've had a useful suggestion from an actor," he says emphatically.

This rule of writers makes for strong transitions when actors leave. The show has lost three assistant D.A.s, one executive assistant D.A. (the mercurial Michael Moriarty) and four cops, among a revolving door of characters.

Balcer is unsentimental about departures, though, considering them creative opportunities. "That's what keeps you from getting bored," he deadpans.

Sometimes excitement comes from where he would have least expected it. One recent episode drew a storm of criticism for its portrayal of a gold-digging murderess who happened to live on the Canadian side of Niagara Falls.

"It's nonsense. We wanted to play with a wrinkle in the law about foreign defendants. If we had chosen someone from Mexico we would have been clobbered for being anti-Mexican." So, he received a lot of letters from earnest Canadians? "There's a lot of Canadians up there named Earnest. And I think we got a letter from every single one of them. But the show made the point that the U.S. is still the only democracy that executes people."

While Balcer may be eagerly anticipating his change of legal venue from Gotham to greener pastures, he's obviously still tickled by what his last few waiting Law & Order episodes might stir up. "You have to watch."

Law & Order: The Unofficial Companion (Renaissance Books) by Kevin Courrier and Susan Green has been updated and expanded to include the 1999 season.

WHO'S IN THE ASSISTANT D.A. CHAIR?

PAUL ROBINETTE 1990-93 Real name: Richard Brooks
Characteristics: Tall, quiet, measured, thoughtful, strong sense of justice, not fully fleshed-out character.
Balcer: "mostly a debating partner for Ben Stone."
Character left show without cause; reappeared as tough defence lawyer.
Tidbit: Career hasn't blossomed post L&O. In last year's TV series G vs E, Brooks fought Faustian "Morlocks."
CLAIRE KINCAID 1993-96 Real name: Jill Hennessy
Characteristics: Sense of fair play. Reserved, business-like, fragile, not afraid to stand up to Jack.
Balcer: "She was Jack's girl. She only became interesting in the last season when she started bucking what Jack McCoy and [District Attorney Adam] Schiff wanted her to do."
Tidbit: Edmonton girl stars with Richard Gere in Autumn in New York this August. (Gere dates Carey Lowell.)
JAMIE ROSS 1996-98 Real name: Carey Lowell
Characteristics: Overtly sexual, self-confident, ambitious; foxier than Jack.
Character left to get married and to focus on custody battle with ex.
Balcer: "The Jamie Ross character was an adult and Jack could have adult conversations with her. She couldn't be pushed around."
Tidbit: Bond girl in License To Kill (1989); dating Gere.
ABBIE CARMICHAEL 1998-present Real name: Angie Harmon
Characteristics: More intractable and passionate than Jack; she really wants the bad guys to get fried.
Balcer: "It's nice to have someone around who can kick Jack McCoy's ass."
Tidbit: Cut her teeth on Baywatch Nights from 1994-96 as a forensic criminologist.

"Law & Order" Has Longevity
Bill Brioux, Toronto Sun, 5.10.00
Can Law & Order run forever?

The 10-year-old drama, which is coming off its highest-rated season ever, has just been renewed by NBC through May 2005. At that point, it will become the second-longest-running prime-time series in TV history, behind only the CBS oater Gunsmoke (1955-75.)

The deal makes sense to NBC, which pays the producers, Dick Wolf's USA Studios, $3 million per episode. That's a bargain compared to the estimated $13 million per episode NBC will pay Warner Bros. to keep ER on their "Must See" schedule through May 2001.

However, Law & Order will have to carry on without executive producer and showrunner Rene Balcer next season. The Montreal native is leaving the hit drama to launch his own show.

His Hopewell stars Treat Williams as a big city lawyer who moves his family and his practice to a small town locale; Patricia Kalember (Sisters) and Cloris Leachman also star. "I've been telling people it's a cross between Prince Of The City and Green Acres," jokes Balcer, who spoke at U of T Monday night as part of the Canadian Film Centre's Test Pattern series.

Balcer will learn if his show makes the cut on May 17 when CBS announces its fall schedule.

Diane Wiest Joins 'Law & Order'
Jam! TV, 6.14.00
Oscar-winning actress Dianne Wiest has joined the cast of "Law & Order," replacing departing cast-member Steven Hill, Variety reports.

Wiest, who won Oscars for her supporting work in two Woody Allen films -- "Hannah And Her Sisters" and "Bullets Over Broadway" -- will be cast as the show's new district attorney, Variety said.

"I thought to make this kind of switch, we needed someone with a lot of bang," series creator Dick Wolf told Variety.

"The first woman at the top of the list was Dianne. Quite luckily she was intrigued. Not in your wildest imagination could you pick up not only a single but a double-Oscar winner."

Wolf told Variety part of the attraction to Wiest was her work with Allen.

"I think in a strange way there is a similarity between 'Law & Order' and Woody's movies in terms of them being so a part of the fabric of New York," he said, adding Wiest's character will be a change from Hill's portrayal.

"If you're going to replace a character you have to come up with a vastly different rhythm than someone who's been on the show 10 years and an icon like Steven," Wolf told Variety.

"When you have to make that change, you want to make it with someone as bulletproof as you can possibly get and at the same time very different."

New Law in "Law & Order"
Emily Farache, E! Online, 7.13.00
Come next season, there's going to be a new law in Law & Order.

The one seeming constant in the show's turnstile cast, Steven Hill, aka grouchy District Attorney Adam Schiff, is leaving the show.

His replacement is two-time Academy Award-winning actress Diane Wiest, producers announced today.

"Having a female actor of this caliber is unprecedented on series television. Dianne has won virtually every major film award and has established herself as one of the finest actors of her generation," creator and executive producer Dick Wolf said. "Her character will add a new dynamic to the series."

Wiest is best known as one of Woody Allen's favorite actresses. She scored both her Supporting Actress Oscars in his films, Bullets Over Broadway and Hannah and Her Sisters. Her trophy collection also includes an Emmy, two Golden Globes and a Screen Actor's Guild award.

Hill was the only cast member who has been with the Emmy-winning NBC institution since its 1990 debut season. He recently said the grueling shooting schedule was too much for his 78-year-old self.

"Steven Hill, who did an amazing job for 10 years as Adam Schiff and was nominated for an Emmy in the process, has made an inestimable contribution to the series, and his performance and character will be forever etched in the minds of television viewers," Wolf said. "He will be sorely missed."

Over the past decade, Law & Order has lost enough cast members to people a couple of TV series, George Dzundza, Paul Sorvino, Dann Florek, Michael Moriarty, Richard Brooks, Jill Hennessy, Carey Lowell, Chris Noth and Benjamin Bratt, among them.

The Wolf Films/Studios USA series is currently the longest-running drama series on network television. It enters its 11th season on NBC this fall, airing in its customary Wednesday spot. With its recent renewal through the year 2005, the series is on pace to become one of the longest-running drama series in television history.

Law & Order won an Emmy for best drama series in 1997 and has been nominated in that category a record eight consecutive times. Last season, the show ranked 12th in the Nielsen ratings, averaging more than 16 million viewers a week.

Auteurs Join Wolf Gang
Television producer Dick Wolf convinces filmmakers to direct television series
Melissa Grego, Variety, 7.17.00

A trio of seasoned filmmakers who cut their teeth on some of the earliest projects for the small screen are heading not into retirement this fall, but rather back into the TV biz.

Under the watch of now 69-year-old feature film director Ted Kotcheff, the first year of Dick Wolf's NBC drama"Law & Order: Special Victims Unit" went so well, per Wolf, that he invited directors Arthur Penn, 77, and Michael Ritchie, 61, to do the same for "Law & Order" and "Deadline," respectively, this fall.

Their titles are New York exec producer, but they can also direct some of the shows.

In what may be a sign that TV circa 2000 may be winning the ongoing debate over which medium -- film or TV -- is more alluring to work in, the film vets took Wolf up on his offers.

Ritchie, director of "The Candidate," "Bad News Bears" and "Fletch," has since dropped out for personal reasons and is expected to be replaced by legit and TV director Don Scardino. Kotcheff is known for directing the first "Rambo" installment, "First Blood," as well as "Fun With Dick and Jane" and "Weekend at Bernie's."

Kotcheff, Penn and Scardino are generals on the ground in New York, not showrunners. The Los Angeles-based head writers run the shows.

Because the scripts are written in L.A., Wolf makes the New York-based exec producer job a mandatory budget-line item on his New York-based productions. They're there to handle episodic casting, get the best perfs out of the actors and control overall quality.

Wolf says that as the East Coast-based "drama cop," Kotcheff enabled the show to find its voice more quickly than usual for a first-year TV series.

One shot in the season finale of "SVU," which Kotcheff also directed, is an example of the filmmaker's impact, Wolf says.

"I almost fell off my chair when I saw the dailies," Wolf says. "He came up with a shot that's going to be emblematic of the show: a sort of visual, signature shot. It's a closeup of Chris Meloni (who plays Elliot Stabler) that's much tighter than you ever go in television and is slightly off-center. It goes behind his eyes, showing what we've been trying to get at -- the effect crime has on these cops."

Penn, the Oscar-nommed director of such classics as "The Miracle Worker" (for both stage and screen) and "Bonnie & Clyde," started out doing live television. He says Wolf's idea of using experienced feature directors is a smart move.

"These are three pretty talented guys, and there's a lot of years of experience and talent between them. Why not take advantage of it instead of going for something called the youth market, which nobody has been able to adequately identify?" Penn says.

Hollywood's perennial clamoring for so-called "youth appeal" is part of the reason the vets say they agreed to take on the day-to-day rigors of network television.

"There's no question in film that youth is their market, so everybody thinks younger directors will create material that appeals to younger people. I still think older directors are working, but films seem to have gone off in a direction that directors like Arthur Penn don't want to go in," Kotcheff says.

Indeed, Penn refers to the preoccupation with youth as a "terrible disease that has struck the movie business."

"They're suffering from it: They're making lousy movies," he says.

Kotcheff has taken to TV because of the opportunity it offers to address ripped-from-the-headlines issues in a more immediate way than film, he says, as the time between producing and airing a TV episode is a mere fraction film's.

"I like that our series deal with topical, societal issues that films don't do. The nature of television allows you to respond much more rapidly than film," he says, offering an example from "SVU."

One episode featured a story-line that followed law enforcement officers as they chased down a rapist while the statute of limitations on the rapist's crime expired for one victim after another.

In reality, when the episode aired, a proposal was being discussed in New York that would extend the time given to catch and prosecute rapists. While the TV gig turned out to be "energizing," Kotcheff says he wasn't keen on it initially.

"I said to my agent that I don't know anything about television; I'm a film director," he says.

"It was a learning experience. The hours were long, as we created the style of the show and the characters were being molded," Kotcheff says. "Now I see each season, each 22-part series, as one long film. I shot `First Blood' for six months, after all."

All three New York exec producers signed three-year deals with the shows.

Wolf -- who says no one accuses him of being a kid at 53 -- doesn't worry whether the old pros have the stamina for their jobs.

"I've seen no senior moments, I assure you," he says.

Another Crime Perpetrated on "Law & Order"
Marvin Kitman, CNN.com, 8.2.00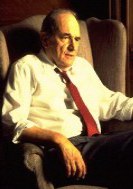 (Los Angeles Times Syndicate) -- Shocked! Dismayed! Grieved! Outraged! I am at a loss -- and that's a very rare thing -- for the right word to describe my reaction to the sad news that Adam Schiff is leaving.

The character played by Steven Hill on "Law & Order" is being replaced as district attorney by Dianne Wiest next fall.

The stunning news was dropped through the transom the other week at the height of all the excitement about the new fall season schedules.

Hill, the last remaining original cast member of the NBC series, served as DA for 10 years. Giving him the ax now is as outrageous, indefensible and inconceivable as having another actor replacing Leonard Nimoy as Mr. Spock on "Star Trek."

How can producer Dick Wolf do this to us again? "Is he a werewolf who must regularly tear the throats out of his characters?" asks R.B. Bernstein, a professor at New York Law School. George Dzunda (1991). Paul Sorvino (1992). Dann Florek (1993). Richard Brooks (1993). Michael Moriarty (1994). Chris Noth (1995). Jill Hennessey (1998). Benjamin Bratt (1999). The Wolfman seems to strike whenever the moon is high in somebody's house.

But Hill's departing for the Big Courtroom in the Sky is something more profound and even more upsetting than the other mass murders.

Art imitated life

Adam Schiff was a superb character, in part because of his uncanny resemblance in manner to the real district attorney of New York, the legendary Robert Morgenthau, in the premier prosecutorial job in the nation. He was absolutely perfect as Morgenthau, those in the know tell me. In part, too, Steven Hill just made the Schiff character his own superb creation.

As an actor, Hill was brilliant, amazing, fantastic, a thoroughly believable DA. He stole every scene he was in. He was the heart of the show and as much the soul of New York as Jerry Ohrbach's Detective Lenny Briscoe.

I just loved the guy, especially when he had his brawls with Sam Waterston, assistant DA Jack McCoy.

How could the Wolfman take Hill out for a pinch-hitter in what has to be the ninth inning of what has to be the perfect law drama series, when he still had swing?

If it ain't broke...

I can't understand why Wolf is always trying to destroy "Law & Order." "If it ain't broke, fix it," seems to be his guiding principle all these years.

Usually characters leave successful shows for the usual petty reasons: They demand exorbitant raises, they want greater challenges (starring in the movies). Or, like Paul Sorvino, they want to study opera.

Hill reportedly is throwing himself out of office by the traditional "mutual consent." At 78, he wants a rest. He can't keep up with the shooting schedule anymore.

Of all the lame excuses. He is in only two or three scenes a show. He holds his glass with the brown liquid that's supposed to be scotch, and gives his "moving on"' speech. Too tired? They could probably use clips from old episodes.

Hill is such a powerful actor, though, that his two minutes on the screen are unforgettable. He gave the show that certain gravity and dignity that it needed.

Sure, he wanted to quit. Like Chris Noth as Detective Mike Logan wanted to quit.

A dangerous Wolf

I may be too harsh, but my trust in Wolf has taken too many phaser blasts to the engine room. My rule of law in dealing with producers like Wolf is that he is guilty until proved innocent. With his rap sheet, the remaining cast members should be listening to the scratching at the door. Who will go next? In order of longevity, Detective Lenny Briscoe should be requesting a 24-hour police guard. I wouldn't want to sell him an insurance policy now.

In defense of the esteemed producer, the problem may be that he is too distracted by his attempts to get a series on the air that isn't a "Law & Order" clone. His mantra seems to be: "If at first you don't fail, try, try again." Most recently it was "`D.C." on WB. Next fall it's "Deadline" on Fox.

None of this is a knock against movie star Dianne Wiest, an innocent bystander in all this. She is a superb actor, though she has doubters. "Who is going to take Wiest seriously when she says, 'Make a deal! Fifty percent is better than losing the whole case!'" asks Irene Barrett of Huntington Station, New York. "I just remember her as the cocaine-sniffing bozette in 'Hannah and Her Sisters.'"

I, for one, am willing to withhold judgment. It all depends on how they handle her entrance in the plot.

At this juncture, I will say she is a great improvement on the Wolfman's usual attempt to bring balance to the cast: replacing the hot, sexy assistant DA with another hot, sexy assistant DA who herself replaced a hot, sexy assistant DA.

In the meanwhile, I'd like to see Hill joining Moriarty and Waterston in a show being written by Michael M. Thomas of Sag Habor, New York, "about a law-cum-investigation firm that makes things hot for the evil big boys in pinstripes."

Orbach Gets First Emmy Nod for "Law & Order"
Bill Tush, CNN, 9.6.00
After nine seasons on "Law & Order," Jerry Orbach finally has received his first Emmy nomination for the role of the no-nonsense Detective Lennie Briscoe. This pits him against co-star Sam Waterston, who plays the prosecutor on the NBC crime drama.

"I've been arm wrestling Sam in preparation for this," Orbach joked. "I think we're going up against some pretty tough competition."

That competition also includes: Dennis Franz, "NYPD Blue" (NBC); James Gandolfini "The Sopranos" (HBO); and Martin Sheen, "West Wing" (NBC).

"I don't have any high hopes of winning it, but we'll see," Orbach said.

Long before he signed onto "Law & Order," the 64-year-old Orbach was a star in musical theater. His big break came in the off-Broadway musical "The Fantasticks."

"I created the role of El Gallo -- the narrator, the bandit," he said. "(I) sang 'Try To Remember.' I think Polygram just ... reissued an album I did of songs from off-Broadway shows, which included "Try To Remember" and, of course, "Mack the Knife," which I sang in "The Threepenny Opera."

After stage work came TV and movie roles, but not right way, Orbach said.

"For many years, people sort of thought of me as a musical comedy song-and-dance guy and said, 'Oh he's not a really serious actor.' It all turned around with films like 'Prince of the City' (1981), 'Crimes and Misdemeanors' (1989) and 'F/X' (1986)."

He also appeared in "Dirty Dancing" (1987) as Jake Houseman, the father of Baby (Jennifer Grey). Little did he know how much the movie would catch on.

"I had no idea that it was going to become the cult classic that it is today," Orbach said. "I've talked to people, especially young women, who watched it a hundred times."

But it's still "Law & Order" that made Orbach a household name

"'Law & Order is just a phenomenon," he said. "I just looked at the ratings this morning. The summer re-runs are coming in the top 10. ... It's just wonderful."

And he says he has no plans to leave the show any time soon.

"We have an old saying: 'Don't leave a hit.' ... It's more than a paycheck -- it's interesting, good work that I really enjoy."

The Law & Order of Producer Dick Wolf
Frazier Moore, Associated Press, 9.25.00
NEW YORK (AP) -- Say, Dick Wolf: How's it feel to be a television magnate?

"I wish I knew," he replies.

False modesty? Prudent restraint? Either way, let's examine the record:

* Wolf's "Law & Order" begins its 11th season Oct. 18 on NBC. This celebrated cops-and-courtroom drama is not only the oldest dramatic series on the air, but with its guaranteed renewal through 2004-05, will stand second only to "Gunsmoke" as the longest-running non-news-or-sports series in TV history.

* Spinoff "Law & Order: Special Victims Unit" returns for its second season on Oct. 20, already blessed by NBC with a pickup through 2001-02.

* "Deadline," starring Oliver Platt as a crusading newspaper columnist, premieres on NBC next Monday (Oct. 2).

* "Arrest & Trial," Wolf's first venture into reality fare, begins a weekday syndicated run next Monday (Oct. 2) on 170 stations. Hosted by Brian Dennehy, each half-hour examines a criminal case through interviews, news footage and dramatic re-creations.

* And a third series carrying the "Law & Order" imprint could be in production as soon as January.

"That deal isn't closed-closed," Wolf says, "but I would say that there's a pretty good chance."

Not bad, not bad at all for the 53-year-old ad-man-turned-producer who, during the past decade, logged his share of flops, including "Gideon Oliver," "Christine Cromwell," "Nasty Boys," "Mann & Machine," "Crime & Punishment," "The Wright Verdicts," "Feds" and "D.C."

All the while, he had "Law & Order," which premiered on Sept. 13, 1990. But for years, even this series struggled in the ratings.

"'Law & Order' can hardly be thought of as a commercial hit," Wolf told The Associated Press in 1994. "It's a critical success that people know about and think fondly of, but I'm still looking for a show that's a commercial hit."

Happily for Wolf, that first hit was right under his nose. After enjoying steady growth, "Law & Order" the last couple of seasons has landed just outside the Top 10 in households.

These days, not only is the "Law & Order" franchise a linchpin of NBC's prime-time schedule, but also, according to a report in the New York Post, it may even inspire a true-crime magazine from Time Inc. (On this, Wolf isn't commenting.)

"Law & Order," says Wolf, "kind of settled into the consciousness." The Little Engine That Could became the Bullet Train.

And so has Wolf. Watch him move through the newsroom set of "Deadline" (actually, the Post's old newsroom), a big man with a big voice and laugh who, not infrequently, wears the look of a cat after lunching on canary.

Between fielding calls on his cell phone, he watches the filming approvingly and huddles with his stars between takes. He is particularly proud of "Deadline," a fresh dramatic take on crimefighting that also captures the quirkiness of journalists and of New Yorkers overall.

"It's the best first-year cast I've ever been associated with or can remember," he declares a week or so later from Los Angeles, en route from one meeting to another. Into his cell phone he lists names that include Platt, Bebe Neuwirth, Lili Taylor, Tom Conti and Hope Davis.

"But the strongest element of 'Deadline' is the storytelling," he adds just before he loses contact in the Valley.

Unlike most of the new series, "Deadline" won its 13-episode deal not with an expensive pilot episode but with a thrifty three-minute presentation.

Each year, scores of pilots are filmed for network consideration. Just a handful win a series order. The rest -- to quote an old joke -- are only good as raw material for guitar picks. Wolf has been among the most vocal critics of this system, describing it as "broken." Now he's broken free.

"We're not making pilots anymore," he says once phone contact is restored. "As far as we're concerned, the pilot process on shows that I create for NBC is over."

Another way Wolf breaks ranks: In a youth-obsessed business, he doesn't mind a graying staff.

He took one conspicuous blow against ageism this season by signing Arthur Penn as the new executive producer of "Law & Order." The director of the 1967 masterpiece "Bonnie and Clyde" turns 78 on Wednesday.

"He's one of the great American filmmakers," Wolf explains in a what's-the-big-deal? tone.

But don't forget the trend Wolf is bucking in his industry: Two years ago, a writer for "Felicity" was outed as being not 19, as she had claimed, but 32 -- an age she had feared put her over the hill.

"The essence of drama is a depth of experience in the human condition," says Wolf, who pegs the average age of the "Law & Order" writing staff at 46. "It's pretty hard to write about adult problems if you're 22."

Maintaining a pace that could age anyone, Wolf a day later will be back in New York, where all his drama shows are filmed. Meanwhile, the question persists: Shouldn't two coasts and four, maybe five, TV series certify Wolf as a magnate?

"The question's a little premature," he insists. "Ask me in November or December if everything is happening the way I hope it will."

Ex-'Law & Order' Actor Appears in Court
Jam! TV, 12.7.00
VANCOUVER (CP) -- It was a real life courtroom drama for former Law & Order star Michael Moriarty on Thursday when he made his first court appearance on an assault charge.

Moriarty, who appeared a half-hour after court began wearing a leather jacket and jeans, will return to B.C. Provincial Court Dec. 14.

The American actor, who seemed at times unsteady during his brief court appearance, had no lawyer. He told the court an unidentified friend would speak on his behalf, but the matter was quickly adjourned.

The 59-year-old actor's voice was hoarse, his greying hair longer than it appeared when he played assistant district attorney Ben Stone in the hit TV series.

Moriarty said little to reporters outside the courtroom, instead wrapping his arms around the shoulders of two friends who pushed past the media to a waiting taxi cab.

Moriarty, who won an Emmy award for his role in Law & Order, was charged after a woman complained to police last month that she was assaulted in a restaurant on trendy Robson St.

According to the police report, both Moriarty and his companion, Margaret Brychka, had been drinking.

In a long and meandering newspaper interview earlier this week, Moriarty waxed eloquent about his love of wine. Friends told the newspaper they have been concerned about his behaviour.

Moriarty has lived in Canada for several years.

After divorcing his first wife in the United States, he settled in Halifax and remarried.

He was arrested in 1997 for public intoxication after a bar brawl, but not charged.

Moriarty split from his second wife and moved to Vancouver two years ago. He has worked on TV and movie projects here, including a recently completed film entitled Hitler Meets Christ.

He's also recorded a jazz CD and dabbled in politics, including an attempt to found a republican party in Canada.