Law & Order: Articles, 1999


"Law & Order" Comes to TNT in 10-Year Deal
Linda Moss, Multichannel News, 1.11.99
In an unusual situation where an off-network show has grown substantially in value, Turner Network Television has bought the exclusive rights for Law & Order, which is currently in reruns on A&E Network.

TNT paid about $140 million to $150 million, according to sources familiar with the deal.

TNT, in its deal with Studios USA, will shell out twice what A&E paid for the first 181 episodes of the show - an estimated $200,000 to $250,000 each, according to sources -and a hefty $600,000 to $700,000 for this season s episodes. The deal adds up to between $140 million and $150 million during its 10year span.

Both TNT and Studios USA declined to comment on the price, but a TNT spokesman called the deal a financially reasonable one, based on the staying power and growing success of the series.

Law & Order's ratings have been growing stronger since it went into reruns on A&E in 1994. Last year, for example, the show earned a 1.6 Nielsen Media Research rating at the start of the year in its 11 p.m. time slot, but by December, it was up to a 2.2, a TNT spokesman said. The series also continues to perform well for NBC on Wednesday nights.

"It hasn't even peaked," the spokesman said, adding that Law & Order is a perfect mate for the other original hour-long drama that TNT has on-air, ER. TNT declined to comment on the cost of the Law & Order deal, but it paid an estimated $800,000 per episode for ER.

TNT initially gets the rights to this season's Law & Order episodes starting in September 2001. In addition, TNT will receive second-run syndication rights to the 181 episodes that A&E has been airing starting in September 2002, when A&E's deal expires.

There will be an overlap period, from September 2001 through September 2002, during which TNT will air the new Law & Order episodes from this season while A&E is still burning off the 181 initial episodes of the show, a Studios USA spokesman said.

Studios USA looked to jack up the license fees for Law & Order, which A&E bought for a relatively cheap $155,000 per episode.

An A&E spokesman wouldn't comment on the license-fee increase that Studios USA was seeking, but he maintained that it was the network's decision to pass on the show this go-around. He said A&E wants to target its resources toward original programming.

TNT, USA Network and A&E were bidders this go around, according to published reports.

Under its deal, TNT can air Law & Order in prime access (6 p.m. to 8 p.m.) or primetime.

Politics & Order
Michael Moriarty considering running for mayor
Tyler McLeod, Calgary Sun, 1.30.99
Isn't Michael Moriarty an odd choice to host the Calgary Philharmonic Orchestra's An American Anthem program tonight?

After all, the Emmy-winning actor practically fled the States a few years ago for semi-exile in Halifax, blaming "creeping McCarthyism" and a power hungry Washington for disenfranchisement.

"It's a fair question," Moriarty, 57, acknowledges. "The music on the evening comes from composers of the 1940s and '50s -- the '40s particularly -- and my idea of what America was at its greatest."

So while Moriarty may be an expatriate, but not entirely an ex-patriot. Love lost for Clinton's administration hasn't changed his feelings for Gershwin's and Copland's compositions.

"The music you'll hear was written by men of the 1940s. My role-models were men like that," Moriarty says.

While most know Moriarty for his four seasons on Law & Order, the Renaissance man is also a published author, produced playwright, recorded jazz pianist and composer. Another man of the '40s, his father, had the first influences on Moriarty's musical career.

"He should have been a musicologist. He had the best jazz and classics record collection in Detroit," Moriarty remembers.

"As an infant, I bathed in the best sounds of the best musicians in the world. That's where the composer comes from, not from a school. It's what you learn at your most impressionable time."

Among the American Anthems being presented this evening at the Jack Singer Concert Hall (tickets at Ticketmaster and the Centre box-office) will be Moriarty's own work, Symphony for Strings.

"The thrill is it will be the first time I've heard this with a full contingent with about 14 firsts and 11 seconds," he says.

Kerry Stratton of the North York Symphony will conduct the CPO.

"Kerry's a brilliant conductor. I've conducted it myself with stunning mediocrity," he admits.

"(The CPO) is a great symphony, I heard them on the radio. You can almost measure a city by its symphony."

Moriarty may be paying more visits to The Arts Centre in the future -- should he wind up in city hall across the street.

"In three years or whenever I get my citizenship I'm going to run for office," he says, although the Tony award-winner isn't entirely sure whose office he's eyeing.

While living stateside, Moriarty was approached by Libertarians to run for office and once announced he was running for president on a talk show.

"I think the Reform Party is now buried under Reformese. People don't know what Preston is saying," Moriarty observed.

"I hear a rumour there's a bit of lunatic fringe in the Reform Party. You gotta kick 'em out," he recommends.

The steadfast Republican could picture himself running for a seat in House of Commons under a unified right banner and is undaunted by a lack of right-wing support in his adopted home of Nova Scotia.

"If I run on a Reform/Conservative ticket, I'd be the first MP out of the Maritimes who is realistic. Filled with reality -- not the hell of good intentions," he told the Sun on the fifth anniversary of his resignation from NBC's Law and Order.

Moriarty felt NBC was attempting to censor his political opinions during a public quarrel with U.S. Attorney General Janet Reno.

"I should celebrate. I should send Janet Reno a thank you note. I would have never met Suzy and I would never have found my real vocation, which is politics," he said.

Suzana Cabrita and Moriarty were married in October and he credits her with helping deal with the alcoholism which occasionally landed him in the news.

"I'll be sober until I retire and then we'll go off and have some fun together. But I'm too busy now ... I'm a workaholic."

In recent years he has appeared in Canadian productions such as Emily of New Moon, Psi Factor and Major Crime. Moriarty has just completed a sequel to the family hit Shiloh and Woman Wanted with Kiefer Sutherland and Holly Hunter in Winnipeg.

"My favourite city in Canada is Winnipeg, of which I am the Honorary Mayor. Now you can refer to me as Your Worship," he joked.

Moriarty noted he wouldn't run against the mayors of Halifax or Winnipeg because he gets along well with them.

However, if popular Calgary Mayor Al Duerr should ever decide against another term...

"I'm going to hold that card open," he smiled.

At any rate, Calgary can almost count on a return visit from Moriarty, who made the mini-series Children of the Dust here in 1995. He may film in the area this spring or even book a date during Jazz Fest.

Next Up on Law & Order: Julia Roberts
Claire Bickley, Toronto Sun, 3.19.99
NBC's three-season renewal of Law & Order is a step in the right record-book direction for executive producer Dick Wolf.

Not satisfied with being TV's longest-running current drama, the Wolf-man wants his cops and lawyers series to last longer than TV's longest-ever series: The 20-season Gunsmoke.

"My fondest desire is that we will be using the children of current crew members and that people will get to retire from the show," Wolf says of his now nine-year-old creation.

So what's the secret to its longevity and ratings stability despite an unprecedented turnover in lead actors over the years -- 14 actors in its six key roles?

Perhaps that maturity behind the scenes leads to maturity on the screen, Wolf says. The average age of L&O staff writers is 46.

"If you're doing adult dramas, it's kind of hard for writers to do it if there isn't some mileage on the odometer," he says.

L&O's odometer clicks over its 200th episode May 5 with a guest appearance by star Benjamin Bratt's girlfriend, Julia Roberts, playing the widow of a man who died after taking Viagra.

The milestone hour is scripted by Robert Palm, whose age I can't say. But, having shared a Jacuzzi with his lovely and charming ballerina wife recently, I'm betting he has no need for that particular wonder drug.

Keeping Law & Order on the NYC Streets
Linda Marshall-Smith, Location Update Magazine, April 1999
Studios USA, then known as Universal TV, began preproduction on the Emmy Award-winning NBC series Law & Order in New York City in February, l990. It was originally produced under the NABET umbrella. (Author's note: NABET is the National Association of Broadcast Employees and Technicians.) When NABET and the IA (International Alliance of Theatrical Stage Employees) joined forces in the early 90's, the union continued to honor the original NABET agreement with Law & Order's producers. Since the newly merged IA would not concede contract negotiation differences on other projects, the studios imposed an unofficial boycott on New York. Law & Order was literally the only show in town. Nine years (several thousand projects and ratified IA contracts) later, the series is still one of New York's premiere productions and employers.

Co-Eexecutive Producer Jeffrey Hayes was there from the beginning. "Law & Order took over an abandoned pier on the Hudson River at 23rd Street. It took some work to clean it up, but back then, we had the run of the place. We had unlimited parking, and a lot of different locations we could shoot for free. We could go anywhere on the pier and get different looks, usually the run-down look, and we had all the room we could hope for. But, safety was an issue back then. The neighborhood was shaky, and the bus stop was several blocks away. If we worked late, we walked the women to their cars or the bus. Forget about getting a cab late at night down here. When the Pier (Chelsea Piers Management Company) took over, it became a much, much nicer facility. Cabs come day and night. The bus was rerouted and now there's a stop right in our parking lot. At night now, there's no problem. It's all lit up. The whole neighborhood uses the place and the neighborhood itself has undergone a major gentrification. Day or night, it's much safer."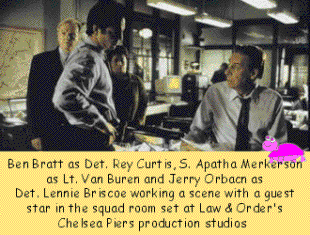 However, for Hayes and the Law & Order production staff, the transition period was difficult. "Pier Management tried to accommodate us, but they were doing a massive construction. Our PA's were constantly doing 'rolls and cuts' with construction workers."

Now that Chelsea Piers is it's own metropolis (there are ice skating rinks, golf driving ranges, a gym, a heliport, restaurants, batting cages, basketball courts, gymnastics, indoor soccer and volleyball, an indoor pool, a marina, a five-camera show, Spin City, that likewise shoots out of Chelsea Piers), there are added disadvantages.

"Because Chelsea Piers has become it's own 'destination' now, we are allotted about 20 parking spaces. The crew has to pay (market rate) to park. They get a monthly deal, but it's still very expensive compared to paying nothing. Plus, we just can't go shoot anywhere we want now. If we do, we are paying somebody for something. On the other hand, it's a real restaurant, or a real gym that we'd have to pay for anywhere, but it's conveniently close to us right here on the pier. There are trade offs."

According to Hayes, the major problem with Chelsea Piers as a production facility, is the incompatibility of it's overall usage. "The Management is trying to accommodate us, but they have no real idea what our business needs to operate efficiently. They have their priorities. We have a sports facility next to us and they will book an event with crowds and noise, and then ask us if we can move our shoot days on our own stage. They are not demanding, but they can't understand why we can't do it." Hayes feels that unless you design a facility from the ground up, you can't really have a public space and a production studio as one entity without encountering a myriad of problems.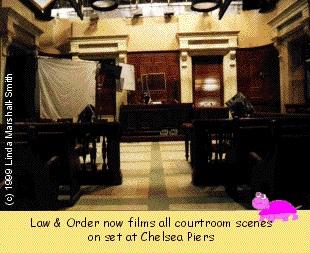 In addition, the Law & Order stages are not properly soundproofed. "So we hear helicopters, cruise boats coming in and out of the marina. Though I personally love boats," admitted Hayes, "it causes sound problems when we're on stage. But, we do shoot exteriors on the pier and in the marina. That's a lot of production value. So there are pros and cons."

Did Universal ever consider buying the Pier and dedicating it solely to production? "I approached them about it several times over the course of our being here," reflected Hayes, "but they are hard pressed to think further than the next pick up" (of the series by the network for the coming season). Since Universal is not in the business of Real Estate, they continue to rent the space at the Pier. According to Hayes, it's lucky they have it. "The problem now, in New York, is you can't get a place with any height. If you want to do a series, you'll have a hard time finding a facility to accommodate you."

Hayes regrets that Universal never invested in their own NY-based facility. "They've always had a presence in New York, but we could never doing anything unless it was on our pick up. If it was a year's pick up, we had to amortize everything over the year. Which meant we had restrictions on the number of sets we could build. We could have saved the studio a lot of money if they allowed us to do what we knew to be true. Of the sets we did build (squad room, hospital, morgue and forensics lab, Riker's Island jail and interrogation room, the DA's office, and the Courtroom, all on three stages) we have saved the studio a bundle."

But Law & Order did not always have a courtroom on the stage. For the first four or five seasons, the courtroom scenes were shot at a practical courtroom location in one of the civic buildings downtown. It was donated by the City of New York, and dedicated to Law & Order on an exclusive basis.

"We really have to thank the City for that," said Hayes. "Their giving us that courtroom made the series possible. You're never going to build a courtroom for a startup show and then find a place to put it. They gave us exclusive access, enabling us to install a lighting grid and leave it in place and keep other equipment in the room. That courtroom was ours, free of charge from the City, and that enabled the show to get on it's feet."

Now that the show has a courtroom built on a sound stage, they save time, and have the flexibility to convert it into four different types of courtroom settings. "But we still go downtown to the civic center and shoot our exteriors."

In fact, the City of New York has become it's own character in the show. With an 8-day shooting schedule, they shoot an average of four in and four on location. "Because it's so easy to get in and out of here," noted Hayes, "we may be out for a day and in for two, and out for two, and in again. When we do go out we really want to show off New York. Not your Statue of Liberty shot, but a real New York-type thing. We're shooting a night exterior on Duane Street this week. The cobblestones, the overhangs. It's going to look great!"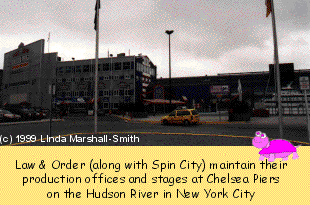 In all, Hayes feels that Universal has been supportive of the show being shot on location in New York. "During the first two years, they did want us to take it somewhere cheaper. LA? Toronto? But the head of Labor Relations (from Universal) and I negotiated with all the unions and told them we had to cut $50,000 per episode to bring the numbers more in line with LA. Universal was going to move it unless we could cut that money out. So, we got all the unions and guilds together and in two meetings, everybody pitched in and came through and gave something back. It really did save $50,000 an episode and saved Law & Order for New York." Hayes is proud that the deal became the boilerplate for one-hour dramatic television in New York, and paved the way for other shows.

But with all this increased production in New York, Hayes feels that the production on the whole is suffering. "Neighborhoods are getting burned out. A feature will come in and tie-up so many blocks for so long, the neighbors get very annoyed. I don't blame them. I call it vehicle-size inflation. Big campers, buses, tractor-trailers, honeywagons. It takes up so many blocks. Law & Order's unit is the same size as features like The Godfather and Serpico. We look so small compared to something like You've Got Mail which was not a night location show, or stunts. These units take up blocks and blocks, it's unbelievable. We suffer for it when it creates a 'hot zone,' and our show, which can get in and out in a day, is restricted from filming in those neighborhoods. It makes it doubly tough for us because a feature can scout for months and decide months in advance they want to shoot on a specific block. We get 8 days to prep an episode, and the City can say yes or no. Sometimes we press the issue and have gotten them to relent, but sometimes they won't. Makes it tough for us. I think the City should treat us differently than big features. We work differently. We've been here for 9 years. We were the only employer of production people in the City for a season or two, and we don't burn locations or neighborhoods. We should be recognized for that and get more leeway than a feature, because we don't operate the same way."

For the most part, Law & Order maintains an excellent rapport with the Mayor's Office. The NYPD Motion Picture and Television Unit (aka "the Movie Police") has become a pivotal partner in helping facilitate shooting.

And in those 9 years and 200 episodes filmed in New York, they have recently reached their 20,000th location file.

"We've been keeping busy," admitted Location Manager, Moe Bardach. "Our location budgets per episode have remained fairly consistent over the years, coming in somewhere between $25-30K. That includes shooting four to five interiors/exteriors per day and we're out about four days per episode."

Filming on City-owned property helps keep the costs down. "We rarely 'pay off' neighboring businesses," stated Bardach. "Although it has been known to happen in New York, I do everything I can to minimize it. We have a well-staffed department and we work with everyone. We find if we keep communication open, they don't hold us up for money."

In Bardach's 6.5 years with the show, where they are out on the city streets for at least half an episode, it's been the rare occasion where they've had to pay off a neighboring business. "We go out of our way to reach out to neighbors in advance. Sometimes, on the day, even after all our advance work, a merchant will approach us and say: 'You are impeding my business.' I'll move the truck 50 feet to alleviate the problem. I'll try that first. We don't want to set a precedent. If they jump in front of the camera, or make a commotion, I'll enlist the help of the movie police assigned to us. Because at that point they are disturbing the peace, and we have a permit with the City to be filming. It's one thing if we're on their property, or photographing their exterior, of course we pay for that. But if we're not on their property, we're on the public sidewalk and filming inside another location, we don't pay."

Bardach's major complaint about the recent boon in film production in New York of late is that he finds himself following feature films, and sometimes even large budget commercials, who have left a lot of big money deals in their wake. On Law & Order's budget, it's hard to compete with that. "It's a lot easier for us now because the show is very popular and it's a top-quality program. People believe in it, and that helps when it comes to doing location deals."

Bratt Latest "Law & Order" Departure
Marcus Errico, E! Online, 4.30.99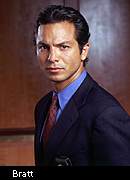 Benjamin Bratt is pulling a David Caruso, leaving
Law & Order
at the end to the season to pursue a movie career.

"[Bratt] is at a point in his career where he could break out as one of the top leading men of his generation," says producer Dick Wolf in a statement. The actor will soon start working with Madonna and Rupert Everett on The Next Best Thing.

He's the latest in a long line of the Law & Order's detectives and assistant D.A.s to fly the coop.

Bratt played Detective Reynaldo Curtis for the past four seasons, taking over when Chris Noth exited. Over the past nine years, Law & Order has lost enough cast members to people a couple TV series: George Dzundza, Paul Sorvino, Dann Florek, Michael Moriarty, Richard Brooks, Jill Hennessy and Carey Lowell, among them. (Only Steven Hill's crusty D.A. Adam Schiff has been a part of every season.) The show, which NBC has just picked up for three more years, has maintained its critical and popular success despite the turnover.

Law & Order marks its 200 episode next Wednesday, with a special appearance by Bratt's real-life significant other, Julia Roberts.

Detective Curtis will not be killed off; he'll leave the force to spend more time with his ailing wife. Wolf has extended an open invitation to Bratt to reprise his role in the upcoming Law & Order spinoff, Law & Order SCU (short for Sex Crimes Unit).

Bratt will be replaced by Jesse L. Martin, better known as Ally's doctor boyfriend on Ally McBeal and the alien baseball whiz in last week's The X-Files. Martin also was in the original cast of Rent.

For his part, Bratt says he looks forward to "get back home to my family...It was an extremely difficult decision that I had to make."

No kidding. Bratt better hope his post-TV luck is little better than Caruso's, who infamously left NYPD Blue after one season to star in a string of box-office bombs.

And if isn't, at least he still has Julia.

'Order' Form
Benjamin Bratt's departure won't hurt 'Law & Order'; Bruce Fretts looks at the Emmy-winning show's future in the wake of the star's decision to quit
Bruce Fretts, Entertainment Weekly, 5.6.99
So Benjamin Bratt's leaving ''Law & Order.'' Big deal! Okay, I guess it is to some fans -- he's clearly the show's biggest heartthrob since Chris Noth, whom he replaced as Jerry Orbach's junior NYPD partner. The thing is, though, Bratt was never as compelling of a presence as Noth.

As Det. Rey Curtis, Bratt was brought in four years ago to stir up tension with Orbach's Det. Lennie Briscoe. Producers supposedly felt like the team of Briscoe and Noth's Det. Mike Logan had become too buddy-buddy. (Of course, the off-screen clashes between Noth and series creator Dick Wolf might have had something to do with the actor's departure, too.) But Curtis and Briscoe quickly became simpatico, making Noth's exit seem all the more pointless.

Bratt's a perfectly competent actor -- he's much more natural, for example, than stiff-as-a-board Carey Lowell, who has gracefully been replaced by the fiery Angie Harmon as the show's resident sex-bomb assistant district attorney this season. But while Bratt chose to let his sensuality simmer, Noth exploded off the screen. Loose cannon Mike Logan was simply more fun to watch than cool cat Rey Curtis.

Wolf seemed to realize his mistake when he mended fences with Noth and made a TV movie, ''Exiled,'' with him reprising his role as Logan last season. The film did surprisingly well for NBC in the ratings, so don't be surprised if we see more Mike Logan movies.

We may not have seen the last of Rey Curtis, either. Bratt says he would like to reappear occasionally on ''L &O.'' His stated reason for leaving is that he wants to ''spend more time with his family,'' which is odd since he's not married and doesn't have any children. But he is dating Julia Roberts -- who just guest-starred on the drama's 200th episode -- so you can't blame the guy for wanting more free time.

Don't worry, ''Law & Order'' fans: The show will go on. As has often been noted, the actors aren't the stars of this series, the stories are. In its nine seasons, the Emmy-winning NBC drama has seen its entire original cast turn over (indispensable DA Steven Hill didn't join until the second episode), and the show just gets bigger and better.

Plus, Bratt's replacement, Jesse L. Martin, has been one of the very few reasons to watch ''Ally McBeal'' this season. As Ally's on-again, off-again doctor boyfriend, he cooked up chemistry with the chilly Calista Flockhart, so Jerry Orbach should be no problem.

Jesse Lays Down the Law
Stephanie Williams, TV Guide, 10.30.99
Jesse L Martin knows how to melt hearts, and he's had plenty of practice. He did it as Dr. Greg Butters on Ally McBeal, when he courted Ally with a birthday serenade. He did it as Tom Collins in the Broadway production of "Rent," when he sang passionately to his lover, who had just died of AIDS.

Now he's at it again on the streets of New York—where he's greeting a complete stranger (this TV guide reporter) with a heartfelt hug before sitting down to lunch at a cozy tearoom in Tribeca.In fact, his charm is practically a liability: When Dick Wolf, executive producer of NBC's Law & Order (Wednesdays, 10 P.M./ET), was fashioning the role of Detective Ed Green for Martin, he had to go out of his way to throw in a few flaws—like a yen for gambling and a tendency toward aggressive police work—to make him credible as a New York City cop.

But Martin hardly minds toughening up his image—not if it means a regular role on a series he has always respected. "For New York actors, it's been the show to watch. If you got to guest-star, you were the bee's knees," Martin says. The minute he heard a rumor that Benjamin Bratt wanted to leave the show, "I was gunning for it," he says. Wolf claims Martin was always "on a very short list of one" due to his rare combination of "credibility and likability" and his "immense appeal" for both men and women. "That may be true," says Martin, "but he made me sweat it just a little bit." Wolf, who heard that other networks were offering Martin development deals, offered him the job without an audition.

The gamble paid off: This season the ratings are up almost 40 percent. "I don't think you can credit it to any one cast member," says Wolf. "But there's clearly no sense of disappointment in the switch." Wolf adds that when a character is replaced, he's usually deluged with letters saying, "I'll never watch the show again." No one, he says, has objected to Martin's arrival. Except maybe viewers who wanted Ally to become Mrs. McBeal-Butters. "I don't know if there was any plan to keep me as a regular character, and I couldn't even see how it would work," Martin says. "If you know anything about Ally, it's that she can never keep a man." Also, Martin refuses to put down roots in Los Angeles; when he has worked there, he's stayed with a college buddy, Shawn Michael Howard (now a voice on The PJs).

He may be a dedicated New Yorker today, but Martin, 30, still has traces of the accent he picked up in Virginia's Blue Ridge Mountains, where he was born to Virginia Price, now a retired college career counselor, and Jesse Reed Watkins, a truck driver. His parents divorced when he was young, and his mother moved the family to Buffalo, New York. (Martin—whose family calls him by his middle name, Lamont—and his four brothers took the surname of their mother's second husband, who passed away two years ago.)

The move wasn't easy. On top of being the shy new kid, Martin was part of a forced busing program that brought students from his neighborhood into another district. "It was terrifying. A lot of people were very, very opposed to it," he recalls. "There were protesters and signs with unmentionable words blazoned across." It wasn't until a fourth-grade teacher cast him as a pastor in a play that he felt accepted.

"It was the first time I felt any kind of overwhelming love, and I was like, 'Wow!' "he recalls.

After high school, Martin worked his way through New York university mostly at restaurants. Then came the starving-artist years with small roles on soap operas and commercials. He finally achieved some measure of stability in the mid-'90s, with his breakthrough role in "Rent" and a part on Fox's short-lived 413 Hope St. Producer David E. Kelley spotted him onstage and hired him for the role on Ally McBeal.

Martin's romantic life has been less of a success story—"I'm actually trying to see somebody now, but it's proving to be impossible," he says—due to his busy schedule. All he'll say is that the object of his affection is a New York actress Howard recently introduced him to.

So for now, both on-screen and off-, Martin is channeling his passion into his career. While Martin says he has made "real good pals" with costar Jerry Orbach, their characters, Detectives Green and Briscoe, will soon "get into it." (And incidentally, Martin recently made the papers by getting into a small squabble with Rosie O'Donnell, who confronted him on her talk show about the grim new series Law & Order: Special Victims Unit [NBC, Mondays, 9 P.M./ET]. "It wasn't a big deal, and she knew I wasn't offended," Martin says. "I think the show's great, but I agree with Dick Wolf that it's inappropriate for the time slot.")

What seems clear is that Martin's gift for empathizing won't go to waste on the beat. "You just have to pick and choose when you can infuse these stories with emotion," he says. "I mean, I'm not the kind of actor that goes without it, you know what I mean?"

That's for sure: As he takes leave to walk the few blocks home to his apartment, Martin initiates another full-body hug. That's the kind of guy he is. Eat your heart out, ladies.

The Long Arm of the Law
How LAW & ORDER--the true-blue show. the relentless reruns, the sensational new spin-off--has become TV's most arresting development
Benjamin Svetkey, Entertainment Weekly, 11.12.99
On LAW & ORDER, the audience is served by two separate but equally important groups. The writers, directors, and producers who've made the show one of the savviest, most addictive crime dramas on television today -- not to mention the longest-running -- and the actors and actresses who miraculously manage to make New York City cops and lawyers look sorta sexy. This is their story....

If this magazine article really were an episode of Law & Order, right about now we'd be strolling down a darkly lit Manhattan avenue, minding our own business -- returning home from the opera, perhaps -- when suddenly we'd stumble upon a dead body in a doorway. Or slumped in a parked car. Or poking out of a manhole. Whatever. The point is, we'd be inside what the show's writers call ''the teaser'': those crucial two minutes before the opening credits that begin every episode's famously plot-twisty, unfailingly topical hour-long journey through the criminal justice system.

In our particular teaser, however, we won't bumble onto a crime scene. Instead, we'll encounter a different sort of unsolved mystery: the case of the 10-year-old legal drama that was originally turned down by two networks (and almost canceled by a third), which has undergone more cast changes than Cats, and yet is currently more popular than ever. A show that has not only survived an entire decade -- in itself an accomplishment only a handful of dramas can claim -- but has also grown into a TV phenomenon, an entertainment empire that's now spreading across the tube like a pre-Giuliani-era crime wave.

Wherever you are, whatever time it is, there's probably a Law & Order episode on TV right now -- or soon will be. Aside from the original Wednesday-night airings on NBC, you can find reruns on cable's A&E channel four times a day. There's also NBC's new Monday-night spin-off, Law & Order: Special Victims Unit -- a grittier, grimier drama loosely based on the NYPD's real-life sex crimes division -- which is also in repeats on the USA Network on Sunday nights. Next year, TNT stakes out a piece of the action, airing Law & Order reruns from the last three seasons (A&E will continue repeating episodes from the first seven). And next fall NBC has slated yet another Law & Order series, Deadline NYC, about an investigative journalist who may end up covering some of the same cases being litigated by the characters on the other shows.

All in all, it amounts to the most ambitious franchising of a TV series in network history, a trans-channel web of interconnected shows in which plot and character crossovers will be as common as commercials. ''That's the master plan,'' says Dick Wolf, the 52-year-old veteran producer who created and oversees all the Law & Order shows. ''If we pull it off, it'll be like Dickens' London, where the characters freely transit between the various shows and it's all part of one big TV universe.''

In other words: today Wednesday nights, tomorrow the world. How did it happen? When did Law & Order start annexing the airwaves? And can Wolf really pull off his audacious master plan? We'll start the investigation in a second. But first, since this teaser is just about over, there's one other thing we have to do. After all, if this article really were a Law & Order episode, the next thing you'd hear would sound something like... Cha-chung!

I have this theory about long-running tv shows," ruminates Sam Waterston, who for five years has starred as L&O's Jack McCoy, the crusading assistant district attorney who sometimes cuts constitutional corners and doesn't always get his man. "There's something about the fundamental structure of a show like ours that says something people recognize to be true in their own lives. That's why they can watch it over and over and over again."

Waterston is taking a brief recess in his dressing room on Law & Order's soundstage, a cramped compound lumped alongside the massive Chelsea Piers complex on Manhattan's Lower West Side (at this point in our episode, we'd flash a bogus New York City street address on the bottom of your screen--972356 West End Ave., cha-chung!--which would translate to a spot smack dab in the Hudson River). Parts of the show, like street exteriors and apartment interiors, are filmed on location. Everything else is shot in the soundstage's surprisingly dainty but authentically dingy squad room, its cozy wood-paneled DA's offices, and its even cozier fake courtroom. If the real criminal justice system had a Mini-Me, it would look a lot like this place.

"The deal with Law & Order," Waterston continues, "is that its world is indifferent to its characters' personal lives. Private lives don't matter on this show except as they affect people's jobs. That's the way the show is structured. And I think audiences like that. It's real."

He's right about one thing: L&O is not a typical cuddly character-driven network drama. After five years, for instance, pretty much all we know about McCoy's personal life is that he likes to drink (perhaps too much), that he enjoys the company of attractive female assistants (perhaps too much), and that he owns a motorcycle jacket (although we have yet to see the motorcycle).

Instead, Law & Order is almost entirely story-driven. Its rotating stable of writers--all of whom, oddly enough, live in Los Angeles, where they scour newspaper clippings for plot inspirations (sometimes getting ahead of the news; last year's episode about a school shooting was actually written before the Littleton tragedy)--are under orders to keep it strictly business. "If it's not pertinent to the plot, it ends up on the floor," says executive producer and head writer Rene Balcer. "We're trying to cram 20 pounds of show into a 10-pound bag, so there isn't room for anything else."

"It's very much like Dragnet," agrees Jerry Orbach, whose corned-beef-on-wry character Det. Lennie Briscoe is nothing like Joe Friday. "They only throw in a little personal thing once in a great while--like that story arc where my daughter was involved in a drug thing and got killed. But mostly you don't learn much about us."

This by-the-book approach to TV drama at least partly explains how Law & Order has accrued such a huge following over the years. It allows uninitiated viewers (like all those latecomers discovering the show's reruns on A&E) to jump into the series without having to worry about who's sleeping with whom and all those other messy episodic plot points that junk up most dramas. Also, it makes cast changes a lot easier. And on Law & Order, that's an extremely attractive quality.

This season, for example, Jesse L. Martin (who played Calista Flockhart's beau on Ally McBeal last year) replaces Benjamin Bratt (who plays Julia Roberts' boyfriend in real life). He stars as Det. Ed Green (see story on page 33), who may or may not have a gambling problem ("He may also be prone to excessive force," Martin adds). Last year's newcomer, Angie Harmon (Baywatch Nights), who plays ADA Abbie Carmichael (replacing Carey Lowell's Jamie Ross, who previously replaced Jill Hennessy's Claire Kincaid), explains the old switcheroo:

"There are always comparisons," she says. "People grow to love these characters. But it's not like I'm playing Jamie Ross. I mean, besides the obvious fact that Carey's a blond and I'm a brunet, they're very different. Mine is a lot tougher. She's a hang-'em-all Texan. When I hear comparisons, I'm like 'Do you people actually watch the show?'"

Of course, not all the cast changes have gone smoothly. Waterston's predecessor, Michael Moriarty, left the show in a flameout so spectacular his career is still smoldering. In 1993, Moriarty denounced Janet Reno as a "mindless attack dog," all but accusing the Attorney General, NBC, and Wolf of conspiring to muzzle the conservative politics of his fictional character. (He later ran for President; this before Warren Beatty and Donald Trump made it the hot celeb trend.) "His brain crossed wires," says exec producer Ed Sherin. "The synapses weren't working. He lost it." (Moriarty, who has since moved to Canada, couldn't be reached for comment.)

That same year, Wolf and NBC actually did enter into a conspiracy--sort of--when the net decided the show needed less cha-chung and more boom-chick-a-boom. "In March of the third season, I got a call from [then] NBC president Warren Littlefield," Wolf recalls. "He said, 'I'm giving you your cancellation notice a year early.' He said the show was the most testosterone-driven series on television, that virtually no women were watching, and that if I didn't put women in the show it couldn't survive. I told him the only way to put women on the show is to fire some of the men."

Exit Richard Brooks (who played ADA Paul Robinette) and Dann Florek (Capt. Donald Cragen), at least temporarily. Although both actors found themselves replaced (Hennessy got Brooks' job in the DA's office; S. Epatha Merkerson took over as squad room boss), their characters haven't completely disappeared. Brooks brought back Robinette (now in private practice) for an L&O guest spot, while Florek has returned full-time to run the precinct on SVU.

No other cast changes appear to be imminent--but that hasn't prevented Law & Order's stars from contemplating inventive exit strategies should the pink slip ever toll for them. "Maybe he could die in the arms of a young lady," says Orbach, contemplating his character's demise. "He could have a heart attack, like Nelson Rockefeller. Get caught tied up in a hotel room." He pauses to imagine the unlikely scene. "Poor Lennie."

I wish i could tell you that it was a totally creative decision," Wolf says sheepishly, recalling how, in 1988, he first came up with the idea for Law & Order. He's trying to take a seat in the restaurant at New York's Pierre Hotel, where he's just arrived from L.A. to attend a party for the prince of Monaco (Wolf is an honorary consul to the postage-stamp-size country). But even though this onetime Madison Avenue whiz kid (in the '70s, he cooked up National Airlines' notoriously suggestive "Fly me" spots) is now one of TV's hottest producers, he's still not permitted to sit in the Pierre's entirely empty restaurant if he isn't going to order lunch.

"In 1988 there was no aftermarket for one-hour shows," he continues after a waiter fussily escorts him to the also-empty bar. "So I was trying to come up with an hour show that could be split into two half-hour shows for syndication. And then one day it hit me: cops and lawyers!"

Ah, the exquisite agony of the artistic process. Wolf first pitched the idea to the Fox network, huffing and puffing until Barry Diller--then CEO--was blown away by the concept; Wolf claims Diller offered him a 13-episode commitment, but called two days later to renege. Next Wolf pitched the show to then-CBS prez Kim LeMasters, who liked the idea so much he commissioned a pilot. Then LeMasters saw the pilot he'd ordered, and called to change his mind. "He decided there were no breakout stars," Wolf says, nearly growling at the memory.

Finally, in 1990, two years after making the pilot, Wolf found a net that was (to shift fairy-tale references) juuust right and Law & Order found a home on NBC's prime-time lineup. Which is where the show might have stayed, burning out after a respectable five- or six-year run. Except, in 1994, Wolf signed what he calls "the worst deal in the history of TV." He sold the syndication rights for L&O--the full hour-length shows, not the 30-minute slices he'd originally planned on peddling--to cable's A&E network. "They picked it up for an insane number of runs for no money at all," he says, shaking his head. "But it ended up working out in the long run."

Oh, it worked out, all right. Nobody knows how many of the 18 million viewers who now tune in to Law & Order every Wednesday night discovered the show on cable, but it's no accident that the series' ratings on NBC have risen proportionately to A&E's audience (the channel is now piped into about 75 million homes). Wolf hopes for similar results from a groundbreaking Special Victims Unit deal; the USA Network will air SVU reruns a mere 13 days after their NBC premiere.

"Law & Order was more than a franchise--it was becoming a brand name," Wolf says. "So having spent all that time in advertising, I asked myself, What could I do to extend the brand? And Special Victims Unit was one of the ideas. I have at least two others that could go under the brand," he adds, hinting at more layers (and lawyers) in his master plan. "I've got ideas stacked up over my head like jets at La Guardia...."

First things first. Before anything else, Wolf will have to keep Special Victims Unit from becoming a special victim itself--which may not be so easy given where NBC has plunked it on the schedule. Not only is SVU saddled with an unfortunate 9 p.m. slot (cramping the sex crime drama's racy 10 p.m.-style story lines), but it also faces fierce competition from Fox's Ally McBeal (which traditionally draws a large female audience) and ABC's Monday Night Football (which traditionally draws the entire male audience). So far, the numbers have been promising but inconclusive--around 13 million viewers a week--but there's no question about one thing: Wolf won't have 10 years to make the show a hit.

That's a fact of life that hangs over the Special Victims Unit set like an ominous, unsettling mist (then again, SVU's soundstage is in New Jersey, so maybe there's another explanation for that purplish cloudlike thing in the sky). Everyone involved in the show is keenly aware that after only a month on air, some tweaks are inevitable. "Which episodes did you see?" asks Mariska Hargitay, the actress who plays Olivia Benson, the chip-on-her-Calvin Klein-shoulder-pad detective who, along with Christopher Meloni's Det. Elliot Stabler, toils for SVU's sex crime squad. "Because the first one is kind of weird. I come off like a real hothead in that episode. It gets better."

The show has already proved clever enough to reserve a squad room desk for Richard Belzer's Det. John Munch, the deliciously deadpan conspiracy wacko who helped make the late great Homicide: Life on the Street one of NBC's finest hours--but here's what changes to expect. For starters, although SVU was never intended to be split into 30-minute segments for syndication, it's going to be restructured more along the original Law & Order model, with cops in the first part and courtroom scenes in the second (a special sex crimes prosecutor, still uncast, is being written into future scripts). Also, expect a rollback in the personal department.

"Dick originally said he wanted 20 percent personal stuff, 80 percent legal," says SVU's head writer, Robert Palm, with a tinge of nervousness in his chuckle. "Now he's talking about bringing it down to about 7 percent."

Take away another six percent and it'll almost be like L&O. Minus one critical element: It still won't have Steven Hill, the ex-Actors Studio star who, as the charmingly crusty DA Adam Schiff (L&O's only irreplaceable character), has single-handedly raised the craft of eating a sandwich to heights even his old acting teacher Lee Strasberg couldn't have imagined.

Hill, of course, is also the one who closes most of the episodes with a snappily delivered, sublimely crabby ironic crack. Like this one: "Nobody eats on TV like I do," he says, nibbling a lemon tart, theatrically spewing crumbs all over his dressing room. "That's the reason the show's been so successful. They've all tried to copy me. But they can't. They don't know my secret." He takes another crumbly bite. "And they never will."

Cha-chung.

The Young Gun Behind L&O's Loose Cannon
Ken Tucker, Entertainment Weekly, 11.12.99

Jesse L. Martin is strolling past a bowling Alley on Manhattan's midtown West Side when two young men look at him, do an In synch double take, and one begins to shout excitedly, "Hey, you're my man! My Ally McBeal man! My Law & Order man!".

"Hey man", says the other fellow, pulling out a scrap of paper out of his pocket, "I know you have a life, I'm sorry to interrupt you, but you gotta sign an autograph for my girlfriend". Martin, pulling out a pen, smiles and signs, "Thanks for noticing: Jesse L. Martin".

A lot of people are noticing Martin these days. The 10th-season premiere of Law & Order was it's highest rated ever, so millions were introduced to Martin's "Ed Green is not a predictable guy" says Martin. "There's not a lot about him that I know, and as (L&O creator/producer) Dick Wolf says, you only get eyedroppers-ful of these peoples lives as the series proceeds". Wolf himself observes of Martin's character, "this guy is something of a hothead. . . and he doesn't perceive himself as having a gambling problem, but that might be open to debate."

Before scoring his new L&O gig, Martin had auditioned for the show numerous times. "It's like the New York actor thing to do-this is the show everyone wants to guest on. The only time I got offered a role was as a car-radio thief named the Hamster. I needed the money and the job, but I turned down the role because it was so small and I wanted to hold out for something bigger-which didn't come along for awhile".

Though Martin couldn't get arrested on L&O, he was wanted elsewhere. He costarred in the original cast of Rent and landed a recurring role on Ally McBeal as Dr. Greg Butters, the string bean lawyer's melt able love interest. "Then I heard through the grapevine that Ben Bratt was leaving. I called my agent, got an interview with Dick Wolf, and basically begged him for the role, and I'd read with anyone, do anything".

Martin was based in L.A. at the time. While earning his keep on Ally, he also appeared last season in a memorable episode of The X-Files - written and directed by David Duchovny - in which he starred as an alien-turned-Negro Baseball League star. "I'd just received development - deal offers from two networks - CBS and Fox - and they would have left me sitting around in L.A., which I don't really enjoy as a place to live. Those offers helped, though, because they spurred Dick to make up mind about me more quickly".

Born in Rocky Mountain, VA - "nestled deep in the Blue Ridge Mountains, I was a country boy who had to lose his accent to make it on the New York stage" - the 30 year old Martin is the son of a truck-driver father and a retired college career counselor mother. His parents divorced when he was young, and Martin moved with his mother to Buffalo where "I was subjected to forced busing. In the fourth grade, I had a teacher who asked me to be in a play, The Golden Goose. I was the pastor, which I associated with a brimstone and fire, Southern Baptist sort of preacher, so that's the way I played it. None of the white kids there had ever seen anything like that, and everyone was impressed, though it was very funny. I got so much positive feedback, I knew I was on my way to being a performer".

Martin says his "dream project" is to star in "a feature-film biography of Marvin Gaye", and the instant he tells you that, you realize he's got more than a passing resemblance to the Motown soul singer. What's going on now, thought, is learning "how to cuff a suspect in the most efficient way" and clicking with costar cop-partner Jerry Orbach because their shared experience as musical-theater veterans. "Jerry knows every Broadway tune-we do a lot of singing between takes".

Hmm-Martin sang in Rent, he sang on Ally, he even sang on The X-Files. So when will he and Orbach belt out a duet on Law & Order? You know, kind of a Cop Rock Thing? Martins laughs. "Believe me, Dick Wolf has already told me: That ain't".

'LAW & ORDER' Star Hopes for a Miracle Cure
Don Kaplan, New York Post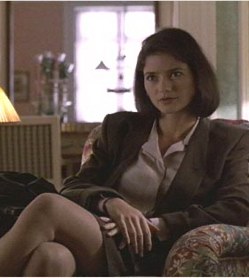 Sultry Jill Hennessy, who left the crime series "Law & Order" three years ago, wants to revive her character, the sexy assistant district attorney Claire Kincaid.

Hennessy's character appeared to be killed in a car accident at the end of the 1996 season, but the actress is now saying that she has an idea to bring back Kincaid.

"I approached ("Law & Order" producer) Dick Wolf and said, 'How about I was in a coma?'" Hennessy told reporters while on a film shoot in Montreal.

"Dick seemed to really like the idea and I've heard rumors that they're writing an episode for me - but they're only rumors," Hennessy said.

"I would love to go back for a guest spot. That would be so much fun."

Despite Hennessy's enthusiasm to return to the hit show, a spokeswoman for Wolf told The Post that "there are no plans right now for Jill to return at this point."

Attempts to reach Hennessey were unsuccessful. Her agent at the William Morris Agency refused to accept phone calls for her.

Meanwhile, Carey Lowell - who also played an assistant district attorney on "Law & Order" - is returning this season for a guest appearance on one episode, Wolf's office confirmed.

Lowell - who is pregnant with a baby by Richard Gere - will reprise her role as Jamie Ross. Instead of playing a district attorney this time, she will be defending a client in court against her former colleagues.

On the show, Lowell's character left the D.A.'s office to spend more time with her daughter and to practice law privately.

In real life, Lowell had asked to be let out of her contract a year early because she wanted to spend more time with her young daughter from a previous relationship, sources said.

Old Faithful
Scott Leibs, TV Guide
Law & Order likes to say that its stories are "ripped from today's headlines," although "ripped off" may be more accurate. But when you're the current prime-time longevity champ (the show debuted 10 years ago) you take your inspiration — and your plots — where you can find them.

Plot is essential to this show because its regular characters have an emotional range on par with the cast of Fritz Lang's Metropolis. In the first half of each episode, whoever's stuck in the thankless role of Lennie Briscoe's sidekick can be counted on to state the obvious about the crime du jour, supply setup lines to partner Briscoe and perhaps interject the occasional "Didn't the victim's husband say he'd never been to Albany?" sort of crime-busting insight. Which wouldn't be so bad if the writers were coming up with snappy retorts for Briscoe, but lately even the trademark show-opening sardonic observation about life in the big city has tended toward "Well, that's life in the big city." Jerry Orbach's ability to wrest the maximum from weak lines is considerable, but he deserves better.

If the cops seem tired, that's nothing compared to the land-that-time-forgot quality of the district attorney's office, where assistant DA Jack McCoy (Sam Waterston) always has his Irish up over something, the perpetually constipated DA Adam Schiff (Steven Hill) can be counted on to mumble some gruff words of discouragement and assistant DA Abbie Carmichael (Angie Harmon) is careful never to display any reaction that might mar the bland perfection of her face.

These folks are dependable, you've got to give them that. That's all the more remarkable given the increasingly baroque nature of the misadventures they're charged with setting right. In a recent episode, for example, the motivation behind a helicopter crash runs from terrorism to an insurance scam to ordinary infidelity to a more unusual aspect of infidelity with a solid plunge into an oddball cult of worldly success thrown in for good measure. And did I mention the surprise ending? Not bad for 42 minutes. With so much going on, we need the regulars to feel as predictable as a cup of Starbucks coffee. They never disappoint.

Tonight, assistant DA Jamie Ross (Carey Lowell) returns to represent a client who has important evidence about a death row inmate. Richard Masur co-stars as Judge Wolinsky.

TNT Snags "Law & Order" Rights
Richard Katz, Variety, 1999

In a deal potentially worth more than $150 million, TNT has bought the exclusive, off-network cable rights to Law & Order, one of the hottest shows on cable.
In its current off-network incarnation Law & Order screens up to four times a day on A&E where its ratings have gradually grown. Industry observers said the cop/courthouse drama was the first show in memory to gain so much momentum during its first cable rerun cycle that its price escalated for its second off-network sale.
TNT will pay producer Studios USA about $250,000 per episode, or a bit less than double what A&E paid, for the first 181 episodes of Law and Order, said sources. The second batch of episodes will cost TNT roughly $700,000 each.
The deal represents the most expensive off-network series sale ever to be sold to cable. Neither Turner or Studios USA officials would comment on the deal's price.
A&E, which bought the initial off-network rights to Law & Order for $155,000 per episode, will run the drama through the 2001-2002 television season.
Its 11 p.m. Law & Order averaged a 1.8 cable universe rating in calendar 1998 and strengthened throughout the year. It averaged a 1.4 in the first quarter, rising to a 1.6, a 1.8 and a 2.2 in successive quarters.
Law & Order should continue its network run on NBC for several more years. The 1997 winner of the Emmy for Outstanding Drama Series is now in its ninth season and usually wins its Wednesday 10 p.m.-11 p.m. timeslot.
TNT has the rights to premiere Law & Order episodes beginning with the current 1998-1998 season in September 2001. That means it's likely TNT will run its second, new package of Law & Order in 2001-2002 while A&E will continue to schedule episodes from the series' first package.
TNT will gain rights to the 181 episodes from the 1990-91 to 1997-98 seasons beginning in September 2002, and will have exclusive rights to the seriesfor 10 years once the windows begin.