Law & Order SVU: Articles, 2004


"Law & Order" Star to Speak at UW-L About Diversity
Geri Parlin, La Crosse Tribune, 3.1.04
If you've ever watched "Law and Order: SVU," you've likely seen forensic psychiatrist George Huang, played by B.D. Wong. He's matter of fact, he's in control, he can see inside the evil soul of a criminal and tell the police why the suspect did the awful thing he's accused of doing.
It took Wong a long time to arrive in a place where he could act with that much self assurance. It was a journey of self-discovery and a struggle to overcome his own self-loathing that brought Wong to where he is today. And he's willing to share that struggle so that others can learn from it. He will speak at 7:30 p.m. Monday, March 8, at the University of Wisconsin-La Crosse. His talk, "All the World's a Stage: From Exclusion to Inclusion," will include something about being an actor, he said. And for those interested in what he has to say about diversity and living in a world that is more inclusive, he talks plenty about that, too.
"They can enjoy it on different levels. If they care about the interesting nuances of my identity and how that can be a jumping off point for discussing things that are going on at the campus or in our country, then I love that."
Growing up Asian American, he said, influenced how he saw himself and how he viewed his future. He never saw himself on television, he said, so there was no role model that assured him he could be an actor.
"You could see that on TV. You knew there was nothing there for you because of the ethnicity."
The only reason he persevered, he said, was because it was his passion.
"There's no reason to do it other than because I really have to do it, and I got a union card fairly quickly. But it was still really hard," he said, because he had a self-hatred for being Asian American. "If I could only change that," he would think, then he would be successful.
"Part of the journey I describe in the remarks," he said, is the terrible things we do to ourselves because of self doubt, and about his own journey coming to terms with being gay and Asian American. "Coming out as an Asian American is not dissimilar to coming out as a gay. I'm facing who I am. This is who I am, and I can smile at myself."
But the struggle isn't over, he said, and he is aware of it every time he auditions for a part. The "Law and Order" gig is especially sweet because it is a popular TV show and the character he plays is not dependent on the color of his skin. The forensic psychologist he plays could be any nationality.
When he talks to students, he said, he relies on his own difficult path from adolescence to success as an adult and as an actor.
"Primarily, I draw from the path I took to get from being a child to being an actor today. There's conflict that comes up in making really important decisions."
Wong, who grew up in San Francisco, said the hubbub going on there now about same-sex marriages is important because it's about being fair and giving benefits equally to people.
"I'm a member of several minority groups. I really do feel that we don't have the same rights. An entire community of people, of which I'm a member, has second-class status. Whether or not we should have the same rights is very simple. The notion that a particular ritual or the benefits of that ritual are reserved for a particular group, it's very unAmerican to me."
The fear, he said, "Is that somehow the world is going to fall apart if we all have this right."
What they are doing in San Francisco is resonating around the country, he said. "I wouldn't do it, but I do understand. I have personal opinions about marriage itself. I question the entire institution of marriage."
What he doesn't question is his right to be a father. He has a 3½-year-old son, and he says raising him today is much easier than it would have been 20 years ago.
Back then, he said, "Gay people who were having kids did not have an easy time. They were true pioneers."
Though he has success as an actor, starring in "M Butterfly" on Broadway and "Father of the Bride" movies, Wong said he doesn't truly feel that he's arrived.
"I don't think there are many actors who do feel that they have arrived. I feel better about it than I did before, but I have tons more that I want to do and say and be. I'm still complaining about a lot of it."
His message on the lecture circuit is about working for inclusion and making the hard choices that will get you to where you want to be in life.
"Please don't just think it's fun or interesting" to be an actor, he said. "It's way more than that. That's what makes it wonderful. That's why I chose it."
And that's why he'll keep stretching himself and trying new things. The newest thing on his horizon is an upcoming part in Stephen Sondheim's musical "Pacific Overtures" at the Roundabout in New York City.
Theater is his first love, he said, and where he most likes to perform: "Theater is the first thing. Nothing beats it."

Thirst for Ice-T Quenched on New SVU
Daniel Fienberg, Zap2It, 3.1.04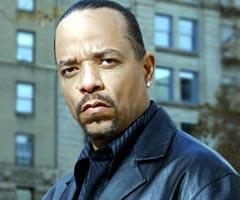 My adrenaline's pumpin'/I got my stereo bumpin'/I'm 'bout to kill me somethin'/A pig stopped me for nuthin.'"

Lines like that one, from Ice-T's 1992 Body Count song "Cop Killer," suggest why some people still have a difficult time accepting the gangsta rap pioneer as a cop despite all of his years on the beat of NBC's "Law & Order: Special Victims Unit." The former Tracy Morrow insists, though, that the men and women in blue have always had his back.

"Cops like me playing cops," Ice-T cackles. "They dig it. They ID with me, because all of the cops in the streets, they think they're tough, they think they're hardcore. So I play that kinda cop, you know, the one that just wants to grab the perp and break his neck."

He's referring to his "SVU" character Det. "Fin" Tutuola, who has a larger-than-normal part in this week's episode (Tuesday, March 1), titled "Careless."

Despite the fact that Ice played a cop in his very first big screen acting role in Mario Van Peebles' 1991 neo-blaxploitation classic "New Jack City," the idea of the rapper with a badge remains somewhat edgy. In fact, amidst a fair share of parts that call for nothing but pimpin', killin' and dealin', Ice-T has stayed on the right side of the law for at least half of his screen work. Still, he knows that in 2000, most television producers would have thought twice before signing him up for a police force.

"Not Dick Wolf. Anybody else in television, yeah. But not Dick Wolf, 'cuz Dick Wolf is an edgy cat," he says. "I worked with Dick Wolf playing a bad guy on 'New York: Undercover,' and he knew what I was about, he could read me and he knew I was a no-nonsense cat and I wasn't there to make any trouble. I don't think any of these other TV execs had the balls to do it."

Ice-T has a resume littered with questionable projects, including a stint as a man-kangaroo in "Tank Girl" and an appearance as the pimp Mack Daddy in the immortal "Leprechaun in the Hood," but he can laugh off the missteps.

"I've done some cheap movies," Ice-T admits. "I used to do what I call 'sports car' movies, which was kinda like 'How much do I get? Can I buy a Porsche? I'll do it.' I didn't really care, because I really didn't take acting seriously enough."

Along the way, though, he has developed into a powerful screen presence, as well as the kind of respectable citizen who swears that when he misses his show, he's always sure to TiVo it. He remains, however, a casual and instinctive thespian with only limited patience for more Method-heavy guest stars.

"I hate uptight actors," Ice sighs. "They freak me out. They come on the set, they're breathing and running in place and all that bulls***."

Ice says that friends like his "Ricochet" co-star Denzel Washington taught him how to be professional, but not to stress. The relaxed attitude and an active array of musical side projects lead him to both appreciate his extra time this week, but also to hope that his expanded role in "Careless" doesn't necessarily translate into future Ice-centric episodes.

"Honestly, I like when I've only got two lines in the show, because I've got more days off. I'm not gonna lie about that," he laughs. "I don't mind getting the ball either. I've starred in a few movies, so I'm not afraid of taking the reins and taking off with the show."

Cool As Ice
The Washington Times, 3.2.04

"Law & Order: Special Victims Unit's" Ice-T doesn't mind shooting episodes when he only has a handful of lines. The checks always clear no matter how much — or how little — acting the part demands.

Tonight's episode is different, though, the actor promised during a phone teleconference .

"I don't mind getting the ball, either," he says. "I'm not afraid of taking the reins."

Ice-T's character, Detective Odafin "Fin" Tutuola, plays a critical role in tonight's story, focusing on an exorcism that leaves a young child dead. Was the death related to the attempted faith healing or the product of long-term child abuse?

Malinda Williams (Showtime's "Soul Food") guest-stars as the child's foster mother, and Julie Hagerty ("Airplane!") portrays a social worker. "SVU" airs at 10 on NBC.

The actor and occasional rapper, now 46, says he's come a long way from his early screen work.

"When I came into the acting thing, I got dropped into it," Ice-T says. Being on a regular series, "you're working every day; it can't do anything but [make you] act better. You gain confidence," he adds.

It's hard to imagine the street-smart rapper lacking chutzpah.

He's the same man who enraged a good chunk of the country when his song "Cop Killer" hit the streets in the mid-'90s.

To hear Ice-T tell it, officers seem to have forgiven him — especially now that he's made a career playing cops on big and small screens.

"Cops like me playing cops," Ice-T says, in part because he plays them as such tough, no-nonsense characters.

"I haven't had anybody say 'You shouldn't be playing a cop,' " he says.

He credits show creator Dick Wolf, lord of the "Law & Order" franchise, for letting him trust his instincts.

"He told me, 'You've got so much to say about the cops, show us how to do it right,' " he says.

Ice-T may be an establishment actor these days, given his presence in such a respected franchise, but he still likes to make trouble when the mood strikes. He even tweaked Mr. Wolf's pride and joy to the assembled reporters listening in on his phone rants.

"If you watch [SVU] long enough, you can figure it out," he says of the show's plots. "Whoever me and [Richard] Belzer beat up, they didn't do it."

Meanwhile, Ice-T hasn't abandoned his musical instincts despite his acting chores. His next album, titled "SMG" (Sex, money and guns), is coming soon, he promises.

He's also planning a new disc with Body Count, his side-project band, which produced the infamous "Cop Killer" track.

"In acting, you're always somebody else," Ice-T says. "People never get a chance to know you.

"With music, they get under my skin to know what I'm thinking."

It's hardly a shock to learn which way his thoughts go regarding the latest round of media scrutiny over the antics of Janet Jackson, Howard Stern, et al.

"I think radio and televisions are built with these nobs called off and on," he says. "The airwaves are filled with a lot of craziness, but we don't have to listen to them."

Politics, he adds, have plenty to do with the latest crackdown.

"You've got an election year, they gotta pull out everything," he notes.

Not surprisingly, he also sounded off on today's music scene, particularly his old turf.

"I miss the social commentary in hip-hop," Ice-T says, ticking off former rap giants such as Ice Cube, KRS-One and Public Enemy. "I don't wanna sound like an old fogey; I dance to Eminem and 50 Cent, too, but it's pretty much dance music now, it's not saying something that will move somebody," he says.

"Law & Order" Babe Returning?
Michael Ausiello, TV Guide, 3.5.04
When Stephanie March left Law & Order: SVU and her role as ADA Alex Cabot last fall, we figured the Emmy-worthy actress was setting her sights on bigger and better things — like a movie career or a legal drama all her own. Not a gig at the Food Network. But the 28-year-old up-and-comer assures us that her role as host of the five-part series What America Eats With PARADE (debuting Sunday at 9 pm/ET on FN) does not represent a new career direction. "This is just about the fact that I love food," she tells TV Guide Online. "It's like if you love the Westminster Dog Show and somebody says, 'Do you want to run my dog around the ring?' 'Well, yeah! Why not?'" March also happens to be engaged to Food Network superstud Bobby Flay, so, well, you do the math.

TV Guide Online: Are you concerned that people might think you're forging a new career as a TV host?

Stephanie March: I like food to the degree that it wasn't enough for me to rethink it. If people are going to think that, that's just crazy. It was just a one-time gig. I'm not hosting a show. It's a five-part series. It's basically three days work. It was a miniproject — a slumber party.

TVGO: Tell me a little bit about the show.

March: I would say it's a documentary using a lot of data, facts and figures about how, what and why America eats. Obscure facts and figures like, "How many people eat snacks? What's the most popular snack? How many times do people eat out every year in the U.S.?"

TVGO: When did your love affair with food start?

March: At home. My mother is a wonderful cook. And my sister is a professional cook. I guess I've just always been around it.

TVGO: Did food play a role in your courtship of Bobby?

March: Well, actually, I didn't know who he was. [Laughs] We were set up on a blind date. Neither one of us watched a lot of TV because we were both working. It just so happens that [our love of food] is a wonderful thing that we can enjoy and appreciate together. Without that quality in either one of us, it would be a much less-interesting relationship.

TVGO: Have you set a wedding date?

March: February '05. We're both gonna be out of town a lot between now and then, so we figured if we add up all the days we're gonna be out of town it's really only seven months away.

TVGO: What else do you have coming up?

March: I'm working on [the upcoming Angelina Jolie-Brad Pitt movie] Mr. and Mrs. Smith. I play a superspy.

TVGO: Can you tell me anything else about the role?

March: Not really. [Laughs] She's not nearly as smart as Alex Cabot but a much better dresser.

TVGO: Is it fun playing a superspy?

March: It's great fun playing a superspy. And the nice thing is I have no responsibility really. It's not like a series where you're working on it day after day after day, and you're worried about the time and they're always trying to keep under budget and you're worried about the other people in your scene and making sure they're comfortable. I just show up, dress up, do my thing.

TVGO: For the record: Why did you leave Law & Order?

March: I want to be certain to emphasize that I have zero complaints about Law & Order. It was a fantastic work experience and I really miss the people quite a bit. But, you know, you get to a point where you feel like, as a character, you kind of said everything you can say. And then it becomes quite redundant. It was my first on-camera job after college. I got really lucky and I thought, I just have to do a couple of more things before I get too comfortable. Perhaps all I need is a long break.

TVGO: So, you could return someday?

March: Sure. If it felt like the right time in my life, definitely.

TVGO: Your last episode was so great.

March: I had nothing to do with that. I thought the writing was very good.

TVGO: You're being modest. That final scene between you and Mariska Hargitay broke my heart.

March: Well, I have to say it was made much easier by being there with Mariska. It was as hard as it could possibly be to say goodbye to somebody that wonderful.

TVGO: You're gonna be in the running for an Emmy, right?

March: I have no idea. I don't even know how it works. If it's anything like the elections now, I could wind up as being the Howard Dean: It looked promising but then kind of sucked.