Law & Order CI: Articles, 2001


Criminal Mind
Kevin Williamson, Calgary Sun, 7.26.01

Competing with reality-TV and the blood 'n' guts gusto of made-for-cable series like The Sopranos can be murder if you're producing a drama for network television.

No bug-chomping contestants. No gore-spattering, no nudity, no explicit language.

Fuggedaboutit, says Rene Balcer, co-creator and executive producer of Law & Order: Criminal Intent.

"You could make The Sopranos on a network without the language and nudity. It would be the same show, with the same themes and characters," he says from his Los Angeles offices. "If people want T and A, they'll go watch the spice channel."

Like the characters he writes, Balcer, a native Montrealer who segued from journalism to documentary filmmaking to screenwriting, doesn't mince words.

Unlike a lot of producers, he doesn't think the sky is falling because of the success of unscripted reality-TV series. In fact, he welcomes them -- sort of. "If people who don't watch TV are watching Fear Factor and see a promo for Criminal Intent, and that brings them to the show, I'm all for it."

Just don't expect Criminal Intent to compete for reality-TV's visceral thrills and bug-eating antics. "We're not going to throw (Criminal star Vincent D'Onofrio) off a building."

Like its prestigious predecessor -- which Balcer worked on as a writer and producer -- Criminal Intent is a New York drama about crime and the police who investigate it.

However it veers from Law & Order in a number of ways, including that it tells its stories from the points-of-view of the cops and the criminals. "What goes on between a criminal and his lawyer, between a criminal and his accomplices?"

He cites two high-profile crimes -- the disappearance of intern Chandra Levy in the U.S. and the murder of actor Robert Blake's wife -- as examples. "There's the stress of even being just a suspect," says Balcer, who was responsible for the notorious Law & Order based on the crimes of Paul Bernardo and Karla Homolka.

Unlike the ensemble cast of previous Law & Orders, Criminal Intent is a vehicle for the riveting D'Onofrio, probably best known for his work in films like Men in Black and Full Metal Jacket.

"He's an unusual actor for television. Usually actors on television are low key for a very cool medium," Balcer says.

"But Vincent just jumps off the screen. You'll find out more about Vincent's character (Det. Robert Goren, a detective Balcer compares to Sherlock Holmes and Columbo) in the first 13 episodes than you've found out about Jerry Orbach or Sam Waterson's characters in the five or six years they've been on Law & Order."

Which makes Balcer's spinoff a lot less actor-proof than L&O, which has retained its popularity despite recycling its stars.

"We are connected to Vincent. His fortunes will rise and fall with us."

Ironically, Balcer got involved with Criminal Intent shortly after leaving Law & Order last season to pursue his own projects. He and L&O executive producer Dick Wolf were having lunch when Wolf -- who Balcer calls a "consummate salesman" -- pitched Balcer the Criminal Intent concept. Wolf had tried it once before with the short-lived early '90s series Crime and Punishment. The difference between Intent and Punishment? "Good writing," answers Balcer, who estimates he wrote or rewrote a third of all the L&O episodes.

Of course a good timeslot helps too.

At last week's press tour for television critics, Wolf blasted NBC for putting Criminal Intent in a 9 p.m. timeslot on Sundays.

"The subject matter is pretty frank. It's definitely a 10 p.m. show," Balcer says. "I don't think (the timeslot) is a disaster."

Law & Order: Criminal Intent
Bruce Fretts, Entertainment Weekly, 9.8.01
With a résumé reaching back to ''Hill Street Blues'' and ''Miami Vice,'' TV producer Dick Wolf is an old pro at putting out fires on sets. But the question is, can ''Criminal Intent'' blaze the same successful trail as predecessors ''Law & Order'' and ''Law & Order: Special Victims Unit''? Wolf's betting the show's premise will provide the necessary spark: ''You get to see inside the criminal's head,'' he says. ''It's the first time a 'Law & Order' series has broken the locked point of view.'' In fact, ''Criminal Intent'' devotes almost as much screen time to the perp perspective -- the planning, execution, and aftermath of the crime -- as it does to the investigation by the Major Cases Squad, an elite unit of detectives assigned to the highest profile crimes.

But will viewers really want to spend that much time inside the mind of the bad guy? Yes, says executive producer Rene Balcer, a member of the Wolf pack since ''Law & Order'''s first season 11 years ago. Criminals are ''a twisted mirror of our own wants, needs, and desires -- there's a vicarious thrill in watching somebody do something you would never dare do.''

One of the detectives on their trail will be Robert Goren (played by Vincent D'Onofrio), whom Wolf is fond of referring to as ''an American Sherlock Holmes'' who uses deductive reasoning rather than brute force to nab his prey. It was this pitch that persuaded D'Onofrio to star in his first small screen series. ''I was not interested in playing some tough cop on a TV show,'' says D'Onofrio. But he was attracted to the idea of playing a more sensitive hero. ''I've played some pretty nasty f---ers,'' says the actor, citing the serial killer in last year's ''The Cell.'' ''I'm trying to even out my karma.''

Like D'Onofrio, costar Kathryn Erbe saw her ''Criminal Intent'' part, Alexandra Eames, as an antidote to a dark role: the mother who killed her kids (and was eventually put to death) on ''Oz.'' Her jailhouse work so impressed Wolf that he hired her to play opposite D'Onofrio. ''It's not that she's physically commanding -- she's intellectually commanding,'' says Wolf.

Cast members from the other ''Law & Order'' shows will also pop up occasionally. DA Nora Lewin (Dianne Wiest) chews out Carver in one episode, and the cops consult detectives Briscoe (Jerry Orbach) and Green (Jesse L. Martin) in another. Plus, a five-hour miniseries using actors from all three shows is planned for May sweeps (the plot involves a bioterrorist attack on Manhattan). ''This sounds horribly pretentious, but the whole concept is that it's like Dickens' London,'' says Wolf of the ''Law & Order'' trilogy. ''People can transit freely across all the platforms.''

'Criminal Intent': Cop Drama's Winning Formula
Tom Shales, Washington Post, 9.29.01
Producer Dick Wolf, king of cut-and-dried crime shows, has cut and dried another one for your viewing pleasure. "Law & Order: Criminal Intent," the second spinoff from Wolf's "Law & Order" template, will be a viewing pleasure mainly for those who are already fans of Wolf's wares.

This means one gets lotsa plot, very little characterization, a slam-bang docudrama style and, of course, a solemn-toned announcer at the beginning to describe the premise. This one, it turns out, is about the exploits of New York's "Major Case Squad," whose detectives deal only with, well, major cases.

But haven't some of the cases on "Law & Order" been major? We'll just have to overlook that. And based on the quality-level of the "Criminal Intent" premiere (at 9 tomorrow on Channel 4), that's worth overlooking.

The best thing about the show is that its cast is so overqualified for it. Vincent D'Onofrio is one of the most inspired and versatile young actors of our time. He was unforgettable in an episode of "Homicide: Life on the Street" in which he barely moved; he spent most of it trapped under a subway car.

In "Criminal Intent" he plays a hyper-intuitive detective who scans every crime scene like a dauntless superhero with X-ray vision. He's also something of a philosopher. When his partner, ably played by Kathryn Erbe, points out to him that he's just said something good about the "bad guys," D'Onofrio says, "Bad guys do what good guys dream."

Of course, just because he's a philosopher doesn't mean his philosophy holds water. That line, from writer-producer Rene Balcer, sounds snappy but does not stand up under analysis. The thing is, the show zips along so fast that D'Onofrio could be reciting the Russian alphabet and you might not notice until he was halfway through it.

Courtney B. Vance as an assistant district attorney absolutely owns the screen when he appears, but he doesn't appear until late in the show, and then too briefly. Dianne Wiest does a guest-star gig in the last quarter-hour that amounts to only a few lines of dialogue. Are acting jobs so scarce that fine actors like these (and Jamey Sheridan, as the captain of the squad) have to take such itsy bit parts?

Although "Criminal Intent" airs at 9 o'clock, it contains a good deal of 10 o'clock dialogue, including graphic sexual references and three horrible murders within the first six minutes. The show is part of NBC's new brutal and bloodthirsty Sunday-night lineup, a gambit that would be unwelcome at any time but perhaps especially now.

If we must have such shows as "Criminal Intent," however, Wolf is clearly the man to do them. The plot of the premiere could easily be expanded into a feature-length movie, but Wolf's thing is compression. Thus, what you get is Condensed Cream of Crime -- and an hour of cracklingly tense TV.

A Clear 'Intent'
Producer of third Law & Order series is adamant about avoiding serialized stories
Tim Clodfelter, Winston-Salem Journal, 9.29.01
According to producer Dick Wolf, one of the keys to the success of his Law & Order shows has been avoiding serialized stories. _ "You look back over the history of the most successful hour shows in syndication - whether it was Columbo, Rockford, Murder, She Wrote or Law & Order - the most successful shows are the ones where it doesn't matter if you've missed three episodes in a row and come back," he said. "You don't have to know who is sleeping with anybody, you don't have to know who is getting divorced."

In 1999, Law & Order was joined by a spinoff series, Law & Order: Special Victims Unit. Starting this week, NBC will introduce a third series, Law & Order: Criminal Intent (9 p.m. Sunday on NBC).

Although all three shows are about law enforcement in New York, each has a different approach. The original Law & Order splits its time between police and prosecutors, and SVU focuses on a unit that investigates sex crimes. Criminal Intent will tell stories from the points of view of both the police and the criminals. The cast includes Vincent D'Onofrio and Kathryn Erbe as New York police detectives, with Jamey Sheridan as their supervisor and Courtney B. Vance as the district attorney who often works with them.

Criminal Intent will take the same self-contained approach as its two predecessors.

"The story is paramount," Wolf said. "There are no dangling participles, there are no runners, there are no arcs. You get a complete hour of television.... I think that's what audiences really react to most strongly. You get into serialized elements, and four or five years into a show, it's getting extremely soap opera-y."

The promise that Criminal Intent will avoid melodrama is one of the things that first attracted D'Onofrio to the series.

"The thing that I was always scared about with television is that I've always had the fear of being involved in something that's too soapy," he said. "There are shows on television that I watch and that I enjoy as entertainment, but I've never been entertained by stuff that's too soapy.

"Doing television has always been just uninteresting to me. And Dick's idea, his concept for the show, what the show is and who my character is, was interesting.... It's kind of straight-out, really good storytelling. And, you know, I consider that's what I do for a living. I'm a storyteller. Or I help do that, anyway."

D'Onofrio said that he has been offered many TV roles in recent years but has always turned them down until now. Since he was cast in Criminal Intent, he has been working with the producers to develop his character, Detective Robert Goren.

"We're just warming up," he said, "and Rene Balcer, the writer, and I are getting to know each other and are telling each other stories. We both are experienced in this, because of my research in the roles I played, killers and cops and this and that. I've done a lot of psychological research, and we've got a lot of things to go back and forth with."

D'Onofrio developed an interest in acting by watching his father, an interior decorator, perform in community-theater productions.

"I eventually got on stage, and then when I went back to New York I started studying," D'Onofrio said.

"Once I tried it, I realized it wasn't as easy as it looked. That made me curious."

He is best known for his powerful big-screen roles, playing everything from a troubled private in Full Metal Jacket to Abbie Hoffman in Steal This Movie and a shape-shifting alien in Men in Black.

He has had a few guest roles on television, most notably an Emmy-nominated guest appearance on Homicide: Life on the Street, but Criminal Intent is his first series.

D'Onofrio credits the diversity of the roles he has played to one of his first directors.

"I've been really lucky," he said. "That's what Stanley Kubrick did for me early on in my career (with Full Metal Jacket). By giving me that role, and that movie turning out to be what it turned out to be, he set me up as a character actor. All through my career I've been able to play all kinds of parts, from silly things to really intense things."

"Law & Order: Criminal Intent": Review
Laura Fries, Variety, 10.1.01
Filmed in New York by Wolf Films and Studios USA Television. Executive producers, Dick Wolf, Rene Balcer; co-executive producers, Peter Jankowski, Fred Berner, Geoffrey Neigher, Arthur Forney; producers, John L. Roman, Roz Weinman, Eric Overmeyer; co-producer, Michael Kewley; director, Jean De Segonzac; writer, Rene Balcer; camera, Frank Prinzi; music, Mike Post; casting, Lynn Kressel. 60 MIN.

Robert Goren Vincent D'Onofrio
Alexandra Eames Kathryn Erbe
James Deakin Jamey Sheridan
Ron Carver Courtney B. Vance

Dick Wolf has added a compelling dimension to his flagship series "Law & Order" by exploring the inner workings of the criminal justice system from the legal and investigative standpoints in "Law & Order: Criminal Intent." As the name would indicate, viewers also delve into the psychology of the criminal mind.

On the surface, the concept of "Criminal Intent" seems like a gimmicky way to milk some of the success from its predecessors, but in the capable hands of exec producers Wolf and Rene Balcer, who also serve as the show's head writers, it makes for taut, engaging television. This self-perpetuating franchise of cops and lawyers is hardly running out of steam.

"Criminal Intent" should have the clear edge on Sunday nights, with a severely anemic "The X-Files" and ABC's "Alias" as the only possible diversions. Although all of the "L&O" skeins are essentially ensemble-driven, "Criminal In tent" so far is a one-man show with Vincent D'Onofrio at its center.

D'Onofrio, an intriguing and dynamic character actor lured from the bigscreen, stars as extremely right-brained Detective Robert Goren, who has powers of deduction to rival those of Sherlock Holmes. He and ms partner, Detective Alexandra Eames (Kathryn Erbe), handle the cases the regular police can't solve. Needless to say, there is a certain animosity between this elite group and the regular PD.

Pilot starts with a particularly narcissistic burglar (played by Jake Weber) pulling off a diamond heist with a heavy casualty list but few dues. Undeterred, Eames and especially Goren use their honed skills to read between the lines and find the subtle clues to psychologically identify the bad guy.

By scrutinizing motive and intent, "Criminal Intent" utilizes a more personal style that sets it apart from its brethren. Wolf's characters are notoriously devoid of detailed personal lives, but debut seg hints at a little more introspection on the part of the characters.

Rather than split the show evenly between the law and the order, "Criminal" explores in tandem the work of the police and the criminal, with director Jean de Segonzac handling the action like a well-choreographed dance.

D'Onofrio commands the most attention, tending to overshadow Erbe, who is reduced in the pilot to following Goren with an awestruck look. If Wolf's track record is any indication, and it usually is, we'll see her character and those of Courtney B. Vance as assistant D.A. Ron Carver and Jamey Sheridan as the politically ambitious Capt. Deakin evolve with each passing week.

'Criminal Intent' Is Next In A Series of Successes
Tom Jicha, South Florida Sun-Sentinel, 10.01.01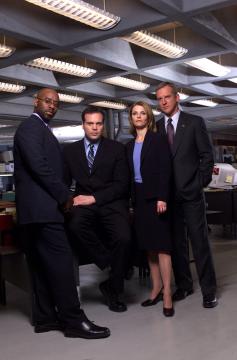 Dick Wolf doesn't know how to take a compliment. The creator and executive producer of the Law & Order line is miffed about the scheduling of his latest spinoff, L&O: Criminal Intent.

NBC has had a movie on Sunday night for 22 years. Wolf regards the task of educating the audience about the network's shift to series programming as an added burden for his latest show. He should be flattered. There aren't many new series that would be trusted with such an important assignment. Of course, there aren't many new series that come with such a pre-sold brand name.

Law & Order is going into its 11th season stronger than ever. L&O: Special Victims Unit is starting its third year and is now in total control of its time period. Criminal Intent has the look of a series that will enhance the legacy.

There is no secret to his success, Wolf says. "What we are telling the audience is, 'You will get writing at a certain level.'" That level is several floors above TV's norm.

Criminal Intent focuses on New York's major case squad, which pursues crimes beyond the scope of "normal police procedure," according to the customary stentorian preamble. The pilot has the elite unit tracking a crew of diamond thieves, led by a sociopathic ex-con. The script is taut, credible and provocative. As with Wolf's other cop shows, Criminal Intent demands undivided attention. There is no superfluous chatter or scenic filler.

But successful TV is not as simple as Wolf makes it sound. Brilliantly conceived and executed shows eventually wear out their welcome. Law & Order and its offspring defy TV history by growing more popular with age and despite unprecedented repetition. The original's 12th season premiere on Wednesday drew more viewers than any season opener in the show's history. The three series and their encores will be available 27 times a week this fall, according to Wolf's count. Criminal Intent will account for only two of these. As with Special Victims Unit, it will air originally on NBC and have a weekend encore on USA the following week. Criminal Intent's cable play will be on Saturdays at 11 p.m. Repeats from the original series air several times a week on TNT and four times a day on A&E.

Wolf keeps the franchise vibrant by retaining the core premise - self-contained stories without serialized character elements - while devising new twists. These offer enough of the tried and true that the audience gets what it expects, yet are sufficently different that there's no viewer fatigue.

Criminal Intent has more in common with Special Victims Unit than with Law & Order. The hours concentrate on the police aspect of the criminal justice system. The courtroom side is only a point of reference.

The latest version is unique in that for the first time, one of Wolf's series is more a star vehicle than an ensemble. Vincent D'Onofrio, Kathryn Erbe, Jamey Sheridan and Courtney B. Vance share equal billing, but the series is clearly a stage for D'Onofrio to shine.

He almost single-handedly carries the show with a nuanced performance evocative of Peter Falk's Columbo. D'Onofrio's Det. Robert Goren doesn't have the ticks and quirks of Lt. Columbo, but his approach to breaking down a suspect is similar. Goren would be a killer Jeopardy player. He has an astonishing storehouse of minutiae from a wide range of fields, which he uses to poke and prod cunning felons into a disarming mistake.

D'Onofrio, primarily a film actor, hasn't done a lot of TV work, although he did earn an Emmy nomination for an episode of Homicide: Life on the Street. It might not be his last.

Erbe plays his partner, Det. Alexandra Eames, but she is more of a sidekick, often as fascinated by Goren's techniques and Venus'-flytrap mind as the audience will be. Sheridan plays their boss, and Vance is under-utilized as a district attorney who frequently has to rein in the aggressive Goren and Erbe to the legitimate side of the Bill of Rights.

Wolf, a former advertising executive, is supremely confident that Criminal Intent will be as well received as its predecessors.

"I think there's a huge appetite for the show. This is a brand. It's Coke, Diet Coke, Diet Coke without caffeine, Cherry Coke. As long as we don't screw up one of the brand extensions, the brand remains intact."

Some day, he might create a spinoff that's New Coke, but Criminal Intent isn't it. Like his other two crime dramas, it's the real thing.

The Law Glut
Matt Roush, TV Guide, 10.8.01
What's next, Law &; Order: Crossing Guards? A textbook case of TV's greedy tendency to exploit a successful concept until what was fresh now seems routine, NBC's venerable Law &; Order and its ubiquitous offspring have become awfully interchangeable.

There still is something comforting and absorbing in the rigidly mechanical structure of the original series — millions became addicted after repeated exposure on cable — but now that the machine is an assembly line, it's not just the revolving-door cast of actors who blur — so do the plots.

In a marathon screening of new episodes of Law &; Order and its spin-offs, Law &; Order: Special Victims Unit and the new but unexceptional Law &; Order: Criminal Intent (Sundays, 9 pm/ET), I was stunned to find the standout episode in the bunch was from SVU, a series I once shunned for its grisly exploitation of sex crimes.

And then I realized the episode (scheduled for October 12) was so good because it evoked classic Law &; Order rather than standard SVU, which does appear to be varying and improving its act. The story opened with a kidnapping that revealed a baby-brokering adoption operation linked to a long-unsolved murder. It ended with a wrenching child-custody battle.

So what was it doing on SVU? Anyone's guess. Similarly, it's often impossible to know why Criminal Intent's Major Case Squad is assigned to its crimes, except for the opportunity they provide for Det. Robert Goren (Vincent D'Onofrio) to show off against that week's suspects, who get extra face time on this show.

A wannabe Columbo by way of Sherlock Holmes, Goren knows everything, has heard of everyone and delights in mind games while manipulating criminals into snapping during generic interrogation scenes. But there's a smugness to Goren that also typifies SVU's most irritating new character, a babbling psychologist (B.D. Wong) who never met a perp he couldn't instantly profile.

Meanwhile, it's business as usual for the original Law &; Order, which means a new face at the prosecution table. Sadly, Elisabeth Rohm (Angel, Bull) isn't up to the challenge, with the look of a perky ex-cheerleader and the bland delivery of an automaton. Just another cog in an increasingly threadbare wheel.


Law and Order's Third Version Shows D'Onofrio's Evolution
David Mason, Suburban Chicago News , 11.30.01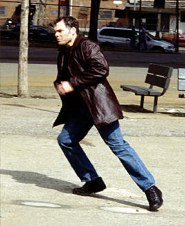 He's Sherlock Holmes with a twist.

Vincent D'Onofrio plays Detective Bobby Goren on Law and Order: Criminal Intent, which is arguably the most interesting of the three Law & Order series. It gets into the mind of the criminal, and Goren is a maverick who won't hesitate to use acting or other techniques to get a suspect to talk.

Law & Order: Criminal Intent airs at 8 p.m. Sundays on NBC.

D'Onofrio is a busy, longtime movie star. He played an unstable Vietnam War recruit in Stanley Kubrick's Full Metal Jacket, Abbie Hoffman in Steal This Movie, a young Orson Welles in Ed Wood and an alien villain in Men in Black. His movies also have included Mystic Pizza, JFK and Adventures in Babysitting. He plays an Irish priest opposite Jodie Foster in the The Dangerous Lives of Altar Boys, one of several upcoming movies in which he stars. The others include The Salton Sea with Val Kilmer, the thriller Impostor with Gary Sinise and Happy Accidents with Marisa Tomei.

That variety of characters has given D'Onofrio practice in shaping unforgettable people, and that serves him well on Criminal Intent.

"People have been asking me for a couple years to do television," D'Onofrio said during a teleconference with reporters. "I've always been afraid of television. It gets awfully soapy at times. Most of them (shows) are unrealistic and soapy."

But D'Onofrio knew that Dick Wolf, executive producer and creator of the three Law & Order series, focuses on straightforward crime stories, not on who's sleeping with whom.

Viewers will learn more about Goren, who differs from his by-the-book partner, Detective Alexandra Eames (Kathryn Erbe).

The contrast works well, and Eames shows she, too, can fool the crooks.

There's also a great variety to the plots of the Law & Order spinoff. The villains run the gamut from an art forger to an attorney killing all his lovers.

All those crooks are less colorful than the maverick Goren. Future episodes will delve deeper into the detective's background, D'Onofrio said.

"He has a history of schizophrenia with his family," D'Onofrio said. "You'll never meet his mom, but you'll learn about the type of man he is by how he reacts to things.

"He was an Army CDI (intelligence) agent," D'Onofrio said. "He didn't know what else to do, so he became a cop. We're trying to allow him to be knowledgeable about a lot of things. He's the academic type.

"The detective is not always going to catch the bad guy. I'm not always one step ahead," D'Onofrio said. "The psychology of the show is the key to keeping its intensity."

D'Onofrio said he has found an advantage of TV over movies: he can allow his character to slowly evolve.

Before Criminal Intent, D'Onofrio had guest-starring roles on shows such as Homicide: Life on the Street, in which he played opposite Emmy-winning star Andre Braugher.

"I knew I was in the best company," D'Onofrio said.

Law & Order: Criminal Intent
Chris Dahlen, Save the Robot
NBC could get away with putting drek on the air if it didn't run the same drek so many times each week. Their tacky news magazine Dateline is harmless by itself, but now that it's broadcast almost every night it has become oppressive and unavoidable. NBC's most successful crime show, Law and Order, is going down the same road: there are now three series, turning out sixty-six hours a year of "ripped from the headlines" crime stories. Originally an entertaining two-for-one drama that followed a crime from the police activity (the "order") to the courtroom scenes (the "law"), Law and Order has become dull and predictable: the same formula repeats week after week, and the stories get more "shocking" every season.

Where other crime stories explore issues like the nature of violence, or the conflict between professionalism and instinct, Law and Order sticks to twist endings and flat, unexplained characters. The producers were betting that a sicko crime is more interesting than the people who investigate it. The ratings backed them up, so two years ago they launched a spin-off, Law and Order: Special Victims Unit, which covers nothing but sex crimes. When a third series debuted this year, the prospects looked dim: how many more rape/murders could we take in a week?

That said, the new series, Law and Order: Criminal Intent, is pretty damn good.

As with the other series, Criminal Intent has a gimmick: each story features the criminals' point of view as well as the detectives'. We watch the guilty parties scheme and maneuver as the cops close in on them. By itself, this doesn't add much - it's usually just a convenient way to fill in the plot - but the gimmick changes how we see the detectives. Criminal Intent takes away the easy "watching over their shoulders" perspective where the characters are only there to get us from one plot point to the next. We already know what's going on (or think we do): when the detectives are on screen, they have to do something interesting.

The cast is great - restrained and serious but good with gallows humor, and capable of suggesting depth and history that aren't in the scripts. There are only four leads this time: Vincent D'Onofrio and Kathryn Erbe as elite detectives Goren and Eames, Jamey Sheridan as the Captain, and Courtney B. Vance batting clean-up as the Assistant District Attorney. All of them are great, but Vincent D'Onofrio is undeniably the star. D'Onofrio plays a disjointed genius, working off of instinct and a head full of esoteric knowledge: he can identify a man's law school class ring or discuss fine points of art forgery; he can talk crazy to a crazy man in one interrogation and fly into a calculated rage in the next. His reaction shots alone make the show. Erbe deserves appreciation as well, however, for playing a cop whose brains and confidence keep her from kow-towing to her partner's brilliance: it takes skill to play straight man to someone like D'Onofrio, and Erbe pulls it off.

Law and Order has steadily turned out disposable episodes for several years now; that's part of the reason it was easy to franchise. Criminal Intent hasn't totally solved the problem - some of the stories are still convoluted or hang on arbitrary twist endings - but if only because the cast is smaller and better, the show is moving in the right direction: we're getting some thrills, and they're not as cheap.

"Law & Order" Spinoff Is Third
Associated Press, 2001

And then there were three.

First came Law & Order, which premiered Sept. 13, 1990. In 1999, Law & Order: Special Victims Unit made its bow. Now NBC is trying again with Law & Order: Criminal Intent. It debuts Sunday at 9 p.m. EDT.

Unprecedented for prime-time drama (other than the soap Peyton Place, which ABC aired thrice weekly for a few months in the mid-1960s), Law & Order in one form or another hits the street nearly every other night.

The logic of this product line seems self-evident to Dick Wolf, its producer-auteur. A former advertising man ("You can't beat Crest for fighting cavities'') he sees Law & Order as a flourishing brand: "A brand extension is always a good thing - unless you do something that doesn't live up to the expectations for that brand.''

So far, so good.

Law & Order (which begins its 12th year Wednesday at 10 p.m.), won its largest-ever viewership last season, logging ninth place in TV households. Meanwhile, Special Victims Unit (whose new season begins Friday at 10 p.m.) grew by 7 percent over its freshman year to finish in a hearty 26th place.

Now fans of those shows will be happy to discover that Criminal Intent displays a definite family resemblance. (As Wolf observes, "All Campbell's soups have that red label.'')

Each series explores the legal system. Each is set and graphically filmed in New York City, with its reliably strong scripts often cued by recent headlines (or, sometimes, uncannily forecasting them).

Despite the breathless tempo, each is a series of ideas and words more than action, confronting violence with a remorseful tone that, after Sept. 11, seems at least as fitting as it did before.

Each features a robust ensemble cast - and one constantly replenished. (On Law & Order, umpteenth newcomer Elisabeth Rohm is now settling in as Assistant District Attorney Serena Southerlyn.)

And each begins with a sonorous voice to set the scene: "In the criminal justice system, the people are represented by two separate and equally important groups ...''

That, of course, is how Law & Order starts, reaffirming its two-tiered format: For the first half-hour, detectives track down the bad guy; the second half, prosecutors haul the accused into court.

Special Victims Unit asserts that, since "sexually based offenses are considered especially heinous,'' an elite team of crime fighters is always at the ready.

And the new Criminal Intent carries this 10-second mission statement: "In New York City's war on crime, the worst criminal offenders are pursued by the detectives of the Major Case Squad. These are their stories.''

In each instance, the never-seen speaker is Steve Zirnkilton, who, from his studio-home in Seal Harbor, Maine, describes his Law & Order voice as "commanding, but not judgmental; firm, without attitude.''

Just so. But no less demonstrative is the musical theme, whipped up in its three successive versions by prolific composer Mike Post.

For the original Law & Order theme he sought music with "some of the strength and majesty of the law, but - since the first half is about the cops - with some flavor of the street.''

For Special Victims Unit, he slowed it down slightly and "got heavier with the strings, since it was more about victims.''

And now, for Criminal Intent, he has rearranged it with the bad guys in mind: "I got nasty, with a baritone slide guitar.''

BEE-BONG!

There's one other distinctive Law & Order trademark: the BEE-BONG or CHA-CHING or whatever you call the hiccuplike sound that, inserted every now and then, gives the story's breakneck pace a needed pause.

"The sound began as the slam of a jail door,'' says Post from his Los Angeles headquarters. "Then I added some percussion and other metal sounds.''

Listen up: Although the BEE-BONG remains otherwise unchanged since Law & Order began, Post confides that for Criminal Intent he mixed in "a little bottom'' to his mini-entr'acte. "We'll find out if people are paying attention.''

BEE-BONG!

Another thing is different about Criminal Intent.

While each of its forebears is an ensemble drama with certain greater-among-equals in its ranks (Jerry Orbach and Sam Waterston on Law & Order, Chris Meloni and Mariska Hargitay on Special Victims Unit), Criminal Intent is blatantly a showcase for Vincent D'Onofrio.

D'Onofrio stars as Detective Goren, a shrewd and intuitive polymath who taps into the criminal mind like a modern Sherlock Holmes. Plenty smart but usually a half-step behind him, Detective Eames (co-star Kathryn Erbe) serves as Goren's Dr. Watson.

Dick Wolf calls his latest "a psychological drama. The first two shows are a triumph of police and legal procedure over criminality. Criminal Intent is the triumph of intellect over criminality.''

BEE-BONG!

"NBC has taken to hyping Law & Order as 'the second-longest-running drama series on network television.' No one mentions it would have to stay on the schedule through 2001 to match Murder, She Wrote's tenure right now.''

That passage appeared in September 1995, not long after the initially struggling Law & Order caught ratings fire.

Now, with a guaranteed renewal through 2004-05, it is sure to rank second only to Gunsmoke (20 years) as the longest-running non-news-or-sports prime-time series in TV history.

At this moment, 262 episodes of Law & Order have been filmed, along with 53 of Special Victims Unit and 13 of Criminal Intent. Figure 45 minutes apiece (minus commercials), and you would need a week and a half, around the clock, to watch them all.

Better yet, just flip on cable almost any time to play catch-up. Law & Order encores several times a week on TNT and four times a day on A&E. Miss this week's Special Victims Unit on NBC? It runs Sunday at 11 p.m. on USA, which also repeats the current Criminal Intent at 11 p.m. the following Saturday.

BEE-BONG!

Campbell's Soup has dozens of varieties. For Law & Order, might there be at least a fourth selection?

It's a little premature to talk about, says Wolf, whose immediate concern is how viewers take to Criminal Intent.

Even so, he admits, "I've got two other variations buried in the recesses of my head.''

Talk about the long arm of the Law!