Law & Order CI: Articles, 2002


Vincent Intent on More Family Time
Louis B. Hobson, Calgary Sun, 1.11.02
Last year, it was Vincent D'Onofrio's intent to work less and spend more time with his family.

His intentions went the way of so many New Year's resolutions.

D'Onofrio shot four movies, a television series and a made-for-TV movie.

On Criminal Intent, the newest of the Law & Order series, he plays Robert Goren, a New York detective with uncanny intuition.

He can currently be seen as the policeman tracking Gary Sinise in the sci-fi thriller Impostor.

His films for 2002 include Dangerous Lives of Altar Boys, in which he plays a priest, with Jodie Foster as a nun who become the object of malicious young pranksters living in their congregation.

He also stars opposite Val Kilmer in The Salton Sea as a drug lord.

Finally, he stars with Lisa Kudrow in Bark, the directing debut of production designer Kasia Adamik, who is the daughter of polish director Agnieszka Holland.

Last fall D'Onofrio, 42, spent five weeks in Romania filming A Case of Evil.

"I play Dr. Watson to James Darcy's Sherlock Holmes with Richard E. Grant playing Sherlock's brother Mycroft," says D'Onofrio.

"It's going to be quite impressive. They recreated Baker Street and Big Ben.

"When the offer came for A Case of Evil, I had barely finished my nine-month commitment to Criminal Intent, but I was fascinated by this particular take on Holmes."

D'Onofrio filmed 13 episodes of Criminal Intent last year. He has signed a five-year contract with producer Dick Wolf.

"This wasn't the first time I was approached to do a TV series. I was asked to be on Ally McBeal, but I don't like soap operas. They're too risky. You have to do so many episodes you're bound to be bad in a few.

"I prefer Law & Order, which films half as many shows as most."

D'Onofrio says the next season of Criminal Intent "is going to dwell more on Goren's profiling abilities. Dick Wolf is allowing me to do what I want with the character, so expect Goren to get much more obsessive."

D'Onofrio was also approached by producer David Chase to join The Sopranos.

"I understand it's a great show, but it didn't appeal to me at the time I spoke to David."

D'Onofrio says he doesn't spend much time watching series TV, includes his own.

"My wife watches Criminal Intent religiously. I only watch the episodes that have really great guest stars."

D'Onofrio married Carin van der Donk in 1997. They have a son and D'Onofrio has a daughter from his first marriage to actress Greta Scacchi.

"I really do want to spend more quality time with my family. The events of September 11 really impacted on me. We live just 20 blocks from Ground Zero. I lost nine close friends in that tragedy."

Family Ties Dad Turns Criminal
Daniel R. Coleridge, TV Guide, 1.11.02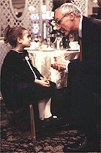 Isn't it always a perverse thrill to see goody-goody classic TV stars go bad? Recently, actor Michael Gross — best known as Michael J. Fox's hippie pacifist pop on
Family Ties
— went against type with some nasty new roles. Not only is he recurring as the frosty father of Noah Wyle's Dr. Carter on
ER
, he's downright homicidal on Sunday's
Law & Order: Criminal Intent
(airing 9 pm/ET on NBC).

Gross finds parenthood on ER far different from his Family Ties days. Muses the actor: "I suppose the biggest difference in dads here is that while Steven Keaton was nothing if not emotionally accessible, [Jack Carter] is not. One might say he's emotionally constipated — and perhaps physically as well! It's a good thing his son is a doctor. But Carter's mother and father are both very reserved, so you're certainly not getting the touchy feely thing that people got on Family Ties."

On Criminal Intent, he plays "a psychiatrist who is absolutely smitten with a young, beautiful woman. In fact, he has someone murdered in order to impress this woman, like [John Hinckley, Jr.] impressing Jodie Foster [by shooting Ronald Reagan]." And what's the big twist? "He is apprehended and he pleads insanity," Gross previews. "Who better than a psychiatrist to know how that plea works?

"So the suspense of the episode is not so much whodunit," he adds, "but 'Is this man just crazy about the girl or is he just plain crazy?!' That's what's fascinating, because Criminal Intent gets into the mind of the criminal." Yikes! If only Alex P. Keaton could see his peacenik daddy now...

Law & Order Opens a New Franchise
Verne Gay, Newsday, 1.31.02
Law & Order: Criminal Intent - starring the respected, if not particularly well-known screen actor Vincent D'Onofrio - is not only recycling one of the most durable TV titles. The creator of the Law & Order franchise, Dick Wolf, also has tapped Rene Balcer as one of the show's executive producers.

True L&O aficionados should recognise the name. Balcer was executive producer of "the mother show" from 1996 until last year, which arguably were the best years of its worthy life. (L&O won its only best drama Emmy the first year Balcer was the top producer.)

Landing Balcer was a coup, even by Wolf's standards. After L&O, Balcer had signed one of those cushy production deals that allows the newly enriched scribe to retire to Tahiti. Balcer created a show (Hopewell) for CBS, but the network decided to recast it. Balcer had time on his hands. And then Wolf called.

"I feel like Al Pacino in Godfather III," says Balcer, laughing. "Just when I thought I was out, they suck me back. I always had a good relationship with Dick, (but) I was not going back to the original. Been there, done that. This was an idea that really intrigued me - the opportunity to tell the story from the point of view of the criminal."

Law & Order: Special Victims Unit premiered last year in Australia and, after a rough start in the US (in an awkward time period), it has become one of NBC's top-rated dramas. But the show is not exactly a spin-off of L&O; both share a name and that's about it. And viewers can expect the same with Criminal Intent.

"Basically, I consider the show a brand," says Wolf. "This is a very logical extension (but) as different from Law & Order as Special Victims. But it is going to have many of those Law & Order (elements) - the music and everything that goes along with it - and will look like a Law & Order franchise."

Nevertheless, the title alone suggests that Wolf & Co have some radically different tricks up their sleeves.

As Balcer explains: "We're going to be spending time with the criminals. The first part of the show, the first five to seven minutes, will be told from (the perspective) of one of the major participants in the crime - that could be the criminal or the victim or a major witness.

"By the end of those first five or six minutes, we may have met the criminal, though we cannot know it was the criminal and see the events leading up to the commission of the crime.

"Some weeks we'll know who (the bad guy) is and some weeks we won't. There will always be information left out."

Sounds tricky, which, of course, is the whole idea. What Wolf and Balcer want to do is play mind games with the audience, or, as Wolf puts it: "We're not going to show everything, but I think that part of the trick is to give the audience enough information so they can be sitting here watching a situation unfold and say (to the investigating cops), 'No, no, don't go there'."

As usual, Wolf and Balcer are tapping the vast resources of the New York Police Department. CI is based loosely on its major cases squad , which has jurisdiction over all other squads in the city. D'Onofrio's character is a first-grade detective named Goren, a specialist in forensic psychology and something of an obsessive kook. He arrives at crime scenes armed with hundreds of questions, which he throws at witnesses or whoever happens to be in his line of fire. He thus builds a detailed psychological profile of the criminal; Andy Sipowicz he is not.

Without question, D'Onofrio is an intriguing choice. He was - literally - the heavy in Full Metal Jacket and the young Orson Welles in Ed Wood. But there have been many other roles - most off-centre or "edgy", to use the favored patois of movie critics, like the wacko screenwriter who stalked the Tim Robbins character in The Player, '60s activist Abbie Hoffman in Steal This Movie or pulp fiction writer Robert E. Howard in The Whole Wide World.

And if it doesn't work? No matter - Wolf already has plans for a fourth edition of Law & Order.

Exercising A Genius for Shaking Loose the Truth
Steve Vineberg, New York Times, 3.1.02
No television cop show has ever put forth a hero as unorthodox as Vincent D'Onofrio's Detective Bobby Goren, the main character on NBC's "Law and Order: Criminal Intent." Goren is Sherlock Holmes, but with the spirit of a precocious little boy. He's a show-off, and he's a nerd on a mission, fascinated by even the most banal details of police procedure.

And we feel his missionary zeal, especially when he's made a promise to a victim's parents to snag a killer, or when he sees the bad guy as a traitor to the cause - a seedy politician, a Fed corrupted by power. That's when his Italian-Catholic side - he's described himself as a lapsed altar boy - surfaces. What really turns him on, though, is the chance to rattle suspects and shake loose their secrets. He's a genius at it: By the hour's end, those hidden truths come flying at him like paper clips at a magnet.

D'Onofrio is happy to detail Goren's full repertory of interrogation tactics. "He manipulates suspects, mirrors them, confuses them, intimidates them, throws them off, changes their thought patterns," he said by telephone during a recent break in shooting. "He pauses situations so he can return to zero; he catches them out in a lie."

D'Onofrio has his own battery of eccentric behaviors to shape Bobby's constantly varying modes of attack. He hunches his shoulders, sinking his head into his neck and then inching it out again like a tortoise emerging from his shell. Hovering over a seated target, he cranes his head down at a 45-degree angle from his body, as if he were dropping out of the sky, and swings menacingly close. His walk is lumbering yet somehow seductive, as if he's bearing a heavy weight and stepping on eggshells at the same time.

Probing for information from a street person, he emulates the man's manic style, a role switch reminiscent of a scene Paul Newman played in the movie "Fort Apache, the Bronx." Goren meets the dubious testimony of suspects with exaggerated interest, or double takes that ricochet off pauses in the dialogue, or plain grinning astonishment. He's constantly straddling the line between sincerity and irony. D'Onofrio's line readings have weird caesuras in them, as if he were gulping air or searching for the next word, though he isn't really doing either; he's scrambling the rhythm of Goren's questions so that the person on the other end of the interrogation never has a chance to adjust to his style.

D'Onofrio, who trained with Sonia Moore at the American Stanislavsky Theater and Sharon Chatten of the Actors Studio, comes to "Criminal Intent," the latest in Dick Wolf's "Law and Order" shows, from a decade and a half in movies. Filmgoers may draw a blank on his name, but they've probably seen him - in "Full Metal Jacket," as the maddened recruit; in "Mystic Pizza," as the swaggering fisherman who swears off sex with Lili Taylor until she agrees to marry him; or in "Men in Black," as the alien with the oddly mannered growl ( D'Onofrio identifies it as a cross between George C. Scott and John Huston) whose walk, in the ill-fitting human body he's assumed, is a vaudeville parody of Frankenstein's monster's.

D'Onofrio's most remarkable work on the big screen has gone largely unseen: as the pulp writer Robert E. Howard in "The Whole Wide World," as Abbie Hoffman in "Steal This Movie" and opposite Marisa Tomei in last year's "Happy Accidents." He's a performer of great physical and emotional range. Before "Criminal Intent," he made his biggest splash on television in an Emmy-nominated guest spot on "Homicide" as a commuter caught under a subway car, and even there, restricted as he was by his character's situation and by the staginess of the drama (which was like a particularly effective version of a live television play from the 1950s), he managed to be inventive with whatever parts of his body were free - his arms, mostly.

"Criminal Intent" (Sundays at 8 p.m.) is one of this season's most pleasurable surprises - a more cerebral version of "Law and Order" in which the psychology of the perpetrator and the modus operandi of the detective are given equal attention. And on it, D'Onofrio takes the kind of command you associate more with a great stage performer than with a television series regular. "It's theatrical in the real sense," he said. "They're giving me completely free rein to take the character where I want to take it."

D'Onofrio said that Rene Balcer, the co-creator of "Law and Order" who has written most of the "Criminal Intent" scripts, "gives me opportunities to take what he's written and move it somewhere else."

"We're improvising without changing a word of the text," he continued. "It's a blast, an absolute blast. And the other actors come on set to play because they know I'm up for it."

He was referring to Kathryn Erbe, who plays his partner, Detective Ames - as D'Onofrio sees her, the Watson to his Holmes - as well as to Jamey Sheridan (the police captain, whose responses to Goren veer from skepticism to admiration) and the gifted Courtney Vance (an assistant district attorney). He was referring, too, to the impressive roster of guest stars. Jake Weber, Adam Trese, Eric Thal, Griffin Dunne and Michael Gross have all made strong impressions as criminals whose intent has been dramatized by Balcer and the other writers.

One episode, about a murder among the members of a wealthy, poisonous family, featured four splendid performers - George Martin, David Aaron Baker, Laila Robins and the Quebecois actor Lothaire Bluteau. D'Onofrio's match of wits with Robins, who plays one of the suspects, was especially memorable - a sweet little actors' flirtation.

"The most fun you can possibly have as an actor," D'Onofrio said, "is to walk that line between what's real and what's interesting." It's not surprising to learn that his acting heroes are Alec Guinness and Peter Sellers. "I like actors who take a different road, whose careers are off the beaten path," he said. "Guinness had amazing integrity and the nerve to do things no one else dared to do in movies. That's why I like being a character actor. It's a fantastic job to have; you get to fine-tune your chops all the time. It's the main reason I never fancied myself as a leading man, because you lose so much freedom immediately."

Perhaps what makes "Criminal Intent" so ticklishly unconventional is that D'Onofrio gets to have it both ways. He's the character actor as leading man.

Vincent D'Onofrio Explores Acting Monogamy
Kate O'Hare, Zap2It, 8.5.02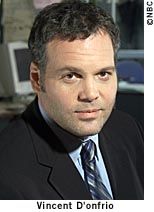 The life of a movie actor is all about fresh beginnings: showing up for each job with a completely different script and a whole new character to play.

For example, Vincent D'Onofrio plays an Irish priest in the recent "The Dangerous Lives of Altar Boys" and a methamphetamine dealer in the new crime drama "The Salton Sea." He also portrayed a farmer whose skin was inhabited by an alien in the first "Men in Black" movie -- but that's not a role he misses.

"It was fun to do," he says. "Barry Sonnenfeld's great to work with, fun to work with, but it was a bit exhausting."

Last year, D'Onofrio took on the challenge of the TV actor, which is playing the same character week in and week out. He stars as Detective Robert Goren in NBC's Sunday drama "Law & Order: Criminal Intent," the third series in the franchise created by executive producer Dick Wolf.

Set and filmed in New York -- as are all the "Law & Order" shows -- the drama, which begins its second season this fall, takes a more psychological slant on crime, as Goren pits his considerable intellect against the perpetrators of major crimes.

Talking in late spring, D'Onofrio is still at work, long after most series have shut down production. "These six episodes we're doing now will air next season," he says, "We finish the end of June, and I guess we have 2 1/2 months off."

It's certainly not the usual schedule for a film actor. "Film is like a vacation compared to this stuff," D'Onofrio says. "This is real work. It's hard work. As far as the acting thing, it's the same. Acting is acting. I haven't lowered the bar on performance, so it's the same. There's just a lot more of it."

"It's the first time I've ever had to return to a character, which is a little strange. I guess I've gotten used to it, but it's still a bit odd to play the same guy all the time."

Asked what advantages he's discovered in playing the same character over an extended period, D'Onofrio says, "The idea of putting the same character in different circumstances repeatedly is interesting, and that's a challenge in itself. I'm a character actor, and I've spent almost half my life playing extremely different parts from one film to the next."

He also doesn't worry too much about keeping Goren consistent from week to week. "The truth is, I just throw him into it; the less consistency, the better. Actually, it's more interesting if the character isn't always consistent."

"I try really hard to just think of it as the first time, each time, without doing anything silly, like changing his voice or his speech patterns or his posture. I keep that all the same, but I don't lock myself into any kind of reaction that he might have from one thing to the next."

Goren is unusual among TV characters in that he lives a lot inside his own head, which is both intriguing and a challenge. "He gets quirkier in the second season," D'Onofrio says. "I can't say too much, but we're definitely exploring [the] schizophrenic history in his family."

"He's becoming a bit more -- just a bit, not so it goes into a strange area -- a bit more obsessed at times, a bit more odd at times. More of his history comes out, through circumstance, not because you see him with his family or anything. I just want to keep going further with this kind of interior guy that he is, see where that goes."

D'Onofrio believes that the show's predecessors -- "Law & Order," which focuses on police and prosecutors, and "Law & Order: Special Victims Unit," which looks at sexually based offenses -- stick closer to reality than his show.

"The way they behave, it's very real. They could be real cops, and their stories are much more along the lines of stuff ripped out of the headlines. Our stuff is ripped out of the headlines, but then we do something else with it. We make it fictional."

"My character is definitely a fictional character. There's no cop that exists like my guy. My guy would be slapped silly the first day on the street. The first time that I cocked my head weird or did too much interior stuff, people would just laugh at me."

Asked how the show evolved over the first season, D'Onofrio says, "One of the big things that happened, one of the most obvious, is that we know we can get away with it, because it was a big question. The first time that my character started to take pauses on television, and no words were being spoken, it scared everybody a little bit."

"So we know it works. We know that people don't mind watching the character think about things, which is good. It makes the show more clever, and it also helps me sell some of these Sherlock Holmesian deductions I make."

"Law & Order: Criminal Intent" had both critical and commercial success in its freshman season, and D'Onofrio is quick to point out that it's not all down to Dick Wolf. "Dick is our boss, and the concept of the 'Law & Order' thing is to his credit, and the 'Criminal Intent' is to his credit, but as the show goes on, you can't forget that the show runner, Rene Balcer, is also very responsible for what you see out there."

"He and I had to basically come up with the goods to sell this in a different way than the other shows and make this character, Goren, interesting. In my opinion, the writing is probably some of the best crime-story writing on television."

"We're all in sync, usually, and if we're not, we try to change the other one's mind. It's a very collaborative effort. I've heard that I'm lucky, and so I believe it."

NBC's "Law & Order: Criminal Intent" Becomes Triple Threat
Popular Freshman Drama to be Broadcast Over Three Consecutive Nights
NBC Entertainment, 8.2.02
NBC presents its own "three-peat" with back-to-back-to-back nights of its hit drama "Law & Order: Criminal Intent" (Sundays, 9-10 p.m. ET) on Wednesday, Aug. 14, Thursday, Aug. 15 and Friday, Aug. 16 (each night from 10-11 p.m. ET) -- to be followed by two more consecutive episodes on Sunday, Aug. 18 (8-10 p.m. ET).

"Law & Order: Criminal Intent," the latest from NBC's dominant "Law & Order" franchise and executive producer Dick Wolf, stars Vincent D'Onofrio and Kathryn Erbe as detective/partners of the New York Police Department's Major Case Squad who are assigned to difficult or high-profile crimes.

The weekday episodes are "The Good Doctor," "Phantom," and "Homo Homini Lupis," airing Wednesday, Thursday, and Friday, respectively.

In "The Good Doctor" on August 14, Donna Hanover guest-stars as concerns arise over the disappearance of a philandering, drug-abusing wife of an arrogant plastic surgeon (guest star Robert Knepper). In "Phantom" on August 15, an ex-convict's murder puts the detectives on the trail of a bogus U.N. economist. An embezzling executive's (guest star James Colby) wife and two daughters are kidnapped by a loan shark as collateral for a huge debt in the August 16 installment, "Homo Homini Lupis."

The "doubleheader" on August 18 will be feature back-to-back broadcasts of "Poison" (8-9 p.m. ET) and "Tuxedo Hill" (9-10 p.m. ET).

A mysterious "angel of death" visits local hospitals, poisoning a string of patients with cyanide in "Poison." "Tuxedo Hill," demonstrates murderous corporate ethics as a financial executive (guest star Cindy Katz) is blackmailed into signing the quarterly corporate statement, obscuring any hint that the company's stock was illegally used to generate profits.

"Law & Order: Criminal Intent" is a production of Wolf Films in association with Universal Television. Dick Wolf, Rene Balcer, and Peter Jankowski are executive producers -- Fred Berner and Arthur Forney are co-executive producers.

"Criminal Intent" Intercepts A Weekly Win for NBC
NBC Entertainment, 8.20.02

FOOTBALL BOOSTS CBS AND FOX, BUT A WEEK OF "LAW & ORDER: CRIMINAL INTENT" SPECIALS KEEPS NBC FIRST AMONG ADULTS 18-49

"CRIMINAL INTENT" GENERATES FOUR OF THE WEEK'S TOP FIVE DRAMA RATINGS IN 18-49

BURBANK, Calif. -- August 20, 2002 -- A week of special telecasts of "Law & Order: Criminal Intent" has delivered a 19th NBC victory in the last 21 weeks among adults 18-49, as ratings boosts generated by "Criminal Intent" helped NBC sweep past football-boosted CBS and Fox for the week.

Airing in the regular time periods of NBC hits "Law & Order," "ER" and "Law & Order: Special Victims Unit" -- the No. 2, 3 and 5 dramas of the summer among adults 18-49 -- "Criminal Intent" generated increases of 11 percent, 9 percent and 24 percent respectively versus 18-49 summer averages for those three shows.

According to in-home viewing figures from Nielsen Media Research, "Law & Order: Criminal Intent" accounted for the week's No. 2, 3, 4 and 5 drama ratings among adults 18-49, including a tie with Sunday's "CSI: Crime Scene Investigation" for the No. 5 ranking.

Among overall total viewers, "Criminal Intent" delivered NBC's No. 1 non-sports result of the summer in last week's Thursday and Friday time periods, plus the network's No. 2 non-sports totals in the show's Wednesday slot and its regular Sunday hour.

WEDNESDAY

"Law & Order: Criminal Intent" (4.1 rating, 12 share among adults 18-49, 11.7 million viewers overall) filled in for the original "Law & Order" and won the hour decisively among adults 18-49 and matched the second-best "Law & Order" 18-49 rating since the May sweep.

THURSDAY

From 10-11 p.m. ET, "Law & Order: Criminal Intent" (3.5 rating, 10 share among adults 18-49, 9.6 million viewers overall) aired in the usual "ER" time slot and earned NBC's highest 18-49 rating in the hour since June 20 and largest overall audience since the May sweep. "Criminal Intent" won the hour in virtually all key demographics and total viewers and generated NBC's biggest time-period winning margins since the May sweep among adults 18-49 (52 percent) and total viewers (2.6 million persons).

FRIDAY

Another special "Law & Order: Criminal Intent" (3.6/11 among adults 18-49, 10.7 million viewers overall) scored NBC's second-best non-sports 18-49 rating in the 10-11 p.m. ET hour since the May sweep. "Criminal Intent" won the time period among adults 18-49 and 25-54; women 18-34, 18-49 and 25-54; and total viewers.

SUNDAY

"Law & Order: Criminal Intent" wrapped up a big week by matching its highest regular-slot 18-49 rating since June 16 (3.3/9 among adults 18-49, 10.6 million viewers overall)."Criminal Intent" built its 18-49 rating by 28 percent from its first half-hour to its second (to a 3.7/10 from a 2.9/8), allowing it to overcome a big 0.6-rating-point deficit and tie Fox's "Malcolm in the Middle" for the 9:30-10 p.m. ET lead. "Criminal Intent" won the full hour among adults 25-54 and women 18-49 and 25-54.

A special 8 p.m. ET "Criminal Intent" (2.1/6 among adults 18-49, 7.5 million viewers overall) took second place in that hour among total viewers.